Delhi is a foodie's paradise. The modern, contemporary and ethnic aesthetic of the city blends in well with the fragrant and rich tasting food that represents the city well. Delhi is dotted with restaurants serving theme-based meals or something that will definitely surprise you! From Mughlai, Indian Chinese, and South Indian delicacies to Japanese, Korean, European, continental and so much more, restaurants in Delhi are all about giving their customers and foodies the food that they deserve and present not only food but a whole world on the plate.
If it is delicious food and a good time with your family and loved once you are looking for, then check out these restaurants and pick the one you like most:
List of 17 Best Restaurants in Delhi NCR
Rooh
Tamra
Bo Tai
Thyme
Karim's
Town Hall
Annamaya
Bella Cucina
Shang Palace
Indian Accent
Leo's Pizzeria
Andhra Bhavan
Kiara Soul Kitchen
The Imperial Spice
Rajinder Da Dhaba
Wasabi by Morimoto
Olive Bar and Kitchen
1. Annamaya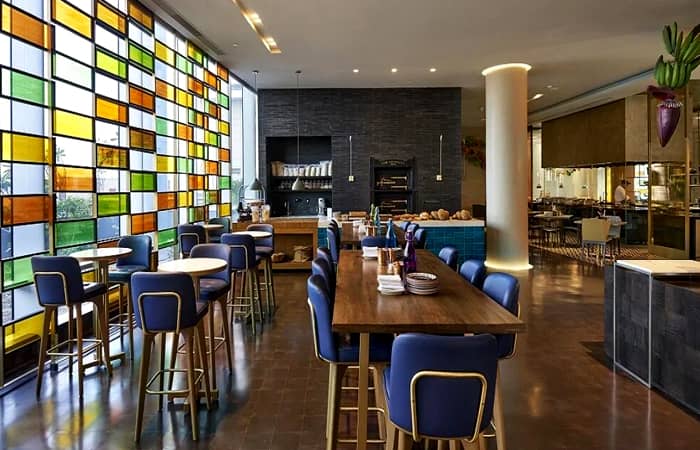 Located inside the 5-star establishment of Andaz in Aerocity, New Delhi, Annamaya represents the combination of Annapurna – the goddess of food and Maya – the goddess of Magic. The conceptualization of a European food hall is apparent through its seating arrangement and serving a wholesome menu of indigenous food with a contemporary twist. The restaurant remains in operation for 24 hours at a stretch so you can go there and enjoy top-notch food any time of the day or night. The food here is inspired by the colors and flavors of India that make the guests eat mindfully, shop artisanal and raise awareness.
Address: Ground Floor, Asset No.1, Aerocity, New Delhi, Delhi 110037
Timings: 8am to 10pm
Zomato Rating: 4.5
Zomato Reviews: Click Here
2. Tamra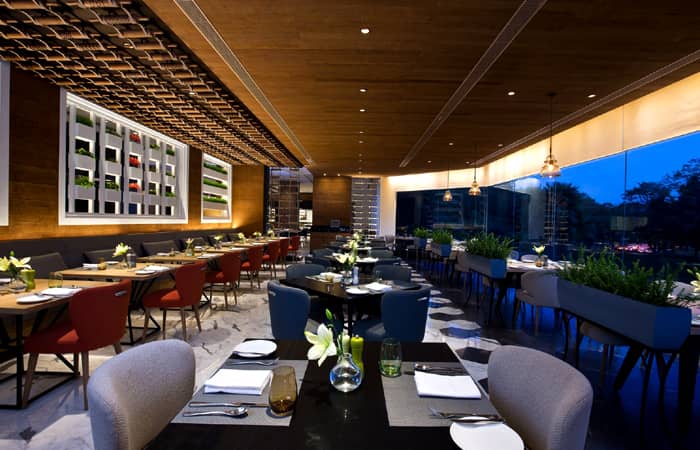 Tamra is the type of restaurant where tradition meets innovation. This multi-cuisine restaurant boasts of offering an incredibly lively, fun, and energetic environment perfect to celebrate any type of dining experience. The culinary expertise offered here can be described as a world on your platter and the team of expert chefs is well reputed for creating authentic southeast Asian and European cuisines. Although a bit on the pricey side, Tamara Food will feel like the best comfort food in the world and you may even keep coming back for more. The lavish seating, glamorous lighting, and elite decor will make every visit here feel like a royal experience.
Address: Level 1 Shangri-La's – Eros Hotel, 19, Ashoka Rd, Connaught Place, New Delhi, Delhi 110001
Timings: 6:30am to 11:30pm
Zomato Rating: 4.5
Zomato Reviews: Click Here
3. Rooh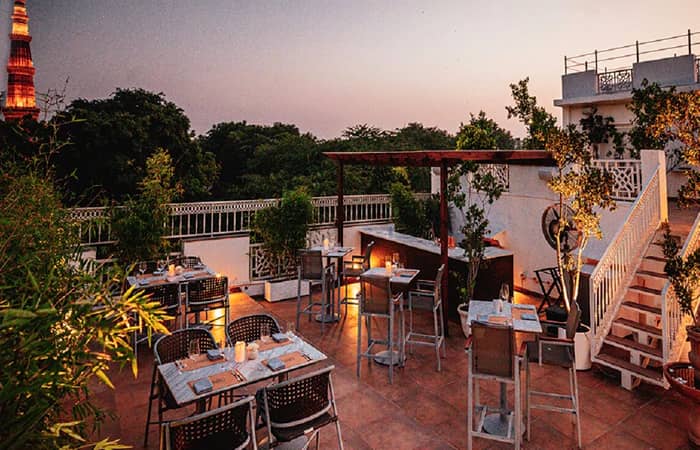 At Rooh, the food and service speaks for itself. Situated in Mehrauli posh Qutub complex amidst the top-tier designer showrooms is this uniquely cosmopolitan experience. The outdoor seating offers a spectacular view of the Qutub Minar and the humble staff will be icing on the cake. Located in a 150-year-old refurbished haveli, eating food at Rooh will take you on a gastronomic journey through its contemporary and modern take on classical traditional Indian foods. Each food is created using international inspirations and techniques on regular Indian food. For example, their avocado bhel has managed to create a fan following of its own.
Address: H5, Ambawatta One, 1, Kalka Das Marg, Mehrauli, New Delhi, Delhi 110030
Timings: 12:30–3:30pm to 6:30pm–12am
Zomato Rating: 4.5
Zomato Reviews: Click Here
4. The Imperial Spice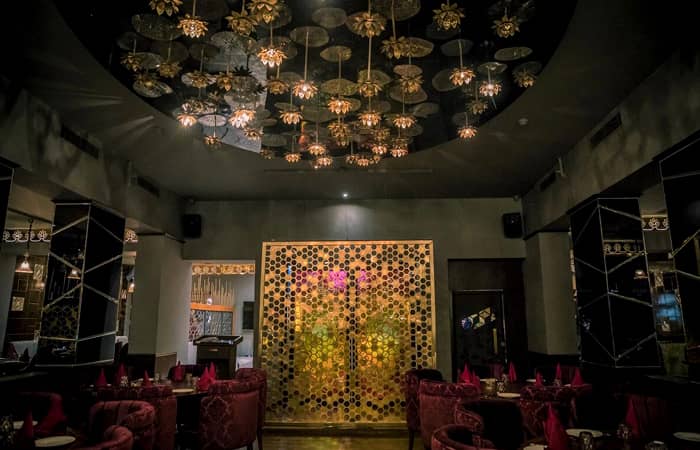 Looking for a place to eat in Connaught place and cannot make up your mind? Head on to the imperial spice which will quickly become your favorite in no time. The space is all about glamor and royalty which you will be greeted right at the door. To go with the lavish interiors, the food here is also wholesome and quite extravagant. This Multicuisine luxury restaurant serves both Indian and international food items like North Indian, Italian, continental, and European among others. In addition to the never-ending food menu, the bar and beverages menu is equally lavish that you can enjoy in the comfortable and lavish seats.
Address: M Block, 89/90, Connaught Cir, Shankar Market, Block M, Connaught Place, New Delhi, Delhi 110001
Timings: 12pm–12am
Zomato Rating: 4.5
Zomato Reviews: Click Here
5. Shang Palace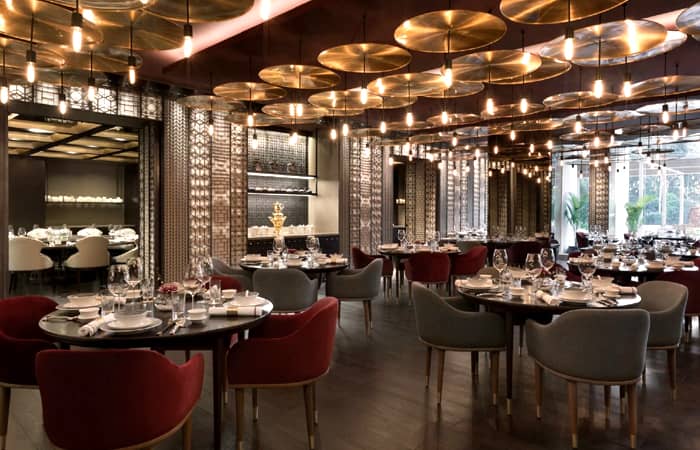 Craving some authentic Asian cuisines? Head on to Ashoka Road's Shangri-La! Shang palace is all about taking you on a virtual and mindful food journey through their amazing selection of authentic Sichuan, Cantonese, and Yunnan Dishes. The interiors are excellent and the lighting sets the right mood for enjoying the signature Beijing Roast Duck. The setting is extremely pleasing and the attractive theme continues till the private dining rooms which will offer some more privacy to your dine-out experience. Other than getting totally lost in the food and beverages menu, you will also be able to go through the equally mesmerizing and quirky interiors. For example, one of the walls here is made out of just replicas of old coins.
Address: Ground Level, Shangri-La's – Eros Hotel, 19, Ashoka Rd, Connaught Place, New Delhi, Delhi 110001
Timings: 12:30–3:30pm, 6:30–11:30pm
Zomato Rating: 4.1
Zomato Reviews: Click Here
6. Indian Accent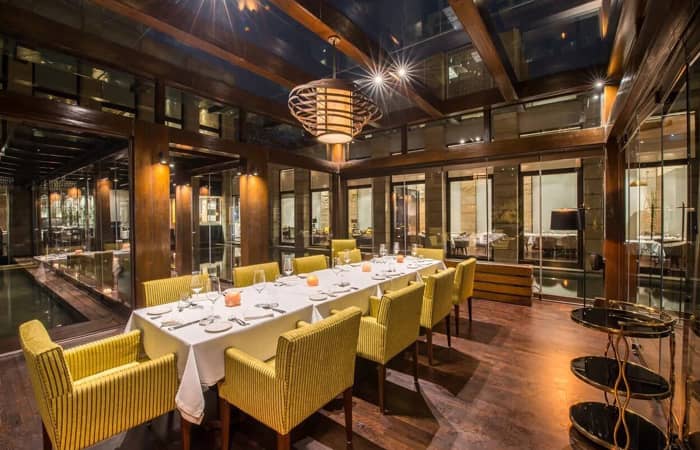 Indian accent restaurant defines fine dining at its best! They have always maintained their spot as one of the best fine dining restaurants in Delhi through their eclectic food menu that represents inventive Indian cuisines at their best. Imagine having a delicious plate of regular Indian food but using international grade ingredients, methods and techniques. It's a very pleasantly surprising experience. The chefs make sure to use only the freshest seasonal produce that adds a very strong flavor profile to the whole meal. Chic decor, luxurious seating, and delicious meals, I don't think there is anything more you need to make your dining experience a success.
Address: The Lodhi, Lodhi Rd, CGO Complex, Pragati Vihar, New Delhi, Delhi 110003
Timings: 12–2:30pm, 6–9pm
Zomato Rating: 4.9
Zomato Reviews: Click Here
7. Karim's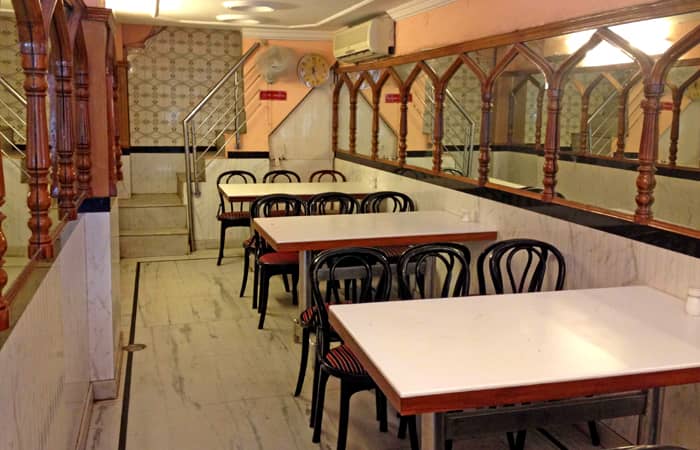 People believe that you have not truly had the real Delhi food experience if you haven't had Karim's. A haven for non-vegetarian food lovers, Karim's is an iconic restaurant located very close to Jama Masjid in old Delhi. Established in 1913, Karim's has achieved the status of being the most famous culinary destination in Delhi. The small restaurant, tucked away in a nook, was opened by the royal cook and chef of Mughal Darbar and stays true to their origins. Foods like Shahi Dastar Khwan, different chicken curry dishes, Bharatia Pattal, kebabs, and desserts are loved by everyone who makes a visit here. The seating is small with little movement space, but the food makes up for it all and you won't even care about it after the first bite you take.
Address: Kababian Jama Masjid, Street Number 16, Kalan Mehal, Krishna Nagar, Kababiyan, Delhi 110006
Timings: 9am to 1am
Zomato Rating: 4.3
Zomato Reviews: Click Here
8. Wasabi by Morimoto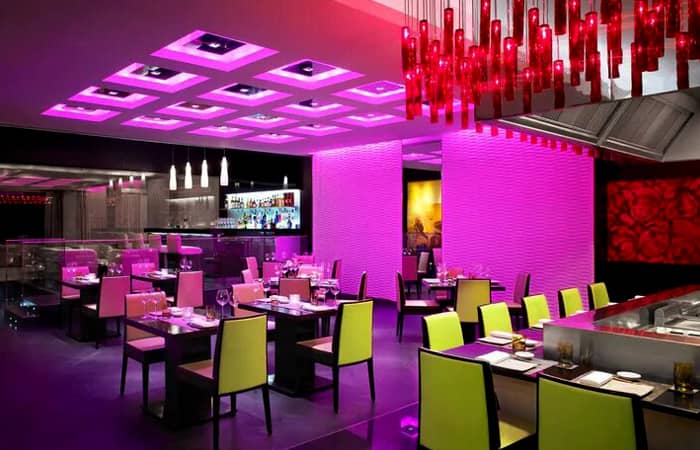 Tired of looking for a good, authentic Japanese restaurant in Delhi? Wasabi by Morimoto is just the place for you. Wasabi by Morimoto is all about offering delicious and whole Japanese meals and treasures from the well-reputed chef Morimoto. The best part about eating here is that all the ingredients are flown in directly from Japan every single day! The ambiance and seating will incite the feeling of being in a traditional and authentic Japanese restaurant in Japan itself. Try out some of the best signature dishes of Wasabi like white Fish Carpaccio, Black Cod Miso, Wasabi Creme Brulee, and many more.
Address: Number One, Man Singh Rd, Man Singh Road Area, New Delhi, Delhi 110011
Timings: 12:30pm-02:45pm, 07:00pm-11:30pm
Zomato Rating: 4.2
Zomato Reviews: Click Here
9. Olive Bar and Kitchen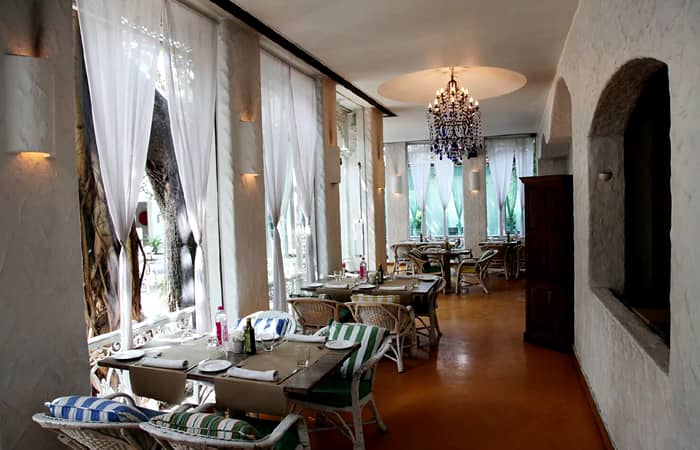 Olive bar and kitchen is not a new name when it comes to a good place to eat delicious food, share a few laughs and just have a good time overall. Situated in Qutub Complex, the Olive bar and kitchen is not just a restaurant but it is a melting pot where art, fashion, music, and lifestyle come together to create a whimsical Mediterranean Mosaic. The restaurant which was once a Mughal mansion offers highly technical and immaculate cuisines like mezze platter, roman style thin-crust pizzas, artisanal desserts and so much more than one visit won't be enough. Having featured on page 3 numerous times and catered to some of the most top-notch celebrities in town, Olive bar and kitchen will definitely live up to its expectations.
Address: Mile 6, One Style, 8, Kalka Das Marg, Seth Sarai, Mehrauli, New Delhi, Delhi 110030
Timings: 12pm to 9pm
Zomato Rating: 4.7
Zomato Reviews: Click Here
10. Andhra Bhavan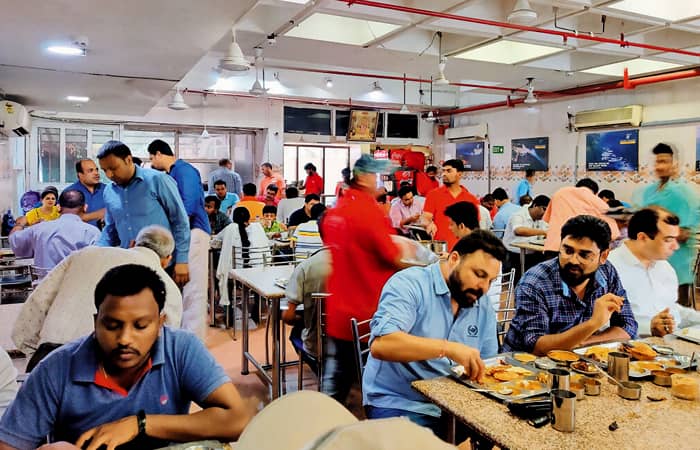 Do you have those days when you are just craving authentic traditional South Indian Food but are not looking to spend a world on it? Andhra Bhawan is just the place for you. Located in Feroze Shah, Andhra Bhawan is one of those iconic places that should be visited at least once in a lifetime. Due to its immense popularity, consistently delicious food, and budget eating options, the Bhawan remains packed with people for a majority of the time but if you give it a chance and wait for some time, the experience will be worth it. Try out the famous Andhra Style Biryani, Mutton Fry, Traditional South Indian Thali, and many more depending on your liking.
Address: 1, Ashoka Rd, near India Gate, Pataudi House, New Delhi, Delhi 110001
Timings: 8am–10:30am, 12noon–3pm, 7:30pm–10pm
Zomato Rating: 4.5
Zomato Reviews: Click Here
11. Kiara Soul Kitchen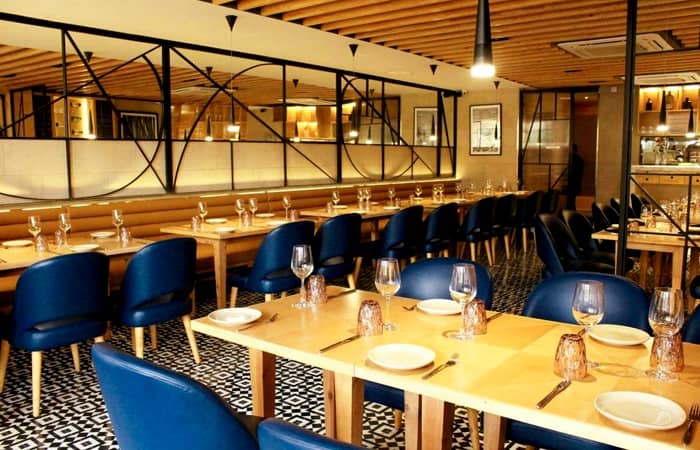 Kiara soul kitchen in the upscale neighborhood of GK 2 main market is all about delivering fantastic and authentic Asian, North Indian, oriental food options along with delectable desserts, juices, and various beverages. Not only is the food selection here immaculate but the interiors will instill a feeling of peace and calm making your food experience all the more worth it. This award-winning vegetarian restaurant is all-inclusive with its Jain, vegan, and gluten-free options. They also take extra care in presenting the food in a magical and almost a fantastical sort of way. From sushi rice rolls to a delicious tandoor menu and from oriental bowls to smooth and delicious desserts.
Address: M 30, First Floor, M Block Market, GK 2 Main Rd, Delhi, 110048
Timings: 12–3:30pm, 6:30–10pm
Zomato Rating: 4.6
Zomato Reviews: Click Here
12. Bo Tai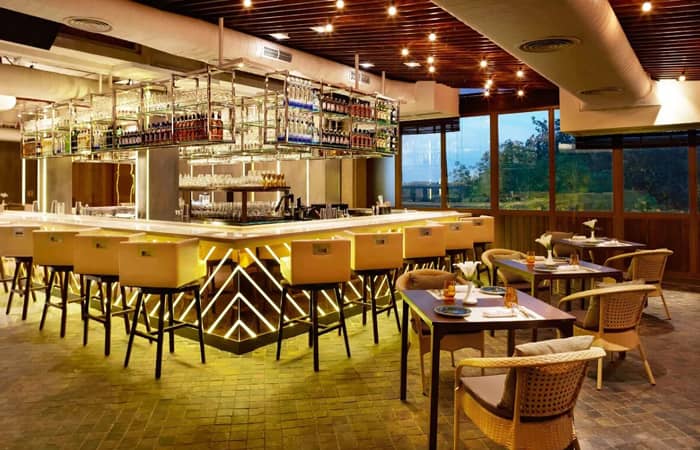 Bo Tai in Mehrauli is a modern Thai bar and grills whose concept represents the perfect blend of cosmopolitan Italian design with Thai hues for extra vibrancy. The ambiance of this restaurant remains smart casual and feels like a serendipitous coziness. The menu is created to showcase a medley of Thai and European dishes. Every food is prepared using authentic Thai spices and ingredients that are flown in from the homeland itself. You can taste the realest Thai cuisines in Delhi without going there! Savour some of the best traditional Thai cuisines with a unique modern twist to them.
Address: 6, 4, Kalka Das Marg, Behind Qutub Minar, Seth Sarai, Mehrauli, New Delhi, Delhi 110030
Timings: 12pm to 9pm
Zomato Rating: 4.7
Zomato Reviews: Click Here
13. Town Hall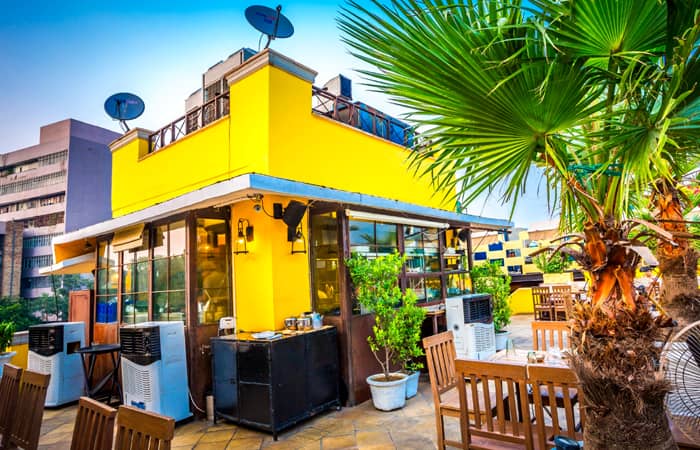 The name town hall may ring a bell mainly because it immediately takes you back to0 British colonial India and their concept of eating at town halls. Established in 2014 in a 1950s style decor, the high ceilings, large hall, and a fun island bar will conjure up a feeling of being in the pre-independence days and experiencing what eating out during that time was. The artistry of the Masterchef of the kitchen is clear through their well-curated, trendy, and refreshingly new menu which includes a well-stocked sushi bar, Nigiri and sashimi choices, chef Augusto's signature rolls which are a must-try, Temaki, modern Donburi and many more which clearly shows the chef's true love and admiration for Japanese Cuisine.
Address: 60-61, Middle Lane, Khan Market, Rabindra Nagar, New Delhi, Delhi 110003
Timings: 12pm to 1am
Zomato Rating: 4.4
Zomato Reviews: Click Here
14. Rajinder Da Dhaba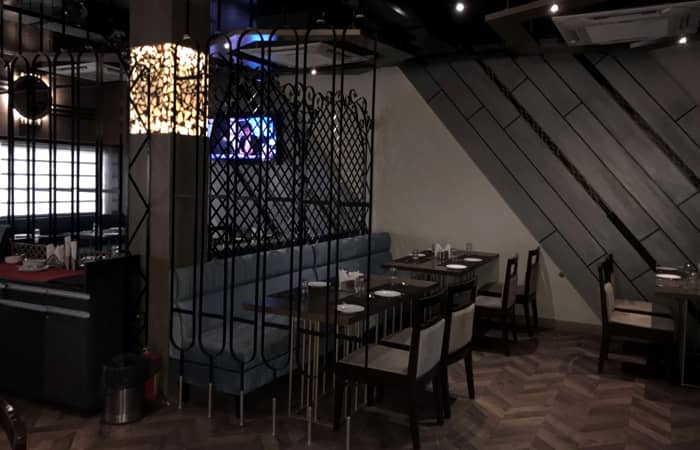 Done with all the luxury restaurants and looking for something authentic Desi that would just hit the spot? Head on to Rajinder Da Dhaba in Safdarjung enclave. The traditional Dhaba cuisines are served with love that adds an extra hint of deliciousness in each of their cuisines. The food here is budget-friendly and super affordable for anyone who just wishes to have a wholesome meal with large portions. During rush hour you will see all the office people crowding up the place and ordering some of their personal favorites like Makhmali Fish, Veg Malai Tikka, Galouti Kebab, Chicken Kalmi, Satay Chicken, Paneer Malai, and many other vegs and non-vegetarian cuisines.
Address: AB-14B, Nauroji Nagar Marg, opposite Safdarjung Enclave, New Delhi, Delhi 110029
Timings: 3pm to 11pm
Zomato Rating: 4.5
Zomato Reviews: Click Here
15. Leo's Pizzeria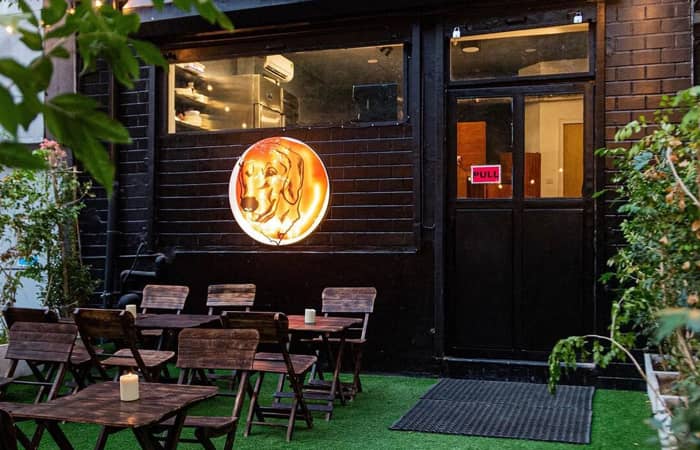 Sick of dominos and pizza hut? Leo's in Amar colony will be the perfect choice for anyone looking for authentic, delicious, and traditionally made pizzas. The pizzeria is known for its cool, casual, fun, and brightly lit interiors that will add a fun twist to every dish that you get to have here. Although the doors were shut down when the deadly pandemic took over, it has reopened its doors where you can go and try out their famous focaccia and Margherita Pizzas. All the ingredients are freshly prepared and made to serve the best and the most authentic tasting traditional Italian pizza.
Address: P-1, opposite Gopal Mandir, Khan Market, Sujan Singh Park, New Delhi, Delhi 110003
Timings: 11:30am to 11pm
Zomato Rating: No
Zomato Reviews: No
16. Bella Cucina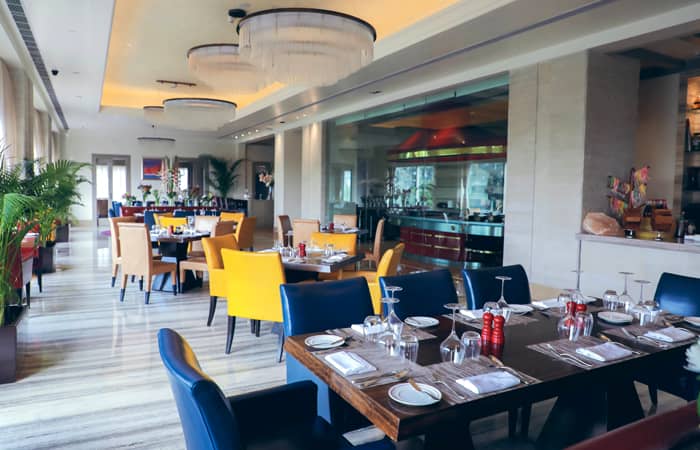 Located on Mehrauli Gurgaon Road, Bella Cucina is a fine dining Italian restaurant specializing in offering classic flavors in the most delicious manner. Gracing the ground floor of Le Meridien, overlooking the swimming pool with tons of natural light just pouring in, Bella Cucina is the perfect lunch date option. Some of the must-have dishes here include a freshly baked range of breads, Eight Layer Chocolate Cake, Risotto, Soups, Ravioli, Wild Mushroom Arancini, classic tiramisu, and many more. With relatively cheaper rates you can expect to have a good time here.
Address: Le Meridien, Lobby Level, Mehrauli-Gurgaon Rd, Sector 26, Gurugram, Haryana 122002
Timings: 7pm to 11pm
Zomato Rating: 4.2
Zomato Reviews: Click Here
17. Thyme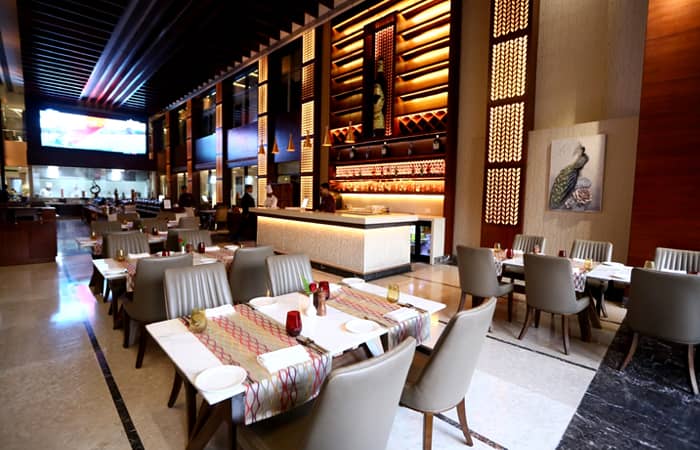 This spacious fine dining restaurant is located inside one of the poshest hotels in Delhi, the Umrao. Situated in Kapashera, Thyme is a relaxed, luxurious, family space offering delicious foods and a good time. With fine and grand decorations lighting up every corner of the room, the restaurant is famous for serving delicious cuisines from different parts of the world including north Indian food, Chinese delicacies, and continental dishes. The courteous and helpful staff works as the icing on the cake.
Address: National Highway 8, Rajokri Rd, D Block, Samalkha, Pushpanjali Farms, New Delhi, Delhi 110037
Timings: Open 24 hours
Zomato Rating: 4.0
Zomato Reviews: Click Here
Frequently Asked Questions (FAQs)
Q. What is the most expensive restaurant in Delhi?
A. Ottimo at west wood is the most expensive and lavish restaurant in Delhi which is mostly famous for its outdoor terrace seating and outstanding European and American food selection.
Q. What are some other good restaurants in Delhi?
A. Some other good restaurants in Delhi other than the ones mentioned in the list above are – Le Cirque in the Leela Palace, Bukhara at ITC Maurya, Kheer at Roseate house, Orient express at Taj Palace, and Sevilla at the Claridges.
Q. How many restaurants are there in Delhi?
A. Delhi has about 95,000 restaurants of various budget ranges and of small, medium to the big range.
Q. Which is the no.1 restaurant in India?
A. Indian accent has ranked as the number 1 restaurant in India followed by Bombay canteen at the 2nd spot.
Q. Is dine in now allowed in Delhi?
A. Dine-in Delhi has reopened after the 2nd wave of coronavirus with just 50% seating capacity with the timings being 8 am to 10 pm or even a little longer these days.
Q. Which city has the most restaurants in India?
A. Delhi has the most number of restaurants in the subcontinent according to Zomato reports.
Q. Is liquor allowed in Delhi restaurants?
A. Any restaurant possessing a liquor license is allowed to serve alcohol. This service was halted during the COVID 2nd wave but has now resumed.
Q. Which are the best restaurant options for takeaway in Delhi?
A. Some of the best takeaway food available in CP is Gourmet Couch, Dhaba – Estd 1986, Mist, Fifty9.
Q. What are some restaurants in Delhi with live music?
A. Here are some of the most popular places in Delhi that come with live music sessions – piano man jazz club, the Hong Kong Club, Banter, Tamasha, Radio Station, and Guftagu Cafe.
Q. What is the most famous dish of Delhi?
A. The variety of parathas offered in Delhi makes it the most loved food in Delhi. From being a regular breakfast option to make in every household of Delhi to dedicating a whole Gali to it, Parathas are the undefeated champion and famous food of Delhi.