Kalimpong in Darjeeling district has a unique advantage of being centrally located. The fantastic view from all around, the breathtaking sight of Mt Kanchenjunga, the surrounding forest with rich flora and fauna and the people of this town provide for a spectacular visit for travellers.
All major towns of this hill area – Darjeeling, Gangtok, Pelling, and Kurseong are almost at equal distance from Kalimpong. Siliguri is approximately 2.5 to 3 hours away. Lava, Loleygaon, Pedong, Rishyap and Charkhol, really picturesque and worth a visit, are at a distance of 45 minutes to 2 hours.
Kalimpong is known for its educational institutions, many of which were established during the British colonial period. Kalimpong then was a transit point for trade between Tibet and India.
The town is located on ridge overlooking the Teesta River. Horticulture is a very important business in Kalimpong. The town has flower market and is notable for a wide array of orchids. Nurseries, that export Himalayan grown flower bulbs, tubers and rhizomes. The town is also a religious centre for the Buddhists.
General Information
Area: 5 sq. miles (Kalimpong sub-division)
Altitude: 1250 metres (4100 ft) 1,704 meters (5,591 ft) – Delo
Population: 169,663 (approx)
Climate: Summer – 270C Max – Min 17.2oC, – Winter – 15oC Max – Min 7.2oC
Rainfall: 20 inches annually
Clothing: Tropical in summer and light wollen in winter
Languages Spoken: Nepali, Bengali, Hindi & English
Climate
Kalimpong has five distinct seasons: spring, summer, autumn, winter and the monsoons. The annual temperature ranges from a high of 27oc (86oF) to a low of 70C (48oF). Summers is mild, and are followed by the monsoon rains which lash the town between June and September. Winter lasts from December to February.
Traditions & Culture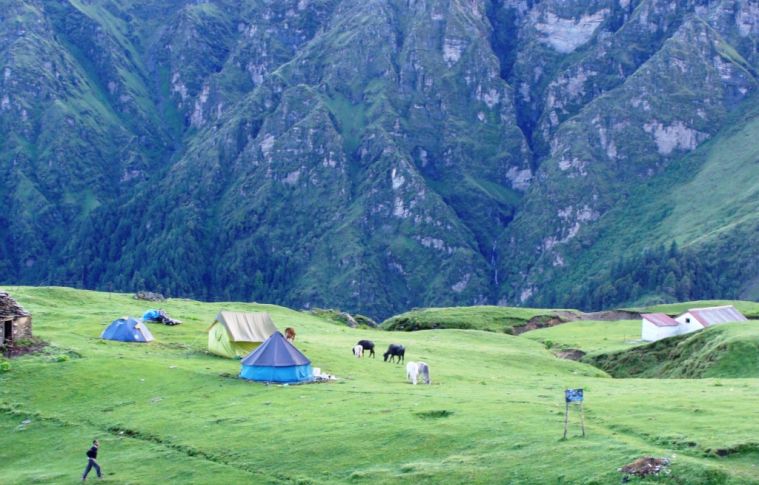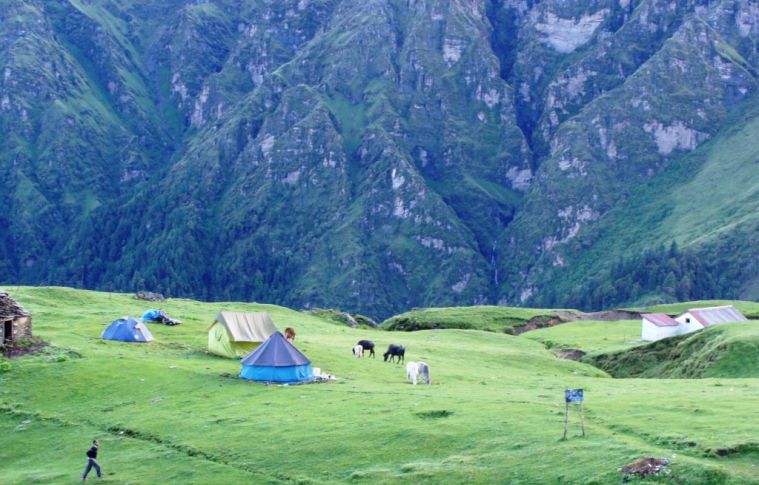 The majority here is that of ethnic Nepali, having migrated in search of jobs while it was under British rule, indigenous groups include the Newars, Lepchas, Bhutia, Sherpas, Limbus, Rais, Magars, Gurungs, Tamangs, Yolmos, Bhujels, Sunuwars, Sarkis, Damais and the Kamis. The other communities are that of Bengalis, Marwaris, Anglo-Indian, Chinese, Biharis and Tibetans Kalimpong is home to Trinley Thaye Dorje – one of the 17 Karmapa incarnations.
Kalimpong is the closest Indian town to Bhutan's western border, and has a small number of Bhutanese nationals residing here. Hinduism is the popular religion, followed by Buddhism and Christianity. The Buddhist monastery Zang Dhok Palri Phodang holds a number of rare Tibetan Buddhist scriptures. There is a mosque in the bazaar area of Kalimpong.
Popular festivals include Diwali, Christmas, Dussehra and the Buddhist festival of Losar. Nepali is the predominant language spoken in Kalimpong.
Flower Nurseries
The flower nurseries of Kalimpong specialize in the cultivation of exotic orchid species, and other ornamental flowers such as Gladioli, Gerberas, Amaryllis and Anthuriums. The most popular nurseries are Pine View, Universal, Shanti Kunj and L.B Pradhan & Sons Nursery.
Arts & Crafts
The town is famous for its handicrafts. The artisans produce Tibetan and Bhutanese artefacts and jewellery that are much admired overseas.
Regional Products
Tibetan shoemaking
Silverware and statue making by Sakya craftsman
Bamboo products by Lepcha tribe
Bamboo stools (Murha) by blind school trainees
Tibetan wooden carvings
Carpet marking
Woven bags
Scroll paintings
Thangka paintings
Food Culture
Food in Kalimpong is diverse ranging from Nepali, Tibetan to Chinese delicacies. A popular snack in Kalimpong is the Momo (steamed dumplings made up of pork, beef or vegetable cooked in a wrapping of flour) and served with watery soup. Churpee a kind of hard cheese made from yak's or chauri's (a hybrid of yak and cattle) milk, is sometimes chewed. A form of noodle called Thukpa, served in soup form is also popular in Kalimpong. There are a large number of restaurants which offer a wide variety of cuisines, ranging from Indian to continental to cater to the tourists. Tea is the most popular beverage in Kalimpong, procured from the famed Darjeeling tea gardens. Some of the locally produced products include cheese and lollypops which were introduced by Swiss missionaries.
For Visitors: should try homemade pickle available in the market at Motor stand Kalimpong.
Adventure & Interest
Trekking in Kalimpong
Most of the treks are low altitude Trek time range from 2 to 4 days. The average altitude ranges from 1200 meters to 1500 meters and average distance covered in a day about 12 kms. There treks cover local villages around Kalimpong, these villages are mostly Tamang and Lepcha villages. Local traditions and food are part of the trek itinerary.
Rafting
One of the most popular waters sports in Kalimpong is rafting, on the strong water current of river Teesta. The rafting usually starts from Melli and goes down to 29th mile.
Para Gliding
Paragliding is a fairly new sport introduced in this region. The flight path starts from the Science City on Delo hill. His is the perfect way to get a panoramic view of the mountain range and Kalimpong.
Visiting Places
Zang Dhok Palri Phodang
This is the largest and most beautiful monastery in Kalimpong. Consecrated by His Holiness, The Dalai Lama in 1976 who also presented 'The Kangyur', in 108 volumes to it. Being situated at a height of 1372 meters on the peak of the Durpin Hill, the monastery commands a majestic view of the surrounding areas as well as of the town of Kalimpong. On a clear day, a panoramic view of the Kanchenjunga and the adjacent peaks can be had from this ground. The Zang Dhok Palri Phodang belongs to the Yellow Hat Sect of Buddhism (Gelugpa Sect) to which the present Dali Lama belongs.
Getting There: 20 mines drive by taxi towards Durpin from the town
Local Tips: light a lamp in the monastery
Dr. Graham's Homes
One of the earliest Scottish missionaries to come to Kalimpong was Dr. J.A. Graham. He spent his early years in Kalimpong preaching Christianity, but after duration of time, he diverted his attention towards establishing an orphanage cum schools for the needy Anglo-Indian children. He hence established in 1900 the 'St. Andrews Colonial Homes'. The first cottage to house these children were built on the slopes of the Tripai Hill. But gradually the entire surrounding area was converted into a township which had its own cottages, farm, chapel, workshop, hospital, bakery playground, poultry, staff quarters and hostels.
Getting There: by local taxi 20 minutes' drive from town
Local Tips: enjoy the view from honeymoon hill
St. Teresa Church
Built by local craftsmen to resemble to Gumba, it has wooden carvings on the walls of Biblical scenes and in continuance to the theme, the characters are depicted in the attire of the Buddhist clergy.
Getting There: 10 mines walk from main town center towards Relli road.
Mangla Dham
This recently constructed temple is dedicated to lord Krishna, situated below Sewa Sadan Hospital 10th Mile.
Getting There: 15 min walk from town centre.
Dharmodaya Vihara
Dharmodaya Vihara is a Nepalese Buddhist temple situated just outside the town. In the year 1944 when the Rana rulers expelled all Theravada Bhikkhus (monks) from Nepal, they travelled to Sarnath along with a large number of devotees. An association was subsequently formed there by the name of Dharmodaya Sabha with patronage of locals. The "Elza Villa" was purchased and converted to be the center of preaching and furthering the teachings of Theravada Buddhism. A library containing rare books on Buddhism and other subjects was established in 1949 for the benefit of local people as well as Bhikkhus and Scholars. Dharmodaya Vihar has become a very important center for scholars of Buddhism from all over the world.
Charkhol
Distance from Chuikhim is 25 km via Nimbong. One can also reach from Kalimpong to Rishikhola and Pala, only to a travel distance of 34km. Homestay at Charkhol can be considered as the pioneer. Here there are ten homestay with a healthy competition among himself or herself for upgrading hospital. Added to it is unmatched beauty of the place, where Mt Kanchenjunga is view when sky remains clear.
Rishi Khola
14 km away from Pedong lies a beautiful river. The farmhouse on the banks of Rishi Khola is also a border for West Bengal and Sikkim. Tourists can spend the day fishing, doing village treks and riverside picnic. One can also spend the night in a riverside resort.