Khajuraho, the famous temple town of Madhya Pradesh pulls tourists not only from different corners of the nation but from different corners of the globe as well. The Khajuraho temple is a rare artistic and architectural masterpiece and has been awarded the title of 'world heritage site'. The erotic sculptures on the temple show an artist's creative frenzy and wild passion at full play. If you wish to enjoy this marvel, you must embark on a tour to Khajuraho at least once. This travel information guide below will provide you all the necessary info.
History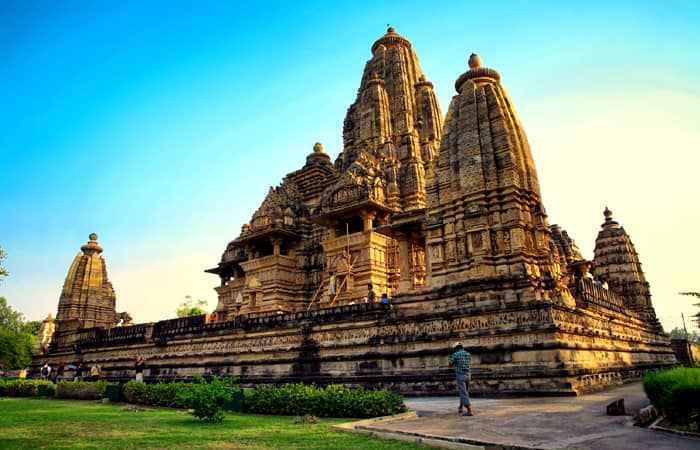 Khajuraho retains a special glory amongst the best known World heritage sites of India. The temples of Khajuraho are amongst the most stunning historical monuments of India. It's estimated that these temples were all built by the Chandela rulers between the periods 900 AD to 1130. The Chandela Rulers were earlier known as Bargujar Rajputs who were Shiva worshipers. Khajuraho was the capital of Chandel kingdom and it remained the cultural capital even after Mahoba was appointed as capital later. This period was the epitome of the Chandela rule and each ruler had at least one temple to his credit. Broadly speaking, temple building was a custom amongst the Chandela rulers and almost all other rulers of the Chandela Clan.
The first temple of Khajuraho is believed to have been built (according to literary accounts by Abu Rehan al Beruni in AD 1022 and the Arab Scholar Ibn Battuta) around 1000 AD. Khajuraho town was the religious capital of Khajuraho. There was a huge wall with 8 inbuilt gates surrounding Khajuraho and each gate was flanked by two fully grown date trees. It was because of the date (Khajur) trees that the place got its name as Khajur Vahika. Alternatively Khajuraho was also known as Jejakabhukti.
After the Chandela dynasty fell from power post 1150 the temples of Khajuraho were disfigured badly by Muslim invaders and they suffered destruction. Local people were forced to leave Khajuraho because of the ruthless attack of Muslims. Historical lore says that the local townsfolk decided that if they left the town then invaders would spare the sanctity of the temples. Thus from the 13th century to 18th century the temples of Khajuraho remained under dense forest cover shielded away from eyes of the world before being discovered by British Engineer T.S Burt.
Culture
Temples of Khajuraho have prominent posters in the Tourist Office of India and they have also been depicted in the temple grounds. Many famous dancers and musicians have given recitals with the famous Khajuraho temples in the background. However Khajuraho has mostly claimed the limelight because of the constructs of sexuality that feature in the temple architecture. The sheer fluidity of the lines and the eroticism of the figures have been referred to as an example of the liberal attitude of India. Gays and Lesbians have often cited Khajuraho as the epitome of expressions of sexual freedom.
Some scholars opine that the erotic statues of Khajuraho are often interpreted as sexual intercourse positions between divine beings, gods and goddesses. The temples that have such carvings and sculptures stand at some distance from the cluster of Jain temples and Hindu temples. The outer wall sculptures demonstrate the life style of common members of the society during the medieval age.
10th Century famous poetic and literary work like Karpuramanjari, Kavyamimansa, Prabodhacandrodaya etc are represented thematically in the sculptures of Khajuraho. Other interesting iconography includes Vrik Vyala (fusion of lion and wolf) and Gaja Vyala (fusion of lion and elephant).  The stories about temple architecture abound in the small town of Khajuraho and are expressed by locals through their art and craft.
Khajuraho is a town steeped in rich history and culture and fabric of social life here is fascinating. The population of Khajuraho is not high and the economy of the town is dependent on the tourism activities that center on monuments and temples of Khajuraho. The local folks here still follow the village lifestyle and are deeply religious.
Locals speak Hindi and many of them know rudimentary English. The local guides and some hotel staff speak Dutch, French and Jewish too.
Tourist Attractions
The temples of Khajuraho are well known for their architectural splendor. There are more than a hundred temples in the town and these are divided into separate blocks.
Western Group of Temples
This is the largest and the most famous temple group in Khajuraho. You have to get a ticket worth INR 10 to enter this group of temples. The prominent members of Western Group of Temples are:
Lakshmana Temple: This is a splendid Vaishno temple that is the crowning glory of the Western Block. A horizontal beam that lies over the Vaishnavite temple represents the trinity of Shiva, Brahma and Vishnu with their respective consorts.
Devi Jagadambi Temple: This has some of the most intricate sculptures found in the whole of Khajuraho. This delicately proportional temple has a magnificent image of Jagdambi, the Universal Goddess. This temple also has some of the most erotic sculptures of Khajuraho.
Kandariya Mahadeva Temple:
Some of the greatest masterpieces of Indian sculpture are found in Kandariya Mahadeva Temple which is gigantic in structure.
Varaha Temple: This temple is dedicated to the Varaha incarnation of Vishnu. The principal deity shows a Boar in the center with the Sheshnag laying on the floor. The snout of Varaha contains the statue of Devi Saraswati and this shows how every sound uttered through the snout seeks the blessing of Saraswati.
Chitragupta Temple: This is a sun temple dedicated to Surya God and it faces towards the East.
Vishwanath Temple: The temple dedicated to Shiva's incarnation Vishwanath is also famous for the huge statue of Nandi Bull which stands at the entrance.
Eastern Group of Temples
The Eastern Group of Khajuraho temples has more than 20 temples in their group; the most famous amongst them are mentioned below.
Parshvanatha Temple: This is the biggest temple in the Eastern Group and it has lovely carvings detailed on it. There are lovely sculptures on the Northern side of the outer wall of the temple which shows an unique blend of Hindu, Muslim and Buddhist cultures.
Adinath Temple: This beautiful temple is dedicated to the Jain God Tirthankar and its heavily adorned with figures of Yakshis.
Ghantai Temple: This is beautiful Jain Temple with a fresco depicting all 16 dreams of Mahavira mother and also shows a Jain Goddess seated on a winged Garuda.
Vamana Temple: Vamana is the dwarf incarnation of Lord Vishnu and it is placed in a secluded place. This is the only temple without the ornate architecture that hallmarks Khajuraho.
Brahma Temple: This temple is dedicated to the creator of the universe Brahma and is made entirely out of red sandstone.
Southern Group of Temples
Duladeo Temple: This temple has a huge Shiv Linga that is surrounded by a multitude of Apsaras and ornamental figures.  It's known for its sculptural magnificence.
Chaturbhuj Temple: One of the oldest temples and completely bereft of any erotic sculpture this temple is 3 km away from the Eastern Group. There is a huge 4 armed 9 feet high Vishnu idol inside the temple.
Other attractions near Khajuraho are the Ken River, Panna National Park and the Bandhavgarh National Park.
What to Do in Khajuraho
When in Khajuraho you can entertain yourself by walking amidst the cultural cornucopia of the town. Every lane and street in Khajuraho is teeming with stories about its glorious past. Interact with the locals there and know about their lifestyle and arts and crafts. Intellectual gatherings are frequently organized in Khajuraho here views about eroticism and spirituality are exchanged.
Yoga Classes
Arhanta Yoga Ashram in Khajuraho offers the opportunity of studying Classical Hatha Yoga in a typical Ashram setting. Many foreigners frequent this Ashrama to know more about Yoga and its benefits.
Khajuraho Dance Festival
Annual Dance Festival of Khajuraho is held between 1st Feb to 7TH Feb. Lots of famous dancers and musicians showcase their skills against the stunning backdrop of the Khajuraho Western Group of Temples. The Dance Festival promises the experience of a lifetime and you shouldn't miss seeing it if you happen to be around Khajuraho then.
Light and Sound Show
This happens every evening at the Western Temple Group. The Narration is recorded in the voice of Bollywood Icon Amitabh Bachchan and there is a stunning show of light and sound which showcases the beauty of Khajuraho. The entry ticket for Indian Nationals cost 120 INR only.
Shopping:
Shopping for arts and crafts should definitely be a part of your agenda when you are in Khajuraho. Iron ware, stone sculptures, Brass ware etc depicting the erotic Kama sutra poses is famous in Khajuraho and you can buy them at the handicraft stores dotting the city.
Arts & crafts
The Government operated Crafts Emporium offers great deals in silver and gold ornaments, statues made of sand stone and local crafts work. The emporium is situated in Hotel Gem Palace in Jain Road.
The weekly haat at Raj nagar which is at distance of 4 km from Khajuraho is also a good place to pick up traditional silverware and brass ware.
Cuisine of Khajuraho
A visit to Khajuraho will provide you with a golden opportunity to sample the delicious Madhya Pradesh cuisine. Sweets and Namkeen found in this area are quite famous and don't forget to try out Moong dal Halwa, Kaju Barfi, jalebi and Shikanji found here. Some restaurants you can try out are:
Green View Restaurant: coloured a dramatic red and green this restaurant is famous for its Madhya Pradesh Thalis which have 10-15 different items in them.
Paradise Restaurant: This restaurant is famous for its unusual concoction Mango Pancakes. It is located on Temple road and is affordable with a neat and clean seating arrangement.
Mediterranean Restaurant: This is an exclusive place serving Greek and Mediterranean cuisine with western food and snacks.
Raja Café: This quaint little place is run by two Swiss sisters. They offer authentic Swiss breakfast at just 70 INR.
Agarwal Veg Restaurant besides the Hotel Gem Palace on the Jain Road serves excellent vegetarian Jain food. The tomato Boondi raita there is very famous.
Shivam Restaurant on Temple Road serves super affordable tasty vegetarian meals at just Rs 50.
Madras Coffee House on Main Square serves South Indian Food and excellent Filter Coffee.
Beans grounded is a Western Style Café and Breakfast Place that opens at 8 A.M and serves good heart English breakfast.
Accommodation Options
There are many types of accommodation options in Khajuraho starting from Expensive premium hotels to Tourism Board Hotels and Budget Hotels and Lodges. You can choose your suitable option from the list given below.
Madhya Pradesh Tourism Department Hotels
Jhankar Hotel: contact 07686 274063; room rate INR 1190
Payal Hotel: Contact 07686 274064; Room Rate INR 690-1190
Rahil Hotel: Contact 07686 274062; Room Rate INR 490 for single Room
Budget Hotel
Isabel Palace Khajuraho: Contact 9893163287; Room Rate: 50$
Lakeside Hotel: Contact7686-274120; Room Rate: INR 1400
Hotel Greenwood: 7686274505; near Airport
Hotel Zen: At Jain Temple Road owned by Osho member Rajesh. Offers meditation classes from 5 A.M
Mid-Range Hotels
Kairali Ayurvedic Spa: Contact 07686 272 219
Holiday Inn: Contact 07686 272301
Hotel Jass Oberoi: Contact 07686 272344
Premium Hotels
Lalit Temple View Hotel: Circuit House Khajuraho; Contact 07686 272111; Room rate 150$
Hotel Radisson: By Pass Road Khajuraho; Contact 07686 272777; Room Rate 70$
Hotel Clarks Khajuraho: 1 km from Airport: Contact 07686 274257; Room Rate 100$
Usha Bundela Hotel: Contact 07686 272 386
Climate of Khajuraho
Khajuraho has extreme climate with a lot of variation between day and night temperatures. Rainfall is low (114 cm annual) and the humidity is also low. In summers the temperature shoots up to around 45 degrees and winters stay pleasant at around 22-27 degrees. Feb- March is a good time to visit Khajuraho as the weather is nice and the dance festival also takes place around this time.
How to Reach
Flight: Khajuraho Airport is located 5 km away from the Khajuraho town and there are regular flights operated by Air India and kingfisher from Delhi and Varanasi.
Train: A train station became operational in Khajuraho and it falls on the Delhi/ Bengaluru/ Trivandrum Main Line. Strangely train tickets cannot be brought from the station and have to be booked online or from the bus station. Sampark Kranti Express and Dakshin Express are two trains that stop at Khajuraho.
Alternatively you can take a train to Satna (Allahabad-Mumbai route) or the Mahoba (Jhansi-Varanasi route).
Taxi and Bus service to Khajuraho is very good though the condition of roads is not good. Buses are available from Agra, Satna, Mahoba, Jhansi, Khajuraho and Gwalior.
Travel Tips
Internet Cafes are mostly situated around the most popular Western group of Temples. They charge around 25 INR per hour but you shouldn't expect high speed Internet. A good place to go to is Om Internet and Travel Agency.
Avoid giving money to children and beggars around in Khajuraho as this will only encourage them to make begging their livelihood.
If you want to change money then contact the local Bank as Airports will charge you higher. Contact SBI which is near the Western Group of Temples. You can get an advance on your Master Card at Canara Bank which is also near the Western Group of Temples.
Don't forget to carry flashlight, map, water bottle, sunscreen and glares with you.
Dial 07686 274032 for emergency help from police and dial 102 for ambulance.
Have a happy and safe trip to the temple capital of India; Khajuraho!!!