Rajasthan, a northern state which is really a jewel in India's crown is the largest Indian state by area and seventh largest by population. The widest and the inhospitable Thar Desert which is also known as The Great Indian Desert is also located in this northern state of India. Spread over an area of almost 342000sq. km the state offers ultimate wilderness with its distinct reserves and sanctuaries. Flabbergasting palaces and forts, deep praising folk music, the multitude of chivalry stories, and lip-smacking cuisines invite tourists from all across the globe to this culturally rich state. The state is called as the land of kings and its chivalric heritage is entrenched with pride and tradition. The state has nurtured fine arts and stunning handicrafts and the village life can also be witnessed here. Rajasthan Tour Plan offers you the endmost sight of thousands of flora, fauna and especially the birds including the migratory ones.
Natural Parks in Rajasthan- the national parks of Rajasthan are quite different from others as it shows a wide variety of birds and animals including Ranthambore National Park which is known as a home to rare species of tigers and Bharatpur National Park is known as a home to varieties of birds.
List of 10 Most Famous National Parks in Rajasthan
01. Keoladeo National Park, Bharatpur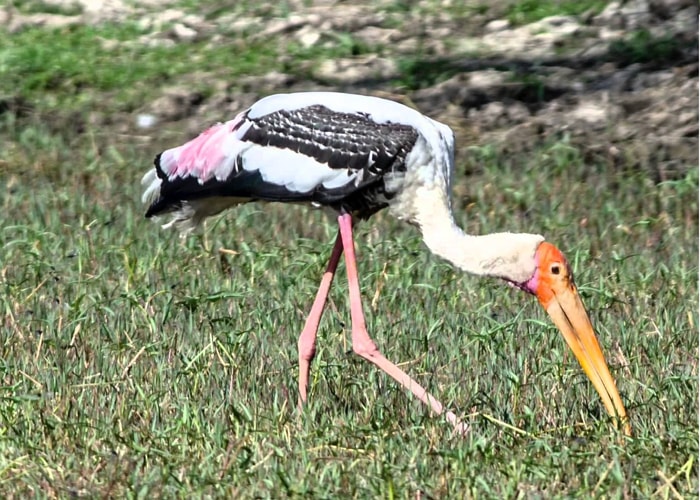 The city is soaked by its way of life, valor, and sentiment which are woven into anthems and legends can be notified from miles away. Bharatpur National Park is called as Keoladeo National Park is a magnificent bird sanctuary. This National Park was established on 10th March 1982. The wetland was established to control the area from the frequent flood. The national park is declared as a World Heritage Site by UNESCO and holds around 230 species of birds, 200 species of amphibians and numerous reptiles including lizards, snakes, turtles etc. and around 350 floral species can be found here. The national park serves as a winter home to Siberian Cranes which is an endangered bird species.
02. Sariska National Park, Alwar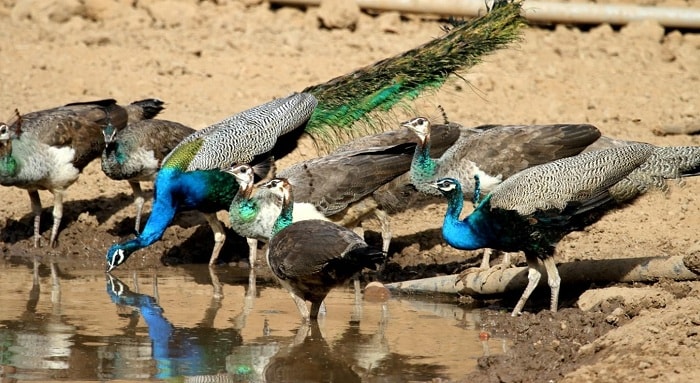 The National Park is situated in the Alwar district of Rajasthan which got announced as a tiger reserve in 1978. It is believed as the first reserve in the world which had successfully relocated The Royal Bengal Tigers which later on got disappeared. The landscape of this wetland is comprised of rocky landscapes, hilly cliffs, grasses, and dry forests. You can even witness the chirping of beautiful birds and you can even spot striped Hyenas, Chinkara, Jungle Cats, etc. Around 90% of the area is covered by Dhok Trees which is accommodating various wildlife species and is also popularly known as a sanctuary having the highest population of peafowl, sand grouse, golden-backed woodpeckers, crested serpent eagles, and many more.
03. Ranthambore National Park, Sawai Madhopur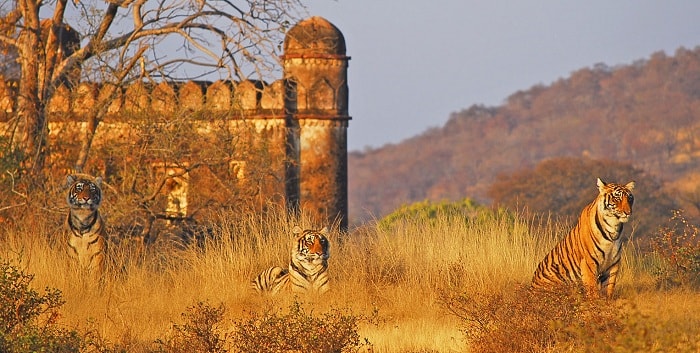 It is one of the most known and the largest national park in Northern India. At a distance of 130 km from Jaipur the national park is situated in the Sawai Madhopur district in Rajasthan and covers an area of almost 342 sq. km. Ranthambore was once popular as a favorite hunting ground of various Maharajas of Jaipur which is now known for inviting millions of Indian as well as International tourists every year as it is considered as one of the best destinations to spot majestic predators in its natural habitat. Spending time on watching tigers running and hunting during the daytime and taking care of their young ones is a priceless experience and much worthy which everyone should explore at least once in your lifetime.
04. Desert National Park, Jaisalmer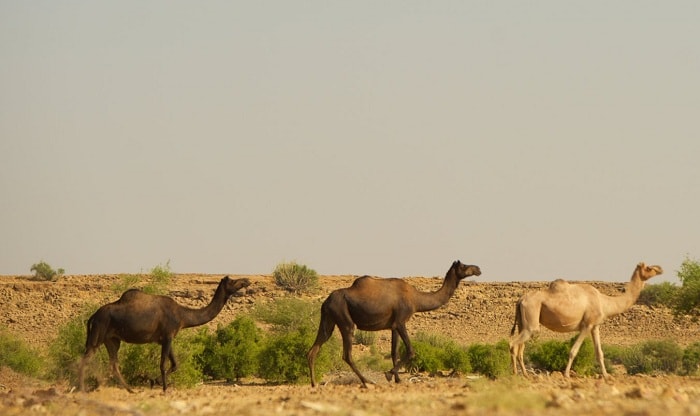 Desert National Park is situated near the town of Jaisalmer and is also known as one of the most famous and one of the largest National Park in India. The beautiful landscape of this national park is 20% covered by sand dunes. You can see many local as well as migratory birds here including falcons, vultures, spotted eagles, and sand grouse etc. You can even get the chance to spot the endangered Great Indian Bustard in a good number. Being a military area, the roads are well-managed and are generally free of traffic which makes your visit smoother. Due to its harsh location, the weather is too humid during summer so the ideal time to visit this place is from October to February.
05. Mount Abu Wildlife Sanctuary, Mount Abu

This sanctuary is located in one of the oldest Himalayan ranges, Aravali is reckoned for holding a wide variety of flora and fauna species. It would be a great treat to visit this wildlife Sanctuary if you are spending your vacation in this desert state. It has around 112 plant families and even more than 250 species of birds. Besides Flora and birds, Mount Abu Wildlife Sanctuary is also known for holding a great number of animal species which include Indian Fox, Common Langur, Common Mongoose, Indian Hare Porcupine, and many more are there in the list. If you are in Mount Abu Wildlife Sanctuary then you may even visit Green Adavat which is rarely found.
06. Sawai Mansingh Wildlife Sanctuary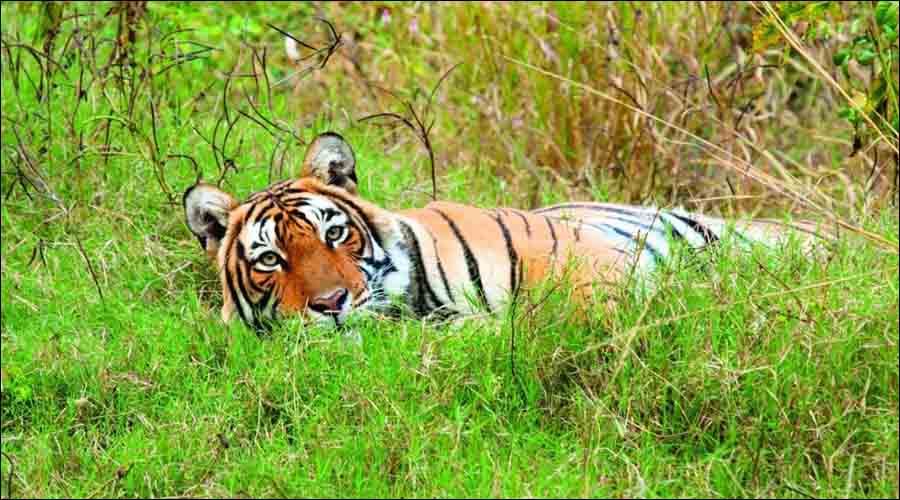 The sanctuary was established in the year 1984 and is spread over an area of 127.76 sq. km. This biodiversity is situated in the hilly areas of Vindhyas and has been recognized as one of the most beautiful and fulfilled biodiversity in the city. Inside Sawai Mansingh Wildlife sanctuary there are two other eco-tourism sites Balas and Kundal. The entrance area of the sanctuary from the passage is turbulent and is thrilled with the steep rocky countryside. Due to its hilly-ranging area, the sanctuary is much abundant in biodiversity. Cheela, Raunj, Tendu, Gurjan, Jhonudali, etc. are some of the common floral species found here. Hare fox, Jingle Cat, and Wild boar are some common animals found here.
07. Sambhar Lake Wildlife Sanctuary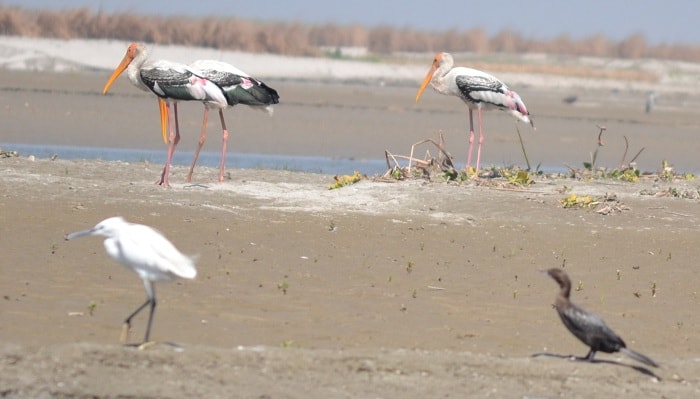 Sambhar Wildlife Sanctuary is spread over an area of around 22.5 sq. km however the width differs somewhere from 3 km to 11 km. it is home to numerous water streams among which Mendha and  Rupangarh are the two main water streams in the area which feed the pristine Sambhar Lake. The wildlife sanctuary has been separated into 2 parts by a 5 sq. km stone reservoir. Sambar Wildlife Sanctuary is home to numerous flora and fauna species including black-headed gull, Shoveller, and Flamingoes. We can even spot various aquatic birds like ducks, shorebirds, and geese at this sanctuary.
08. Kumbhalgarh Wildlife Sanctuary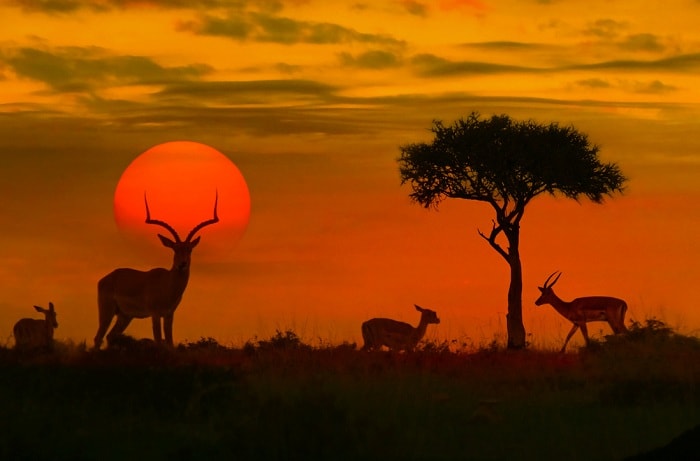 One of the wonderful creation of nature which is best for treating your eyes. Bird lovers consider it as heaven and it is even an ideal for wildlife lovers too. The sanctuary is spread over an area of 578 sq. km and even encircles the famous Kumbhalgarh fort and is extended over an area of Aravali Ranges. If you roam around the borders of the sanctuary you can spot various animals like a jungle cat, jackal, Sloth Bear and among all Leopards and Panthers are the major attractions. Kumbhalgarh Fort and the lion Safari are the other attractions if you are visiting this place. You can even get an enthralling experience of the true spirit of nature by doing adventurous camping.
09. Jawahar Sagar Wildlife Sanctuary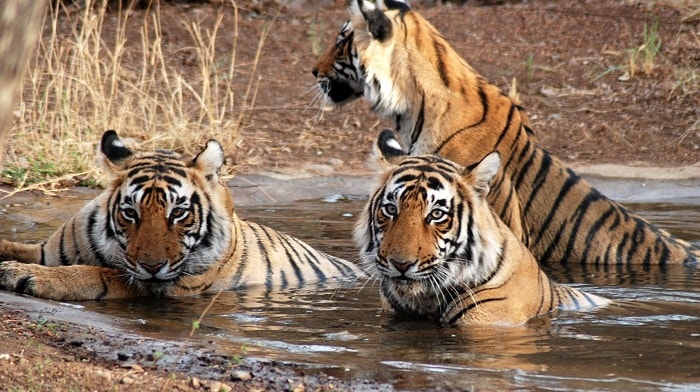 Located near the Jawahar Sagar Dam the wildlife sanctuary is situated in the Kota district of Rajasthan. Jawahar Sagar National Park has been spread over an area of around 100 sq. km. and is the habitat of Sloth Bear, Leopard, Fishes, and Sambar Deer. You will have a rejuvenating time in Jawahar Sagar National Park as it has so much to lure you and offer you the recreation at its best and let you drenched in adventurous spirit.
10. Darrah Wildlife Sanctuary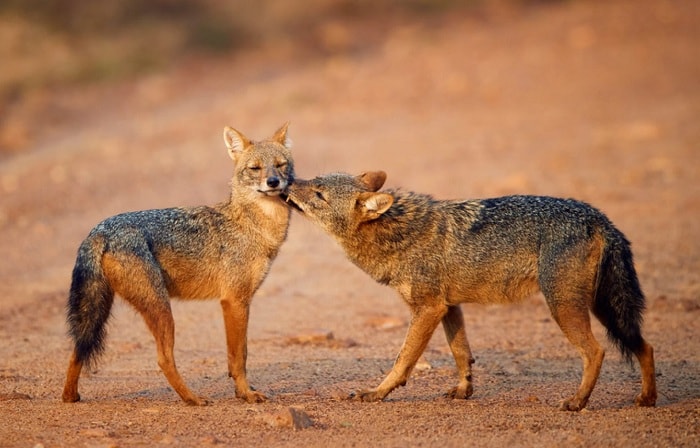 This huge national park of Rajasthan was established in 2004 and is a comprised of three national parks- Chambal Wildlife Sanctuary, Darrah Wildlife Sanctuary, and the Jaswant Sagar Wildlife Sanctuary. Located at a distance of 50 km from Kota, this wildlife Sanctuary is spread over an area of around 250sq. km. the natural beauty of this Sanctuary is so mesmerizing which is beyond description. The sanctuary encircles a beautiful fort of which the architecture of Jenana Khana is stupendous and cannot be described easily. If you are on a trip to Darrah National Park then you must visit the sun temple of Jharipatan which is one amongst various ancient temples near the national park. This wildlife sanctuary is closed from July to September.