Uttarakhand, also known as Dev Bhoomi or the land of gods is considered as one of the top pilgrim destinations in India due to its great religious significance in Hinduism. Thousands of tourists come to this beautiful and holy place to pay their homage at the religious places and to get some fresh healthy air and also for the peace of mind. Panch Prayag Yatra is one of those journeys which provide you serenity and tranquility needed to your soul, mind, and the entire body. The literal meaning of Panch Prayag is the confluence of five holy rivers flowing in the Garhwal Himalayan Ranges of Uttarakhand. Hindu mythology states that when Goddess Ganga was descending on the earth to cherish humans then earth was not able to resist such a great force of the flow. Lord Shiva divided it into various streams. After passing through five confluences River Ganga completed herself and regained her strength to purify humanity.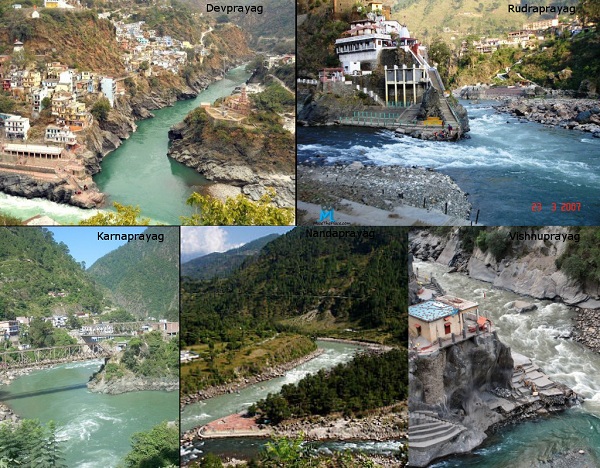 A Panch Prayag Yatra includes visiting all these sacred confluence of Ganga River. The five holy places of Panch Prayag Yatra include Devprayag, Rudraprayag, Karnaprayag, Nandprayag, and Vishnuprayag. The Alaknanda River gushing along the four goes of Panch Prayag- Vishnuprayag, Nandprayag, Karnaprayag, Rudraprayag and finally meet the Bhagirathi River at Devprayag, the fifth Prayag to frame the Ganga, the hallowed waterway of India that has passed on salvation to this land. Panch Prayag destinations are enlisted below in their descent order from the Himalayas.
Vishnu Prayag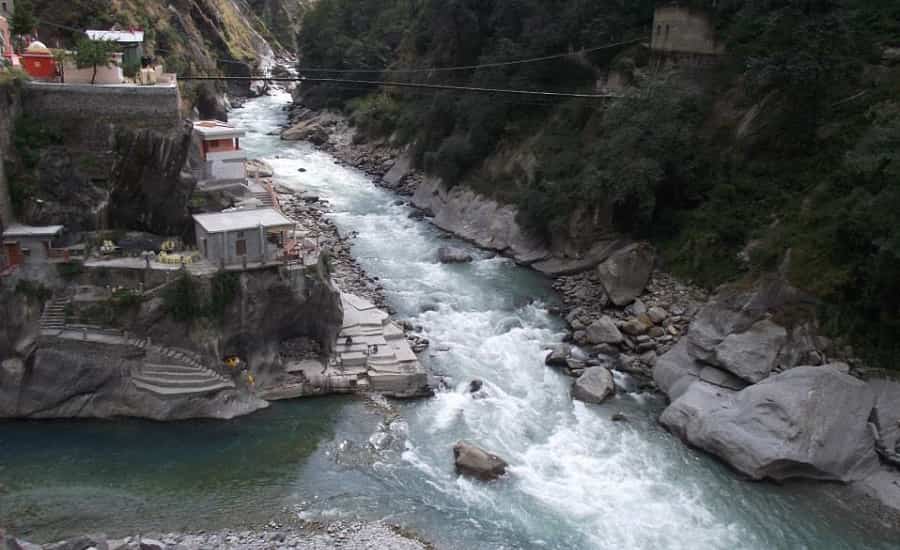 A sacred city settled at an elevation of 1372 meters above the sea level and is embellished on the divine confluence of Dhauliganga and Alaknanda Rivers. Vishnuprayag is situated in the beautiful Chamoli district of Uttarakhand. It is counted first among the Panch Prayags including Nandprayag, Devprayag, Karnaprayag, and Rudraprayag. It is the union place of Vishnu Ganga and Dhauli Ganga. There is an ancient temple of Lord Vishnu situated near a small yet beautiful pool called Vishnu Kund. According to the natives of Vishnuprayag, the Vishnu Temple which is located around 2km away from Vishnuprayag is the same place where Narad Muni received the showering of Lord Vishnu's blessings. Devotees commencing their cherished Char Dham Yatra in Uttarakhand take a dip in this holy water confluence. The lofty mountains, imposing mountain peaks, enchanting rivers, and the lush green meadows make it an ideal place for nature lovers.
Places to visit In and Around Vishnuprayag
Despite being a religious destination, Vishnuprayag has many sightseeing destinations to explore other than temples.
Badrinath Temple
It is one of the most sacred pilgrimage spots of Char Dham Yatra which is located in the Chamoli district of Uttarakhand. The temple is perched at an altitude of 3133 meters above the sea level and is dedicated to Lord Vishnu. Badrinath Dham is well accessed with motorable roads and the holy shrine of Lord Vishnu can be reached by covering an easy trekking distance. Badrinath houses myriads of legends and each adding more glory to the destination.
Auli
A splendid skiing destination situated at an elevation of 3050 meters above the sea level. This beautiful sightseeing destination is situated in the Chamoli district of Uttarakhand surrounded by awe-inspiring scenic splendors which makes it a pictorial wonderland. This beautiful destination offers both summer and winter treks which allure and exhilarate the adventure enthusiasts at their utmost level. Auli is a perfect honeymoon destination offering a cozy environment where the partners feel blessed with each other.
Nandprayag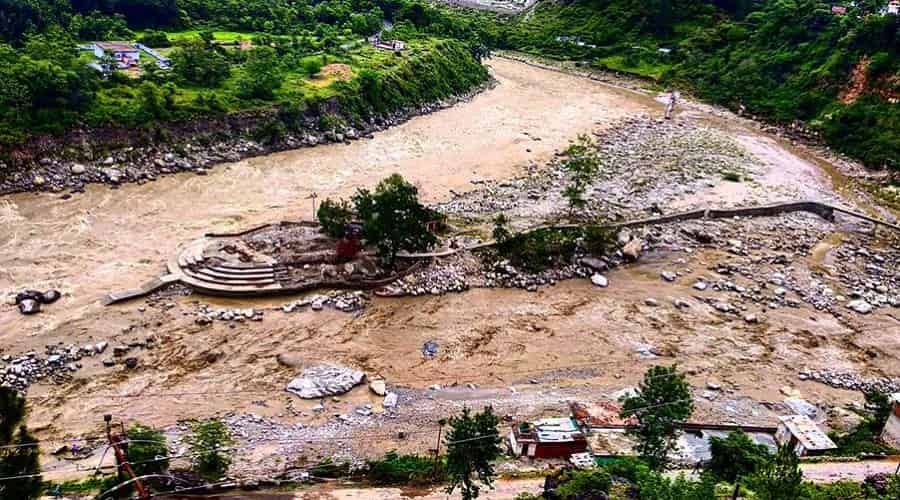 Here, Alaknanda River is joined by Nandakini River at around 1358 meters of stature in the Chamoli district of Uttarakhand. According to a prevalent view, Nandaprayag got its name from the Yadava King, Nanda. The dedication and devotion of King Nanda towards Lord Vishnu blessed him with a son like Lord Vishnu. Also, henceforth he got the opportunity to raise (a manifestation of Vishnu) as a temporary dad. This divine confluence is situated 22 km away from Karnaprayag and around 194 km away from Rishikesh. You can pay your homage at a very famous temple of Gopal Ji (Lord Krishna) at Nandprayag. According to Hindu mythology, this is the same place where King Dushyanta and Shakuntala tied the knot. It is believed that this small yet beautiful town of Chamoli district had once served as the capital of Yadu Kingdom and is also believed to be the same place where Raja Nanda performed Yagna which was afterward used as the major attraction of Nandprayag.
Places to Visit near Nandprayag
Nandprayag is a favorite place to enjoy a deep interaction with nature as it holds some really astonishing sightseeing spots including religious places too.
Chamoli
This beautiful district of Uttarakhand is beautifully adorned with an amazing and mesmerizing scenic vista. It was earlier called as Kedar-Khand as it houses some enchanting abodes of gods and goddesses. It is bedecked with myriads of pristine valleys, snow-capped mountains, and a wide variety of flower-blooming meadows. The ambiance of this pretty town is dipped in deep serenity and tranquility whose evidence can be seen in some of the most creative flairs of Kalidas writing compositions.
Tungnath
A magnificent temple dedicated to Lord Shiva whose tranquil aura cherishes both the soul and eyes of the devotees. According to Hindu mythology, when Lord Shiva was hiding from Pandavas and disguised himself into a bull and Bheema recognized him then he submerged into the ground and like this, his body was divided into various parts spread at different places. His hands were found at Tungnath and since then his hands have been worshipped here. You need to cover a tedious trekking distance however, the scenic vista negotiates the tedious trek and transforms it an amazing trekking trail.
Karnaprayag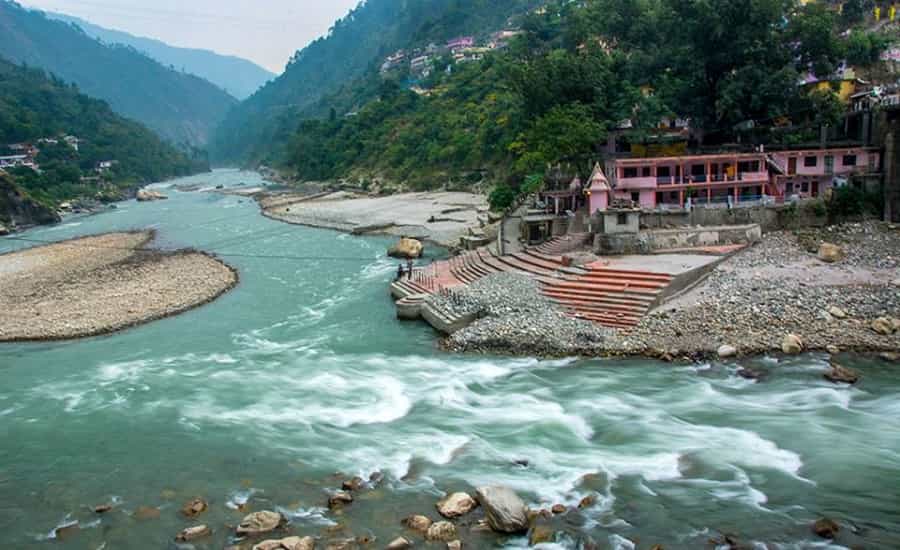 One of the sacred Panch Prayag beautifully adorned on the convergence of Alaknanda River and Pindari River. This sacred town of Uttarakhand is believed to have been blessed with redundant natural beauty and is located at an altitude of 1459 meters above the sea level. According to Hindu mythology, this is the same place where Swami Vivekananda meditated and had made this place more sanctified. There is an interesting tale of mighty Karna behind the origin of this religious place. During the Mahabharata war, Lord Surya (father of Karna) gifted him with Kavach and Kundal which could save him during the war. Lush green meadows, snow-covered mountains, and the imposing mountain peaks adorn the atmosphere of this town and make it more serene and tranquil. Karnaprayag is surrounded by many other religious places also including Chandika Mata Mandir, Uma Devi Temple, Adi Bari Temple, and Karna Temple which are heavily crowded with devotees to seek the blessings.
Places to Visit Around Karnaprayag
Karnaprayag has several other sightseeing destinations which make their devotional journey accompanied by an impeccable traveling experience.
Gopeshwar
This religious destination of Chamoli district is famous to house an ancient temple dedicated to Lord Shiva. Gopeshwar is not only considered as a religious destination where only devotees flock, but it is also a perfect place for nature lovers which is adorned with alluring mountains, dense oak forests which cover the area with a green blanket. The University of Garhwal is also located in the same town which adds educational significance to Gopeshwar. Vaitarni Kund which houses many temples but without any idol is the other interesting place in Gopeshwar.
Valley of Flowers National Park
This beautiful flower national park is located in the Chamoli district of Uttarakhand. The park is spread over an area of 87 sq. km. and is situated at an elevation of 3500 meters above the sea level. This national park is counted as one of the largest biosphere reserves in India. Since 2004 the park has been reckoned as a world heritage site as declared by UNESCO. It houses around 530 species of flowers and one can find a good population of animal species.
Rudraprayag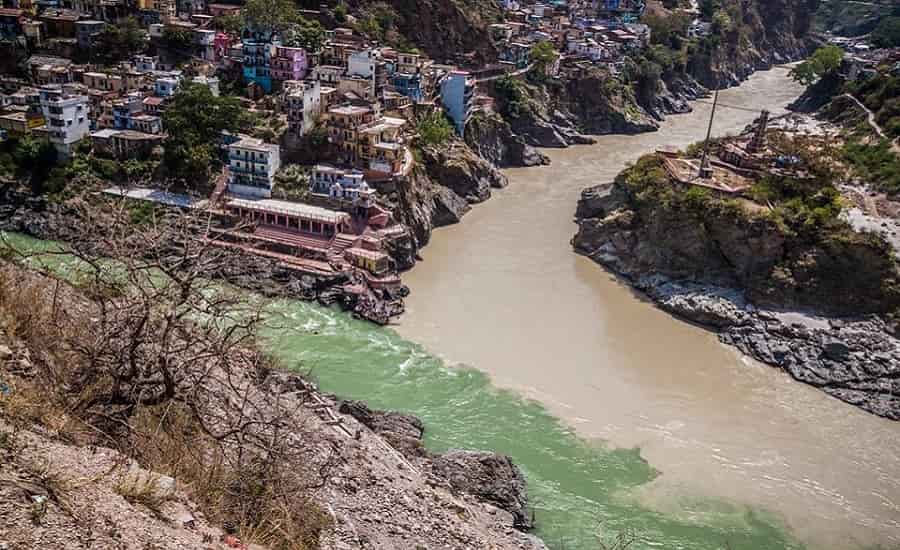 This 4th confluence of Ganga River amongst Panch Prayag circuit is situated at the convergence of the two holy rivers Alaknanda and Mandakini in the Rudraprayag district of Uttarakhand. There is a deep faith among Hindu devout that if they take a dip then their all sins would be absolved. This Hindu pilgrimage destination got its name from Lord Shiva who appeared here in the form of Rudra. The place is considered as a paradise for the nature lovers, adventure enthusiasts, and peace seekers allured by the scenic splendors and the beautiful landscape bedecked with lofty mountains, lush green meadows, and the imposing Himalayan mountain peaks. This beautiful district of Uttarakhand offers an immense scope of trekking trails and how can we even forget the pious Kedarnath Shrine which is also located in the same region?
Places to Visit nearby Rudraprayag
This divine traveling spot is surrounded by some other religions as well as sightseeing destinations out of which 2 most visited places are enlisted below.
Kedarnath Temple
Kedarnath is one of the most prominent destinations of Lord Shiva worshippers. This holy abode of Rudraprayag district is dedicated to Lord Shiva and is nested at an elevation of 3584 meters above the sea level near to the source of Mandakini River. Kedarnath is one of the most sacred Jyotirlingams of 12 Jyotirlingams and is also counted as one of the most revered and important Shiva Temples located in the Garhwal Himalayan ranges.
Ukhimath
A spiritual travel destination settled in the Rudraprayag district of Uttarakhand and is reckoned as winter abode of Kedarnath and Madhyamaheshwar Temple due to its low altitude location as compared to the other two. The sightseeing destinations of this spiritual travel destination allure tourists by offering the imposing views of the splendid Himalayan mountain peaks including Nanda Peak, Kedarnath Peak, Neelkanth, Chaukhamba, and some others.
Devprayag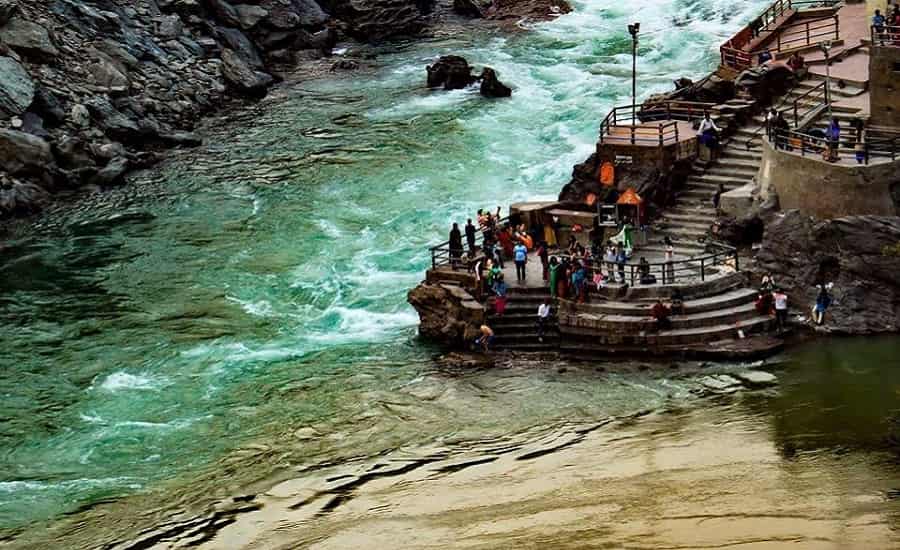 Set in a brilliant normal setting, Devprayag is the last and the most critical confluence among the five confluences of the Garhwal area. Here, Alaknanda meets Bhagirathi in the wake of experiencing the confluences at Vishnuprayag, Nandprayag, Karnaprayag, and Rudraprayag and the consecrated stream of River Ganga at long last spring up. This revered spot is located in Tehri Garhwal district and 73 km away from Rishikesh and is immensely crowded with devotees throughout the year. According to Hindu mythology, this is the same place where Lord Ram and Laxman performed atonement to absolve their sin of killing the demon Ravana, who was a Brahmin. This divine confluence houses a very old Raghunath Temple where a 15 feet high statue of Lord Rama stands beautifully bedecked with black granite. There are four other small yet much-visited shrines dedicated to Annapurna Devi, Lord Hanuman, Shankaracharya, and Garud. The place also holds a high place in the astronomical observatory and houses a beautiful collection of around 3000 manuscripts which have been gathered from all across the globe among which the earliest one belongs to 1677 AD.
Places to Visit around Devprayag
This divine place of Tehri Garhwal region has not much to explore and some of them are enlisted below.
Teen Dhara
The name of this visiting destination in Devprayag clearly tells that this is the place where three water streams are located. It is considered as one of the favorite resting places of the tourists located on Rishikesh-Devprayag Highway. This ideal resting place is situated on NH-58 along the pious Ganga River and is reckoned to house many low-cost restaurants or Dhabas. Teen Dhara village is a habitat of only 500 people and some of them have also set up small shops offering Jal Jeera, Lemon water, and many more things to the tourists.
Raghunath Temple
This ancient temple was constructed around more than a thousand years back is dedicated to Lord Rama. Apart from the main idol of Lord Rama, the temple houses the idols of his brother Lord Laxman and his wife Goddess Sita. As per the regional folklore, the construction of the temple was done by Raja Jagat Singh of Kullu. It is believed that from his birthplace he took a statue of Lord Rama in an illegal manner in order to get rid of all his committed sins.