Rajasthan, the state of sand dunes, palatial Buildings, Mahals, lavish crafts has many to offer to a tourist. Udaipur is one city where you can get enough to quench your thirst for travel. If you are planning for a trip to Udaipur of late, this city guide and list of top Udaipur tourist places would help.
Udaipur is the capital of the erstwhile royal state of Mewar which is now a part of Rajasthan in India. Udaipur is one of the premier tourist destinations in India and in the recent years it has commanded a lot of interest as destination wedding spot for celebrities. Movies including the well-known James Bond Flick Octopussy were filmed in Udaipur. The incredible sights and sounds of Udaipur coupled with its grand history have earned it the epitaph of "Most Romantic City of India" and "Venice of East" etc. It's a wonder how in spite of being in the desert state of Rajasthan Udaipur has such magnificent lakes like Fateh Sagar Lake, Swaroop Sagar Lake and Pichola Lake. Udaipur owes much of its cultural artifacts to Mughal ruler Akbar who captured Chittorgarh and developed it as a city. Udai Singh the Rajput warlord renamed it as Udaipur and the city has entertained the best of the British and Indian royalty since its inception.
How to Reach
Udaipur has a very good connection to all major Indian cities. The distance from nearby cities to Udaipur is given below:
Agra- 620 km
Delhi- 670 km
Mumbai-740 km
Jodhpur-275 km
Jaipur- 405 km
Ahmedabad- 260 km
The city of Udaipur is well connected by flights to Delhi, Jaipur, and Mumbai etc by airlines such as Indian Airlines, Spice Jet and Jet Airways. From the airport you can easily take a taxi to inside the city and the standard fare is INR 500. Udaipur Airport doesn't have an ATM so better come with hard cash.
The train journey from Delhi to Udaipur is also picturesque and Mewar Express which leaves from the Nizamuddin station is the best train to take. Alternatively you can take the Gwalior- Udaipur express train if you are travelling from Jaipur of the Ajmer Udaipur Express if you are travelling from Ajmer.
Udaipur lies on the golden Quadrilateral Highway NH 8 and so it's equally reachable by road from Delhi and Mumbai. State transport agencies and private tour organizers have competent and efficient bus services with Volvo sleeper coaches for travel to Udaipur.
What to See in Udaipur
The beautiful city of Udaipur offers a lot of options to the travel hungry tourist. The attractions can be split into 5 categories; Palaces, Lakes.
Palaces of Udaipur
01. City Palace: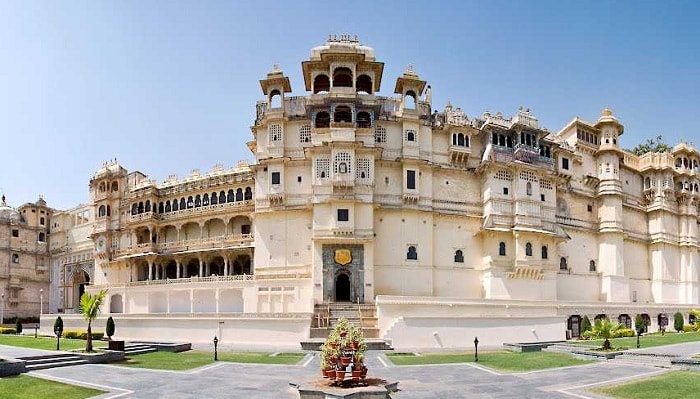 Udaipur City Palace is a magnificent building that towers over the serene Lake Pichola and it's built by the flamboyant Maharana Udai Singh. There are a number of small and big palaces inside the Udaipur City Palace Complex and the architecture style is a mix of Mughal, Chinese, European and Medieval. The interiors of the palace are intricately designed with elegant mirror work, silver filigree, marble sculpture, wall décor and murals along with cut glass mosaics.
02. Durbar Hall: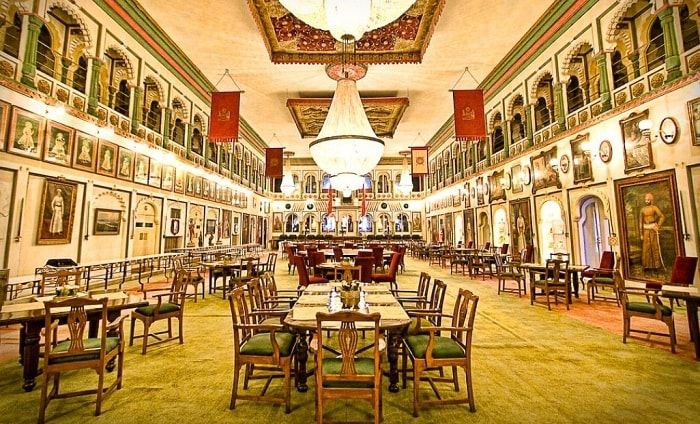 Durbar Hall was built in 1909 inside the Fateh Prakash Palace and its initial purpose was to witness the proceedings of the court. Right now it's a luxuriant heritage hotel which has the royal weaponry collection on display.
03. Badi Mahal: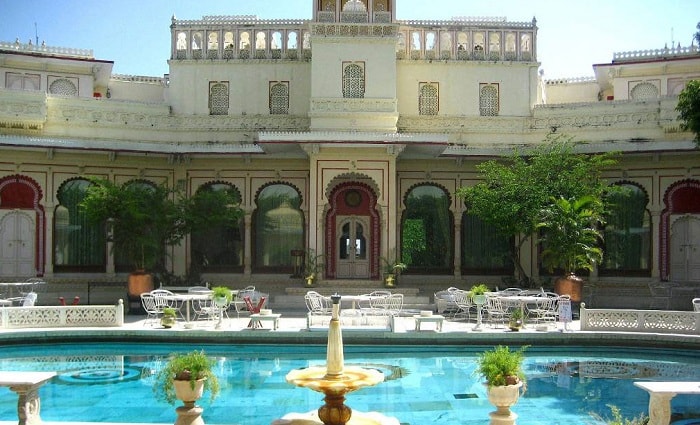 This is also known as the Garden Palace and is situated at a height of 27 meter above sea level. The Badi Mahal is surrounded by fragrant blooms and exotic shrubs kept in the hanging garden style.
04. Amar Vilas: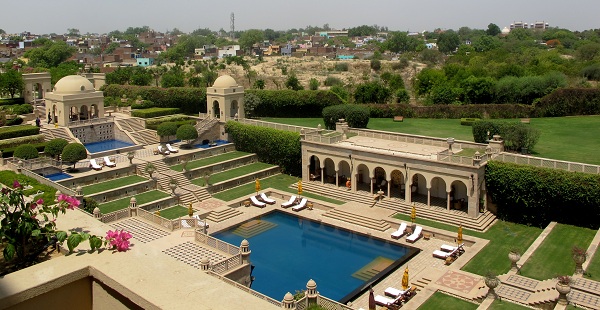 The top court of the City Palace which is built in the style of a sensual Pavilion with its cusped arcades enclosing a squarish marble lake. You can view the entire city complex from Udaipur.
05. Krishna Vilas: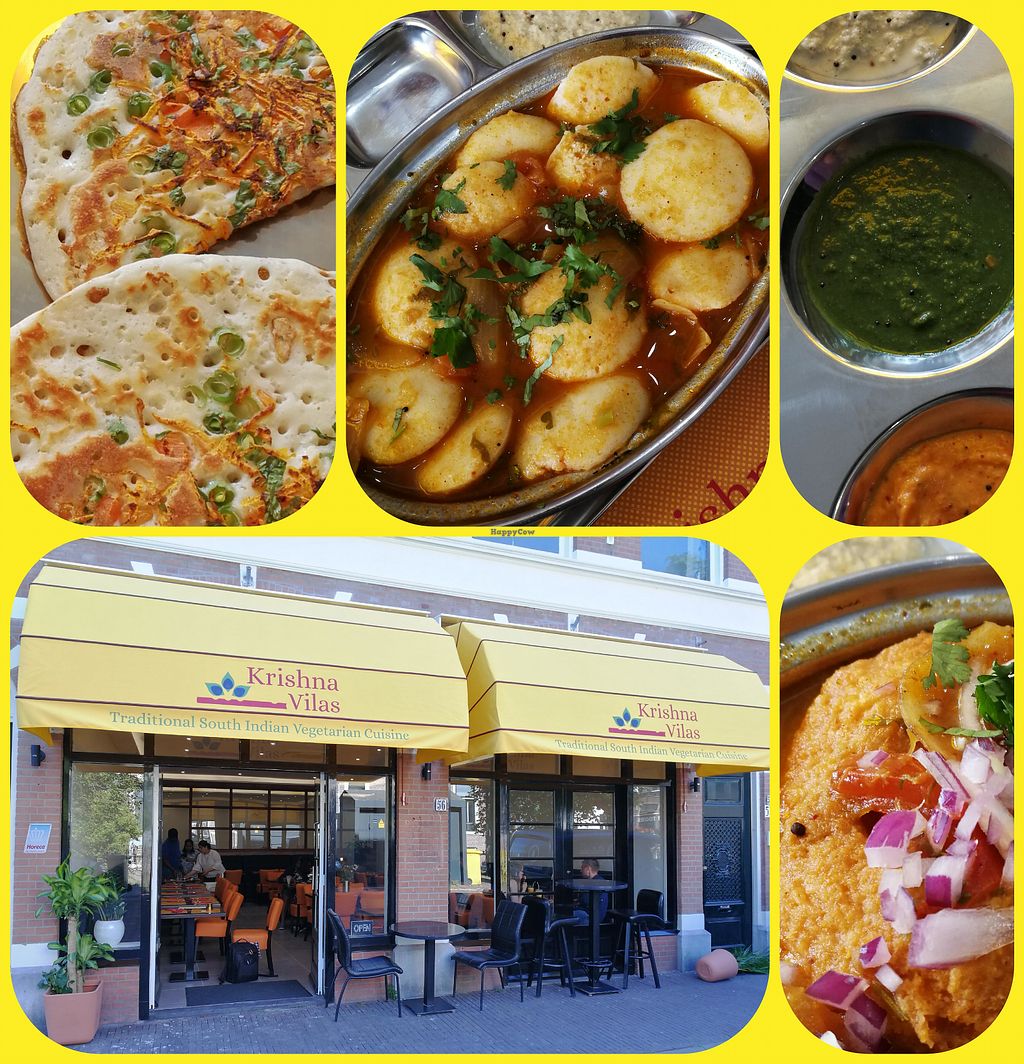 This was a chamber in Fateh Prakash Palace and is now converted into a boutique hotel. There are several miniature paintings depicting processions, games and festivals of the Maharajas on display here.
06. Peacock Square: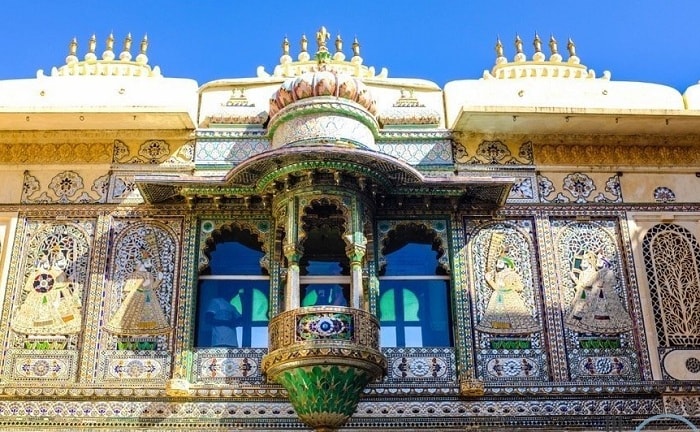 The Peacock Square has a multi pillared hall that is filled with exquisite mirror and cut glass work. There are 3 magnificent peacocks on display and they represent the changing seasons of summer, winter and monsoon. More than 5000 pieces of glass were used to construct the peacocks which reflect gold, blue and green colors.
07. Sheesh Mahal: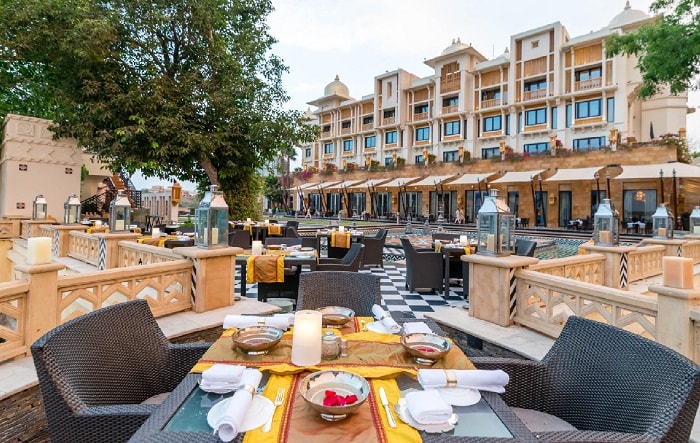 Sheesh Mahal is also called the palace of mirrors and its one of the oldest parts of city complex where a shrine of Dhuni Mata is established. This is a very good place for meditation.
08. Bagore Ki Haveli: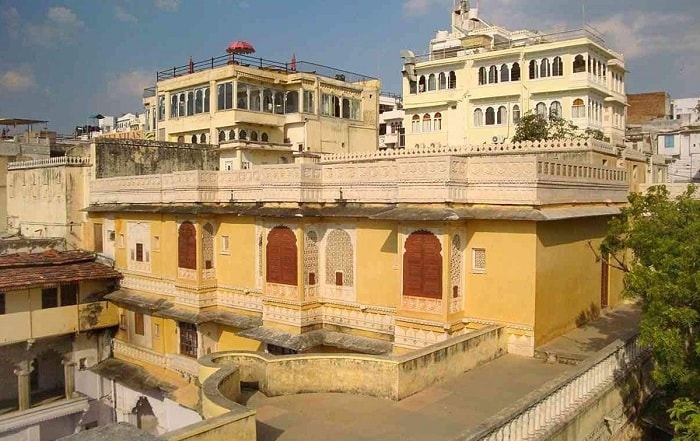 This is a palace that is built in the 18th century on the water body bank of the Lake Pichola by Amir Badwa. The palace is now used as a museum and it has 100 rooms that possess grand costumes and magnificent displays of modern art. Every night there is an hour long dance performance at Bagore ki Haveli.
Zenana Mahal (ladies quarters), Rang Bhavan (royal treasure palace) and the Manak Mahal (containing the Sun Emblem) are three other palaces of Interest in Udaipur.
Lakes of Udaipur
01. Fateh Sagar Lake: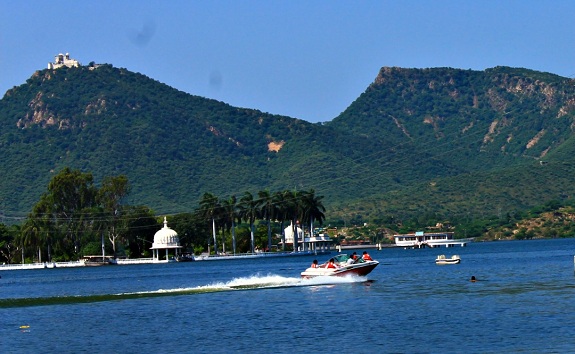 Maharana built the Fateh Sagar Lake to the North of the Pichola Lake in 1678 and in the north western direction of Udaipur. There are 3 pretty garden islands in the Fateh Sagar Lake and there are 3 parks here namely the Nehru Park, Solar Observatory Island and the Public Park Island.
02. Pichola Lake: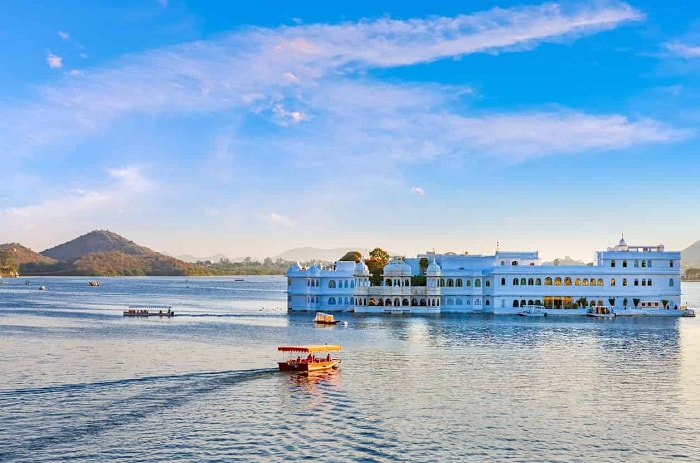 This lake was established in the year of 1362 AD and it's named after the Pichola Village. The surrounding of the lake and the small islands within the lake have been built up painstakingly by rulers of Udaipur. Jag Niwas and Jag Mandir are the two islands inside the Pichola Lake. The Lake Palace in the middle of the island is now converted into a heritage hotel.
03. Badi Lake: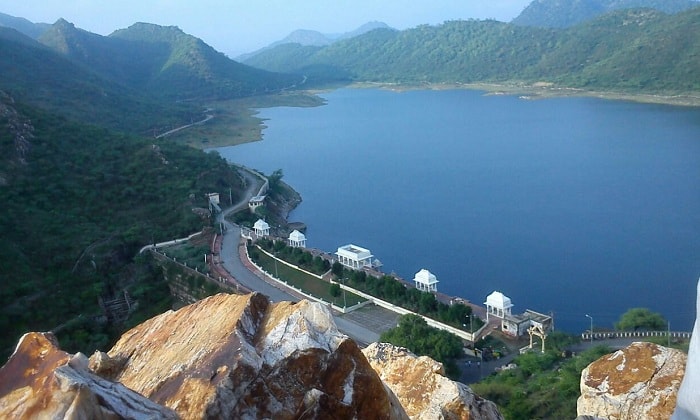 This is a magnificent lake that lies about 12-15 km away from the main city of Udaipur. It's best if you can rent a bike or a bicycle to ride up to Badi Lake.
Gardens of Udaipur
Udaipur is a very romantic city with lots of gardens some of which date back to the Rajputana and the Mughal era.
01. Saheliyon Ki Bari: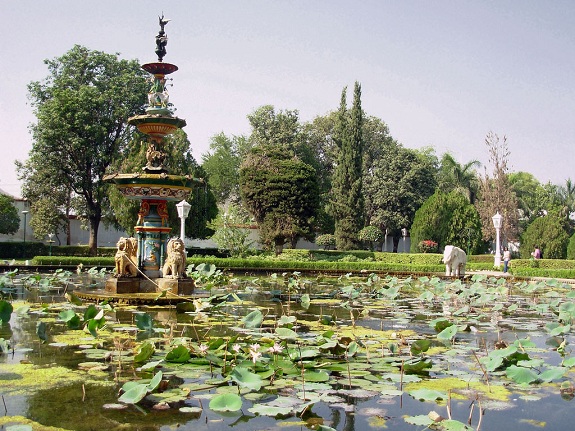 This is alternatively known as the Garden of Maids and the garden lies in the northern part of Udaipur City. There is a lot of see in the Garden of Maids like marble of elephants, pool of lotuses and kiosks of singing fountains. It's interesting to note how this lovely garden is managed by 48 female attendants who accompanied the royal princess to Udaipur.
02. Nehru Garden: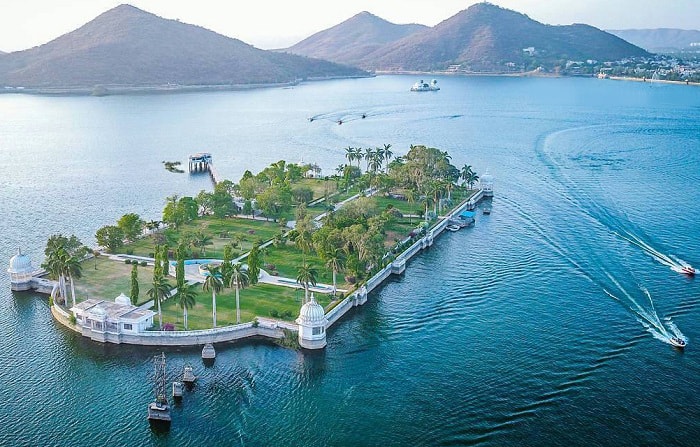 Nehru Garden lies in the center of Fateh Sagar Lake and it spreads across the huge area of 41 acres with fragrant blooms and ponds of lilies. Nehru Garden will give you a splendid view of the Aravalli Hills.
Aapni Dhani: This is a great place for a family outing in Udaipur as it has all the provisions of entertainment. There is a mini zoo, facilities for puppet show, dance show programs and a sumptuous Rajasthani dinner spread every evening.
03. Gulab Bagh:


Gulab Bagh or the garden of roses is situated on the Eastern side of Lake Pichola. The library in Gulab Bagh contains a collection of rare and precious ancient manuscripts and hand decorated books. There is a Zoo inside Gulab Bagh which has an exotic collection of wildlife specimens.
What to Eat in Udaipur
Udaipur is the place to sample some delicious dishes like Dal Bati Churma, Gatte ki Sabzi and Ghewar. There are sumptuous snacks like Mirch Pakora, Kachori and vegetable samosa which are found in every corner of the city. Rajasthani Thali is available at the top restaurants in Udaipur and the selection of roti, savories, rice dishes, sabzi and sweets have to be tasted to be believed.
Ambrai Hotel: Near Lake Pichola is a good place to eat and watch the marvelous fireworks show. This is a great place for a long and relaxed romantic dinner.
Cool Café: is a great place to catch a movie and drink beer with spicy Rajasthani savory bites. This is a super affordable place and the décor and service are both modeled on the European cafes.
Bawarchi Restaurant: This is a simple local Thali joint that serves unlimited food for a very affordable sum. There is a total number of 12 items in the Thali and this is the best place to target if you are interested in authentic Rajasthani Cuisine.
Mewar Rooftop Restaurant and Natraj: are just of the other well-known restaurants in Udaipur while for sweets its best to target Udaipur Sweets on the Chetak Circle or Millets of Mewar near foot bridge of Hanuman Ghat.
What to Shop for in Udaipur
Udaipur is a shopper's paradise and you are sure to return from its bazaars with your bags packed full. Be it handicraft or pottery items or toys or paintings or jewelry there is a lot to please your eye in the Udaipur bazaars. There are lovely miniature paintings that are inspired by the Rajputs and Mughals which are sold in Udaipur. Gothwal Art is a good place to target if you want to purchase miniature paintings.
Both metal and adobe pottery of Udaipur present a lot of shopping opportunities for the discerning traveler. It's difficult to find such items in the rest of India. Hathi Pol, Bada Bazaar and the Circle of Cetak are some of the best places to go shopping in Udaipur.