The beautiful country of Thailand is most popular for its charming white sandy beaches and stunning, crystal clear sea waters. Thailand has 8,000 tropical islands and 2,000 miles of coastline and thus, it provides a wide range of beaches to its travelers to choose from. The beaches range from quiet stretches of sand or secluded coves that are filled with wild partying tourists. If you are planning a visit to Thailand and seeking information about the most amazing beaches of this country, then read on!
List of 05 Most Popular Beaches in Thailand
01. Phra Nang Beach

Located at the southern tip of Railay, Phra Nang Beach is situated on a peninsula on the Andaman Coast. This picturesque beach is framed by spectacular limestone cliffs, sparkling white sands and embellished with crystal clear emerald waters. Indeed, this all makes it one of the most stunning beaches in Thailand. This beach is also popular amongst climbers who enjoy climbing the huge limestone rocks of Railay's. The Phra Nang beach can be reached by long-tail boat from Ao Nang and remains crowded throughout the year.
02. Maya Bay

This scenic site on Ko Phi Phi Leh is most famous for being the location of Leonardo Di Caprio's film "The Beach". Presently, tourists from all over the world come to this sheltered bay that is framed on three sides by tall cliffs, to watch and enjoy this beautiful location. Ko Phi Phi is also renowned for its excellent snorkeling and diving experience. As Phi Phi Leh is a national park, travelers need to pay a 200 baht fee to enter here, while tourists entering with a group will need to pay this fee as part of their tour price.
03. White Sand Beach

Located on Ko Chang, the White Sand Beach is a pretty beach holiday destination for a family that boasts a long stretch of sugary sand. White Sand Beach is the most famous and developed area on Ko Chang, it is still quieter than the lively resort areas of Phuket. One can find accommodation options at White Sand Beach ranging from quaint bungalows to four-star resorts. Also, this region boasts of various restaurants and bars. Ko Chang is situated in southeast Thailand close to Cambodia.
04. Hat Pramong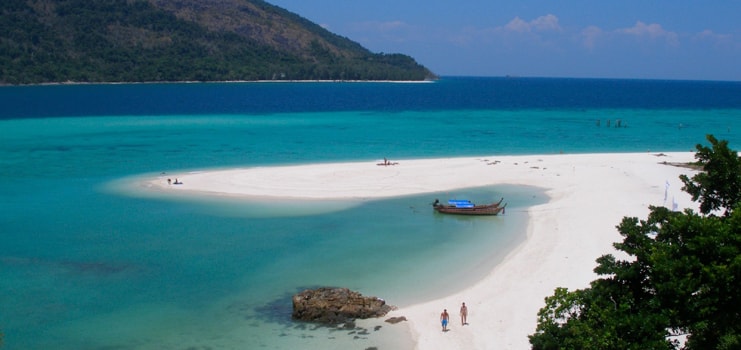 It is mainly the most beautiful beach offering scenic vistas of sunset and therefore, often called as Sunset Beach. Hat Pramong beach is located on a small bay on Ko Lipe. As it's name means, this beach faces west and provide spectacular sunsets. It is a serene and beautiful area that will surely offer travelers a glimpse of the way Thailand once used to be. Though, this beach doesn't have large resorts, yet travelers come here to enjoy the simple life in the comfortable huts and bungalows.
05. Koh Nang Yuan

Tiny Koh Nang Yuan is a famous day trip from Koh Tao, so as its stunning beaches can be crowded many times. But, it's a pretty island and its clear waters are just perfect for excellent scuba diving and snorkeling. To visit this beautiful island, tourists who are not staying on Koh Nang Yuan need to pay a 100 baht entry fee.
Apart from these, Patong Beach, Hua Hin Beach, Lamai Beach, Haad Rin and Sairee Beach are some of the other spectacular beaches of Thailand.