The colorful and holy Hindu city of Varanasi is popular all over the world for its enigmatic representation of ancient traditions, cultures and beliefs which has till date been preserved safely. From age old temples and innumerable Ghats and unique cafes this holiest city of India is also one of the oldest living cities in the world. Frequented by not only devout Hindus, the spiritual vibe here has also attracted hordes of foreigners from different parts of the world looking have a self-immersive experience amongst the holy river of Ganga and they have also managed to coexist peacefully with the already existing traditions here. It is guaranteed that you will leave here with a different outlook on life. This holy destination is not only limited to visit by devotees but it is also a unique experience for the younger generation as well.
Here are a few of the numerous places in Varanasi which you must definitely visit:
01. Assi Ghat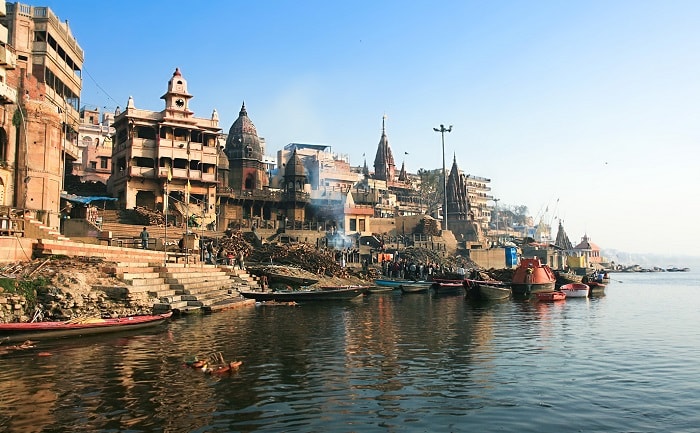 First time in Kashi and don't know what do to or where to go? Go to Assi Ghat. This is the southernmost Ghat in the long line of Ghats which form the outer border of Varanasi and it also consists of a shivling located under a Peepal Tree. During the evening Aarti time this riverside gets engulfed in a deep sense of mysticism which is followed by the rhythmic swinging of the Aarti as a way of paying an ode to Ganga Mata. You have the option of witnessing this beauty from the stairs of the ghats or from the boat in front of the Ghat. No matter where you see it from the chanting of the hymns and the synchronized ringing of the bells is mesmerizing.
02. Kashi Vishwanath Temple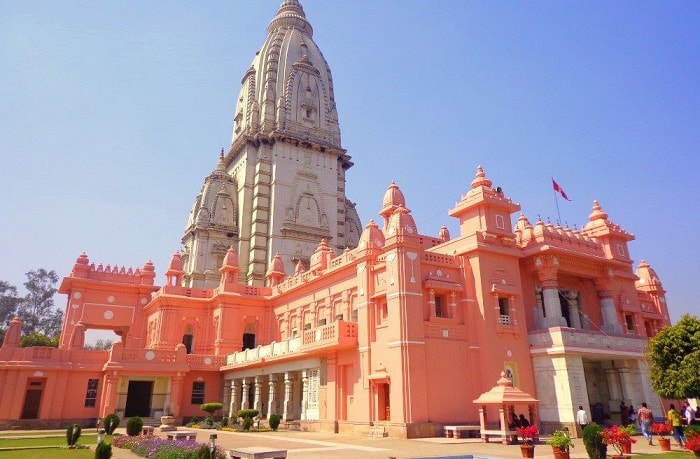 Your Kashi Yatra remains incomplete without a visit to this temple which is the holiest and the only Jyotirlinga present in the state of Uttar Pradesh. The gold topped temple is situated on the banks of the holy Ganga and is dedicated to Vishwanath or the ruler of the universe. The importance of the temple lies in the fact that it has been mentioned in various religious Hindu scriptures concerning Shaiva philosophy. Apart from its obvious spiritualism and religious relevance the temple is very artfully created and consists of fine carvings which is a masterpiece and cannot be replicated today.
03. Nepali Mandir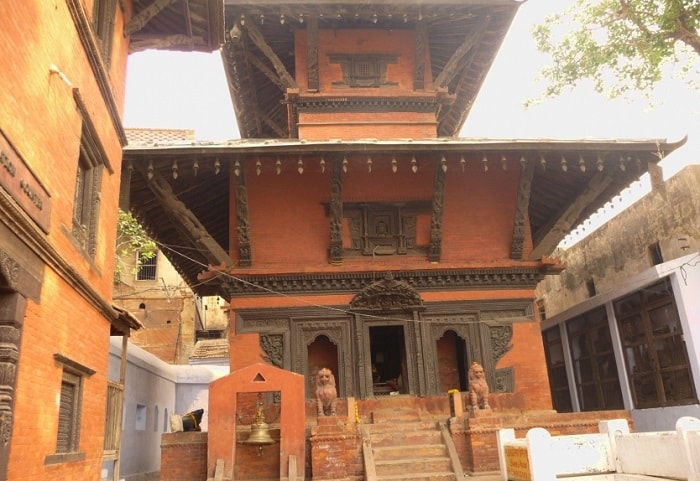 This wooden temple is popular for being one of the oldest and the most famous temples in the holy city of Varanasi. The unique architecture of the temple should be credited to the King of Nepal who had it built in 19th century who made it look like a replica of Pashupatinath temple of Kathmandu. Dedicated to Shivji this wonderful temple structure is not visited by a lot of visitors and hence it is one of the most peaceful places to visit if you are looking for some peace of mind.
04. Bharat Mata Mandir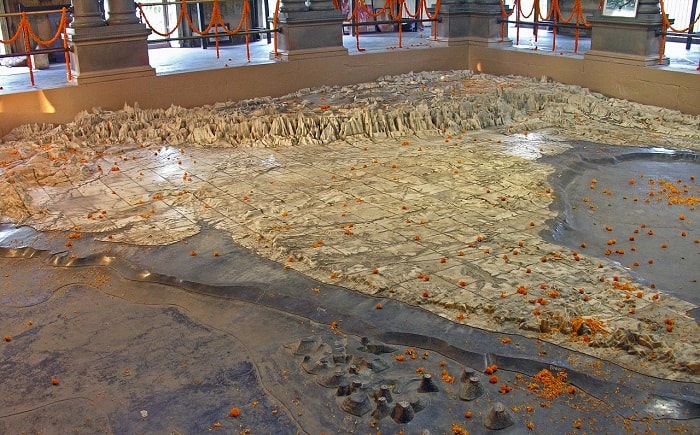 This has to be on your travel to Varanasi list since I guarantee you that there is no other temple in the world like this one. Literally the temple means 'Mother India Temple', the prime Centre of attraction here is the huge map of undivided India carved out on the marble temple floor. The details on this map is exact and to the point and was built by the freedom fighter Babu Shiv Gupta on 1936 and was later on inaugurated by Mahatma Gandhi. Along with the map there is also an image of Bharta Mata here which will not fail in evoking a deep sense of patriotism.
05. Bharat Kala Bhavan Museum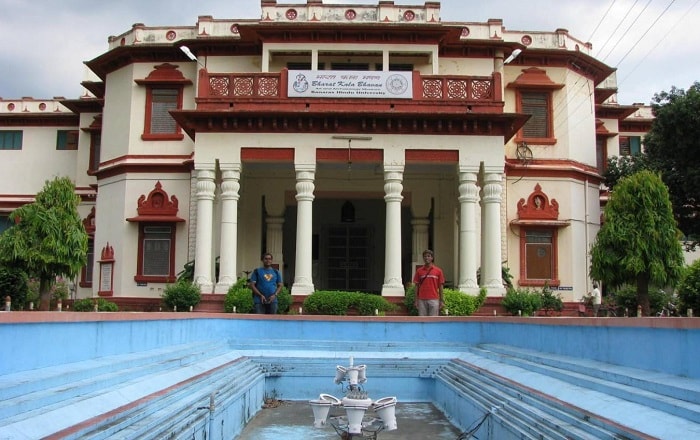 Situated within the magnificent campus of BHU or Banares Hindu University, this museum showcases a plethora of Indian art and culture. The creation of this museum was nudged along since they wanted to preserve their age old culture and beliefs. The collection here includes various archeological items, painting, literary materials, decorative art, costumes, textiles and so much more. The place is set amidst thriving nature and exploring it will take you back in time which will be an exhilarating experience in itself.
06. Man Mandir Observatory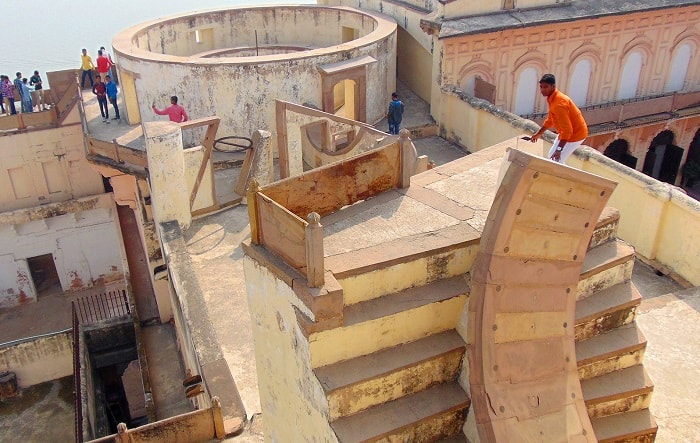 Located on top of the extremely popular man Mandir Ghat, this observatory or Jantar mantar is famous for offering some of the most stunning and picturesque views of the surrounding city. This place was established by the king of Jaipur, Jai Singh, a science enthusiast on 1737. It was built with an aim of measuring and observing the time and the eclipses in reference to the position of the sun in coordination with the other celestial bodies. The place has striking similarity to the observatory located in Delhi, Ujjain, Jaipur and Mathura.
07. Chunar Fort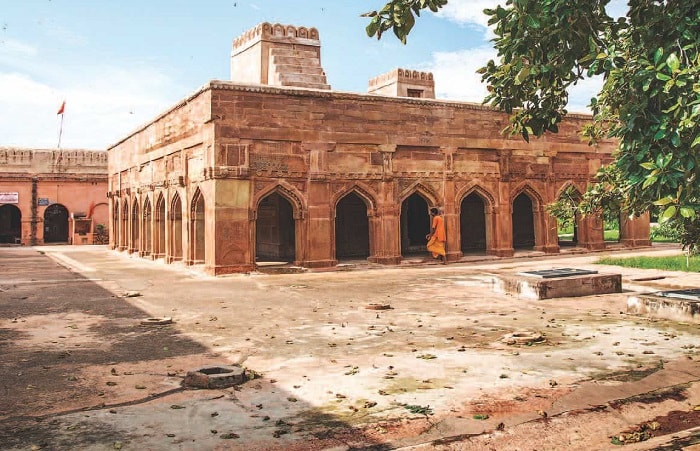 This is one of the most unique forts in India which is perched on a rock that was detached from the Vindhya ranges on an elevation of 85 Metres above sea level. The fort is built on a high commanding point close to Kaimur Hills and while making your way you will go through a chain of low hills and runs parallel to the holy river ganga. The citadel area of the fort can still be seen comprising of canons and the architecture here clearly resembles the style and design of Agra fort.
08. Tulsi Manas Mandir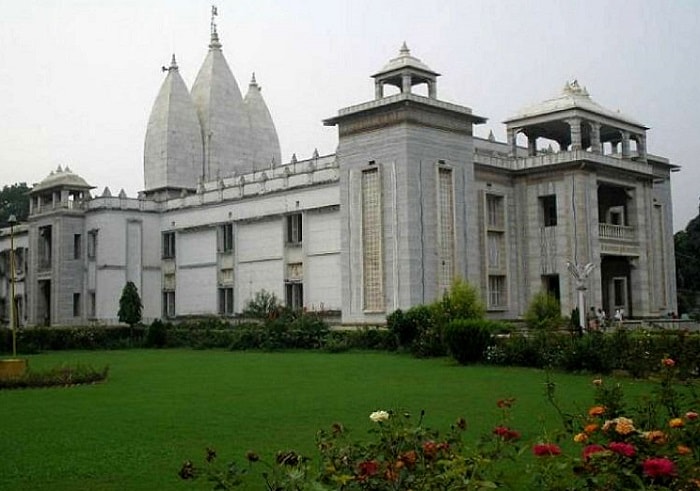 This historical and legendary temple is one of the most popular temples in this holy city. But what makes this simple white temple important? The Hindu saint, philosopher and poet Goswami Tulsidas had written Ramcharitmanas at this place during the 16th century. The temple walls are adorned with colorful drawings and paintings of the scenes form this epic Hindu book and one will be able to have a fulfilling experience here. Situated in close proximity to Durga temple at Durgakund, this temple is clearly dedicated to ram and was constructed by the family of Banaras during the year 1964.
09. Nandeshwar Ghat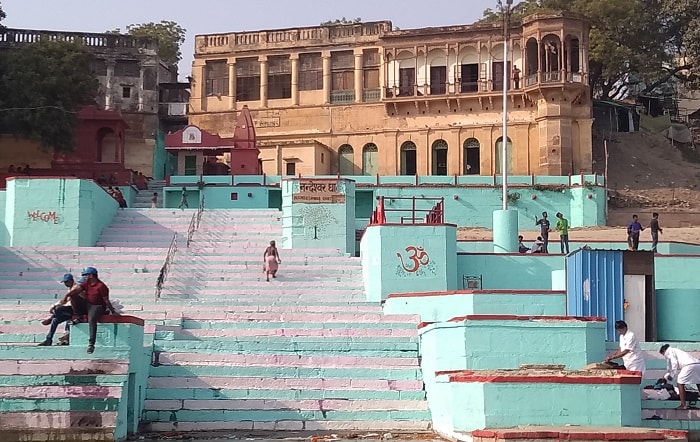 It is not a hidden fact that if you really want to experience the vibe of Varanasi then you should go and visit its Ghats. Nandeshwar is one such Ghat which gives off an old world charm that has managed to attract the Bollywood industry. Movies like Raanjhanaa, Masaan and Mukti Bhawan or hotel salvation along with 50 other TV ads and movies have been shot here majorly. Situated close to the Ghat is a Haveli which looks like straight out of the age of the kings. Located in close proximity to Raj Ghat this place is worth spending some time at since it is far away from the chaotic city life.
10. Godowlia Market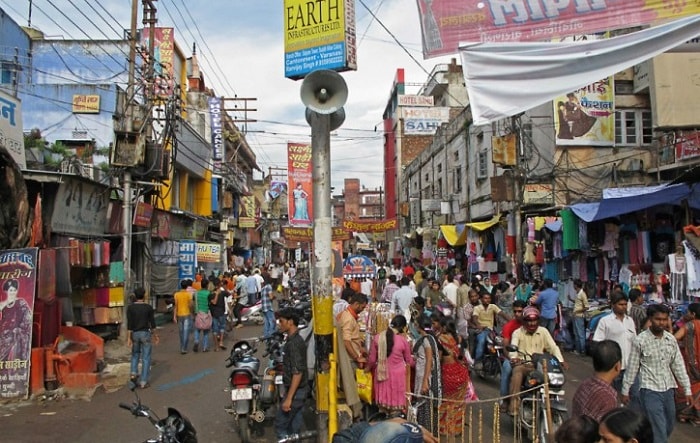 No matter where you are visiting Varanasi from a visit to this most loved market in the city is a must. The market offers retail and wholesale goods inside archaic and old buildings and is every shoppers delight. Situated in Maheshpur the market is just a 10 minutes of rickshaw ride away from the cantt railway station. You can also add this to you must see places in Varanasi since it is situated very close to the entrance of the famous Kashi Vishwanath Temple. You will be able to shop for wood work, shawls, saris with Zari Work, shoes and the list would go on and on.
11. Pink Temple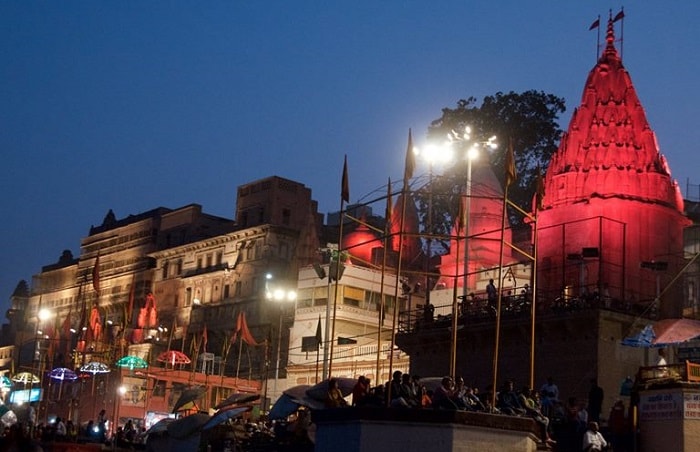 Sarnath is situated at a distance of just half n hour from the main city of Varanasi and is frequented primarily by Buddhist tourists. This is relatively a brand new addition in Sarnath and has already become one of the prime tourist destinations here. The people come here to gaze at the massive Buddha idol sitting in a peaceful position which is also described as the most beautiful Buddha statue in India due to its pinkish hue. The story of its construction involves a monk who had seen a dream and had sold his whole property and started the construction of this temple, even till this day he could be seen feeding poor kids in the evening.
12. Tomb of Lal Khan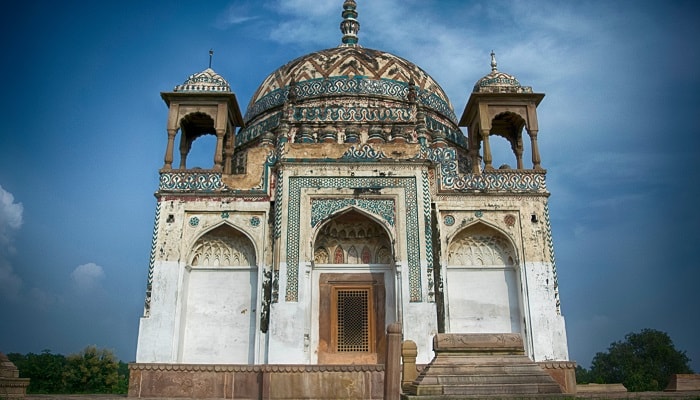 This scenic and stunningly beautiful tomb is situated close to Malviya Bridge in Raj Ghat inside the dismantled fort of Raj Ghat. The mausoleum is dedicated to some Mughal Nobel where the complex also contains some freshly excavated remains of the ancient settlements here that dates back to the 3rd century AD. The lush green lawns here are extremely well maintained and create a sight to behold when it combines with the backdrop of the ruins. Visiting here would be a boon if you are looking to ditch the city madness. And the best part? The holy river Ganga flowing past the fort offers a magnificent view.
13. Alamgir Mosque

As the name suggests this mosque was built by the ruler Aurangzeb during his rule here in 17th century. Also referred to as Beni Madhav Ka Darera this holy place of worship is situated right above the Panchganga Ghat with broad steps leading down till the flowing river Ganga. The mosque was initially a hindu temple dedicated to Vishnu ji which was demolished by Aurangzeb who had built a mosque over it, during his capture of Benares. The history of this mosque is clear through its Indo –Islamic architectural style and the ruins that it has become today, but it is worth a visit.
14. Ramnagar Fort and Museum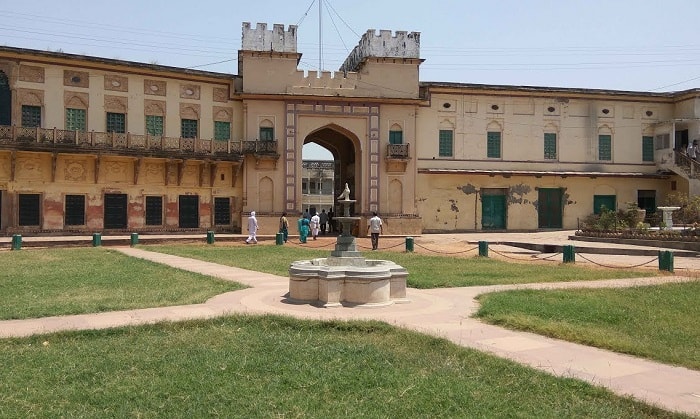 Located on the eastern bank of the stunning Ganga and right opposite to Tulsi Ghat is a magnificent sandstone Mughal fort structure which is said to have been built in 1750. Currently the fort is a little unkempt but it should definitely be visited if you get time since it was once the residence of Kashi Naresh Raja Balwant Singh. The fort offers astounding views of the river and the Ghats and even inside the fort area everything is very pretty and you could imagine what a great piece of architecture it was once.
15. Durga Temple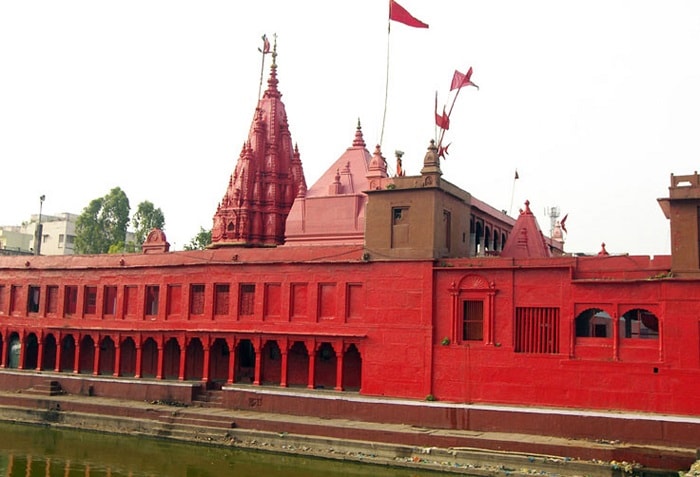 This temple is famed for being one of the most popular temples of Varanasi and it's completely red structure can be spotted from really far away. According to the name the temple is dedicated to Durga Maa and was brought to life on 18th century by the Bengali queen. Due to the presence of a large number of monkeys here it is also referred to as monkey temple. Built in pure north Indian style of architecture a Durga Kund is also present in front of the temple which not only elevates the beauty of this place but it is also considered to be an extremely holy water tank.
16. Manikarnika Ghat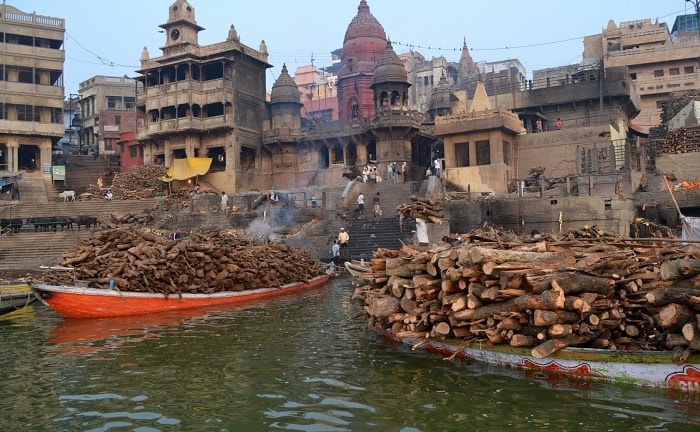 The colorful and vibrancy of Varanasi is toned down at this Ghat. People bring their deceased family members here to get them cremated and provide them with one of the most auspicious send offs by the banks of rover Ganga. Due to the huge turnout of people looking get this done, the Ghat site always remains covered in ashes and smoke and one can visit here in order to think about life and death. Although the environment here is a bit grim, but you will realize the meaning and value of life by paying a visit to this site.
17. Gyanvapi Mosque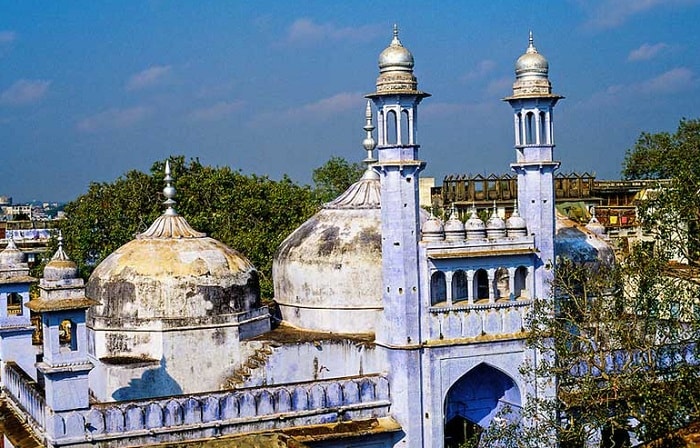 Constructed by the Mughal emperor Aurangzeb on 1669 CE and located on the northern end of Dashashwamedh Ghat and is a Jama Masjid. This mosque was also built on top of a temple which is clear by the remnants of the Hindu temple which is clearly present there. The Gyanvapi well has gathered a lot of attention for its beautifully detailed carvings and fine designs. The old nature of the mosque is clearly visible through its pillars, walls and minarets which appear to be already ruined. But a visit here is a must if you want to experience the bygone era.
18. Sankat Mochan Hanuman Mandir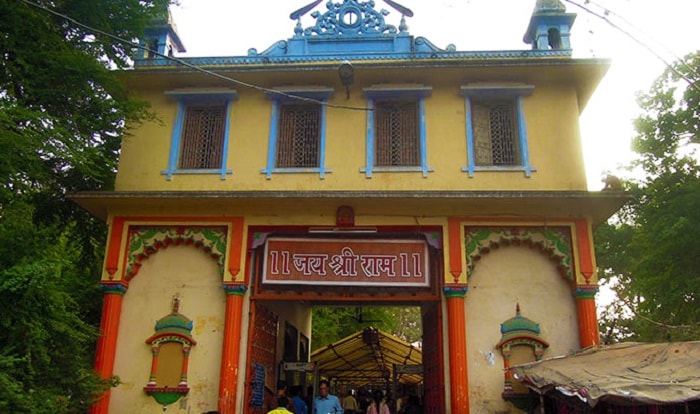 As the name suggests this temple is dedicated to hanuman ji and was established by the famous Hindu poet and preacher Saint Sri Goswami Tulsidas during the early 1500s after he had gotten a vision of hanumanji here. Situated on the banks of the glimmering assi river worshipping the presiding deity here is believed to relieve the devotees from all sorts of troubles. A visit to this temple is believed to be the easiest place to appease people suffering from shani dosh.
19. Tibetan Temple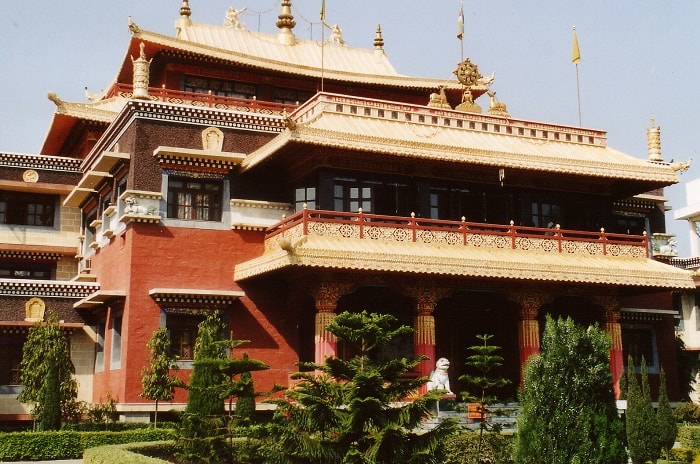 The Buddhist and Tibetan presence in Varanasi is something that cannot be ignored and should in fact be explored more. The surrounding environment of the temple is offers immense peace and solitude and should definitely visit this place if you are looking for some peace of mind amidst the temple chaos. You will be able to gaze at the Tibetan Buddhist paintings and frescoes that are displayed on its walls and ceiling. Apart from the main golden statue of lord Buddha there are other small statues of him in different positions.
20. Vindham Waterfall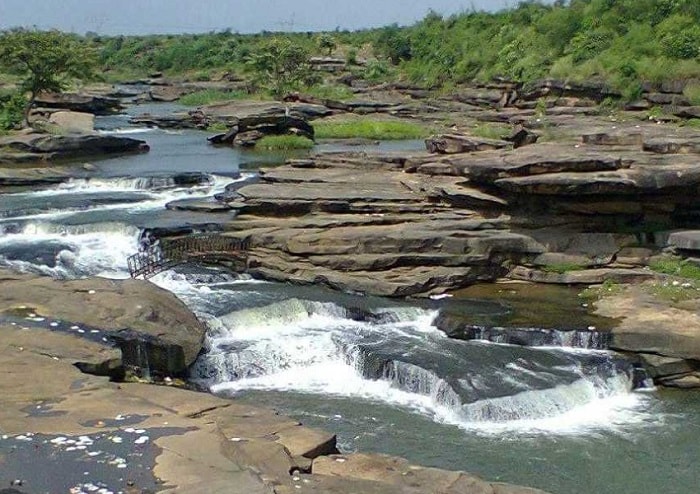 This ideal place for spending time with your family and relaxing for some time amidst nature, this waterfall is situated in Mirzapur district at a distance of just 90 kms from the main city of Varanasi. The waterfall here is not treacherous instead it is quiet peaceful and makes for a good day out away from the bustle of the city with your family or loved ones. It is also a great place if you are looking to chill and get away from the summer heat.
21. Varanasi Fun City Amusement Park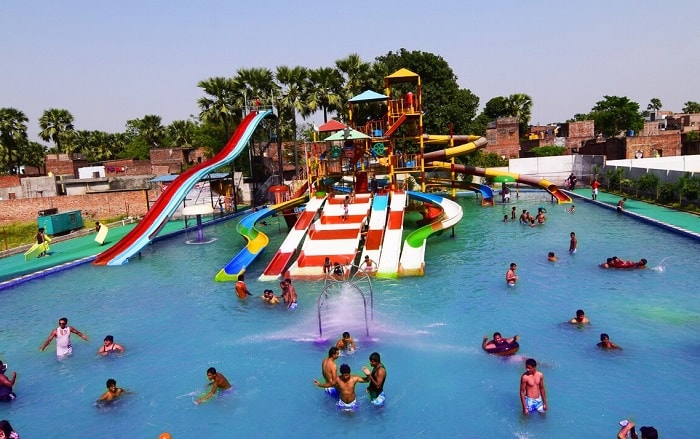 This water park is one of the most popular and fun filled destinations in Varanasi. Perfect place to spend some fun filled time with your family and kids, this place consists of water slides, fountains, various rides etc. all the ingredients to make your day out in Varanasi extremely enjoyable and memorable. Just 3 kms away from Sarnath this place is not only fun but the tickets are also well priced.
22. St. Mary's Church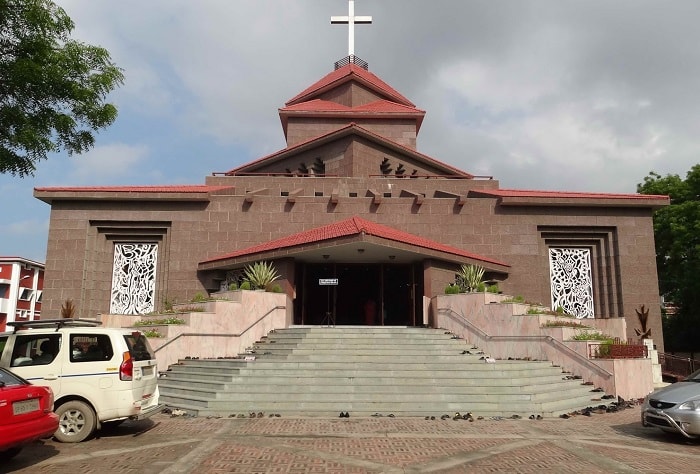 This humble looking quaint church is famous for being one of the oldest churches in Varanasi. Although Hinduism is the dominant religion practiced in Varanasi here people have also readily embraced various other religions as well. With a projecting portico on the entrance along with a hooded ventilation along with louvered floors this place offers a charming sacred experience and you should visit here if you are looking for an offbeat holiday in Varanasi.
23. ISKCON Temple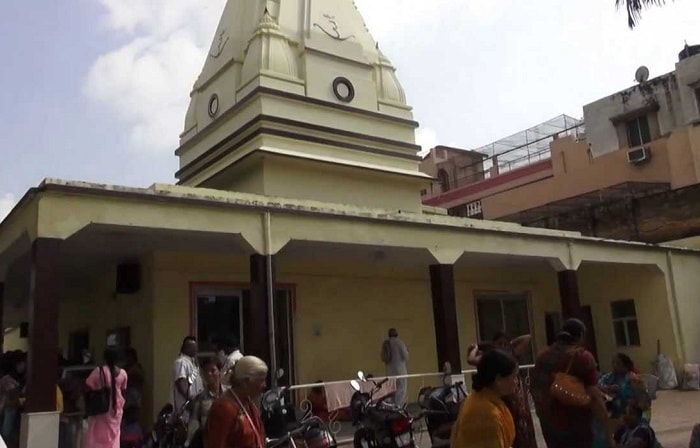 The international society for Krishna consciousness in Varanasi is a massive cultural complex which was built with the aim of imparting the learning and teachings of lord Krishna and how they should live their lives according to bhagvad gita. Established in 1966 currently there are innumerable ISKCON temples across the globe and people from different beliefs, cultures and traditions come together to learn about Krishna consciousness and chant hymns together and pray to the lord.
24. Batuk Bhairav Mandir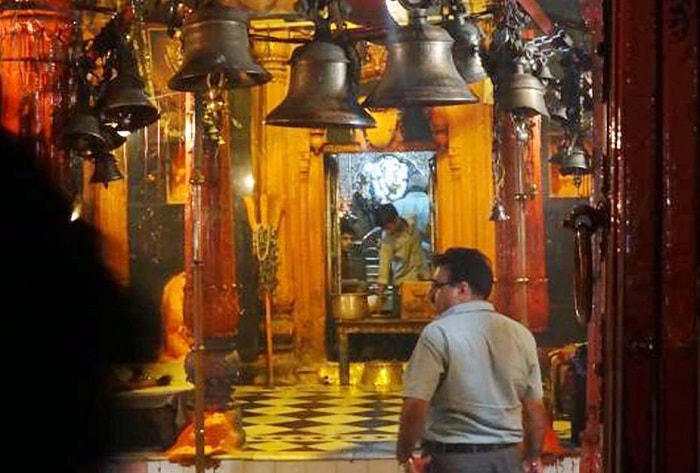 This temple is built in an extremely humble and simple Hindu style of architecture and people flock here during daytime to offer their prayer to the Hanumanji and Bhairavnath idol that is placed here. Although the temple is small in its appearance the energy here is incredibly positive. People come here to gather blessings from the 'Kotwal' or keeper of Kashi, Bhairavnath, an reincarnation of Shivaji.
25. Banaras Hindu University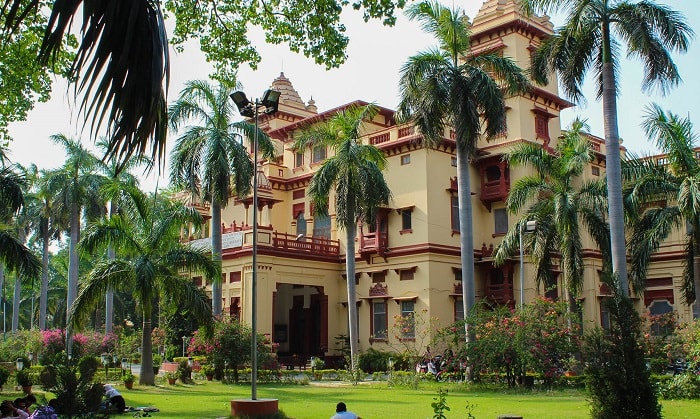 Your visit to Varanasi remains incomplete if you don't visit BHU, the oldest university in India. Panning over an area of 5.3 sq. km. the campus houses a lot of students and is dotted with interesting spots to spend some peaceful time and there is also some impeccable greenery here which offers a breath of fresh air to its visitors. The Vishwanath Temple inside the campus attracts a throng of devotees.