The Growing Demand of Helicopter Services in India and Its Uses
Helicopter services in India are at an all-time high. With its demands on a constant rise in various sectors of the industry, the helicopter services are being incorporated for its convenience and comfort. There are almost 276 active and working helicopters in the field and this industry also has the largest share in the section of general aviation. A few years back helicopter usage for commercial purposes was extremely limited and was only utilized by the higher class of the society however, that is not the situation now. Currently there are numerous helicopter services providers that deal in offering various different types of services. The helicopter services are now being utilized in various ways and given below are the prime markets where this industry predicts a promising market for providing heli – charter services as per various market researches.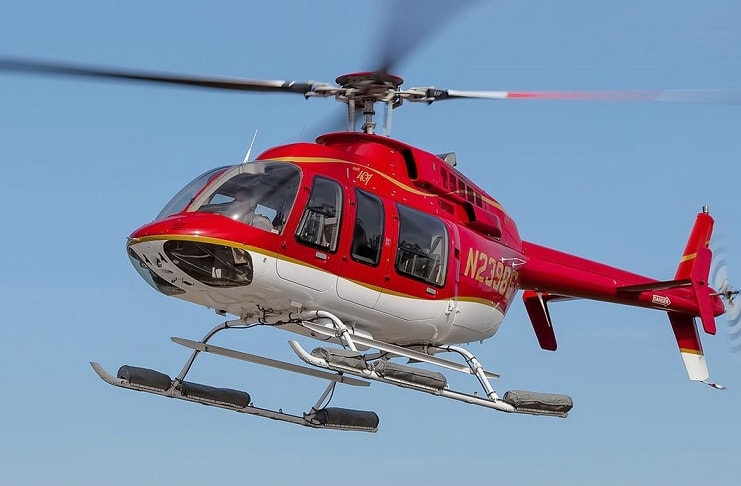 Some Of These Services Include:
Pilgrimage Uses
Helicopter services make the pilgrimage journey easier and more convenient. Pilgrimage destinations like char dham yatra, Vaishno devi, Amarnath yatra, Machail mata temple yatra etc. these services are made available with an aim of eliminating all the difficulties that follows while walking your way up to the destination. The booking for pilgrimage journeys kick start very early from the date of opening of the temple kapat. People running low on time to visit these pilgrimage sites and also senior citizens who are unable to go on the yatra due to some illness or disease prefer going on these spiritual quests via helicopter services.
Char Dham Yatra by Helicopter: The char dham sites are located at massive heights and getting there is quiet a challenging task and normally requires you to travel a distance of 1,067 kms over a period of 10 – 12 days. Covering char dham yatra via helicopter will allow you to skip all the difficult and testing parts and have a spiritual experience in maximum two days.
Vaishno Devi Yatra by Helicopter: Going upwards to 'mata ke darbar', is not an easy task and the entire route is extremely steep and requires the pilgrim to go on a tough walking journey. However the introduction of helicopter services to Vaishno Devi cuts down the walking distance from 14 kms to just half a km from Sanjichhat helipad.
Amarnath Yatra by Helicopter: This has to be one of the toughest pilgrimages in India and is located on an elevation of 3,888 metres above sea level. The distance covered will be 45 kms which normally the pilgrims cover in 3 to 4 days. However going on helicopter yatra to amaranth will allow you to complete the journey in 1 day and will drop you off at just 600 metres from the main cave entrance.
Kedarnath Yatra by Helicopter: This char dham site is famous for being the toughest dham to cover due to its remote location and steep hills. a helicopter yatra to kedarnath will land you directly at just a mere distance of 500 metres from the main temple which cuts down all the difficulties from your holy journey.
If you are planning on going for a pilgrimage yatra via a helicopter ride then you should remember to book your helicopter journey 4 months prior to the opening of the kapat. The frequency of these pilgrimage services via helicopters have increased at an astounding rate and continues to grow. The oldest helicopter services for various pilgrimage services are still provided by the government company Pawan Hans. There are a number of companies offering helicopter services to various pilgrimage destinations in India making spirituality easily available to everyone in a comfortable manner.
Air Taxi Services
Air taxis are becoming a common occurrence nowadays and people are availing the services of a helicopter service in the form of air taxis. Currently a Kerala based aviation company called Thumbay aviation is providing the services of flying up to 6 passengers for one way. The one way fare is going to be Rs. 4,130/- per person which includes all the taxes. The city of Bengaluru is known for its traffic issues and traffic jams. The airport of Bengaluru is located at a distance of 2 hours from the main town. One of the major issues faced by the people commuting to and fro the airport is the problem of excessive traffic. This revolutionary helicopter service flies from the main city of Bengaluru to the Kempegowda airport. This change will reduce the travel time from over three hours to just 15 minutes.  This is the first air taxi service in India and this hope to increase the advent of air taxi services in India.
Private Charter Services
Helicopters have always been used for charter services one of them being business. People can now travel with ease from one place to the other in a limited time period and come back as quickly without wasting any time. This is the best option chosen for offering quick and luxurious service to business men, actors, and actresses etc. who require traveling on regular basis and need to get to places quickly. There are several heli charter companies coming up currently who offer various cost effective and affordable packages for private, corporate and business charter services. In case someone has to travel the same day and attend multiple meetings on various locations then availing the services of a helicopter is considered to be a smart choice. Although the affluent classes of the population have a lot of money but they lack time and they are now not willing hold back with so many companies offering various helicopter services.
Entertainment Services
Helicopter shots have always been a huge part of offering enigmatic and long ranging scenes in movies and tv shows. With the current wave of helicopter services, the entertainment industry is also utilizing its benefits of having a bird's eye view. The aerial shots make the scene look more dramatic and grand. Production houses are nowadays hiring helicopter for not only shooting movies and tv shows but adding a certain depth to music videos as well. The demand for helicopters in this field has substantially gone up and continues to show a promising rise. The helicopters are equipped with powerful cameras which capture epic shots from the world above and add a sense of cinematic brilliance to it.
Wedding Services
Weddings are not only the most memorable day of your life but it is also an extremely crucial time. People also want a wedding where they leave a lasting impression in the minds of their guests. Nowadays grooms have the option of stepping out in style from a helicopter, or whisking their brides away in one or even propose in front of the helicopter. Renting a helicopter for marriage purposes has now become a trend since its services can be availed due to its low costing and easy availability. Helicopter at a wedding also symbolizes glory and happiness since it makes the bride as well as the groom feel extremely special. The couple will also be able to get a private ride around the wedding area as well as have a flower shower on the visiting guests. Having a helicopter [resent at your wedding will definitely make your wedding memorable not only to you and your other half but also to the guests attending.
Election Campaigning Services
Political parties hire the services of helicopter beforehand for campaigning purposes prior to the voting season. Politicians use this method to woo as many voters as they want and reach out to remote regions and gather their votes. Politicians and ministers address to large crowds quickly from one place to the other on a daily basis and can cover large distances easily. Helicopter provider companies are paid huge sums of money from the parties and allow accessibility to various destinations. Helicopters have always been a sign of power and impact and since they don't need runways this is chosen as one of the most appropriate ways of travelling and covering large distances. Helicopters are not only quicker but are also a safer option for travelling for politicians.
Air Ambulance Services
People in India don't receive the proper medical attention they need during the crucial moments of emergency. There are several hospitals in India offering this service like Apollo and Medanta along with some other in south India. The patients will be received by a helicopter at some price, which will be equipped with some of the basic equipment and amenities along with a doctor. The cost of this air ambulance is high since the company is required to pay the crew, the doctors as well as the maintenance, however it is a small price to pay to the save the life of your loved one during the crucial hours. Along with transferring patients in critical conditions this service is also utilized when an organ transfer is needed at a crucial time. Air ambulances have been successful in saving lives and will continue to do so in future as well.