Bringing to you the best selling package of Chardham Yatra by Helicopter 2022. Char Dham Yatra or more commonly known as Chota Char Dham Yatra of Uttarakhand, covers the 4 holy temples or Dhams of Kedarnath, Badrinath, Gangotri and Yamunotri. This helicopter trip starts and ends at the Sahastradhara helipad in Dehradun.
The cost of Chardham Yatra by Helicopter for 6 days and 5 nights is Rs. 1,70,000/- per person and the experience will definitely outweigh the price. Book your comfortable Char Dham Yatra by Helicopter from Namaste India Trip, the top Char Dham Yatra travel agency for an experience of a lifetime.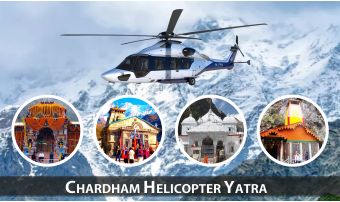 | | |
| --- | --- |
| Tour Duration: | 05 Nights / 06 Days |
| Destination: | Yamunotri, Gangtori, Kedarnath, Badrinath |
| Tour Price: | 1,70,000 /- |
Day 01: Arrival in Dehradun
One the first day of your Char Dham Yatra by Helicopter, you will be arriving at Dehradun and greeted by our tour representative. You will be transferred to your allotted here for an overnight complimentary stay in Dehradun. You shall be staying the night here.
Day 02: Dehradun – Yamunotri
This day will mark the official commencement of your helicopter Char Dham Yatra. You will be checked out of the hotel and dropped off at the Sahastradhara Helipad of Dehradun which is also the starting point of this holy journey.
You will be flown to the first destination of Kharsali Helipad which is located near Yamunotri Temple. On arriving in Kharsali you will further be transferred to the starting point of the 7 km long trek to this easternmost temple.
This 7 km long route can easily be covered on a pony or a Palki ride with ease. After completing your VIP Darshan, you will be taken back to Kharsali.
You will be checked in to your hotel here for an overnight stay. The remainder of the day will be free for you to relax in the hotel.
Day 03: Yamunotri – Gangotri
Your journey to Gangotri by helicopter will begin early in the morning the next day after breakfast. After a helicopter ride of around 45 minutes, you will be dropped off at Harsil Helipad which is the nearest and the only Helipad for Gangotri Dham temple.
On reaching Harsil you will be taken to the temple of Gangotri via a cab ride which will take around one hour.
By afternoon your VIP holy Darshan of Gangotri Temple will be completed and you will be taken to your allotted hotel in Harsil for an overnight stay. After Darshan, the remainder of the day will be free for you to relax and spend time in leisure amidst the grand Himalayan beauty.
Day 04: Gangotri – Kedarnath
Your trip to Kedarnath will begin early in the morning after breakfast. It will be a journey of around 45 minutes from Harsil Helipad to the Helipad for Kedarnath which can be Guptkashi, Sersi, Sitapur or Phata.
As per the directions of Uttarakhand government in order to preserve the untouched beauty of the Kedarnath Himalayas, you will be transferred into a government chopper which has the permit to get you to Kedarnath Temple directly.
Surpassing the 18 km long uphill trek you will be taken to Kedarnath Helipad within 10 minutes and is located just 500 metres away from the main temple entrance.
You will be given 1.5 hours to complete your Darshan in Kedarnath before heading back to the helipad. From here on you will be taken back to your hotel near Kedarnath for an overnight stay.
You can plan some sightseeing around Kedarnath as well during this time.
Day 05: Kedarnath – Badrinath
After having your breakfast early in the morning your journey to your next destination of Badrinath Dham will begin. This will be a chopper ride of around 45 minutes to half an hour. You shall be landed in the helipad near Badrinath which is just around 1 km away from the main temple entrance. A cab will be arranged for you to transfer you from the helipad to the temple.
After offering your puja Darshan and prayers at the iconic Badri Vishal, you will also have the option of taking a sightseeing trip to the nearby tourist attraction of Mana Village, Bhim Pul, Vasudhara Waterfall or whatever you like.
After the completion of your Darshan and sightseeing of Badrinath Dham you will be taken back to your hotel near the temple for an overnight stay.
Day 06: Badrinath – Dehradun
After the special Abhishek Puja in Badrinath Dham Temple, you will be taken for another Darshan of Badri Vishal. Finally, after the completion of your puja rituals in Badrinath, you will be headed to the Badrinath Helipad.
Finally, your Char Dham Yatra by Helicopter will come to an end with your drop-off in Sahastradhara Helipad where the journey had kickstarted. Upon your drop off in Dehradun Helipad, you will be free to go to your desired destination.
Inclusion
Round way helicopter trip from Sahastradhara helipad in Dehradun.
You will be provided with all the meals of the day including breakfast, lunch, and dinner.
You are not liable to pay the number of palanquins and pony rides at Yamunotri as it is included in the package.
VIP Darshan Pass will be provided to you at all the shrines to save your time.
Special arrangements are done for Abhishek Puja at Badrinath.
The package also includes the parking and the landing charges at Sersi/Sitapur Helipad.
Transportation charges are also included in the package. It includes both sightseeing and Darshan tour.
We provide accommodation to our guests at the best, luxury, and the nearby hotels at all the four holy pilgrimage sites.
We also provide you 1-night stay at Dehradun on a complimentary basis.
Pick up and drop facilities at the airport are also included in this package.
5% Service tax is also included in our package.
Guidelines for Passengers
It is extremely vital for you to carry your Aadhaar card for Indians and passport for foreign nationals visiting the Dham.
Remember that all the Char Dham Temples are located in extremely high altitudes and go through unexpected weather changes throughout the year. It is not advisable for people suffering from breathing problems like asthma.
All passengers going through this journey are required to be mentally and physically fit.
As a precautionary measure, you can even ask for an oxygen bottle to make it easier for you.
Even if you are travelling during the peak summer months, day time in these temples may be pleasant but as night falls, it becomes increasingly cold and chilly. So remember to pack some good quality woolen clothes and thermal inner.
Due to the absence of medical facilities and pharmacies, it is advised for you to carry your own medication or ask your medical health provider to recommend any other medication you may need at such high altitudes.
Company is not liable for any medical emergency on the ground to the party, thus it is advisable for the guests to get the fitness certificate from the doctor to travel to the high altitude sector.
Weighing at the time of boarding the helicopter is a must since the pilot will not allow boarding in case it exceeds the weight conveyed at the time of booking & we reserve the right to shuffle passengers to manage the right weight of helicopters for safe flying in the hills.
Terms and Conditions
It is our duty and sincerity to let you know beforehand that the quality of accommodation available at Yamunotri and Kedarnath is sub-par, owing to hilly terrain and the fact that these hotels and accommodation remain open just for 6 months a year. Passengers should not have very high expectations. However, at Harsil and Badrinath the accommodation standard is 3 stars.
5 Kg of baggage per passenger will be permitted. Passengers are advised not to carry big suitcases as there is very small baggage space inside the helicopter. Passengers bringing excess baggage might not be allowed to take the same in the chopper by pilot.
Children above the age of 2 years will be considered full ticket.
There is no provision of concession to children or senior citizens.
Total passenger weight should not exceed over 420 for 6 Passengers. Beyond the said weight limit the flight won't be able to take off and your journey will be cancelled effective immediately (it is vital for you to provide us with the right & exact weight to avoid such situation.
Passengers may be divided into 2 groups while changing the helicopter at Kedarnath /Guptkashi shuttle depending on their body weight.
While changing the helicopter at Kedarnath or Guptkashi/Phata/Sitapur the waiting time is between 10 mins to 3 hrs. Depending on Shuttle slots / weather conditions or technical reasons or ground situations.
No refund will be initiated in case the passenger is de-boarded due to wrong given body weight.
Company reserves the right to postpone the timings of flying, subject to weather conditions. And, in case of night halt due to Force majeure reasons, cost for the same will be borne by the clients.
In case the journey is not finished within the stipulated time and passengers are not able to visit one or more Dhams due to bad weather conditions/technical reasons then the company will try to visit all places within the stipulated time. Although if this is not possible then the liability of the company will be limited to refund of unutilised sector/s.
Rescheduling of booking to a next date will be done subject to availability and on payment of 10% of the cost. This will be permitted only if applied 7 days before the journey date. In case the rescheduling is requested with less than 7 days to the journey then booking will be treated as cancelled and a fresh booking will be given subject to availability.
In case of charter getting cancelled due to bad weather or any other reasons on the date of your travel, the booking will not be revalidated for the next day. Refund as per the refunds/cancellations policy, with no further obligation of Company whatsoever. Any kind of inconvenience caused because of cancellation of flights is beyond the control of the operator. No compensation, reimbursement or arrangements shall be offered in the event of cancellation of a flight.
Our company shall not be liable for any medical emergency on the ground to the party. Therefore, in your own interest, guests are hereby advised to kindly consult a doctor and get a medical check-up done, before commencing the Yatra. Medical check-up is mainly required if a guest has any medical suffering/condition.
Frequently Asked Questions (FAQs)
Unlike other travel journeys, Char Dham Yatra requires a lot of pre-planning to make their journey a complete success. One needs to keep many things in their mind while traveling to these holy places. Continue reading this article to get the knowledge of certain things which one must aware of.
Q.

Is there any restriction regarding luggage weight?
Q.

Any suggestion for passengers suffering from prolonging diseases?
Q.

How many passengers can travel in one Helicopter and what should be the maximum weight of the passenger boarding the Helicopter?
Q.

What are the other benefits of covering Chardham Yatra By Helicopter Service?
Q.

What is the provision of Helicopter tickets for children?
Q.

What is the best time to visit Char Dham Yatra?
Q.

Which place should I visit first in Char Dham Helicopter Tours?
Q.

What is the cancellation policy for Chardham Yatra by Helicopter?
Q.

What is the opening and the closing dates of Char Dham Yatra of Uttarakhand?
Q.

Can I do Chardham Yatra registration Online and Offline?
Q.

Is there any helicopter service to Chardham from Dehradun?