One of the most acclaimed Spiritual Journeys in India, Char Dham Yatra is settled amidst the backdrop of majestic snow-peaked mountains, rugged terrains, and narrow lanes. This makes this divine Yatra not only physically challenging but also requires a lot of mental strength. Millions of Hindu devotees flock to Uttarakhand to cover this divine Yatra every year. We must appreciate the government and the Temple authorities to introduce vivid transport facilities to make this arduous journey a relaxing and a convenient one. At present, it is not as difficult to reach the holy pilgrimages of the circuit as it was some years back. In simple words, we can say that now it is not much physically challenging and you also experience a hassle-free journey due to improvisation in transport facilities. Our 4 Nights / 5 Days Chardham Yatra by Helicopter Package is also a step to provide comfort and ease to the travelers.
The very first introduction is the availability of pony and palanquin rides for those who are with the time constraint, ill, and old-aged who face difficulty in walking barefoot. Covering Char Dham Yatra is a cherished dream of each Hindu devout and they want to cover it at least once in their lifetime. It was pretty difficult to reach the pilgrimages from various cities which are pretty far from the destination like Bangalore, Hyderabad, Trivandrum, etc. and also from the various remote places like Assam, Bihar, Orissa, etc. Helicopter services have become boon for those who have difficulty traveling, senior citizens, and the individuals who are physically challenged. The most impeccable introduction in increasing the tourism rate of Char Dham Yatra is the introduction of helicopter services which has increased the number of tourists as compared to the past few years as now old-aged are planning their trip without thinking about the arduous and challenging trekking trails.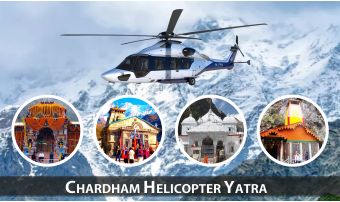 | | |
| --- | --- |
| Tour Duration: | 04 Nights / 05 Days |
| Destination: | Yamunotri, Gangtori, Kedarnath and Badrinath |
| Tour Price: | 1,68,000 /- |
Day 01: Dehradun – Yamunotri
Reach the Sahastradhara helipad in Dehradun before 7 am. Board the helicopter and reach Kharsali helipad in Yamunotri by 7:45 am. After reaching Kharsali you will be transferred to the pre-listed hotel. Check-into the hotel, freshen up and get ready to pay a visit at the sacred Yamunotri Temple. Yamunotri is the first stopover in Char Dham circuit which is perched at an elevation of almost 3300 meters above the sea level and is dedicated to the second holiest rivers in India River Yamuna.
Janki Chatti and Yamunotri shrine are the main attractions of the region. Janki Chatti also holds a great religious significance as this is a hot water thermal spring where devotees flock to take a holy dip. Hindus believe that if they take a holy bath into this thermal spring then their all sins will be absolved. The temple is believed to be constructed by the King of Tehri Garhwal, Maharaja Pratap Shah. One can find a black stone idol of Goddess Yamuna at this shrine.
Note: All the clients are requested to reach Sahastradhara helipad from where the journey concludes. Upon your arrival at the helipad, the ground staff will explain to you the do's and don'ts to be followed by you.
Day 02: Yamunotri – Gangotri
Wake up little early in the morning and drive towards Kharsali helipad from where you will depart around 7:45 am. After flying for the next 45 minutes you will reach Harsil helipad at 8:30 am.
On the second day of your journey, you will be transferred from Yamunotri helipad to Harsil helipad to reach the Gangotri shrine, the second pilgrimage of the circuit. After reaching the Harsil helipad head directly towards Gangotri Temple. It takes almost 1 hour to reach the shrine from here. Located beautifully on the banks of River Bhagirathi, Gangotri is located at an elevation of almost 3100 meters above the sea level. If you want to explore the Gaumukh glacier then you will have to cover the challenging trekking trail of almost 19 km from here.
After paying homage at the Gangotri shrine built by General Amar Singh Thapa who was a great Gorkha General drive back to the hotel in the afternoon. Post completing the check-in formalities at the airport, freshen up and gorge upon the delectable Garhwali cuisines. After enjoying the lunch, relax for a few hours in the hotel and later in the evening set out of the hotel and visit the nearby villages and also shop out some finest qualities of woolens. Return to the hotel, have your dinner and then go for a relaxing overnight stay.
Day 03: Gangotri – Kedarnath
Start your day little early today and reach the helipad before 9 am. At 9 am you will board the helicopter from Harsil helipad to reach Guptkashi. At Guptkashi you will have to change the helicopter as per the government rule. From Guptkashi board another aircraft to reach Kedarnath helipad. After reaching the helipad, cover the walking distance of almost 500 meters to reach the shrine. Hindu mythology states that the original construction of the temple was done by the Pandava brothers and then later in the 18th it was renovated by the great Hindu philosopher Adi Shankaracharya. Pilgrims can spot a statue of bull installed at the entrance gates of the shrine. Enter the temple and pay homage to the bull as well as the Shivlingas.
Later on, drive towards the popular Triyuginarayan Temple which is devoted to Lord Vishnu. According to Hindu mythologies, Lord Vishnu was a part of Lord Shiva and Goddess Parvati wedding ceremony. After paying homage at the shrine you will be dropped to the hotel for dinner which will be followed by an overnight stay.
Day 04: Kedarnath – Badrinath
On the fourth day of the journey, depart from Kedarnath and proceed towards the last destination of the Char Dham circuit. Reach the helipad and Board the helicopter to reach Guptkashi to change the aircraft. Upon arrival at Guptkashi helipad take the other flight at 10:15 am and then after covering the aerial distance of almost 45 minutes you will reach Badrinath. Upon arrival at the Badrinath helipad, you will be escorted to one of our listed hotels. Check-into the hotel room and freshen up to visit the sacred Badrinath shrine. Badrinath Dham is dedicated to Lord Vishnu where millions of devotees flock to seek the blessing of Lord Badri.
After completing the puja rituals at Badrinath, drive towards the last Indian Village. Mana village is located only a few kilometers ahead of Indo-Tibet border.
Try visiting Badrinath Temple very early morning to witness the special Maha Abhishek Puja organized every morning at 4 am. This special ritual continues for 2 hrs. almost which is then followed by the Shringar rituals of the deity.
Day 05: Departure from Badrinath to Dehradun
Today you can start your little late as the schedule starts at 11:30 am. Gorge upon the lavish breakfast and then pack your bags. After completing the check-out formalities at the hotel, drive towards Badrinath helipad and reach there before 11:30 am. This is how the journey concludes here.
If you missed the puja day before then today you can witness Maha Abhishek Puja in the morning as it is believed to be one of the major highlights of this divine journey.
Inclusion
Round way helicopter trip from Sahastradhara helipad in Dehradun.
You will be provided with all the meals of the day including breakfast, lunch, and dinner.
You are not liable to pay the number of palanquins and pony rides at Yamunotri as it is included in the package.
VIP Darshan Pass will be provided to you at all the shrines to save your time.
Special arrangements are done for Abhishek Puja at Badrinath.
The package also includes the parking and the landing charges at Sersi/Sitapur Helipad.
Transportation charges are also included in the package. It includes both sightseeing and Darshan tour.
We provide accommodation to our guests at the best, luxury, and the nearby hotels at all the four holy pilgrimage sites.
We also provide you 1-night stay at Dehradun on a complimentary basis.
Pick up and drop facilities at the airport are also included in this package.
5% Service tax is also included in our package.
Best Time to Visit
Kedarnath, Badrinath, Gangotri, and Yamunotri collectively form Char Dham circuit. All these holy shrines are located on high altitudes and experience inconsistent climatic conditions. These highly revered shrines are opened for doing philosophy only for six months in a year and for the rest 6 months, the shrine is closed due to unfavorable climatic conditions. It has never been easy to cover this divine yatra as one needs to walk through the rugged terrains, and weather also plays a big role in making your journey a complete success. But one cannot ignore its unexplainable significance in Hinduism which states that it is the place where one can attain liberation from the cycle of birth and death.
Ideal Time to Complete Char Dham Yatra
| Jan | Feb | Mar | Apr | May | Jun | Jul | Aug | Sep | Oct | Nov | Dec |
| --- | --- | --- | --- | --- | --- | --- | --- | --- | --- | --- | --- |
| | | | | | | | | | | | |
April to June end and September to the first week of November are the two peak season of Char Dham visit. Summer season commences in April and ends in the month of June and during these months there is a pleasant climatic condition and also the sky is very clear which makes flying of helicopter very smooth and favorable. July and August are counted as monsoon months in India and as stated above all the shrines of Char Dham are located on high altitudes so they receive heavy rainfall which sometimes even results into landslides and can delay your journey. The roads become quite slippery and so it is very difficult to walk on these rocky terrains. But, if you want to avoid the crowd then you can go ahead with your monsoon plan. With the arrival of September, the region starts receiving very less rainfall and the sky starts becoming clear with which helicopter services again starts.
During the winter months, the regions receive heavy snowfall and the entire region gets covered with very thick sheets of snow. So, the shrines get closed during these months and the idols of the shrines are shifted to low altitude places like idol of Kedarnath is shifted to Ukhimath and the deity of Badrinath is shifted to Joshimath. With the arrival of summer season the idols are taken back to their original place.
Note: Book the tickets and hotel rooms in advance to avoid any hassle on the journey.
How to Reach
However, the location of these shrines was making it quite difficult to access by the pilgrims coming from different corners of the globe. A few years back, it was very difficult to reach these shrines but now with the continuous efforts of the state government, it has become easy and convenient to access these holy places.
By Air:

If you are a pilgrim coming from a city which is far from Uttarakhand then coming by airways is the best mode of transport. Jolly Grant Airport in Dehradun is the nearest airport where you will deboard your flight and start your divine Yatra. Yamunotri which is dedicated to Goddess Yamuna is the first stopover of Char Dham Yatra and is located at a distance of almost 210 km from the airport. From the airport, one can easily get road transport to cover your further journey. If you have booked helicopter package then direct from the airport you will be dropped at Sahastradhara helipad by road transport. One needs to cover a distance of almost 35.2 km (54 minutes) to cover the distance between the Airport to the helipad in Dehradun.
By Rail:

The state is well-connected with other major cities like Delhi, Kolkata, Chandigarh, etc. and frequent trains are running between these two segments. Dehradun Railway Station is believed to be the nearest railway station to Yamunotri (at a distance of 172 km from the railway station) the first pilgrimage in the circuit. Once you reach the railway station, you can find several road transport waiting to take to your destination. However, the charges may vary according to your transport preference.
By Road:

All the pilgrimages in the circuit are pretty well connected with various other cities in the state or from other neighboring states via roadways. This is why roadway is the most recommended mode of transport to you if you are coming from nearby places.
Travel Tips
Unlike other travel journeys, Char Dham Yatra requires a lot of pre-planning to make their journey a complete success. One needs to keep many things in their mind while traveling to these holy places. Continue reading this article to get the knowledge of certain things which one must aware of.
Q. Is There Any Restriction Regarding Luggage Weight?
Ans. Yes, passengers are allowed to carry a luggage of maximum 5 kg weight. It is always advised to carry handbags as carrying suitcase is not allowed. There is not enough space in the helicopter so it is difficult to keep suitcase inside it.
Q. Any Suggestion for Passengers Suffering From Prolonging Diseases?
Ans. Fitness matters a lot as all the pilgrimages of Char Dham are located on insane altitudes especially Kedarnath Temple. So, anyone having asthma problem is advised not to cover this Yatra if the condition is extreme but if it is manageable then you can lend the oxygen cylinders at the helipad by paying very less amount. You can also carry a small oxygen bottle with you. These bottles are easily available at the medical shops. Also, if you have any prolonged illness then you must not forget to carry it with you as you are not going to get medicines everywhere on the journey.
Q. How Many Passengers Can Travel In One Helicopter And What Should Be The Maximum Weight Of The Passenger Boarding The Helicopter?
Ans. Only 6 passengers are allowed to travel in one helicopter and the total weight of those passengers must not exceed 420 kg. This means if you are more than 70 kg then you will not be allowed to cover the Yatra but in case you are like somewhat near to this average weight and there is someone who is underweight and matches the weight criteria then there is a chance of traveling. However, the weight of the passengers is disclosed only at the helipad and on the day of Yatra.
Q. What Are The Other Benefits Of Covering Char Dham Yatra By Helicopter Service?
Ans. The very first benefit is you save a lot of time which means you get the chance to explore the natural beauty and other sightseeing destinations of the region you are visiting. Also, you are provided with VIP Darshan Pass at each pilgrimage site of the circuit and that too saves your time. At last, you don't need to cover those arduous trekking trails.
Q. What Is The Provision Of Helicopter Tickets For Children?
Ans. There is no charge of tickets for children below 2 years of age. If a child has completed his 2 years on the same day of Yatra then also you need to pay the full ticket amount.
Testimonial
Miss. Sujani Varma
Mr. Gaurav Gupta
Mr. Anil Gupta
Mr. Deepak Yadav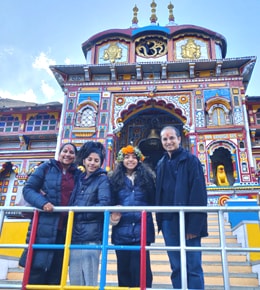 A Fantabulous Trip with Namaste India Trip
Hello, People…this is Sujani Varma from New York, United States. I would love to share my recent Family Trip to Char Dham Helicopter Yatra which was of 1 Night and 2 Days. Living in a foreign country and then planning perfectly for this divine Yatra in India is like a dream but I was determined to cover Char Dham with my entire family and for this, I checked the reviews of various travel companies and got to know about Namaste India Trip.
I dropped my query at their site and received an instant response from their side and from booking to Darshan everything was managed amazingly. I am very much delighted and satisfied with the services offered by them or I can say it was all beyond our expectations. A very big thanks to all the NITPL team members who showed their best efforts and made my dream come true and yes obviously 5 out of 5 stars to NITPL.
From: New York, United States | Travelled in: 13th October 2018
Region: Asia | Tour Type: FIT | Theme: Pilgrimage Tours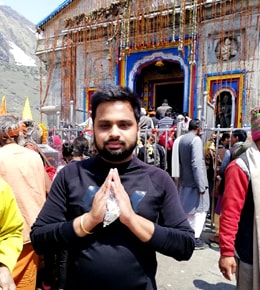 An Excellent Trip beyond Our Expectations
This year on 31st of May, I and my friend covered one of the most acclaimed Hindu pilgrimage sites i.e. Kedarnath and Badrinath. We couldn't make a longer trip due to time-constraint and we had to return on the same day. I was looking for the best deal for same-day return Do Dham Helicopter Yatra and fortunately, I came to know about Namaste India Trip and I found it a trustworthy company after checking all the reviews of its customers.
I discussed the same with my friend and he cross-checked the reviews and found it the best one then we contacted them via live chat and after 5 minutes we received the call from their end. I must say that they have a very smooth booking procedure and so the services they offer to their clients. Thank you so much NITPL for such a wonderful experience.
From: Shahdara, Delhi | Travelled in: 31st May 2019
Region: Asia | Tour Type: FIT | Theme: Pilgrimage Tours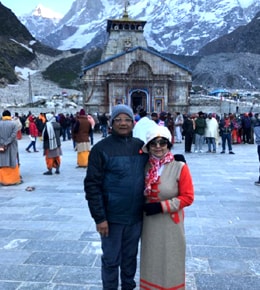 An Amazing and Everlasting Spiritual Experience
Hi everyone, I am Anil Gupta from Mumbai, Maharashtra. My wife is a theist and she was asking me to plan Char Dham Yatra from last year but due to certain reasons, we had to cancel the plan and thanks to entire NITPL team for completing my wife's dream. I feel very fortunate that I could come to know about Namaste India Trip which helped us amazingly.
We were provided with the VIP Darshan Pass which saved our lot of time and made it quite easy and convenient for us to travel some nearby sightseeing places. I would recommend the same traveling company for my future destinations for sure.
From: Mumbai, Maharashtra | Travelled in: 10th May 2019
Region: Asia | Tour Type: FIT | Theme: Pilgrimage Tours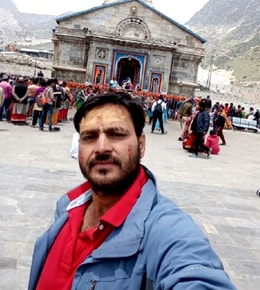 An Incredible and Everlasting Trip
Good evening everyone… this is Deepak Yadav from Agra, Uttar Pradesh. I would start with appreciating the endless efforts of all the staffs of NITPL. I had heard about Namaste India Trip from one of my friends but was still struggling to believe in any travel company (due to my last trip with other tour operators).
I started my Char Dham Yatra on 12th of June this year which was a group tour of 24 people. It was truly a complete success because of your support and assistance throughout the journey. We were provided with the best services on the trip whether if I talk about hotel, food services or transportation everything was up to the mark.
From: Agra, Uttar Pradesh | Travelled in: 12th June 2019
Region: Asia | Tour Type: Group Tour | Theme: Pilgrimage Tours