Dubai is known for being the Las Vegas of the Middle East which is the result of alchemy of style, culture, innovation and teeming marketplaces. An affordable Dubai tour package of 5 days and 4 nights will take you through this oasis of rich heritage, numerous shopping plazas, breathtaking sites and surreal attractions. This city of gold is a magnificent representation of growth and success, which has shaped the city in unimaginable ways, making it one of the most visited destinations in the world for families and friends.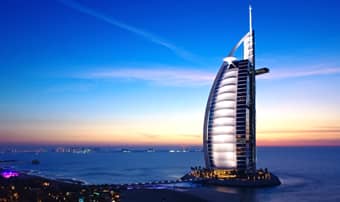 | | |
| --- | --- |
| Tour Duration: | 04 Nights / 05 Days |
| Destination: | Dubai |
| Tour Price: | On Request/- |
Upon arriving in Dubai, you will be taken to your allotted hotel straightaway. Since you might be tired because of the journey, the evening time will be free for you to do some of your leisure activities, like stroll around the local market places, shop for souvenirs and gorge on some traditionally made Dubai food.
Dubai is famous for dates (dried fruit), intricately designed soft Persian rugs, carpets, Arabic attars and a lot more.
Food in Dubai is packed with rich flavor and meats and muttons are a staple. Some of the famous food items here include manousheh, Iranian sangak, a variety of kebabs, tabbouleh and much more making it a paradise for foodies.
Day 02: Dubai Sightseeing
Post breakfast you will be made to proceed towards Dubai museum which is made inside the oldest existing building in Dubai which was built in the year 1787, showcasing the lifestyle of the Middle Eastern population. The entire museum consists of model houses, mosques and families giving the visitors an insight into the life and times of the local population.
You will be made to visit the famous and one of the prime landmarks of Dubai, Burj Al Arab, which is located on a manmade beach in Jumeirah and stands at a massive height of 920 feet.
Your final stop for this day will be the stunning Jumeirah Mosque which is among the most photographed mosque in all of Dubai. There are organized tours available for non-Muslims.
Your final leg of the day you will be taken for a shopping expedition to Dubai's souk (open-air market places). You will be free to shop for a variety of gold products, aromatic spices, and vegetable and seafood market. There is an abundance of gold here making Dubai earn its nickname 'city of gold'.
After a day filled with interesting shopping, adventures and spirituality, you will finally be escorted back to your hotel.
Pro Tip:
If you are planning on buying gold, be sure to know the market price of gold since the prices fluctuate every day and if you know the real worth then haggling will be easier.
Timings for gold souk – 10 am to 10 pm from Saturday to Thursday; 4 pm to 10 pm on Fridays.
Wear appropriate clothing while going out, since Dubai locals consider it disrespectful towards their religion, culture and tradition.
Day 03: Dubai Desert Safari
Your entire day today will be reserved for one of the most popular experiences, desert safari. You will be riding the dunes in SUV cars (dune bashing), sand boarding, sand skiing, camel riding and much more. Your whole day will be consumed in bashing the dunes and experiencing the thrilling adrenaline rush. You will then finally be taken to the highest sand dunes from where you can admire the unending brown cover against the setting sun.
As the sun draws to a close, and before leaving for your hotel, you will be served with delicious traditional barbecue dinner followed by the famous belly dancing performance which will definitely be an experience to remember.
Pro Tip:
While going on the safari make sure to wear comfortable clothing which will make their sand adventures even more fun.
Wear sandals since sand can easily get stuck inside your shoes.
There is no need for you to carry along unnecessary water bottles or eatables since there are plenty of snacks and refreshments available.
Day 04: Dubai Sightseeing Of Burj Khalifa and Dhow Cruise
The morning time will be free for you to explore the neighboring places or just spend time in leisure.
Early in the afternoon you will be made to visit the tallest building in the world, Burj Khalifa, which stands at a whopping height of 2,717 feet. You can enjoy the panoramic view of the unending horizon from the 'observation deck' on the 124th floor. There are several entertainment centres inside the Khalifa like, ice rink, mall, aquarium, underwater zoo and so much more. It is the perfect spot for families, kids and couples who are looking to spend some quality time together.
During the evening you will be taken for a fun dhow cruise where you will also be served a delicious dinner meal. On this cruise you will get an opportunity to relax on the upper decks, eat mouthwatering variety of food while gazing at the peaceful night sky. Truly an experience you should not miss out on.
You will be escorted to the airport after having breakfast in the morning, which will mark the conclusion of your trip to this city of gold.