Singapore and Malaysia are two of the most exciting and fun-packed places where people can never get bored. An ideal holiday and a vacationing spot for families, the 7 days and 6 nights of Singapore Malaysia Tour Package will make sure that you experience the real eclectic vibe of this fabulous Far East destination. Singapore and Malaysia are the perfect results of the technological revolution and modernism combined with breathtaking beauty and traditional approach.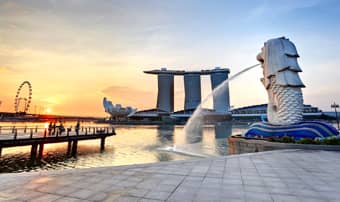 | | |
| --- | --- |
| Tour Duration: | 06 Nights / 07 Days |
| Destination: | Singapore - Kuala Lumpur |
| Tour Price: | Rs. 58,699/- |
Day 01: Arrival at Singapore
After arriving at Singapore, you will be escorted to your allotted hotels for freshening up. Your nighttime will be reserved for a visit to the world's first nocturnal zoo of Night Safari where you will observe the various night time creatures. There are also various events that take place in the zoo, like tribal dances, fire-eating displays, blowpipe demonstrations among others, which keeps the visitors entertained during their entire duration of the visit.
You will be taken for dinner at an Indian restaurant before heading back to your hotel for a comfortable overnight stay.
Pro Tip:
Diligently follow the rules that are laid out in the zoo, like do not feed the animals or get too close to the enclosures.
Day 02: Singapore City Sightseeing
After having your breakfast, the entire day will be reserved for your city sightseeing tour which will start off with little India, which is an entire area dedicated to the Indian lifestyle. The streets are lined with numerous Indian restaurants, eating joints, Indian saree markets and even fragrant spice market which will take you to the real streets of India.
After India you will be made to visit China town where the whole area is dedicated to the Chinese way of life. From an abundance of Chinese cuisines in every corner to Chinese souvenirs and shopping items, this place will definitely give you a taste of China.
Merlion, the fish body statue will be our next destination, which is the landmark of Singapore. This water spouting porcelain statue is a must-visit for every tourist.
The holy temple of Sri Mariamman will be your next holy destination which is Singapore's oldest temple and is dedicated to Goddess Mariamman and the second most vital shrines here is of goddess Sita. This colorful temple is made using Dravidian architecture and is one of the prime centres of attractions at Singapore.
You will then be taken to Singapore's top tourist destination of Sentosa island, which is a leisure destination spreading out at an area of 500 hectares and home to a plethora of exciting and fun activities like golfing, deep water yachting, encountering birds and animals closely, visiting the famous butterfly park and so much more. You will also be made to attend a dolphin show.
You will finally be taken back to your hotel after having dinner at an Indian restaurant.
Pro Tip:
The rules and regulations in Singapore concerning littering are extremely strict. Throwing used wrappers or any sort of litter carelessly on the street can result in charging of fine.
Day 03: Singapore City Sightseeing
Your Singapore city tour will kick start with a visit to the nature park, Gardens by the bay, which is located adjacent to the Marina reservoir. The aim of this massive nature project is not only to enhance the greenery but also improve the breathing air for the people living there, which have resulted in a magnificent creation of towering gardens.
Your next destination will be a fun tour of theme park known as Universal studio, which features 24 different rides, attractions and shows. This tour will consume the remainder of your day since the theme park pans over a vast area.
Day 04: Singapore – Kuala Lumpur
Your Kuala Lumpur leg of the trip will commence today, in the morning after breakfast via a domestic flight, which will take almost 45 to reach. Upon arriving at Kuala Lumpur you will be checked in to your hotel where you will be checked in to your allotted hotel. The remainder of the day will be free for you to explore the nearby places on foot.
Try out the local cuisines here which have a hint of Indian taste and includes, satay, Canai roti, Bak Kut the, Nasi Kandar among an array of others.
Day 05: Kuala Lumpur Sightseeing
Post breakfast you will be made to proceed towards the world's fastest mono cable car ride and takes a mere 11 minutes to transfer the visitors and passengers to the hilltop. The Genting Highlands is a prime entertainment resort for both adults as well as children. This cable car service provides the opportunity of free rides for children below the height of 90 centimeters.
En the route, you will be made to visit one of the most famous tourist attractions in Batu Caves, which is a limestone hill which consists of three major caves and numerous smaller caves. The prime center of focus here is the 100-year-old temple featuring statues and idols. These formations are said to date back to 400 million years ago and are also a holy site for Hindus.
Your next pit stop at Genting will be the snow-white land of a snow world, where you can experience the chilly winter weather where the temperature dips below -6 degrees. A prime center of attention also includes a replica igloo and you can also do some ice skating.
After enjoying the snow you will be escorted back to your hotels.
Pro Tip:
Rubber boots, gloves, and other clothing items will be provided by the authorities at snow world.
Be sure to carry with you a pair of walking shoes since most of these sightseeing destinations requires you to walk for a while.
Day 06: Kuala Lumpur Sightseeing
Your day will be dedicated for the second leg of your sightseeing journey which will kick start with a visit to the famous 5 themes in one park destination of Sunway lagoon. The five themes here are Water Park, Scream Park, amusement park, extreme park, Wildlife Park and Nickelodeon lost lagoon. Your entire day will be consumed in doing fun activities, interacting closely with your favorite animals, taking adrenaline-pumping rides and opting for chilling in the cool water park. After fun-packed day you will be escorted back to your hotel.
Pro Tip:
Outside food, drinks, and alcohol are not permitted within the park premises (only kid's feeding and medicines)
The wristbands which will be provided on your entry are for one-time entry only. Readmission is not allowed under any circumstances.
Unruly, disruptive or offensive behavior will not be tolerated inside the park and the violators will immediately be asked to leave the park without any refund.
Day 07: Kuala Lumpur Departure
After having your breakfast and checking out from the hotel you will be taken for a brief city tour of Kuala Lumpur which will include visits to national mosque, the former residential compound of the king of Malaysia (king's palace) and since there will be a lack of time, you will be made to take a photo stop at the famous Petronas towers before heading to the airport.
Pro Tip:
The laws at Singapore are extremely rigid and violators will be prosecuted or fined accordingly, depending on the degree of the crime committed.
Be sure to always flush after using a washroom, do not smoke in public places, remember not to feed the pigeons and do not litter at any cost.