One of the most acclaimed pilgrimages, Char Dham Yatra is located on the Himalayan Ranges in Uttarakhand and each Hindu devout aspire to embark on this divine journey at least once in their lifetime. We are back with one more customized Chardham Yatra from Delhi which can make your spiritual journey a complete success. Our 11 Nights and 12 Days long tour commences from Delhi and then will take you across other religious cities in Uttarakhand. However, the package is for a religious tour but this trip is not only going to help you attain spiritual experience but also in collecting some beautiful pictures clicked amidst the scenic splendors of the state.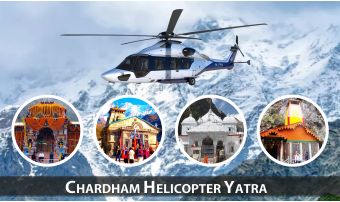 | | |
| --- | --- |
| Tour Duration: | 11 Nights / 12 Days |
| Destination: | Delhi - Yamunotri - Gangotri - Kedarnath... |
| Tour Price: | 27,900/- |
Day 01: Delhi – Rishikesh (251.4 Km / 5 h 37 min)
Upon your arrival in Delhi, the capital city of India drive towards Rishikesh also called the gateway to Char Dham Yatra. On reaching the destination city, complete the check-in formalities at the hotel, relax for a few hours and then in the evening proceed to the nearby Ghat where you can participate in the grand evening Ganga Aarti. Post attaining this spiritual experience move back to the hotel for gorging upon the delicious dinner and an overnight halt.
Day 02: Rishikesh – Barkot (169.0 Km / 5 h 56 min)
On the second day of this divine journey, you will be taken to Barkot or Janki Chatti. Barkot is a gorgeous hilly region adorned with panoramic landscapes. We will take you to Barkot via Mussoorie so make your halt at the astounding Kempty Falls and then on reaching the destination check-into the hotel room or the camp for staying overnight.
Day 03: Barkot – Yamunotri – Barkot (46.4 Km / 2 h 20 min)
Get ready to drive amidst the mountainous roads in Uttarakhand as today you will depart for Janki Chatti which is located at a distance of almost 48 kilometers from Barkot. Janki Chatti is the place where you will have to park your vehicle as after that driving is restricted so once you reach the spot start trekking towards the holy abode of Goddess Yamuna or if you can't cover this challenging trek then go for the pony ride or palanquins to reach the shrine. Be ready to pay this amount as pony or palanquins are not included in our package however if you are physically fit then it is better to cover this 6 km long distance by trekking as you it offers you a chance to get mesmerized with the catching views of lush green valleys, rhododendrons, conifers, and various other shrubs that are found in the Himalaya Ranges. Yamunotri, one of the most beautiful and important shrines of the Char Dham circuit is nestled in the western region of the state and the Bandarpunch Range. On reaching the shrine pay homage to Goddess Yamuna and seek her blessings for your lifelong prosperity and wealth. You can also take a dip into this holy river and get free from your sins. This is all for the day so drive back towards Barkot for overnight stay.
Day 04: Barkot – Uttarkashi (82.3 Km / 2 h 54 min)
Post savoring the scrumptious breakfast at the stay lace up your shoes to move towards Kharsali where on arrival unlock your room by completing the check-in formalities. Uttarkashi boasts of several ancient temples, scenic wonders, and ashrams so after relaxing for a few hours get yourself ready to explore these temples, ashrams, and the tourist destinations. Later when the sun sets and it gets dark so come back to the hotel as driving is not allowed in dark.
Day 05: Uttarkashi – Gangotri – Uttarkashi (99.7 Km / 2 h 37 min)
Being a theist it is possible that you may not take breakfast before driving towards the hotel but as there is no limit of time that when are you going to come back so it is advised to take breakfast before you leave for the temple. Gangotri, the holy shrine of Goddess Ganga where millions of tourists flock from different corners of the world to pay their offerings to the goddess and to seek her blessings. There is very interesting mythology behind the origin of this pilgrimage which one can witness by exploring the spot. After taking a dip into the holy river and paying homage to the deity return back to the point from where you have started your journey to Gangotri.
Day 06: Uttarkashi – Srinagar (148 Km / 5 h 6 min)
The 6th day of this trip is scheduled to drive towards Srinagar. Check-out from the hotel in Uttarkashi very early morning and then start driving towards Srinagar. As you are covering a long distance so we will be making some halt on the way and Tehri Dam is going to be your first halt where you will not only relax but also rejoice your mood by witnessing the mesmerizing views surrounding this cascading dam.
On your arrival at the destination city, you will be taken to one of your pre-decided hotels for dinner which is then followed by a sound sleep.
Day 07: Srinagar – Sitapur (99.5 Km / 4 h 6 min)
Today you will proceed towards Sitapur which will help you travel across Dhari Devi Temple and Rudraprayag where the two holy rivers Alaknanda and Mandakini meet with each other. Continue driving towards Guptkashi where you can visit the most popular Vishwanath Temple dedicated to Lord Shiva and then get yourself registered for the next day Kedarnath Yatra.
Day 08: Sitapur – Kedarnath – Sitapur (14.0 Km / 5 h 6 min)
Early morning post savoring the delicious breakfast you will drive towards Phata or Sonprayag from where you will start covering the trekking trail to reach the holy shine of Lord Kedar. If you are an ill-health personality or due to any reason you are not comfortable enough to cover this challenging trail then avail yourself with the pony rides or palanquins or the best possible way to reach the shrine is by availing the helicopter services. Once you are at the shrine pay your offerings and homage to Lord Kedar and after seeking his blessing come back to the point from where the trek starts to return to your stay.
Day 09: Sitapur – Badrinath (208.0 Km / 7 h 50 min)
After treating your taste buds with the relishing morning meal start driving towards Badrinath, the final pilgrimage of the circuit. While covering this 230 km long distance you will make halts at Karnaprayag, Vishnuprayag, Nandprayag, and Joshimath (winter abode of Badrinath) to visit Narasimha Temple. On reaching the destination, complete the check-in formalities at your pre-booked hotel and then stay there overnight.
Day 10: Badrinath – Pipalkoti (76.5 Km / 2 h 35 min)
As you are covering the last pilgrimage of Char Dham where you can participate in the special puja ceremony. So, kick start your day very early in the morning and then drive towards the holy abode of Lord Badri an incarnation of Lord Vishnu. Once you are at the temple follow the tradition of taking a dip into the holy hot thermal spring at Tapt Kund and then enter into the temple. After you are done with completing the rituals at the temple and paid your offerings to the deity come out of the shrine and explore the nearby sightseeing destinations including Vyas Cave, Ganesha Cave, Mana Village, etc.
You must be exhausted by the evening so move back to your stay and serve yourself with scrumptious dinner followed by a relaxing overnight halt.
Day 11: Pipalkoti – Haridwar – Delhi (4480.0 Km / 13 h 3 min)
On the second last day of your journey, you will drive towards Haridwar via Devprayag, the holy confluence of River Bhagirathi and Alaknanda. On reaching Haridwar freshen up and indulge yourself in attaining some lifelong memorable spiritual experiences by visiting the Ghats in the city and especially do not miss out on the chance to visit Har Ki Pauri. After Haridwar exploration gorge upon the delicious lunch and then drive towards Delhi.
Early morning you will be reaching the capital city of India. Upon your arrival in Delhi, your journey with NITPL concludes and we wish you a great and happy journey ahead.
Inclusion
You will be under the assistance of a well-knowledge representative or guide throughout the trip.
We provide our customers with top-notch accommodation which is pretty clean, hygienic, and the rooms are available on a double sharing basis.
Smooth and easy pick-up and drop facility by an air-conditioned vehicle is offered to our guests. Although the charges are not fixed and it varies according to the road condition and the number of members present in the group.
The air-conditioned transport facilities are operationally available from Delhi to Rishikesh and vice-versa.
As this is a religious tour so you will only be served with vegetarian meals. Scrumptious morning meal, lunch, and dinner along with morning and evening tea or coffee (as per your choice) are the meals and beverages included in our package.
Our tour manager will be accompanying you throughout the trip and will take care of your safety on the trip.
Rishikesh is one of the most important destinations of the trip that needs special attention so you will be accompanied by a well-experienced tour guide for Rishikesh.
You will be offered with 1 litter of mineral water every day for drinking purpose.
If you cover the sightseeing destinations which are not mentioned in the itinerary then you need to pay an additional amount for that.
Taxes like parking toll tax, state tax, driver allowance, and fuel charges are also mentioned in the cost inclusion column of our itinerary. Besides all these expenses additional hotel tax and transportation tax are also applicable.
Exclusion
Personal expenses like porter charge, telephone bills, camera fees, tipping, and laundry, etc. are not included in the itinerary and so these charges will be borne by you.
If you are looking for any sort of insurance then, unfortunately, there is no provision or mentioning of the insurance claim in the itinerary.
If in case your trip is getting delayed due to any unfavourable situation or natural calamities like landslides resulting in road blockage. I hope you understand that this is not in our hands so we are not liable to pay this charge and this is why it is not mentioned in our cost inclusion column. Also, we will not be able to cover all the destinations that are mentioned in our itinerary and we don't find ourselves liable for this refund.
Kedarnath being nestled at a huge elevation is difficult to access by everyone so for Kedarnath pilgrims we provide accommodations at Sitapur and even it is pretty difficult for our catering team to reach there and this makes serving foods to our guests difficult at Kedarnath.
If in any situation you feel that you require helicopter services then you need to pay an additional amount for this. Also, if you are looking auto for transfer from Haridwar to Rishikesh then this will also be borne by you.
Ropeway rides, pony and palanquin rides are also offered to you on extra charge.
Be ready to pay an additional 5% charge on the total amount as GST.
Trip Highlights
Participate in the grand Ganga Aarti ceremony held at the sacred Ghats in Rishikesh.
Staying in the camps at various destinations falling en-route Char Dham pilgrimage circuit.
Philosophy and offering to Goddess Ganga at Gangotri Shrine.
Visiting Samadhi of Saint Adi Shankaracharya in Kedarnath.
Visiting Mana Village, the last Indian village located on Indo-Tibet border.
Exploring the gorgeous Kempty Falls.
Visiting the huge Yamunotri Temple, Gangotri Temple, Badrinath Temple, and Kedarnath Temple.