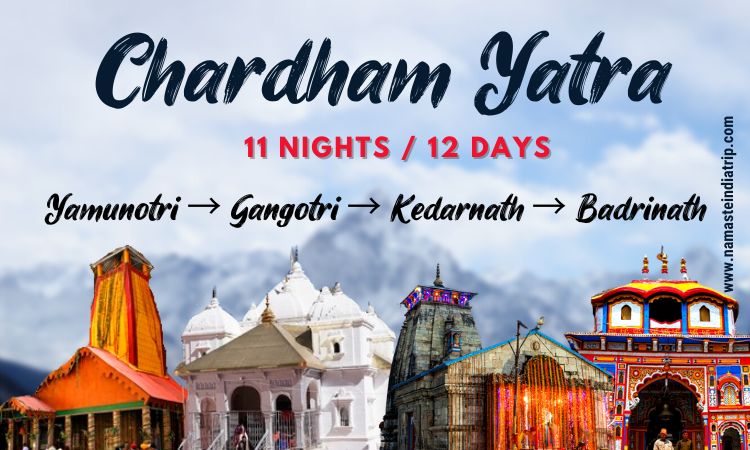 Tour Overview
One of the most acclaimed pilgrimages, Char Dham Yatra is located on the Himalayan Ranges in Uttarakhand and each Hindu devout aspire to embark on this divine journey at least once in their lifetime. We are back with one more customized Chardham Yatra Package from Delhi which can make your spiritual journey a complete success. Our 11 Nights and 12 Days long tour commences from Delhi and then will take you across other religious cities in Uttarakhand. However, the package is for a religious tour but this trip is not only going to help you attain spiritual experience but also in collecting some beautiful pictures clicked amidst the scenic splendors of the state.
Chardham Yatra Package from Delhi
Upon your arrival in Delhi, the capital city of India drive towards Rishikesh also called the gateway to Char Dham Yatra. On reaching the destination city, complete the check-in formalities at the hotel, relax for a few hours and then in the evening proceed to the nearby Ghat where you can participate in the grand evening Ganga Aarti. Post attaining this spiritual experience move back to the hotel for gorging upon the delicious dinner and an overnight halt.
Day 2 :Rishikesh - Barkot
Day 3 :Barkot - Yamunotri - Barkot
Day 4 :Barkot - Uttarkashi
Day 5 :Uttarkashi - Gangotri - Uttarkashi
Day 6 :Uttarkashi - Srinagar
Day 7 :Srinagar - Sitapur
Day 8 :Sitapur - Kedarnath - Sitapur
Day 9 :Sitapur - Badrinath
Day 10 :Badrinath - Pipalkoti
Day 11 :Pipalkoti - Haridwar - Delhi
Price Details
Tour Name
Chardham Yatra Package from Delhi
Duration
11 Nights / 12 Days
Destinations
Delhi → Rishikesh → Barkot → Yamunotri → Uttarkashi → Gangotri → Uttarkashi → Srinagar → Sitapur → Kedarnath → Badrinath → Pipalkoti → Haridwar → Delhi
Tour Price
38,900 /-
Chat with specialist who can help plan your tour!
Trip Highlights
Participate in the grand Ganga Aarti ceremony held at the sacred Ghats in Rishikesh.
Staying in the camps at various destinations falling en-route Char Dham pilgrimage circuit.
Philosophy and offering to Goddess Ganga at Gangotri Shrine.
Visiting Samadhi of Saint Adi Shankaracharya in Kedarnath.
Visiting Mana Village, the last Indian village located on Indo-Tibet border.
Exploring the gorgeous Kempty Falls.
Visiting the huge Yamunotri Temple, Gangotri Temple, Badrinath Temple, and Kedarnath Temple.
Package Inclusion
You will be under the assistance of a well-knowledge representative or guide throughout the trip.
We provide our customers with top-notch accommodation which is pretty clean, hygienic, and the rooms are available on a double sharing basis.
Smooth and easy pick-up and drop facility by an air-conditioned vehicle is offered to our guests. Although the charges are not fixed and it varies according to the road condition and the number of members present in the group.
The air-conditioned transport facilities are operationally available from Delhi to Rishikesh and vice-versa.
As this is a religious tour so you will only be served with vegetarian meals. Scrumptious morning meal, lunch, and dinner along with morning and evening tea or coffee (as per your choice) are the meals and beverages included in our package.
Our tour manager will be accompanying you throughout the trip and will take care of your safety on the trip.
Rishikesh is one of the most important destinations of the trip that needs special attention so you will be accompanied by a well-experienced tour guide for Rishikesh.
You will be offered with 1 litter of mineral water every day for drinking purpose.
Pick up and drop facilities at the airport are also included in this package.
If you cover the sightseeing destinations which are not mentioned in the itinerary then you need to pay an additional amount for that.
Taxes like parking toll tax, state tax, driver allowance, and fuel charges are also mentioned in the cost inclusion column of our itinerary. Besides all these expenses additional hotel tax and transportation tax are also applicable.
Package Exclusions
Personal expenses like porter charge, telephone bills, camera fees, tipping, and laundry, etc. are not included in the itinerary and so these charges will be borne by you.
If you are looking for any sort of insurance then, unfortunately, there is no provision or mentioning of the insurance claim in the itinerary.
If in case your trip is getting delayed due to any unfavourable situation or natural calamities like landslides resulting in road blockage. I hope you understand that this is not in our hands so we are not liable to pay this charge and this is why it is not mentioned in our cost inclusion column. Also, we will not be able to cover all the destinations that are mentioned in our itinerary and we don't find ourselves liable for this refund.
Kedarnath being nestled at a huge elevation is difficult to access by everyone so for Kedarnath pilgrims we provide accommodations at Sitapur and even it is pretty difficult for our catering team to reach there and this makes serving foods to our guests difficult at Kedarnath.
If in any situation you feel that you require helicopter services then you need to pay an additional amount for this. Also, if you are looking auto for transfer from Haridwar to Rishikesh then this will also be borne by you.
Ropeway rides, pony and palanquin rides are also offered to you on extra charge.
Be ready to pay an additional 5% charge on the total amount as GST.
FAQs for Chardham Tour Package from Delhi
Q.
Any suggestion for passengers suffering from prolonging diseases?
Q.
What is the best time to visit Char Dham Yatra?
Q.
What is the opening and the closing dates of Char Dham Yatra of Uttarakhand?
Q.
Can I do Chardham Yatra registration Online and Offline?