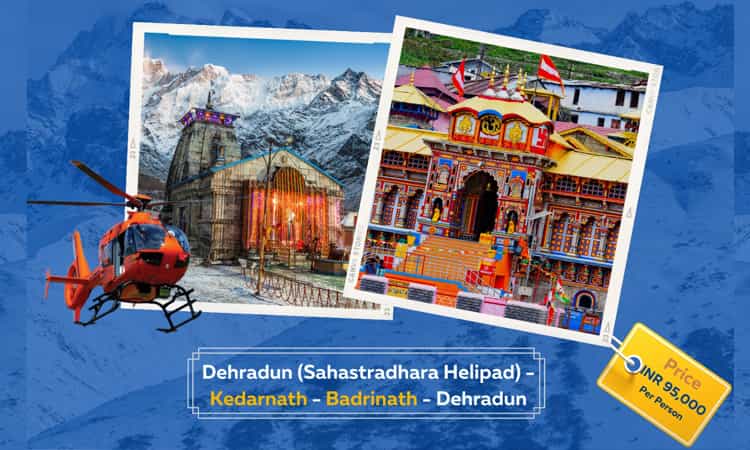 Tour Overview
The days had gone when one had to struggle a lot to reach hugely elevated pilgrimages including Kedarnath, Muktinath, Yamunotri, Gangotri, Vaishno Devi, Badrinath, etc. Badrinath, one of the most auspicious destinations devoted to Lord Badri (an incarnation of Lord Vishnu) where devotees from around the world flock in huge numbers to seek the blessings of the deity. Being established in rather challenging terrain, this holy abode strewn across the great Himalayas has become quite elusive to a regular traveler. Although there are almost a million shrines dedicated to Lord Vishnu in this world there is no other place imbibed with serenity and tranquility instilled in Badrinath and this makes it one of the most sought pilgrimages of Hinduism.
If we go a few years back then we would realize that the tourism rate of Badrinath was very low as compared to the present time as people with ill-health and busy schedules were finding it quite difficult to visit this hugely elevated shrine. Badrinath helicopter services have proved to be a boon for such people as Badrinath Yatra by helicopter package doesn't only reduce the complexity of accessing this shrine but also reduces your travel time and makes it very convenient for a traveler to complete their journey within a specific time. This helicopter journey to Badrinath starts from Dehradun and the most striking feature of this helicopter service is that you can complete your round trip from Dehradun to Badrinath Dham and then Badrinath Dham to Dehradun on the same day which is a kind of true miracle.
Although the first aerial journey from the Sahashtradhara helipad in Dehradun starts at 7 in the morning yet the timings may fluctuate due to sudden changes in climatic conditions and any technical glitch (rarely seen in such cases), so be ready to cope up with such situations.
Badrinath Yatra by Helicopter 2023 Tour Itinerary
Day 1 :Dehradun (Sahastradhara Helipad) – Badrinath – Dehradun
7:00 Am: Our journey will start early in the morning and we will depart from Sahastradhara Helipad in Dehradun.
8:00 Am: After covering a safe aerial journey of 1 hr. we will arrive at Badrinath helipad which is just 1 km away from Badrinath Temple. Our personnel will escort you to the Badrinath Temple for the VIP Darshan arranged for you.
10:45 Am: After performing all the worship rituals you will be transferred back to Badrinath helipad.
11:00 Am: We will depart from Badrinath Helipad and proceed towards Sahastradhara Helipad.
12:00 Pm: After arriving at the origin of the journey (Sahastradhara Helipad), your divine journey with us ends here with your onward journey back home.
Price Details
Tour Name
Badrinath Yatra By Helicopter
Duration
1 Day (Same Day Return)
Destinations
Dehradun → Badrinath → Dehradun
Tour Price
80,000 /-
Chat with specialist who can help plan your tour!
Trip Highlights
VIP darshan in Badrinath dham
Additional sightseeing in Badrinath dham
Exciting helicopter ride
Smooth transfers
Special puja rituals (if in the itinerary)
Package Inclusion
Smooth transfers
Accommodation as per itinerary
Pick up and drop off service
Meals as per itinerary
Helicopter ticket
Terms and Conditions
Only 4 passengers can travel in the helicopter at one time.
Baggage limit should not be exceeded from 3 kg per person.
If the tour gets canceled due to any problem from our side then the wholesome money would be returned to you.
On the other hand, if you miss the journey because of your own certain reasons then there will be no refund provided to you.
In any case, you need to stay overnight at the destination then the lodging fees shall be incurred by you only.
Cancellation Policy
20%- if the cancellation is being done up to 7 days before the journey.
50%- if the cancellation is done before 48 hours of the journey.
75%- in case of cancellation done less than 48 hours of the journey.
No refund- less than 24 hours of the commencement of the journey.
FAQs for Badrinath Yatra by Helicopter
Q.
How much time will i get for VIP darshan?
Q.
How far is the Badrinath helipad from the main temple?
Q.
Which helipad is best for Kedarnath helicopter yatra?
Q.
Is there any helicopter service from Delhi to Kedarnath?
Q.
How far is Kedarnath from Rishikesh by road?