Madhya Pradesh, a city rich in history, culture, and heritage boasts a huge number of sacred temples, architectural grandeur, wildlife sanctuaries, and there are many more things to allure its tourists. No matter what kind of travel enthusiast you are and for what travel tastes you are looking for, Madhya Pradesh has almost everything to allure it's all age guests. If you fall in the category of history buffs then Madhya Pradesh is the perfect state to explore as the cities of this state showcase the charm of the shreds of evidence of the past. Ranging from beautiful and ancient temples of Khajuraho, the immense and incomparable charm of Mandu, Stupas in Sanchi, gorgeous temples of Omkareshwar and Maheshwar, and likewise this there are various other tourist attractions in Madhya Pradesh which tourists can explore all around the year.
Check out our 7 nights and 8 days long Best of Madhya Pradesh Tour Package which takes our travelers to a congenial and comprehensive tour to this fascinating city located in the heart of India. Bhopal, Mandu, Maheshwar, Omkareshwar, Ujjain, Sanchi, and Khajuraho are some of the major destinations that are covered under this package.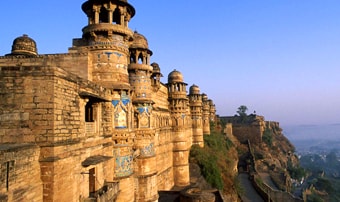 | | |
| --- | --- |
| Tour Duration: | 07 Nights / 08 Days |
| Destination: | Delhi - Bhopal - Ujjain - Indore - Mandu |
| Tour Price: | On Request/- |
Upon your arrival at the Delhi Airport, our representative will meet you and then assist you to your pre-booked hotel after a warm welcome at the airport. Complete the check-in formalities at the hotel before you check-into your room for a relaxing overnight stay.
Post gorging upon the scrumptious morning meal, lace up your shoes to start the sightseeing trip of the capital city of India where you can explore various hidden gems of the city. Rashtrapati Bhawan, India Gate, Jama Masjid, Qutub Minar, and Humayun's Tomb are some of the most happening tourist destinations in Delhi. Later in the evening drive back to the hotel when it gets dark for dinner which is then followed by a comfy overnight stay.
Post gorging upon the healthy and refreshing breakfast at the hotel, check-out from the hotel and then gear up yourself to leave for Bhopal, the capital city of Madhya Pradesh. On reaching the railway station of the destination city you will be picked up by our experienced tour representative who will pick you up from the airport and then take you to the pre-decided hotel. After completing the check-in formalities at the hotel spend some relaxing moment at the comfy hotel room and then put on your shoes to explore the wonders of Bhopal. Taj-ul-Masajid, Indira Gandhi Rashtriya Manav Sangrahalaya, Birla Temple, and Bhopal Bharat Museum are some of the enchanting places to visit in Madhya Pradesh. After your visit to these sightseeing destinations return to the hotel for the night meal followed by a night of sound sleep.
After gorging upon the morning meal at the hotel, drive towards Sanchi and Bhimbetka and Sanchi is one of the most popular Buddhist holy spots in India. Sanchi is the spot where you can witness several Stupas and museums that allure millions of tourists flocking from all across the globe. Later on, drive towards the rock-cut caves at Bhimbetka where the caves are adorned with impeccable paintings and carvings done on the wall which are believed to be of pre-historic times. These carvings and paintings tell you about the centuries-old historical shreds of evidence of the state. Once you are done with these places move back to the hotel where you will be served with the scrumptious night meal followed by a relaxing overnight stay.
Day 05: Bhopal – Ujjain – Indore
Start your 5th day of the tour with a lavish breakfast at the hotel and then get ready to cover the road distance from Bhopal to Indore. While driving towards Indore make a halt at Ujjain that falls en-route and here you can visit some of the most popular temples including Bade Ganesh Ji ka Mandir, Kaal Bhairava Mandir, Gopal Mandir, Mahakaleshwar Temple, and Navagraha Mandir. After exploring these places continue your drive towards Indore and on reaching the city make yourself feel relaxed and comfortable at your pre-booked hotel.
Today you are scheduled to explore the other famous city in Madhya Pradesh, Mandu is popular for boasting various tourist attractions including Jahaz Mahal, Rupmati's Pavilion, etc. Kickstart your day with a relishing and healthy breakfast at the hotel in Indore pack your bags and check-out from the hotel and start driving towards Mandu. Once you are in Mandu you are ready to explore some of the astounding tourist spots like Jahaz Mahal, Hindola Mahal, Ashrafi Mahal, etc.
Day 07: Mandu – Maheshwar
Post gorging upon a healthy and hearty breakfast at the hotel in Mandu set yourself ready to drive towards Maheshwar and en-route which you will be visiting Omkareshwar which is one of the famous pilgrimages and is enlisted among 12 Jyotirlingas in India that are dedicated to Lord Shiva. Here you will be visiting Omkar Mandhata Temple and after seeking the blessing of the deity continue driving towards Maheshwar which boasts several astonishing temples and forts. Conclude the day tour with a relaxing overnight halt at the comfy hotel in the city.
Day 08: Maheshwar – Indore
This is the final day of your tour which you will start with a hearty and healthy breakfast at the hotel and then leave for Indore. While moving towards Indore make a halt at Omkareshwar where you can indulge yourself in covering the sightseeing destinations and on reaching Indore Airport you will board the flight which takes you to Delhi.
Trip Highlights
Paying homage at Bade Ganesh Ji ka Mandir, Kaal Bhairav Temple, Mahakaleshwar Jyotirlinga, and other sacred places.
Exploring the rock-cut caves of Bhimbetka and other sightseeing destinations in the state.
Covering the iconic attractions of Madhya Pradesh like Jahaz Temple, Hindola Mahal, etc.
Visiting the major landmarks of Delhi including Red Fort, Rashtrapati Bhavan, India Gate, Qutub Minar, and Humayun's Tomb.