Just the way Uttarakhand culture and land is distinct from the rest of India, in the same manner, its food stands out. People traditionally utilize the naturally available sources to create delicious local food which is loved and admired by people from all over. Although the claws of tourism and commercialization have reached some parts of this state still it manages to keep the real taste of Devbhoomi alive. The food here is packed with organic nutrients and minerals and taste extremely delicious which is a real treat for every foodie. You can make your holiday to Uttarakhand memorable by trying out some of the best locally available cuisines, and the best part? It is not expensive and allows you to feel a lot closer to the culture here.
Curious about the food of Uttarakhand? Here are some food items which will definitely appeal to you:
List of  7 Traditional Food in Uttarakhand
1. Chainsoo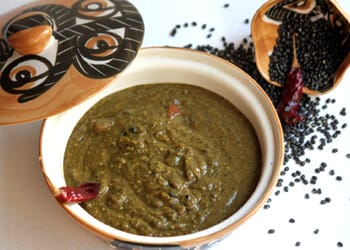 Chainsoo is a kind of dal which is primarily made in all the local homes of Uttarakhand that also depicts a combination and influences of Tibet and Himachali Food. This delicacy is prepared mostly during the winter season and makes for the perfect comfort food when paired with steamed white rice. The ingredients although comprises of a traditional dal prepared in all of India however the procedure makes it very different. The primary ingredient is the black roasted Urad Dal, minced garlic, turmeric powder, cumin seeds, and ghee and Garam masalas. Garnishing it with coriander or mint leaves give it an extra hit of tang which further elevates the dish and makes it deliciously lip-smacking.
2. Bhang Ki Chutney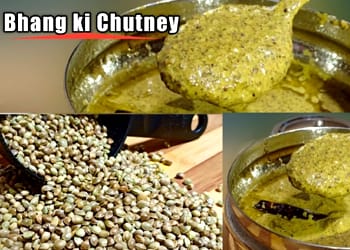 The traditional bhang or hemp chutney is one of the main accompaniments that is served with homemade food in Uttarakhand. These bhang or Bhangjure seeds can be easily found in Uttarakhand and is one of the most popular chutneys to be found here. You can have this dish with all 3 meals of the day to add a tangy and savory hint to all your meals. Remember this dish does not contain any drugs since it is made out of seeds for consumption purposes. The chutney is prepared by blending together the roasted hemp seeds with lemon juice, Mint Leaves, Green Chillies, Tomato, salt and water. No matter where you go in Uttaranchal you must definitely try this to get a real taste of this state.
3. Aloo Ke Gutke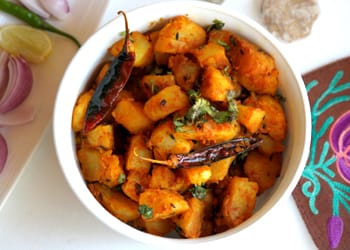 Potato which is very widely grown and consumed in Uttarakhand occupies a very important spot in offering some of the most delectable dishes in this state. Extremely easy to prepare and delicious to eat this particular Pahari food item is something one must try out during your visit here. While preparing this delicious treat which is served as a starter and as a side dish starts off by boiling the potatoes and then cooking them with coriander powder, turmeric powder, Chilli powder and to add a little tang some lemon juice. When paired with chapatti or Dahi this food item from the hills will definitely manage to hit all the right spots.
4. Bal Mithai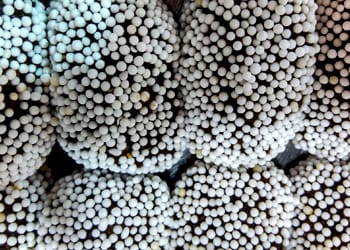 This is not only a traditional sweet of Uttarakhand but is also extremely unique in its outlook as well. Although complicated from outside it is surprisingly easy to prepare. It is made out of 3 simple, easy and widely available ingredients of khoya, granulated and cane sugar. If you are someone with a very active sweet tooth and if you happen to visit the hills then you will definitely be taking back boxes of this sweet. This sweet can also be found in various places apart from Uttarakhand but the authentic Bal Mithai using the traditional methods and ways can be found here. If you are bored from common sweets like burfi and laddoos then this is the option for you.
5. Kumaoni Raita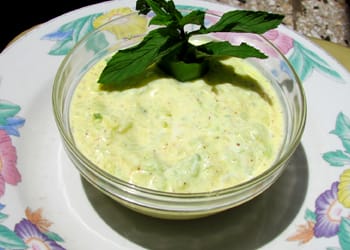 Raita metaphorically translates into a refreshing food item. This has to be one of the easiest dishes to prepare, which is not technically a complete dish in itself but an accompaniment. People generally make it a part of their meals to add some refreshing and tangy taste to the entire meal. A traditional Kumaoni and Pahadi Raita consist of beaten organic yogurt, cucumber for added freshness, fenugreek seeds, coriander leaves for garnishing and a tiny bit of turmeric to give it a beautiful yellow tinge which not only looks good but is one secret ingredient which most of the Raitas miss out on. This delicious delicacy can be taken with roti, Sabzi or rice and make the whole dish flavorsome.
6. Kandalee Ka Saag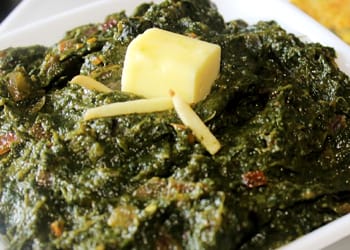 If you happen to visit Uttarakhand for trekking, then you will be asked to stay away from a particular bush of leaves called Bichhu Ghaas which contain spikes which can cause serious pain. Well, people here have found a way to deal with that problem, they decided to cut up the leaves, get rid of the spikes and boil it to make Kandalee Ka Saag. The finished product tastes very tangy and delicious. The ingredients that go into its making include mustard oil. Jeera, dry red chili and salt according to your preference which is cooked to perfection. If you do visit Uttarakhand then you can definitely give this dish a go which will be an experience in itself.
7. Phaanu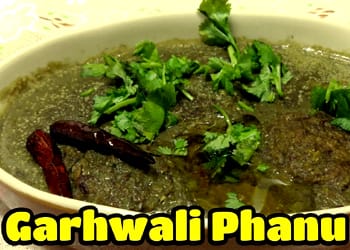 Made out of locally available lentils like in the case of Chainsoo this particular dish is also prepared by soaking lentils. Various verities of Dals are also used for its preparation like Gahat, Green Moong Dal, etc. available primarily and easily in the Garhwal regions of Uttarakhand Phanu are also kind of difficult to prepare where a lot of patience is required. People start off by soaking the lentils overnight which only adds on to its unique taste and texture. Some important ingredients that go into its making are ginger, garlic, Hing, Dry Coriander Powder, Turmeric, Water, Green Chillies and cumin seeds. The preparation and procedure for it is quiet similar to that of a dal but it is a lot thicker and much tastier than a traditional dal.