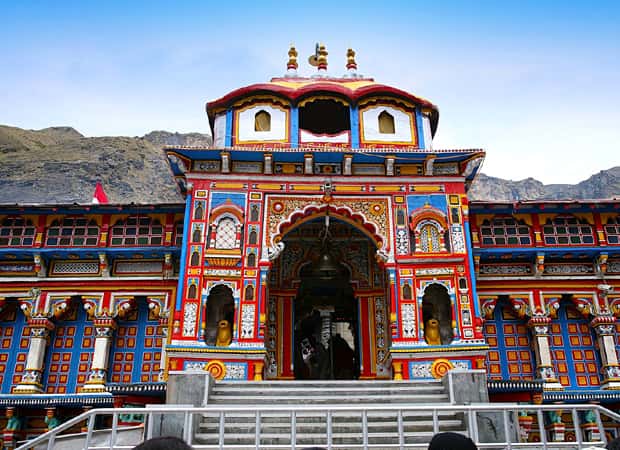 Uttarakhand Tourism
| | |
| --- | --- |
| Capital: | Dehradun |
| Population: | 10,086,292 |
| Religion: | Hinduism 82.97 % | Islam 13.95 % | Sikhism 2.34 % | Christianity 0.37 % | Buddhism 0.15 % | Jainism 0.09 % |
| Area: | 53,483 Km2 |
| Language: | Hindi, Sanskrit, Garhwali, Kumaoni, Jaunsari and Urdu |
---
Weather:

18° C - 2° C
Ideal Duration: 2-3 Days
Best Time: Jul-Aug
Nearest Airport: Dehradun
Devbhoomi Uttarakhand is a hilly wonderland of sacred places, adventure spots, unexplored oasis and many more such interesting aspects. Crowned by the mighty and pure Himalayas and further beautified by the crystal-clear rivers making its way gracefully down the hills this hill station in the north is the best choice for spending your precious vacation days with your friends, family and loved ones. it is not only home to ancient temples and places of worship but it also harbours a range of high altitude bio diversity of flora, fauna and even birds. If you wish to spend some time amidst the glories of nature then Tourism of Uttarakhand is what you need.
The culture, traditional beliefs and the rich heritage of this state is extremely distinct and unique than the rest of India. If you are the type who loves to have a closer travel experience by interacting with the locals and staying in homestays then Devbhoomi is your ideal destination to be. Everything is set amongst the incredibly scenic backdrop of lush green rolling hills and majestic mountain tops. Every step of the way here is filled with amazing natural beauty and serendipitous wonderment which will leave you with a lifetime worth of memories and you may even keep coming back for more.
There is a very obvious face of Uttarakhand which is the spiritual and religious aspect. This land is called Devbhoomi for a reason since it is dotted all over with ancient temples which hold immense importance in the life of every Hindu devotee not only India but also from across the globe.
From the holy Char Dham Yatra of Kedarnath, Badrinath, Gangotri and Yamunotri to the temples of Triyuginarayan, Jageshwar Dham, Patal Bhuvaneshwar and many more there is no dearth of place for a spiritual seeker to have an enlightening experience.
Another different aspect of Uttarakhand which is slowly gaining momentum is its adventurous side. It is a hub for outdoor adventure sports activities like paragliding, trekking, camping, bungee jumping, rappelling, rock climbing, river rafting and so much more which is experienced by a huge throng of visitors from all over the world. apart from this the presence of incredible national parks and wildlife sanctuaries like the Gangotri National Park, Jim Corbett National Park, Binsar National Park, Nanda Devi National Park among others serves as the perfect opportunity for people to have an adventurous time with your buddies and even families.
Being a place of various and diverse activities, destinations, locations, sightseeing places etc. a travel guide for Uttarakhand is something that will definitely help in planning your trip to this majestic land of mystical charm and unparalleled natural Himalayan beauty. know when is the most ideal and safest time to visit, what preparations you must do prior the commencement of your trip, how you can make your stay there more comfortable and other such travel tips which will definitely come in handy if you are planning to have a memorable trip to Uttarakhand.
About Uttarakhand
Uttarakhand or lovingly referred to as 'Devbhoomi' is probably one of the most diverse holiday destinations in the world. Seated peacefully on the lap of the Himalayas and surrounded by the pristine and untouched natural beauty with the holy Ganga River making her way through the entire state makes it a wonderful religious holiday destination. From the people to the culture and traditions here everything is quite mesmerizing and memorable here. Filled with wonder on every step of the way this place is a true oasis for every type of traveler from kids to adults.
This hill state crowns the entire Indian subcontinent and is filled with a varied topography which harbours a huge throng of flora and fauna. This place is very close to the heart of the people of India since it has gound its mention in various Hindu mythological accounts and is also said to have been inhabited by prominent sages, saints and even the gods themselves during the satyug. Once referred to as Uttaranchal and later developed as an exclusive summer getaway spot for the British from the scorching heat of the plains, Uttarakhand has now become a force to reckon with.
If you are a spiritual individual looking for some peace of mind or clarity in life then there are innumerable ashrams present around the River Ganga which offers a holistic and a mystical approach towards it. You will come here one person and leave feeling like a completely new being. Apart from this the temples here are truly a work of impeccable craftsmanship.
From the Badrinath and Kedarnath temple to Jageshwar group of temples, sun temple and more you can never get enough of it here. One visit is not enough to completely get to know about this breathtaking place of pure beauty, happiness and peace.
The history of Uttarakhand cannot be recorded since it goes back to beyond ages ago. However, with changing times this has become one of the prime destinations for adventure outdoor sports activities as well. Here one can enjoy adrenaline and pumping activities like Bungee Jumping in Rishikesh, Skiing in Auli, Trekking in Valley of Flowers, Camping in Bugyals, Para Gliding in Bhimtal / Nainital and so much more. No matter where you go adventure awaits. You may even go on hiking expeditions at one of the many pine and oak forests that line these regions.
Everything about Uttarakhand is unique, magical and has some relevance or the other attached to it. From their way of clothing to the age-old customs and even the food, a visit here will definitely be etched in your heart forever. No matter where you choose to go from Dehradun to Nainital, Pithoragarh, and Almora you will have the time of your life. Before going there it would be a good idea for you to know more about this land of charm, mysticism, and wonderment. Get to know its actual relevance this place has and why it is extremely highly revered not only by devout Hindus but also by people from all over the world.
Holiday Packages
Uttarakhand is a gem of a place that welcomes travellers from everywhere with varied interests. From spiritual escapes to rendezvous with the wilderness this place is one of the most promising holiday destinations for families and loved ones. There is a plethora of tour packages available for Uttarakhand ranging from pocket friendly choices and budget options to thrilling and adventurous packages. No matter what your choice is, we've got you covered. Al you need to do is pick your choice of Uttarakhand travel package and pack your bags, and leave the rest on us and we guarantee that you will keep coming back for more. Check out the packages and book a memorable holiday now!
Things to Do
When you think of Uttarakhand what comes to your mind are the lush green towering hills, pure air and an overpowering sense of rejuvenation from within. The place is filled with wonderment waiting to be discovered and explored. There are so many things to do in Uttarakhand that just 1 visit is not enough to explore the magnificence it beholds. From skiing down in Auli to experiencing nature up close and personal and getting lost in the pine and oak forests to visiting the most highly revered temples in the world. The list would go on and on. Here are some carefully curated things you could indulge in during your next visit to this mystical hill state.