One of the most acclaimed pilgrimages in India, Char Dham Yatra is renowned as the wish-granting Yatra. Yamunotri, Gangotri, Kedarnath, and Badrinath collectively form this revered circuit. All these four holy abodes are located in extreme locations and in four different directions. One had to cover the arduous trekking trails to reach the shrines but now those days have gone.
Now, most of the pilgrims prefer covering this divine Chardham Yatra by Helicopter 2022 and make this tiring and the arduous journey easy and less time-consuming. After considering the time constraint and ill-health parameters we have designed this Char Dham Yatra by Helicopter Tour Package.
On this 1 Night and 2 Days long religious journey, you will be visiting Yamunotri, Gangotri, Kedarnath, and Badrinath. Mostly the price of Char Dham Yatra by Helicopter 2022 remains high but we bring to you reasonable packages to experience the best of Char Dham.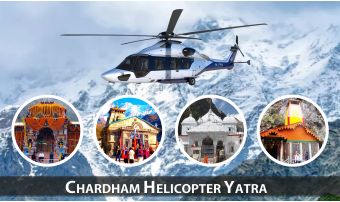 | | |
| --- | --- |
| Tour Duration: | 01 Night / 02 Days |
| Destination: | Gangotri - Yamunotri - Kedarnath - Badrinath |
| Tour Price: | 1,50,000 /- |
Day 01: Dehradun – Gangotri – Yamunotri
Your journey of Char Dham Yatra by helicopter commences from Dehradun. There are also options for Char Dham Yatra by helicopter by Uttarakhand government. On reaching Sahastradhara helipad at Dehradun board the helicopter to reach Harsil Helipad which is the base of Gangotri. Keep in mind that every Char Dham Yatra by helicopter starts from Dehradun. It takes almost 35 to 40 minutes to reach the destination helipad.
After reaching Harsil helipad, gorge upon the scrumptious morning meal and then head towards the sacred Gangotri Temple. Pay your offerings and homage to Goddess Ganga return back to the helipad by 11 am. Next, you will drive back to Harsil helipad to board the helicopter to visit Yamunotri. It takes almost 35 minutes to reach the destination. On reaching Yamunotri, check-into the cottages in Yamunotri and then after savoring the delectable lunch head towards the shrine. You can also opt for Palki ride and also enjoy the panoramic landscapes of the surroundings.
Upon reaching the shrine, pay homage to the goddess and seek the blessings of River Yamuna. After seeking the blessings drive towards Kharsali Village and serve yourself with mouth-watering Garhwali cuisines and then go for a relaxing overnight stay.
Day 02: Yamunotri – Kedarnath – Badrinath – Dehradun
Start your day little early in the morning and savor yourself with a hearty breakfast. Pack your bags and set out of the cottage to leave for Kharsali. As per the norms of Uttarakhand government, you will have to change the helicopter at Guptkashi and take another aircraft to reach Kedarnath which will take approx. 35 minutes more.
By 8 AM you will arrive at Kedarnath Shrine. You will have to cover a distance of 500 meters, not more than that to reach the shrine from the helipad. Pay homage at this sacred shrine and wash away all your sins and attain liberation from the cycle of birth and death. You will not have to stand in the long queue of pilgrims as you will be provided with VIP Darshan Pass in this package. After completing the puja rituals return to the helipad.
By 10 AM leave for the last pilgrimage of the journey, Badrinath Temple which is one of the most prime destinations of Vishnu worshippers. Post Darshan at Badrinath you will be transferred back to the helipad around 1 pm. Board the helicopter and reach Sahastradhara helipad in Dehradun and this is how your journey with us concludes here.
Trip Highlights
Visiting Gangotri which is dedicated to Goddess Ganga.
Paying homage to Lord Badri at Badrinath.
Visiting Yamunotri dedicated to River Yamuna (the second most holy river in India).
Do the philosophy at Kedarnath which is one of the most important Jyotirlingas in the country.
Frequently Asked Questions (FAQs)
Q. What Is The Price Of Dehradun To Char Dham Yatra By Helicopter?
Ans. A Char Dham Yatra by Helicopter from Dehradun can cost 75K to over 1 lac rupees. Although a bit more on the expensive side, Char Dham Yatra by Helicopter can be completed in 4 days instead of 10-12 days.
Q. Can I Go On Char Dham Yatra By Helicopter From Rishikesh?
Ans. No. all Char Dham Yatra starts from the Sahastradhara Helipad in Dehradun.
Q. What Is The Package Cost Of Char Dham Yatra By Helicopter From Delhi?
Ans. For 6 people a helicopter Yatra from Delhi will cost 1.5 lakh including the taxes, transfers, hotel, and other such services.
Q. What Is The Best Time To Visit Char Dham Yatra By Helicopter?
Ans. The best time to go on a safe Helicopter Yatra to Char Dham is during the months of May to June.
Q. Is There Services Available For Char Dham Yatra By Helicopter 2022?
Ans. Yes. After the 2nd wave of COVID 19 subsided, the Char Dham Yatra was resumed and Char Dham Services by Helicopter were also kick-started after more than a year of suspending services.
Testimonial
Miss. Sujani Varma
Mr. Gaurav Gupta
Mr. Anil Gupta
Mr. Deepak Yadav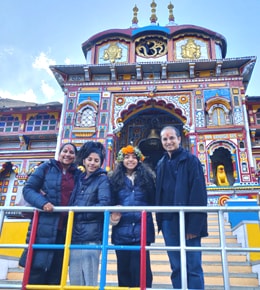 A Fantabulous Trip with Namaste India Trip
Hello, People…this is Sujani Varma from New York, United States. I would love to share my recent Family Trip to Char Dham Helicopter Yatra which was of 1 Night and 2 Days. Living in a foreign country and then planning perfectly for this divine Yatra in India is like a dream but I was determined to cover Char Dham with my entire family and for this, I checked the reviews of various travel companies and got to know about Namaste India Trip.
I dropped my query at their site and received an instant response from their side and from booking to Darshan everything was managed amazingly. I am very much delighted and satisfied with the services offered by them or I can say it was all beyond our expectations. A very big thanks to all the NITPL team members who showed their best efforts and made my dream come true and yes obviously 5 out of 5 stars to NITPL.
From: New York, United States | Travelled in: 13th October 2018
Region: Asia | Tour Type: FIT | Theme: Pilgrimage Tours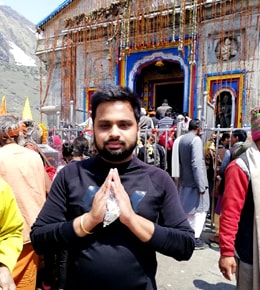 An Excellent Trip beyond Our Expectations
This year on 31st of May, I and my friend covered one of the most acclaimed Hindu pilgrimage sites i.e. Kedarnath and Badrinath. We couldn't make a longer trip due to time-constraint and we had to return on the same day. I was looking for the best deal for same-day return Do Dham Helicopter Yatra and fortunately, I came to know about Namaste India Trip and I found it a trustworthy company after checking all the reviews of its customers.
I discussed the same with my friend and he cross-checked the reviews and found it the best one then we contacted them via live chat and after 5 minutes we received the call from their end. I must say that they have a very smooth booking procedure and so the services they offer to their clients. Thank you so much NITPL for such a wonderful experience.
From: Shahdara, Delhi | Travelled in: 31st May 2019
Region: Asia | Tour Type: FIT | Theme: Pilgrimage Tours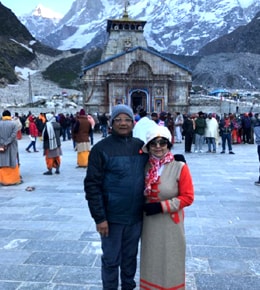 An Amazing and Everlasting Spiritual Experience
Hi everyone, I am Anil Gupta from Mumbai, Maharashtra. My wife is a theist and she was asking me to plan Char Dham Yatra from last year but due to certain reasons, we had to cancel the plan and thanks to entire NITPL team for completing my wife's dream. I feel very fortunate that I could come to know about Namaste India Trip which helped us amazingly.
We were provided with the VIP Darshan Pass which saved our lot of time and made it quite easy and convenient for us to travel some nearby sightseeing places. I would recommend the same traveling company for my future destinations for sure.
From: Mumbai, Maharashtra | Travelled in: 10th May 2019
Region: Asia | Tour Type: FIT | Theme: Pilgrimage Tours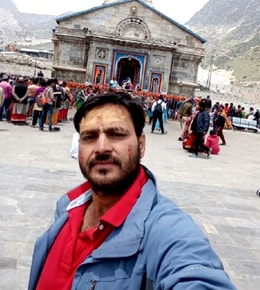 An Incredible and Everlasting Trip
Good evening everyone… this is Deepak Yadav from Agra, Uttar Pradesh. I would start with appreciating the endless efforts of all the staffs of NITPL. I had heard about Namaste India Trip from one of my friends but was still struggling to believe in any travel company (due to my last trip with other tour operators).
I started my Char Dham Yatra on 12th of June this year which was a group tour of 24 people. It was truly a complete success because of your support and assistance throughout the journey. We were provided with the best services on the trip whether if I talk about hotel, food services or transportation everything was up to the mark.
From: Agra, Uttar Pradesh | Travelled in: 12th June 2019
Region: Asia | Tour Type: Group Tour | Theme: Pilgrimage Tours