Kedarnath, the most paramount destination for Shiva worshippers is located at an extreme location amidst the Himalayas. Being located on a huge elevation of almost 3584 meters above the sea level, Kedarnath visit requires a lot of physical as well as mental strength. Lord Shiva is the main deity of the shrine and one of the most powerful gods and is also called the Supreme God of Hindus attract millions of tourists towards this Shiva site. According to Hindu mythologies, Kedarnath is one of the most significant Jyotirlingas among 12 others in the country as this is the only place where Lord Shiva's hump was found when he was trying to escape away from Pandavas. The story goes like this, once Pandavas were burdened with the guilt of fratricide and they wanted themselves to be free from that sin so they started pleading Lord Shiva but Shiva didn't want to forgive them so easily and this is why he transformed himself into a bull and submerged himself into the ground but Bhima caught him and tried to get hold of him but unfortunately he couldn't succeed in his motive. When he was submerging himself into the ground then his body parts got scattered and reached to different places and the hump of the bull was found at Kedarnath so when you visit the shrine you will get to see the deity in the shape of a bull hump.
As always said that the majority of India is theist and they are fond of covering religious tours. If you are also the one who is a Shiva worshipper and want to seek his blessings then check out Kedarnath Tour Package from Delhi and cherish your dream of dwelling yourself into the utmost spiritual ambiance.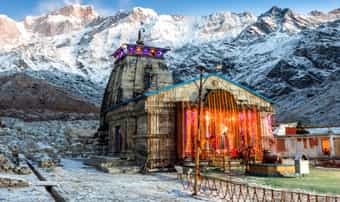 | | |
| --- | --- |
| Tour Duration: | 04 Nights / 05 Days |
| Destination: | Delhi - Haridwar - Guptkashi - Kedarnath |
| Tour Price: | On Request /- |
Upon your arrival at IGI Airport in Delhi or at New Delhi Railway Station you will be greeted and welcomed by our representative who will be waiting for you. After picking you from the airport or the railway station, he will take you to the vehicle standing outside to take you towards the first destination of the trip, Haridwar. Delhi is almost 4 hrs ahead of Haridwar so the day is little involved in traveling only and once you complete the travel and reach Haridwar you will be transferred to the hotel where post-check-in you can rest and energize yourself for evening Ganga Aarti. So, in the evening move towards Har Ki Pauri and try reaching at least 45 minutes before the Aarti commences as coming late will make you stand last among the crowd and you may not witness the real charm of that grand occasion. After this evening prayer, if time permits then you can drive proceed towards Mansa Devi Temple or else step back to the hotel for a comfortable overnight stay.
Day 02: Haridwar – Guptkashi
Another huge day scheduled for your drive towards Guptkashi from Haridwar. As this is an eight or nine hour-long journey so we have arranged the breakfast at the hotel in Haridwar and after finishing your meal, you will be starting your drive towards Guptkashi by following the route of Devprayag and Nandprayag and on the way you get to witness the gorgeously flowing Mandakini River at Tilwara. There is no option or the very scarce possibility of accommodation at Kedarnath so you will be staying overnight at Guptkashi.
Guptkashi- As the name suggests, Guptkashi is also called as "hidden Kashi" as this is the only place where Lord Shiva hid when they were trying to plead Lord Shiva so that he can make them free from the sins they had committed. The region boasts of the huge ancient Ardh Narishwar Temple dedicated to Lord Shiva.
Day 03: Guptkashi – Kedarnath – Guptkashi
Post treating your taste buds with the lip-smacking morning meal set out to explore the holy site of Kedarnath. Our driver will drop you at Gauri Kund and then start covering the trekking trail to reach the shrine of Lord Kedar and then post completing the puja rituals and seeking the blessings of Lord Kedar drive back to Gauri Kund from where our driver will take you to Guptkashi.
Day 04: Guptkashi – Haridwar
Post you binge on the morning meal, leave the hotel and drive towards Haridwar via Rishikesh. Popularly called as "place of sages", Rishikesh is located on the bank of River Ganga and is encircled by the Shivalik ranges of the Himalayas from three sides and is believed to be the place where several Rishis performed penance. After visiting the popular places of Rishikesh you will be transferred to Haridwar where you will be staying overnight.
This is the final day of your journey which will start with a lavish breakfast and then followed by a check-out and then dropping you at the airport or at the railway station in New Delhi.