Nestled beautifully at a huge altitude of 3293 meters above the sea level and on the western side of the gorgeous Himalayas, Yamunotri is one of the most important shrines in Uttarakhand. Being set amidst the lofty Himalayan Mountains, Yamunotri looks so admiring and fascinating and this is how it doesn't only attract tourists with its spiritual charm but also with the unmatched scenic vistas. Every year millions of tourists flock to this pilgrimage and the originating pace of River Yamuna from different corners of the globe to seek the blessings of Goddess. According to Hindu mythology, Yamuna is the sister of Lord Yama (God of Death) and this is why it is believed that taking a dip into this holy river secures you from an unnatural death and also cleanses away all sins. This makes Yamunotri so significant in Hinduism and even after established at such an extreme location, the number of tourists crosses a million every year.
As this gorgeously flowing river comes out from Kalind Parvat, this is why the Yamuna is also known as Kalindi. There is interesting mythology that states when Lord Hanuman's tail was set on fire then he kept his tail in the river to put off his fire. If you want to experience these places falling en-route Yamunotri and to dwell yourself into the spiritual bliss then plan your Yamunotri Yatra this year with our well-planned Yamunotri tour package ex Haridwar.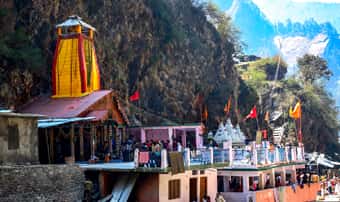 | | |
| --- | --- |
| Tour Duration: | 02 Nights / 03 Days |
| Destination: | Haridwar - Barkot - Yamunotri |
| Tour Price: | On Request /- |
Day 01: Haridwar – Barkot
Early morning eave from Haridwar to Barkot via Mussoorie and en-route this you will be visiting the huge ancient temple dedicated to Lord Shiva at Lakhamandal. Post completing the Darshan and puja rituals you will continue your drive towards Barkot. The hotel for your overnight stay has already been booked in Barkot so upon arrival at the destination city, you will be transferred to the hotel.
Day 02: Barkot – Yamunotri – Barkot
Post a relishing breakfast at Barkot hotel, you are scheduled to drive towards Janki Chatti from where 6 km trek to Yamunotri commences. Also, if you are unable to complete this trek then you can opt for the pony or palanquin rides on your own cost and on reaching the shrine prepare the Prasad of rice to offer the goddess and bring back home. What you all need to prepare this Prasad is rice and a cloth so that you can wrap the rice in it and keep in the hot Kund to boil. You can also visit Divya Shila for more spiritual experience and then move back towards Janki Chatti through the trekking trail. The day concludes with your drive to Barkot for night stay.
Day 03: Barkot – Haridwar
As you have completed your Darshan of Goddess Yamuna so this is the time to conclude your journey. After leaving from the hotel you will be dropped at Haridwar (from where the journey was started).