One of the most acclaimed divine journeys in India, Char Dham Yatra is covered by millions of devotees every year. Located amidst the high Himalayan ranges in Uttarakhand, Char Dham Yatra is comprised of four holy shrines where one wishes to embark upon at least once in their lifetime. Check out this Chardham Yatra Package from Haridwar which doesn't only let you attain spiritual experience but also some amazing and alluring moments which last for lifelong. Browsing this package offers you with top-notch staying options and smooth transfers.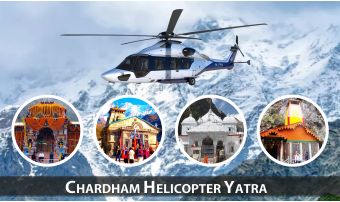 | | |
| --- | --- |
| Tour Duration: | 08 Nights / 09 Days |
| Destination: | Haridwar - Yamunotri - Gangotri - Kedarnath... |
| Tour Price: | 38,300 /- |
Day 01: Haridwar – Barkot
Once you reach Haridwar in the morning, our driver will join you who will then directly take you to Barkot via Mussoorie. On the way to Mussoorie, you will be visiting Kempty Falls and also the Mussoorie Lake. Later on, you will drive straight towards Barkot and on reaching the destination; drive towards the hotel for night meal followed by a scrumptious night meal.
Day 02: Barkot – Yamunotri – Barkot
Start your day little early today and after gorging upon the breakfast continue driving towards Janki Chatti and Phool Chatti. On reaching Janki Chatti, you will be covering the trekking trails for the further journey to Yamunotri. From Janki Chatti, you will be reaching the shrines wither by opting for the palanquin or pony rides and soon after doing the philosophy of Yamuna Ji trek back to Janki Chatti. Afterward, drive back to Barkot for the lip-smacking dinner and then go for a night meal and a night of sound of sound sleep.
Yamunotri Temple: Dedicated to Goddess Yamuna this shrine was established during the 19th century and was destroyed twice in the past. The hot thermal spring is the other major attraction of this region where devotees take a holy dip into the river. This holy Kund is believed to be meditative and cures the ailment of the people taking a bath in this hot thermal spring.
Day 03: Barkot – Uttarkashi
Post breakfast, drive back to Uttarkashi and upon your arrival in Uttarkashi check-into the hotel room where you can relax and freshen up for the visit to Kashi Vishwanath Temple, a huge and ancient shrine dedicated to Lord Shiva. Likewise Varanasi, Uttarkashi is also established on the banks of River Ganga. This huge temple was re-constructed by Maharani Khaneti Devi. Kashi Vishwanath Temple is one of the perfect examples of ancient architectural grandeurs. You can also visit the popular Shakti Temple today and then conclude the day journey by gorging upon the lip-smacking night meal followed by a relaxing overnight stay.
Day 04: Uttarkashi – Gangotri – Uttarkashi
Kickstart your day early morning with a drive towards Gangotri at around 5 am and en-route which you will be visiting the Gangnani Lake that houses a holy hot thermal water spring and do take a dip into this holy Kund. Later on, continue driving towards Gangotri via the stunning Harsil Valley, Harsil is the destination that is flocked by thousands of tourists every year due to its alluring and fascinating views. On reaching Gangotri Dham take a dip into the holy River Ganga and then enter the shrine for doing the philosophy of Goddess Ganga. After completing the puja rituals at the shrine you will be taken back to Uttarkashi for a relaxing overnight halt.
Day 05: Uttarkashi – Guptkashi
Post relishing upon the lip-smacking morning meal you will be driving towards Guptkashi via Lambgaon and Moolgarh and en-route which you can visit the Tilwara from where you can witness the charm of Mandakini River. The river flows from Kedarnath and upon your arrival at the desired destination; you will be visiting the Ardhnarishwar Temple. Once you are done with the day visit drive towards the pre-booked hotel for a relaxing overnight stay and the scrumptious night meal.
Day 06: Guptkashi – Kedarnath – Guptkashi
The 6th day of the journey starts with your drive towards Gauri Kund which is popular as the trekking base of Kedarnath. Kedarnath trek is believed to be one of the most challenging treks in the circuit. On reaching the shrine you will have to wait for some time for your turn and after completing the Puja rituals at the temple drive back to the point from where the road journey starts. Being one of the most important Jyotirlingas in India, Kedarnath is highly significant in Hinduism and it is one of the most prime destinations of Lord Shiva worshippers where they love visiting at least once in their lifetime.
Day 07: Guptkashi – Badrinath
Give a perfect and healthy start to your day with a relishing breakfast and then move towards Badrinath and on reaching Badrinath you will be escorted to one of your pre-decided staying place where you can get ready and freshen up. After taking a holy dip into the hot water spring at Tapt Kund you will enter the Badrinath Shrine for seeking the blessings of Lord Badri. There are various other sightseeing destinations like Mana, Charanpaduka, Vyas Cave, Ganesh Cave, Bhimkund, and also the "Mukh" of the Saraswati River.
Day 08: Badrinath – Joshimath – Rudraprayag
Post gorging upon the relishing breakfast at the hotel, proceed your journey to Rudraprayag via Joshimath. After visiting the Narsingh Temple in Joshimath continue your drive towards Rudraprayag for your overnight stay. Joshimath is considered to be the winter abode of Badrinath Dham as when the shrine is closed during the winter months then the idol of Badrinath is shifted to Joshimath.
Day 09: Rudraprayag – Haridwar
After gorging upon the relishing and healthy breakfast at the hotel, pack up your bags as this is the time to check-out from the hotel and drive towards Haridwar via Rishikesh. Rishikesh also called a place of sages is a spiritual town located on the river banks of River Ganga and from the three sides, it is encircled beautifully by the Shivalik Ranges. There is interesting mythology behind the origin of this destination stating there was a Rishi who performed a deep penance here and as result, God appeared in front of him and since then the place has been named Rishikesh.
Trip Highlights
Visiting the sacred shrines of Mansa Devi Temple and Har Ki Pauri, the iconic attractions of Haridwar.
Covering the holy shrines of the circuit and seeking the blessings of the deities.
Taking a dip into the holy rivers and washing away all your sins.
Inclusion
You will be under the assistance of a well-knowledge representative or guide throughout the trip.
We provide our customers with top-notch accommodation which is pretty clean, hygienic, and the rooms are available on a double sharing basis.
Smooth and easy pick-up and drop facility by an air-conditioned vehicle is offered to our guests. Although the charges are not fixed and it varies according to the road condition and the number of members present in the group.
The air-conditioned transport facilities are operationally available from Delhi to Rishikesh and vice-versa.
As this is a religious tour so you will only be served with vegetarian meals. Scrumptious morning meal, lunch, and dinner along with morning and evening tea or coffee (as per your choice) are the meals and beverages included in our package.
Our tour manager will be accompanying you throughout the trip and will take care of your safety on the trip.
Rishikesh is one of the most important destinations of the trip that needs special attention so you will be accompanied by a well-experienced tour guide for Rishikesh.
You will be offered with 1 litter of mineral water every day for drinking purpose.
If you cover the sightseeing destinations which are not mentioned in the itinerary then you need to pay an additional amount for that.
Taxes like parking toll tax, state tax, driver allowance, and fuel charges are also mentioned in the cost inclusion column of our itinerary. Besides all these expenses additional hotel tax and transportation tax are also applicable.
Exclusion
Personal expenses like porter charge, telephone bills, camera fees, tipping, and laundry, etc. are not included in the itinerary and so these charges will be borne by you.
If you are looking for any sort of insurance then, unfortunately, there is no provision or mentioning of the insurance claim in the itinerary.
If in case your trip is getting delayed due to any unfavourable situation or natural calamities like landslides resulting in road blockage. I hope you understand that this is not in our hands so we are not liable to pay this charge and this is why it is not mentioned in our cost inclusion column. Also, we will not be able to cover all the destinations that are mentioned in our itinerary and we don't find ourselves liable for this refund.
Kedarnath being nestled at a huge elevation is difficult to access by everyone so for Kedarnath pilgrims we provide accommodations at Sitapur and even it is pretty difficult for our catering team to reach there and this makes serving foods to our guests difficult at Kedarnath.
If in any situation you feel that you require helicopter services then you need to pay an additional amount for this. Also, if you are looking auto for transfer from Haridwar to Rishikesh then this will also be borne by you.
Ropeway rides, pony and palanquin rides are also offered to you on extra charge.
Be ready to pay an additional 5% charge on the total amount as GST.
Best Time to Visit
Kedarnath, Badrinath, Gangotri, and Yamunotri collectively form the Char Dham circuit. All these holy shrines are located on high altitudes and experience inconsistent climatic conditions. These highly revered shrines are opened for doing philosophy only for six months in a year and for the rest 6 months, the shrine is closed due to unfavorable climatic conditions.
It has never been easy to cover this divine yatra as one needs to walk through the rugged terrains, and weather also plays a big role in making your journey a complete success. But one cannot ignore its unexplainable significance in Hinduism which states that it is the place where one can attain liberation from the cycle of birth and death.
Ideal Time to Complete Char Dham Yatra
| Jan | Feb | Mar | Apr | May | Jun | Jul | Aug | Sep | Oct | Nov | Dec |
| --- | --- | --- | --- | --- | --- | --- | --- | --- | --- | --- | --- |
| | | | | | | | | | | | |
April to June end and September to the first week of November are the two peak season of Char Dham visit. Summer season commences in April and ends in the month of June and during these months there is a pleasant climatic condition and also the sky is very clear which makes flying of helicopter very smooth and favorable.
July and August are counted as monsoon months in India and as stated above all the shrines of Char Dham are located on high altitudes so they receive heavy rainfall which sometimes even results into landslides and can delay your journey. The roads become quite slippery and so it is very difficult to walk on these rocky terrains.
But, if you want to avoid the crowd then you can go ahead with your monsoon plan. With the arrival of September, the region starts receiving very less rainfall and the sky starts becoming clear with which helicopter services again starts.
During the winter months, the regions receive heavy snowfall and the entire region gets covered with very thick sheets of snow. So, the shrines get closed during these months and the idols of the shrines are shifted to low altitude places like idol of Kedarnath is shifted to Ukhimath and the deity of Badrinath is shifted to Joshimath. With the arrival of summer season the idols are taken back to their original place.
Note: Book the tickets and hotel rooms in advance to avoid any hassle on the journey.
How to Reach
However, the location of these shrines was making it quite difficult to access by the pilgrims coming from different corners of the globe. A few years back, it was very difficult to reach these shrines but now with the continuous efforts of the state government, it has become easy and convenient to access these holy places.
By Air:

If you are a pilgrim coming from a city which is far from Uttarakhand then coming by airways is the best mode of transport. Jolly Grant Airport in Dehradun is the nearest airport where you will deboard your flight and start your divine Yatra. Yamunotri which is dedicated to Goddess Yamuna is the first stopover of Char Dham Yatra and is located at a distance of almost 210 km from the airport.
From the airport, one can easily get road transport to cover your further journey. If you have booked helicopter package then direct from the airport you will be dropped at Sahastradhara helipad by road transport. One needs to cover a distance of almost 35.2 km (54 minutes) to cover the distance between the Airport to the helipad in Dehradun.
By Rail:

The state is well-connected with other major cities like Delhi, Kolkata, Chandigarh, etc. and frequent trains are running between these two segments. Dehradun Railway Station is believed to be the nearest railway station to Yamunotri (at a distance of 172 km from the railway station) the first pilgrimage in the circuit.
Once you reach the railway station, you can find several road transport waiting to take to your destination. However, the charges may vary according to your transport preference.
By Road:

All the pilgrimages in the circuit are pretty well connected with various other cities in the state or from other neighboring states via roadways. This is why roadway is the most recommended mode of transport to you if you are coming from nearby places.