Visiting Char Dham Yatra is a cherished dream of each and every Hindu devout where every Hindu devout wants to visit at least once in their lifetime. The Yatra cannot be done throughout the year as due to the highly elevated locations of all the pilgrimages, it is difficult to access the sites during the winter season. It was quite difficult and tedious to complete this Yatra a few years back but now the time has been changed and pilgrims avail themselves with the helicopter services to complete this divine journey. However, there are certain questions running in the mind of the pilgrims and we have compiled some of the most common queries of the tourists about helicopter services to Char Dham Yatra.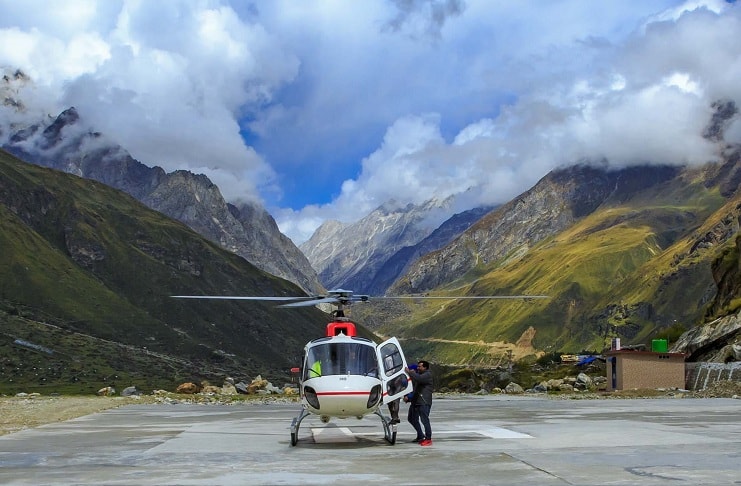 Frequently Asked Question:
Q 1: What Kind Of Documentation Is Required While Boarding The Flight?
Ans- If you are an international tourist then you must carry your passport with you and in case of Indian passengers you need to carry any of the valid ID proofs like a Voter ID card, PAN Card, Aadhar Card, Driving License. In the case of a student, you can bring your school/ college ID Card.
Q 2: Is There Any Kind Of Limitation On Baggage?
Ans- Yes, you need to carry a limited weigh baggage along with you. It depends upon the helicopter you are opting for but mostly 5 kg handbags and 15 kg of cargo bags are allowed per person. However, the handbags and other belongings like laptop also need to go through security checking.
Q 3: Is There Any Provision Of A Wheelchair For Ill-Health Tourists?
Ans- Yes, of course, we provide wheelchair facilities to those who are of ill-health. Passengers are requested to give the prior information at the time of booking of booking as the facility is limited. However, there are certain helicopter service providers which may ask you for the extra charges for providing you with the wheelchair facility.
Q 4: Can It Be Possible To Book A One-Way Ticket Or Only Round Way Tickets Are Available?
Ans- Yes, we provide you the provision of both kinds of tickets- one way and round way. So, feel free to reach us if you want to book a one-way tour.
Q 5: What In Case My Ticket Stands Cancelled? How Much Amount Would Be Refunded To Me?
Ans- If the cancelation is being done due to any error from our side then you will get the whole sum amount what you paid but if the cancellation is done from your side then as per our company's cancelation policy we will charge you with the cancellation charges accordingly. You can check the cancelation policy of our company on our website.
Q 6: I Am Travelling With My 3-Year Old Child So How Much Concession Can I Get On The Whole Sum Amount Of The Ticket?
Ans- I am sorry but there is no such concession policy which we can provide you with. Children those are of 2 years or less than 2 years get the concession but children above the age of 2 years are charged with the ticket like an adult.
Q 7: What Kind Of Discount Benefits Can I Get With You?
Ans- You can get benefited with some attractive discounts offered by us which include advance booking discount, group booking discounts, repeat guests discount, and senior citizens discounts. The discount range varies as per your travel package. If a passenger pays full registration amount at the time of booking only then he/she can get the benefit of an early booking discount. In case a passenger books the ticket for more than 8 travelers on the same day then he/ she can benefit themselves with group booking discount.
Q 8: Is It Possible To Do The Check-In Via Telephone Or Internet On The Departure Day?
Ans- Sorry, but likewise most of the helicopter company we also follow the same guidelines to do the check-in at the airport only.
Q 9: Can Senior Citizens Like Passengers Above The Age Of 70 Years Travel In The Helicopter?
Ans- Yes, but as per our company's guideline you need to submit your physical fitness report beforehand the journey. Anyone finds unfit will not be taken to the flight and their journey will stand canceled at the same time. All the pilgrimage sites including Kedarnath, Badrinath, Gangotri, and Yamunotri are situated at great altitudes so one needs to be physically fit for the journey.
Q 10: What About The Case Of Visa/Insurance Where A Passenger Needs To Extend The Journey?
Ans- There is no need to worry in such case as we will process visa and insurance duration accordingly for which you need to pay an additional amount as it is not included in the travel package opted by you.