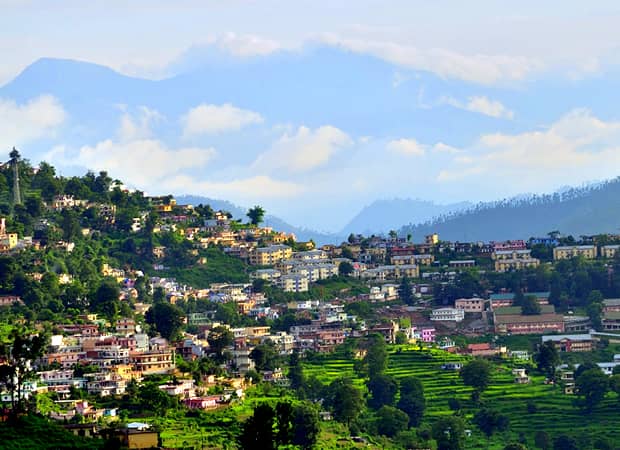 Almora Travel Guide
| | |
| --- | --- |
| Location: | Uttarakhand, India |
| Population: | 622,506 |
| Religion: | Hinduism 98.19 % | Islam 1.25 % | Christianity 0.30 % | Sikhism 0.04 % | Jainism 0.01 % | Buddhism 0.03 % |
| Area: | 7.6 Km2 (2.9 sq mi) |
| Language: | Hindi, Sanskrit and Kumaoni |
---
Weather:

25° C - 1° C
Ideal Duration: 2-3 Days
Best Time: Apr-Nov
Nearest Airport: Pantnagar
Famous for its stunning, alluring and majestic natural beauty, Almora has always attracted tourists from far and wide. The rich cultural heritage is a testament to the vibrant and colorful past that has shaped its present. From the language people speak here to the handicrafts made by the locals, delicious locally prepared cuisines and their way of life, truly and clearly depict why people find it impossible to not visit this amazing hill village on the Himalayan lap. All these factors have made Almora a tourism hub for visitors and explorers from across the globe.
But what exactly makes Almora irresistible to visitors and why should it be on your travel bucket list, even though it is an offbeat and a very unique choice? Gracing the ridge of the southern Kumaon hills, Almora is a paradise for peace lovers and especially people who are looking to make time for themselves away from the typical tourist crowd. Unlike other popular hill stations in Uttarakhand Almora is kind of offbeat and low key where nature meets spirituality and creates an environment where positivity is palpable. Located very close to cities like New Delhi, Chandigarh, Haryana, Punjab and UP, Almora can be your next favorite extended weekend getaway destination.
Did you know that Almora is the cultural capital of the Kumaon? Set amidst impeccable greenery on the Kashyap hills panning over a humble area of just about 5 kms, it is embedded with some of the most inspiring and jaw dropping sights that will take your breath away. Planning a holiday in Almora? A typical travel guide to Almora will take you to places like Kasar Devi Temple, Chitai Golu Devta Temple, bright end corner, Martola, Kalimat, Katarmal Sun Temple, Simtola and more! It has turned into an ideal destination for going on soulful treks, spiritual meditation sessions and temple hopping making it a great choice for families on vacation, solo trekkers and group of friends.
Tourism in Almora remains incomplete if you don't visit the iconic 200 year old Lala Bazaar where you can shop for souvenirs including angora (rabbit's fur) fabric clothes, special copper vessels, handicrafts items and intricate wooden decorative pieces. Being a highly spiritually active region there are many ashrams and centres of spiritual healing and learning as well. Strolling up to the Bright end corner for a soulful sunrise or sunset experience will be worth every second you spend there. This was in fact the place where the great sage and philosopher Swami Vivekananda had stopped and meditated for a while. Every aspect about Almora is filled with pure mystical charm that will engulf your mind and soul.
About Almora
Almora is a large town which graces a 5 km area along the southern ridge of the Kumaon region in the lap of the Himalayas. The town attracts thousands and lakhs of tourists throughout the year and continues to mesmerise newcomers each time. The hill town which is nestled amidst the wonderful scenic natural beauty was established during the 15th century by the Kalyan kings however there have been written accounts which point towards the fact that people have been settled in Almora even before the time of Mahabharat. Riddled in a very interesting past and possessing a dynamic history of mythology, rulers and kingdoms, Almora has been rightly called the cultural capital of Kumaon.
Ever wondered why Almora is called that? To start off, most of the places on the hills are named after the majority of the vegetation or plants found in that particular region. In the similar manner, Almora was initially named Bhilmora which is a kind of a sorrel or a short plant which is found in abundance in this part of Uttarakhand. These plants were used to wash out the utensils at the Katarmal Sun Temple making it an auspicious plant with spiritual and holistic values. After the foundation laying of the town, king Bhishm Chand of the Chand Empire, had renamed it Alamnagar. During the early phase if the Chand rule in Almora, they had also named it Rajapur. This has been confirmed because there are ancient copper plates found in Almora with this name engraved in it.
Prior to the incoming of the Chand rule the region was ruled by the Katyuri kings who had donated a part of the Almora land to the early inhabitants of the region who went by the name of the Tewaris. If ancient resources are to be believed like Vishnu Puran and Mahabharat then there are primordial accounts of president human settlements can be found. Some ancient tribes that lived here included the Sakas, the Nagas, the Hunas, the Khasas and many more. Another important rule that this region has experienced is from none other than the princes of Hastinapur, the Pandavas and the Kauravas as well as the Aryans who later on went ahead and spread across different parts of the world.
Almora is a big hill city which has its own district and a good amount of population that occupies the central Himalayan region. The temperature and weather conditions that prevail here are very comfortable and evenly distributed meaning if you think about it; you can explore Almora anytime of the year, from summer through monsoon and even winter season! Rich with a diverse range of flora and fauna species that further amplifies the beauty of the hills and covered in green forest, combined with a culture and heritage that goes back to the early ages, everything about Almora is magical and truly mesmerizing.
Holiday Packages
Almora holiday packages offer exclusive deals to explore the wonderful hill station that is all about good vibes and positivity. Some of the most popular and often sold out packages for Almora include heritage tours of Uttarakhand, Almora holiday packages, cultural exploration of Kumaon and many more! Visiting Almora is now a piece of cake with these packages that are designed to meet your holiday and comfort needs. Reasonable on the pocket and easily customizable, Almora holiday packages are exactly what you need for a soulful vacation. So what are you waiting for, check out our incredible selection of packages and get in touch with us for well curated tours in Uttarakhand and beyond!
Things to Do
When you think about Almora, the first thing that comes to your mind is the wide open green hills, blue skies and a place where culture and heritage meets natural scenic beauty. Home of the Chand and the Katyuri rulers of the past, it has developed into a centre for yoga, meditation and intense spirituality. People from all over the world make it a point to visit Almora while being on a quest for a soul stirring holiday experience. Home to over 4000 different species of birds, plants, trees and animals, this place is one of the most underrated destinations for animal lovers as well.