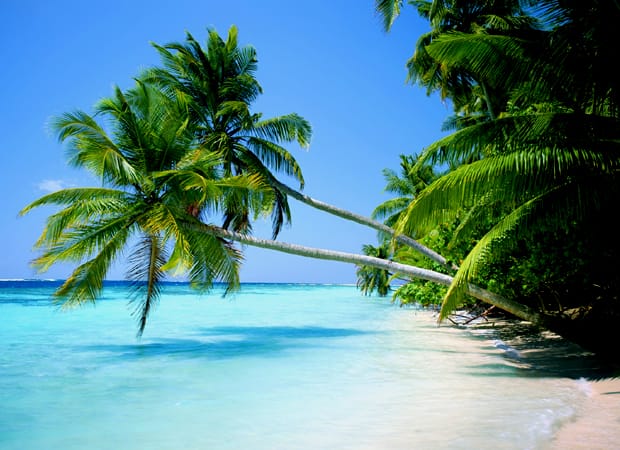 Andaman Travel Guide
| | |
| --- | --- |
| Capital: | Port Blair |
| Population: | 380,520 |
| Religion: | Hinduism 69.45 % | Christianity 21.28 % | Islam 8.52 % | Sikhism 0.34 % | Buddhism 0.09 % | Jainism 0.01 % |
| Area: | 8,250 Km2 |
| Language: | Hindi and English |
---
Weather:

29° C - 20° C
Ideal Duration: 2-3 Days
Best Time: Nov-May
Nearest Airport: Port Blair
The exotic tropic island off the Indian coast is a magical wonderland made up of seawater clear as day, life-giving colorful coral reefs and smooth sandy beaches. Often referred to as the man's own blue heaven, over a period of time Andaman tourism has grown substantially not only as an exotic getaway for the family, loved ones and friends but also as a top destination wedding location. Surrounded by beach, crystal-like water, a serene ambiance, well preserved tribal population and fun activities the Island of Andaman is truly a heaven for travelers, explorers and especially the perfect honeymoon destination.
From the moment you arrive in Andaman you will be awestruck with the immense and unending natural beauty which will soothe your mind right away and will leave you speechless. The alluring beauty will seem like you are in a movie. The heritage of this one of the oldest island is very well protected and heavily guarded with strict rules and has managed to create an environment which is charming and extremely pleasing not only to the eyes but to all the senses and is matchless to anywhere else you may have been in the past.
The island of Andaman is a part of the Indian archipelago and consists of more than 300 different islands of varied sizes out of which Andaman with Nicobar are open for a visit along with a few others. The remaining islands are off-limits for tourists with an aim of keeping the ancient tribal population in their natural habitat without any intervention from the outside world.
The historical account of this place is extremely old and offers a very immersive view into the lifestyle of the indigenous people. The cultural heritage of this collection of islands makes it one of the most dynamic places to explore for history buffs.
Some places and activities which will be included in the travel guide for Andaman are snorkeling and boat ride in Havelock, historical tour of Port Blair, Island trip of Jolly Buoy, trekking trip to Chidiya Tapu, scuba diving activity with photography, kayaking tour of the mangroves in and around Havelock and so much more. Experience the real meaning of traveling by going on a fun trip to this charming island. The green lined sandy beaches, watching sunset and sunrise from beautiful viewpoints and experience the culture in a close personal manner this place is unlike anywhere else.
The best fact about this island is that unlike other destinations that depend on weather fluctuations for tourism, Andaman does not experience significant weather changes. This means that you can have a fun yet peaceful holiday in Andaman at any time of the year. With white beaches, intense mangroves, thriving rainforests, mind-boggling collection of flora and fauna, impeccable marine life due to the presence of thriving coral reefs and much more, this place truly seems like a heaven on earth. Go cruising of islands on the water or explore the otherworldly ecosystem underwater by scuba diving or walk with the fishes while snorkeling, the list would go on and on and you will not tire. Visit Andaman now.
About Andaman
The island of Andaman forms an archipelago within the Bay of Bengal in between India and Myanmar. The beauty of this island has become a major attraction for people who love to spend their holidays amidst the exotic sceneries and serene beauty not only above land but underwater as well. It has become a hotspot for holiday goers due to the presence of crystal clear water on the white sandy beaches lined by lush and thriving woodlands and also for its plethora of adventure water sports activities like scuba diving, snorkeling, boating and much more which will leave a lasting impression in your heart for a long time to come.
This the incredible island serves as the home for the local Andamanese inhabitants which consists of numerous groups of tribes and sub-tribes as well who have been staying here in this haven for centuries. As per strict bylaws, out of more than 300 different islands, only Andaman with Nicobar and a couple of other islands are accessible for tourist visits and exploration. This is done to preserve the tribes and not expose them to the changing modern world where they cannot survive. This has worked perfectly in favour of them in keeping the serenity intact.
The typical tropical climate is very pleasingly warm accompanied with soothing and cooling breeze from the ocean. The forest cover here has some similarity with the evergreen forests located on the coast of Burma, is extremely rich, thick and thriving serving as home to some of the most varied variety and forms of flora, fauna, and birds.
Although the tourism department is quickly multiplying these parts of Andaman remains untouched and very well preserved all thanks to the efforts made by the government here. Everything put together is what this destination unmissable in your travel plans.
There is a lot of fun and exciting as well as peaceful things to indulge yourself in at this incredible island which is made out of the perfect travel dreams. From going peaceful kayaking to walking on the ocean floor along with schools of fishes while boating or scuba diving and snorkeling, this island promises to leave you with a lifetime worth of memories. Exploring this will definitely feel like you are in some remote exotic foreign location unlike anywhere else. From the food to the people everything is unique and truly one of a kind.
With years of historical account and having been a part of various invasions, rules and plundering this island is something that may seem extremely unreal and like a dream world. A great way to start your married life by going on a honeymoon to Andaman or spend quality time with your family or loved ones or just forgetting about the chaotic world and letting your hair down Andaman is for everyone and displays a variety of shades of travel which will leave a lasting mark in your heart and soul. Include this magical fairyland of an island in your travel bucket list and keep coming back for more.
Holiday Packages
Andaman is quickly becoming one of the most sought after holiday destinations in the world. People from different corners of the globe make their way to this exotic island. Andaman Island holiday packages are catered in the best way to meet the requirement of every type of travelers ranging from honeymoon goers to solo travelers. Travel with ease through our custom made and perfectly curated packages designed to meet your need and can easily be customizable. Have a fun time going sightseeing, checking out the scenic natural beauty and in all, create a lifetime's worth of memories through these packages.
Things to Do
Andaman is an exotic destination and this is what sets it apart from the rest of the travel destinations in the world. There are a plethora of activities here for one to indulge in that includes taking a soothing stroll on the scenic beaches, watching the beautiful sunrise/sunset from one of the several viewpoints, shop for locally produced arts and crafts, know more about the residing tribes, sub-tribes and the unique culture for which Andaman has been serving as home since centuries. Although Andaman is beautiful in an obvious manner, it is more than just sightseeing.
Map of Andaman and Nicobar