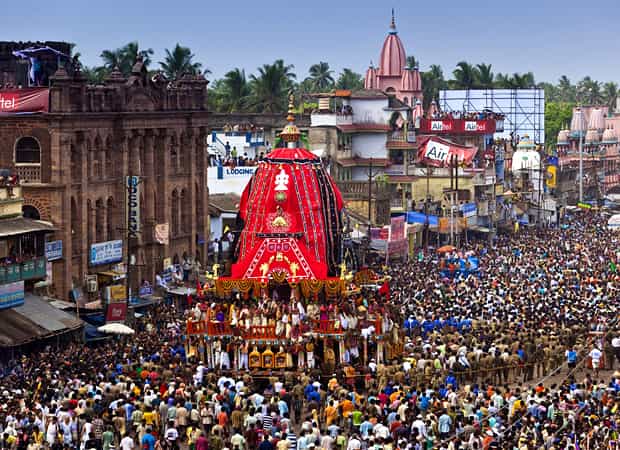 Odisha Travel Guide
| | |
| --- | --- |
| Capital: | Bhubaneswar |
| Population: | 45,989,232 |
| Religion: | Hinduism 93.63 % | Christianity 2.76 % | Islam 2.17 % | Sarnaism 1.14 % | Sikhism 1.05 % | Others 0.05 % |
| Area: | 155,707 Km2 |
| Language: | Oriya and Hindi |
---
Weather:

31° C - 20° C
Ideal Duration: 2-3 Days
Best Time: Nov-Feb
Nearest Airport: Bhubaneswar
The beautiful and spiritually evoking eastern state of Odisha is all about forests, wildlife, natural beauty, beaches and the temples making it a wholesome vacation experience for everyone and anyone visiting this place. From being the perfect place to spend some special bonding time with your family and loved ones or explore the spiritual value of this place by going on various temple tours every aspect of this magnificent state is as awe-inspiring and serendipitous as the other. Home to a range of different tribes and hidden jewels this place is grabbing a lot of attention across various travelers from different parts of the world for its unique heritage and distinct cultural amalgamation.
Tourism in Odisha will take you on a memorable journey across some of the most popular as well as offbeat destinations which makes it very different from the rest of India. People come face to face with the fact that no matter which corner of India you go to Odisha will be very different in every aspect of food, lifestyle, architecture and even clothing. People and explorers mainly make their way to this wonderful state to explore the promising temple city of Bhubaneswar, the silver city of Cuttack and of course home of the Konark Sun Temple in the beach coastal town of Puri. However, the pilgrimage of Jagannath Temple stands out since this ancient and holy temple is also a part of the holy Char Dham Yatra of India.
The people of Odisha are famed for their hospitality, warmth, welcoming and helpful attitude.
Their communal harmony can be experienced by attending the various colorful festivals and fairs that take place here which is an experience beyond words. The unique topography of undulating hills, gently rolling green meadows and the presence of beaches is what makes it kind of like the Goa of the east. If you happen to plan a visit to Odisha then the following places will definitely be included in your Odisha travel guide Rayagada, Cuttack, Puri, Konark, Chandipur, Talasari Beach, Sambalpur, Jagannath Temple, Tikarpada Wildlife Sanctuary and so much more that the list would go on and on.
The picnic spots here are very peaceful and serene giving your family and loved ones the perfect opportunity to spend some time together. Places like Rourkela allows you to explore the unending beauty that India as a whole has to offer while the town of Jeypore takes you on a trip to some of the most popular collection of lakes waterfalls and flower-laden valleys while also exploring the replete coffee gardens and the peace of the hill station in the charming hilly town of Daringbadi which turns into a winter wonderland during the cold winter season.
All these and more put together forms for one of the most incredible holiday destinations of India. Be it for a quiet getaway or for pilgrimage it will leave a very lasting impression in the life and hearts of every traveler making their way to this incredible state.
About Odisha
Formerly referred to as Orissa with neighboring states of West Bengal, Jharkhand, Chhattisgarh and Andhra Pradesh, this state boasts of a very beautiful and graceful coastline of Bay of Bengal. Due to its varied and distinct groups of tribes and local inhabitants, the land of Odisha has become very harmonious and one of a kind. By area, it is the 8th largest state of India and the 11th largest in regards to the population of the state along with being home to the 3rd largest population of scheduled tribes in India. The state plays a very major significance in forging the history of India since it has found mentions in various different Hindu epics and texts including Mahabharat which makes it a very relevant place to be. In every building and places of worship, the Vedic traditions here are prominent in its nature.
The forest cover of India is extremely vast and thriving and comprises over 31% of the forest cover where a number of wildlife beings and birds thrive in complete harmony. The climate and the rainfall situation here works in its favour for creating the perfect scenario for this ecosystem to thrive happily and in complete harmony with each other, especially the Nandankanan Biological Park, Chandaka Elephant Sanctuary and Simlipal National Park among a host of others.
Apart from the wildlife presence in this state one of the most significant parts of this place is the religious and spiritual relevance which sets it apart from the rest of India. Places like the famous Lingaraja Temple in Bhubaneswar that
boasts of a 150-foot high Deula, Jagannath Temple in Puri which has a 200-foot tall Deula and literally dominates the skyline and the largest temples of the holy golden triangle tour namely Konark Sun Temple. The best plan would be to date your trip around the time of the famous Rath Yatra that takes place annually here and the entire state comes to a stand-still to take part in this incredibly religious and auspicious time of the year.
What makes Odisha unique in every way? Mostly the credit is given to the largely varying topographical features of this state that ranges from the fertile river basins, woodlands of the Eastern Ghats among others which forms the perfect ecosystem for not just the wildlife but also for the people residing in these parts happily. This state is home to a wide range of geological formations which are hidden away from the popular tourist attractions here. The Mahanadi river delta and the Chota Nagpur Plateau is also a remarkable feature. This mineral-rich land which is dotted entirely with interesting structures, places of worship, beaches, lakes, valleys and so much more is what makes this place a wholesome mosaic of immersive experiences.
Everything about Odisha is unique and one of a kind which cannot be replicated or seen anywhere else in the Indian subcontinent. The architectural style, whimsical structures and the mix of different religious groups gives this place a vibe and a charming personality of its own, which in turn makes it a must-visit destination.
Holiday Packages
Odisha holiday packages offer you the perfect opportunity to explore the famous and offbeat attractions that beautify this state. Travellers can choose from a variety of options for holiday packages like the spiritual/pilgrimage tour of Odisha which includes visit to places like Konark Sun Temple and Jagannath Puri Mandir; the scenic beaches tour, heritage exploration in the hill stations and many more that too at the most affordable rates. The perfect place to experience the cultural diversity of India Odisha is a great place to enjoy with family, friends and loved ones guaranteeing a lifetime worth of memories.
Things to Do
Odisha is an upcoming popular holiday destination which is not only known for its spiritual value but is also a wonderful getaway. Looking to beat the heat and relax or experience the real cultural and village life in this day and age of modernity or just want to have the holiest Darshan at some of the top pilgrimage destination in India or much more then Odisha is the destination for you. Filled with charming naturally scenic beauty and with an ever-present vibe of positivity and spirituality this place is a dream come true especially if a getaway is long overdue.