Peaceful and quiet, the beaches of Andaman and Nicobar islands are the finest in the world, perfect for a romantic getaway or for some activities underwater. You get your fill when you join NamasteIndiaTrip enthralling Port Blair Package Tour covering 8 days and 7 nights with never a dull moment.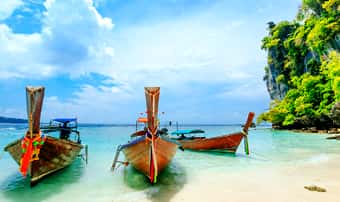 | | |
| --- | --- |
| Tour Duration: | 07 Nights / 08 Days |
| Destination: | Port Blair - Elephant Beach - Jolly Buoy |
| Tour Price: | On Request /- |
Day 01: Arrive in Port Blair
Fly into a warm welcome from our tour guide in Port Blair. Check into your hotel room and freshen up. Lunch is followed by a visit to Corbyn's Cove Beach, a picture-post card location. Everyone has a lovely time here and then it is time to visit the Cellular Jail and take in the Light and Sound Show. Return to your hotel for overnight stay.
Day 02: Port Blair – Havelock Island (57 km)
Breakfast and checkout for the trip to Havelock Island by a ferry that will take about 2.5 hours to cover the 57 km distance. Check into your hotel room and then set out to explore Asia's finest beach, Radha Nagar Beach with its breathtaking scenery and inviting surf. Return to your hotel and explore the island on your own.
Day 03: Elephant Beach Excursion
Breakfast and then set out for the Elephant Beach on the eastern side of Havelock Island, a breathtakingly beautiful location with its marvelous coral reef. Put on your mask and go snorkeling to view the best of the blue waters teeming with marine life. Return to the hotel in the evening.
Day 04: Havelock Island – Port Blair (57 Km)
The day is free for you to explore the island on your own, buy local produce or enjoy on the beach. Gather together in the evening to board the ferry that will return you to Port Blair. Check into the hotel room on arrival.
Day 05: North Bay and Ross Island Excursion
After breakfast, we set out on a full day excursion to the famed North Bay and Ross Islands known for their scenic splendors. The star attraction is the beautiful coral reef with a teeming underwater life you will love to explore when you go snorkeling. For others, there is the stretch of lush green forest just a little bit in the interior. A few hours seem like a short time in this paradise and you have to return to your room in the evening.
Day 06: Jolly Buoy Excursion
Today, there is the experience of another kind in store as we set out after breakfast for an excursion to Jolly Buoy and Red Skin Island. The focus is the enchanting underwater life in crystal clear waters. Later, as the sun goes low over the horizon and dips into the sea we return to the hotel.
After breakfast, we set out on a city tour and will visit the Fisheries Museum, Gandhi Park, Anthropological Museum, the Water Sports Complex and the old Chatham Saw Mill. It is lunchtime by the time you finish this brief tour and then you have the day free to explore on your own.
After breakfast, our tour guide bids you a fond farewell as the tour ends on a happy note as you board your flight with a promise to rejoin NamasteIndiaTrip for another Andaman tour.