Srisailam is one of the most highly revered Hindu pilgrimage sites in India and is located in Kurnool district of Andhra Pradesh. Located at a distance of 212 km from the beautiful city of Hyderabad, Srisailam is home to numerous temples and holy caves. Namaste India trip brings to you the famous Srisailam weekend trip from Hyderabad package which lasts for 2 days and 1 night, but is leaves a lasting impression on the visitors and devotees.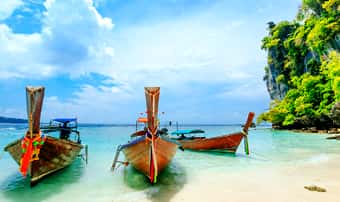 | | |
| --- | --- |
| Tour Duration: | 01 Nights / 02 Days |
| Destination: | Hyderabad - Srisailam |
| Tour Price: | On Request /- |
Day 01: Hyderabad – Srisailam
Early in the morning, you will be scheduled to depart from Hyderabad to Nagarjuna Sagar, which is located at a distance of 3 hours. En route, you will be made to visit the largest dam in India, Nagarjuna Sagar which is built across River Krishna.
Your next magnificent destination will be Ethipothala waterfall, which is a cascading oasis in the middle of peaceful and quiet surroundings. There is a viewing spot made especially for the visitors to gaze at the mighty falls from a safe distance.
You will then finally continue your journey towards Srisailam and upon arriving there you will be immediately checked in to your allotted hotel.
Day 02: Srisailam Sightseeing Tour and Departure
Early in the morning, you will be escorted to some of the most visited tourist destinations kick-starting with Bhramaramba Mallikarjuna Swamy temple, which is dedicated to Lord Shiva and Goddess Parvati and is an extremely significant Hindu site of worship being one of the 12 jyotirlingas as well as one of the 18 Shakti Pithas.
Next, you will be taken to Paladhara Panchadara which is known for its breathtakingly scenic views. It is extremely holy since it is believed that Sri Adi Shankaracharya had meditated at this spot.
Your final spot for the day will be Sakshi Ganapati Temple where the common belief is that Lord Ganpati keeps an account of all the visitors to the temple. The sculpture of Lord Ganesha is in a completely black stone holding a pen and a notebook.
By sundown, you will be escorted back to Hyderabad hence ending your trip.