Kerala, God's own country, is a lush green tropical paradise famously known for its waterways and its picture postcard perfect hill resorts. Kerala enjoys balmy weather so that being out in the open is always a pleasurable experience, especially when you are surrounded by greenery and water bodies. One of the pleasantest ways to experience Kerala is to sample its waterways and hill resorts of which Munnar is undoubtedly the queen. NamasteIndiaTrip offers a 3 nights 4 days sampling of Alleppey and Munnar. A typical itinerary would be something like this: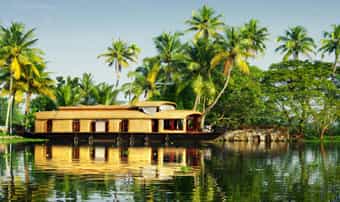 | | |
| --- | --- |
| Tour Duration: | 02 Nights / 03 Days |
| Destination: | Kochi - Munnar - Alleppey |
| Tour Price: | On Request /- |
Arrive in Kochi to a warm welcome by our Namaste India trip tour guide who then escorts you to a waiting coach that will take you across one of the most scenic country sides stretching 135 km. The 4.5 hour ride takes you to the Kodanad elephant care centre where you stop and admire the way elephants are pampered and trained. Then you travel some distance to the Cheyyara Waterfalls followed by the Attukad waterfalls. As you go along you come upon a plantation where you take a short break and then finally arrive at Munnar, the seductive hill resort with its gently undulating curves swathed in green. Check into your room and then set out to explore the neighborhood.
Day 02: Munnar Sightseeing
It is pleasantly cool at a height of 1600 metres and you will enjoy the breakfast as you drink in the scene of surrounding slopes covered with tea plantations. Though there is plenty to see and do in and around Munnar, today's sightseeing will take you to the Eravikulam National Park, a place of charming natural beauty. From here you go on to the Mattupetty Dam and rest briefly, enjoying the breeze. Then, it is onwards to the tea estate to watch tea being plucked and processed. You can sample teas and buy some. The visit also includes a Dekko in the tea museum to enrich your knowledge. After that it is onwards to a spice plantation where peppers grow in profusion along with cloves, cinnamon and cardamom. Munnar sightseeing for the day includes a visit to the rose garden, the Kundale dam and the Blossom Park after which you have a respite by way of boating on the tranquil lake. Dine on typical spread of choicest Kerala cuisine and retire for the night.
Day 03: Munnar – Alleppey
Breakfast on Kerala delicacies like coconut pancakes or mashed yucca with coconut and set out on the 150 km drive to Alleppey. If Munnar is hills and undulating green landscape Alleppey is all about calm backwaters and a different world altogether. Arriving here after 3.5 hours you check into a houseboat that will be your home for the next 20 odd hours, dine on board and relax, watching life as it is lived in the water world of Kerala. You can watch people trading from boats, catching and selling fish and even conducting ceremonies. Stay the night on the boat as the rocking houseboat lulls you to blissful sleep.
Breakfast over you traipse over to Alleppey beach for a fabulous view of the sand and sea and then drive onwards to Kochi, a distance of 80 km that takes about 1.5 hours. Once in the city we go around to visit the Navy Museum, the Fort, and the St Francis Church and then to the seashore to admire the way fishermen still use Chinese nets. In the afternoon you go on to the Tripunithura Hill Palace and then, later, go for boating on the sea alongside the famous Marine Walk. In the evening you can go shopping and then the tour ends as our guide assists you on your way to the airport or railway station.
Kerala is like a sip of fine wine. You will want more and promise to return on one of NamasteIndiaTrip fabulous Kerala tours.