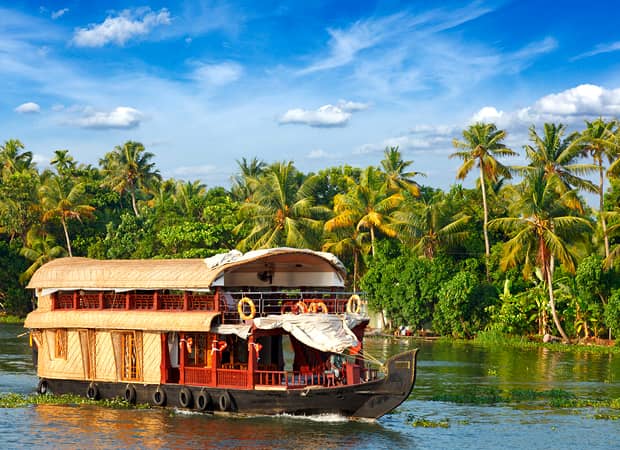 Kerala Travel Guide
| | |
| --- | --- |
| Capital: | Thiruvananthapuram |
| Population: | 33,387,677 |
| Religion: | Hinduism 41.71 % | Islam 43.00 % | Christianity 14.96 % | Others 0.30 % | Not Stated 0.03 % |
| Area: | 38,863 Km2 |
| Language: | Malayalam, Tamil and Others |
---
Weather:

31° C - 20° C
Ideal Duration: 2-3 Days
Best Time: Jun-Aug
Nearest Airport: Cochin
Home to the magnificent 600 km long shoreline of Arabian sea and gracing the tropical Malabar Coast of India, Kerala is truly every traveler's dream destination and if not you must definitely include in your bucket list. When one thinks of Kerala people normally think of the shoreline and beaches lined by the lush green palm trees, peaceful houseboats on the backwaters and of course the glimmering water of the canals. Kerala tourism attracts travel enthusiasts from all over the world with varied interests consists of attractions and activities for everyone. From relaxing on the smooth sandy beaches to spending some time among the wildlife in one of the several national parks this place is truly a Pandora box.
The tourism here and the travel guide for Kerala takes you across some fascinating destinations that include Alappuzha, Munnar, Kovalam, Kochi and much more. Each place here has a charming personality and unique attraction of its own. Graced by the presence of the oldest hill ranges in India, the lush green Western Ghats it supports not just various tribes of south Indian people but also an incredible collection of flora, fauna, and avian variety. All in all, it's a fun place to be!
Bestowed with endless bountiful and timeless natural beauty and dotted with various temples among other sightseeing attractions the coastal town of Kerala is a famous place to visit for families, groups of friends and even solo travelers and adventure seekers.
The backwaters, beaches, hill towns, waterfalls and so much more one can never get bored here and in fact will always be entertained and your mind will be at peace. The laidback atmosphere which is coupled with the delightful and positive vibe in every nook and corner, this iconic tourist destination is a wonderful way of getting to know more about the unique traditions and rich culture which has been preserved here overt ages.
Popularly referred to as the god's own country, one can choose to either indulge in adventure holidays by going to the far-flung offbeat places to pending your time in leisure by just relaxing your time away and watching awe-inspiring sunsets. When someone mentions Kerala the one picture that comes to mind is unparalleled greenery which can be experienced in an even better manner at places like Wayanad, Munnar, Ponmudi, Thekkady, Idukki, Silent Valley, Vagamon, Peermade, Gavi among a plethora of others.
It is a well-known fact that the culture, heritage, traditions, cuisines, and lifestyle of Kerala is very different from the rest of India. One can go on unending food walks, take hiking trips to the nearby forests and woodlands and be a part of one of the several interesting and unique fairs and festivals. From Ayurveda treatments and going on boat rides to paragliding down the lush hills and following the various trekking trails Kerala offers a plethora of things to do for a curious traveler from anywhere in the world. These are a few reasons one needs to visit Kerala right away and have a real, firsthand experience.
About Kerala
Deemed as being one of the 10 paradises on earth by a very famous travel magazine, Kerala is all about eco-tourism, sustainable explorations and of course the gorgeous backwaters. Apart from that this state is further beautified by the presence of high mountains, lush gorges, and deep scenic valleys. Placed in the southwestern Malabar coastal region of the Indian subcontinent Kerala has emerged to be a very popular holiday destination in India among domestic as well as international travelers. Every aspect of this south Indian state is awe-inspiring and very well preserved. From the rich culture to the vibrant heritage, Kerala is very rightfully named 'gods own country'.
The historical account of this beautiful state can be dated back to the rulers of Chera who are considered to be a wonderfully prominent kingdom to have ruled over the land. It has always been a trading center for its variety of spices that can be seen even today. The diverse culture and interesting traditions along with varied demographics has managed to set the bar very high among the famous tourist destinations in India which are admired by explorers, temple visitors and adventure lovers.
Coconut plays a major role in the economy of Kerala which is included in almost all the products here ranging from coconut oil to using the husks for making coir products. The culture and the people of Kerala are very self-sustainable which can be observed here ever since your arrival here. This can also be experienced by staying in one of the many homestays here.
Apart from the culture, heritage and tourist attractions, people also go there for its impeccable weather conditions. Especially, during the monsoon season, every inch of the landscape is sprung to life showcasing the various shades of green.
Be a part of the state where the food is delectable, culture is well preserved; people are treated with Ayurvedic methods and impeccably peaceful houseboats. The presence of scenic natural beauty of the shoreline also works in the Favour of Kerala to elevate its bountiful beauty. Currently, this state has been on every backpacker's travel list and is even explored as a part of the honeymoon tours for newlyweds. After all, what better way of starting your new life than spending some memorable days in one of the most incredible places in India and maybe the world.
The alluring beauty of Kerala should be credited to the locals who have successfully shown respect to their rich past. The festivals and fairs also make Kerala truly one of a kind since their celebrations are unlike anything you may have experienced in other travel destinations. A place to unwind, relax, let your hair down and take it easy while listening to the bird's chatter and witnessing the endless beauty unfurl in front of you. A lot is to be known about Kerala and the real positivity that one experience cannot be either written in words or captured in a picture, it can only be experienced first-hand.
Holiday Packages
The lush state of Kerala defines the best of everything. Explorers, travelers and family holiday goers can have one of a kind experience from one of the many packages for Kerala options that are available at the most reasonable rates. Choose from spending your nights in a houseboat at the backwater or experience the colorfully vibrant culture of the villages here you are just 1 package away to adding a whole new chapter in our travel diary. Kerala guarantees a memorable holiday experience which will remain close to your heart for years to come. So what are you waiting for book the right package for Kerala now!
Things to Do
Kerala is a hub for indulging in a variety of activities which does not necessarily mean that it is a hub for hardcore travelers. The great thing about this place is the fact that it can easily endear different types of visitors ranging from peace seekers and solo travelers as well. The place is blessed with numerous options to create a memorable holiday for everyone ranging from hiking trails in forests, temple visits, village walks, cultural experience, houseboat stay, beach exploration and so much more. Check out how to make your holiday in Kerala worth every bit.