Karnataka Tourism – Travel Guide to Karnataka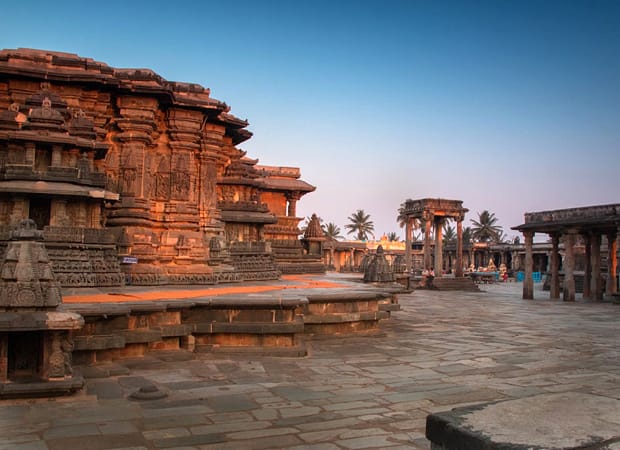 Karnataka Travel Guide
| | |
| --- | --- |
| Capital: | Bangalore |
| Population: | 61,130,704 |
| Religion: | Hinduism 84.00 % | Islam 12.92 % | Christianity 1.87 % | Jainism 0.72 % | Buddhism 0.16 % | Sikhism 0.05 % |
| Area: | 191,791 Km2 |
| Language: | Kannada and Hindi |
---
Weather:

26° C - 20° C
Ideal Duration: 2-3 Days
Best Time: Nov-Apr
Nearest Airport: Bengaluru
The southwestern state of Karnataka perfectly displays the best of both worlds from a tourist's point of view. There are numerous chills out places and a thumping nightlife whereas on the other hand, the rich heritage cultural value is also well maintained and proudly kept alive that draws a large number of tourists from all over the world. It is referred to as the land of many worlds in itself that also includes fun-filled tours and a lesson in south India's grand history. From lavish temples and palaces to high tech and unique club culture this state is a very important piece in the Indian tourism sector.
Karnataka tourism takes you on a holiday or a vacation of a lifetime which represents the mosaic of different cultures, varied colors, impeccable landscapes, thrilling wildlife, and timeless spectacular natural beauty. Apart from all these people come here to taste the lip-smacking food, tranquil ambiance, relaxing beaches, and the endless spiritual wonderment. A typical Karnataka travel guide will include a visit to some of the most incredible sites of the visit to places like Bengaluru, Mysore, the coastal region, Hampi, Srirangapatna, Madikeri among others. Every step of the way in Karnataka is as inspiring as the next.
Did you know that the hill station in Karnataka has a personality of their own that is very different from the various hill towns in the rest of India. People choose this state to go on a solo backpacking trip across South India, as a honeymoon destination for newly-wed couples, for history buffs looking for a family vacation getaway and of course the people residing in the nearby places as a weekend holiday road trip destination.
The hill stations here especially remain flocked with tourists looking to beat the scorching heat of the adjoining plain regions. The alluring beauty of this state which is locked in between the coast of Kannad, Western Ghats and Deccan plateau, is something that can only be experienced in real-time.
Karnataka state is a beautiful amalgamation of places like Bangalore; Coorg – home of the hypnotic hills; Gokarna; Bandipur National Park; Udupi; Nandi Hills; Chikmagalur; Murudeshwar; Mangalore; Karwar and so much more which makes this place truly one of a kind. All these facts makes this place the 4th most popular tourist places to explore in India along with being the 2nd highest number of protected monuments of India. From the historically relevant structures of Karnataka to being named as the 'silicon valley of India' this state has much more to offer than one can imagine.
The cultural diversity, rich natural beauty, heritage background, and a wonderfully interesting lineage Karnataka is also a place to indulge in thrilling sports activities which makes for a wholesome holiday getaway. So what are you waiting for just book your tour to Karnataka right away and be ready to sip on some delicious coffee, tea, delicious food while going from one place to the next, sit back and relax on the beaches and have an immersive experience.
About Karnataka
The landscape of Karnataka is bordered by the coastline of the grand Arabian sea on one side, the state of Goa on the northwestern end, the grand state of Maharashtra on the northern end, Andhra Pradesh in the eastern side and Kerala in the south side making it the 6th largest state in India keeping in mind the area of the entire land. When it comes to history, Karnataka's historical account goes back to the prehistoric era which can be traced back to the number of sources that has been found here by historians and archaeologists. All in all the state is extremely fascinating and will definitely leave a lasting impression in your heart.
Prior to coming under the Mauryan Empire of Ashoka the Great, during the 3rd century BCE the state was a major part of the Nanda Empire. The landscape of Karnataka consists of hill stations, plateaus, plains and coastal regions which are graced by the presence of River Kaveri and Tungabhadra works further in amplifying the beauty of this grand and gracious state. The climatic condition of this state also works in creating a favorable and pleasing aura of a typical sub-tropical holiday destination which is not too warm but just the right amount.
The ecosystem here is thriving and consists of various different types of animals and plants life that work together in a favorable place to explore and stay. The moment you arrive in this wonderful state you shall be treated with incredible coconut palm tree-lined lagoons and lush monsoon forests cover along with expansive and vast stretches of scrubland.
All these varied landscapes and different types of tree covers create an environment perfect for animals like tigers, elephants, and deers among others to thrive which can also be seen in the various national parks and wildlife sanctuaries present here. It is also a paradise for bird watchers since this place is not only visited by tourists but also from various migratory birds from across the globe.
The place's historical lineage is apparent with the presence of temples with sky-touching Gopurams, opulent palaces depicting the royal background of this rich state and of course the relaxing coastline of smooth sandy beaches where people can have a peaceful time after a fun day out. From the ancient abandoned town of Hampi and Gokarna to the silicon valley of India the state offers you the opportunity of experiencing the best of both worlds. What more do you want for a memorable and cherishable holiday experience? Go there with your family, loved ones and friends and experience the part of India which is very unique from the rest of the world.
One will get to know everything about the state of Karnataka by visiting it in real-time and creating a lifetime worth of memories. It promises a lifetime worth of memories and maybe you may even keep coming back for more. Explore the true meaning of culture, history and heritage.
Holiday Packages
Exploring Karnataka is truly an honorable and a wholesome experience at the same time with sightseeing options ranging from grand opulent palaces to the happening and thumping nightlife and exciting cafes and pubs. These two distinct faces of Karnataka Makes its holiday packages one of the most availed options for every traveler. Choose from a wide range of Karnataka holiday options available at the most affordable rates for family and loved ones. You may even plan your own trip and customize your holiday package to this south western coastal state. Explore the incredible land through these amazing packages.
Things to Do
One thing is for sure, if you plan a visit to this land of promises you will definitely not get bored even for a single day. With a plethora of activities and things to indulge in you will in fact fall short of days here to vacation. The wide range of activities and things to do here include temple walks which can go on for days, sightseeing options that will most definitely leave a lasting impression in your heart and souls, the undeniable spiritual aura and the vast incredible beaches that will relax your time away and also comes with a range of water sports activities. No matter what you choose to do here memorable time is guaranteed here.
Top Travel Destinations
Karnataka undoubtedly ranks as one of the top travel destinations, not in domestic but also internationally. People from all over the world come here to experience the local culture, colorful heritage and an undeniable vibe of positivity and spiritual aura. But what gives this state this position? The charming lush green hill stations, coastal postcard-worthy beaches, towering temples, places of worship for various different sects of religion and the grand majestic opulent palaces. All of its works together in creating a magical holiday experience for travelers from different backgrounds and beliefs.