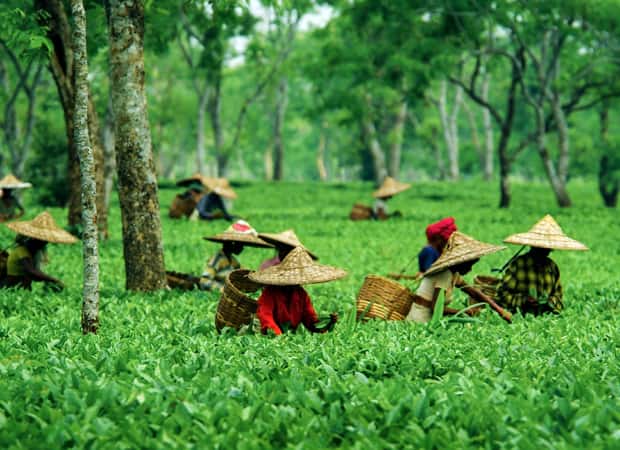 Assam Travel Guide
| | |
| --- | --- |
| Capital: | Dispur |
| Population: | 31,169,272 |
| Religion: | Hinduism 61.47 % | Islam 34.22 % | Christianity 3.74 % | Buddhism 0.18 % | Jainism 0.08 % | Sikhism 0.07 % |
| Area: | 78,438 Km2 |
| Language: | Assamese, Bengali and Hindi |
---
Weather:

24° C - 05° C
Ideal Duration: 2-3 Days
Best Time: Nov-Mar
Nearest Airport: Guwahati
Assam graces the northeastern region of the Indian subcontinent, south of the eastern Himalayan region, and all along the life-giving river of Brahmaputra and Barak river valley. Assam is mainly known for its tea and silk which is worth every bit of the hype it receives. Being a hill state it offers stunning views of the magnificent surroundings and unmatched natural greenery. Due to its peaceful vibe and untouched natural beauty, it has always been the center of attention for people looking to go on their honeymoon or look for a getaway from the chaotic city crowd.
Assam tourism is built on nature, wildlife, and of course the awe-inspiring views that will leave all your worries behind. Their go-to catchphrase is 'Awesome Assam' that fits perfectly with the kind of holiday destination they are offering. Assam travel guide will take you through the wilderness of Assam or even make you experience its posh and luxury side. It all depends on the kind of holiday that you are looking for and Assam has got it! Imagine waking up to the sight of pure greenery and chilling out in the lap of the Himalayas. Nothing's better than that! If it is solitude and peace that you are looking for then head on to Assam and you will not be disappointed.
Assam is best experienced when traveling with the people you love like your family or close group of friends and a special someone. It goes without saying that the hill stations of India have a vibe of their own but once you start exploring the North Easter flank of the Himalayas you will have a unique experience altogether. Tourism in Assam offers a unique combination of experiencing the best of both worlds. From taking a walk in the wilderness to exploring the hidden treasures and having a thumping nightlife. Everything about this place is truly unique and one of a kind.
Did you know that Assam is the oldest and the main town of the seven sisters of northeast India? You can imagine the amount of history that is deeply embedded in every part of this great state that often goes unappreciated or overlooked. An ideal travel guide to Assam will include taking a walk in the wild and untouched nature, offering prayer at the important temples here and spending peaceful time by the river bed and so much more. If you are someone who loves taking pictures or getting clicked against the splendid backgrounds then Assam is just the place for you. In short, the fun never ceases to exist in this wonderful town where nature meets immaculate beauty.
About Assam
What comes to your mind when you think about Assam? Tea? National parks? Delicious foods? That would mean that you don't know a lot about what this incredible place has to offer. Being one of the major tourist hubs for every type of traveler from any part of the world, Assam has gained incredible popularity over a limited period of time. Needless to say that it is also one of the most famous parts of northeastern India that are very warm and welcoming to tourists and the concept of tourism as well. If you think that you know enough about Assam then I am sure you have some rethinking to do. Assam is the beautiful and mesmerizing gateway to the seven sisters of the northeast that also includes West Bengal, Manipur, Nagaland, Meghalaya, Mizoram, Arunachal Pradesh, and Tripura.
The entire region of Assam is made up of 3 main geographical features that include the Brahmaputra valley, Barak valley, and North Cachar Hills. Assam shares its border with all the 7 sisters mentioned above and each one of them is easily accessible through a very strong and dependable network of national highway roads. When it comes to international boundaries, Assam shares its borders with Bangladesh and the thunderbolt kingdom of Bhutan. When it comes to tourism in Assam, it can give competition to some of the most popular and well-known holiday destinations like Switzerland and other such countries.
One of the major reasons that Assam draws tourism is for its incredible collection of flora and fauna that are well preserved and purposely protected in national parks and wildlife sanctuaries. Some of the most well-known sanctuaries where you can not only check out the wildlife but also take pictures of nature in its true, untouched form then you can check out places like Kaziranga National Park, Manas National Park, Pobitora Wildlife Sanctuary, Nameri National Park and so many more that you will end up unable to cover every aspect of the kind of natural oasis this amazing state has to offer.
One of the key urban places to explore in Assam is none other than Guwahati. Not just that, Guwahati is also the biggest city in northeast India and is a great place to stay if you are looking for comfort, luxury, and all the amenities to amplify your convenience. Guwahati is a major tourist hub spot that is home to the iconic and legendary Kamakhya Mata Temple. How does going on a scenic and soul-satisfying boat cruise with your family and kids on the Brahmaputra river sound? What about checking out some unique animals and birds in the state zoo of Assam? Or just lazing around a lake? Every aspect of Assam is unique and charming. If you are confused about which hill station to go to this summer with your family, then take this as a sign and book your tickets to Assam.
Holiday Packages
Holiday packages to Assam will make you feel like a kid in a candy store. There are way too many choices to make your decision easier. Delightful Meghalaya with Assam to get the extra taste of northeast, National parks of Assam to explore your wild side, Guwahati Shillong and Kaziranga tour package to experience every aspect of Assam and the best seller, Lover's package to Assam. None of these packages are set in stone and everything can be customized depending on your preferences and likings. What's better than booking a package, Moulding it according to you want and allowing us to do all the work for you? Convenience and a stress-free travel experience are guaranteed!
Things to Do
If you like to explore new horizons every day of your holiday then Assam will quickly become your next favorite holiday destination. There are so many things to do here that you will not feel bored even for a single second. Hike through a forest, experience the village life, try out local cuisines, speak to the locals, shop for locally made handicrafts, and get to know about their culture, traditions, and heritage in the best possible manner. You can spend your day feeling close to nature in one of the numerous national parks and wildlife sanctuaries or simply explore the popular tourist sightseeing destinations or get away from it all in some of the lesser-known tourist villages. No matter what you choose to do, the time of your life is guaranteed.