Assam comes across as a delightfully refreshing change after the rest of India. It is green, verdant and has its unique cultural ecosystem. You will enjoy interacting with people, sampling local cuisine and immersing yourself in the bountiful beauties of Assam. Enjoy an exhilarating 4 Nights 5 Days Assam tour with NamasteIndiaTrip that takes you to fabulous destinations. A typical itinerary would be as follows: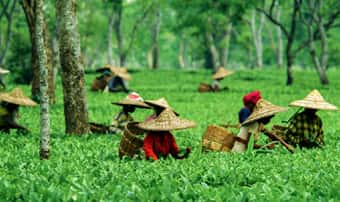 | | |
| --- | --- |
| Tour Duration: | 04 Nights / 05 Days |
| Destination: | Kaziranga - Shillong - Guwahati |
| Tour Price: | On Request /- |
Day 01: Guwahati – Kaziranga National Park
Fly into Guwahati or arrive by train and our Namaste India Trip representative welcomes you and takes you straight to the Kaziranga National Park, home of the fabled one-horned rhino. It takes 5 hours to cover the 280 km distance but the trip is rewarding as you immerse yourself in the lush tropical forest and its mix of flora and fauna. The Park is home to tigers, pelicans, storks and also the water buffalo that may be observed in its numerous water bodies. The jeep safari over, you check into the designated hotel at Kaziranga and stay the night.
Day 02: Kaziranga National Park – Shillong
A delicious breakfast over you and other members travel to Shillong. On the way, we stop at the Umiam Lake set amid low hills. You arrive later at the Scotland of the East and check into your room after which you can explore local markets on your own.
Day 03: Shillong – Cherrapunjee
Today we set out for Cherrapunjee famous for having the highest rainfall in India (if not the world), a drive of 60 km and you get to admire the scenic Nohkalikai waterfalls. After this refreshing experience, it is time to head for the Mawsmai caves. You then board the coach for the return trip to Shilling but stop at the Elephant Falls for a while and at the Shillong Peak to admire the scenery. Stay the night in Shillong.
Day 04: Shillong Sightseeing – Guwahati
Today you set out to explore Shillong and its charms after a delicious breakfast. The first site is the Don Bosco Monument. After that, you move on to the Ward's Lake, a picture-postcard setting with its serene waters set against green sloping hills in the background. Later on everyone boards a coach for the 100 km ride to Guwahati where you check into a hotel 3 hours later. On the way, there is a stop at the famous Kalakshetra that gives you a glimpse of the history of Assam in a light and sound show. Stay the night in Guwahati hotel.
Day 05: Guwahati Sightseeing
After an early breakfast, everyone heads for the famous Kamakhya temple and spends time in the bazaars for shopping and to sample local delicacies. The tour ends at the tour guide helps you on to the airport for your journey back home.