Also known as 'island of the gods', Bali is also known for being a paradise on earth. With greenery surrounding every corner, variant blue hues of the unending sea and numerous exciting activities, Bali is one of the prime tourist destinations for families and travel lovers. Availing the Bali tour package of 5 days and 4 nights will make you feel rejuvenated and extremely refreshed.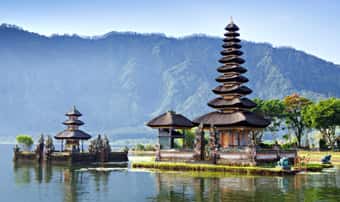 | | |
| --- | --- |
| Tour Duration: | 04 nights / 05 Days |
| Destination: | Bali |
| Tour Price: | On Request/- |
You will be picked up by our representative at the airport upon your arrival and escorted to your allotted hotel. You will be allowed to relax at your hotel and the evening time is free for you to explore the local market places and shop for traditionally made souvenirs like, aroma oils, natural soaps, beaded craft works, wooden artifacts and so much more.
You will also be free to indulge in some locally made cuisines like, Sate Lilit (marinated meat on lemongrass stick), a staple of rice with vegetables is a must have.
Day 02: Bali City Sightseeing and Evening Cruise
The next morning after breakfast, you will be taken for a sightseeing tour of the wonderful city where you will also be made to witness the traditional and vibrant Balinese dance, Barong.
You will then be taken to Celuk village, which is one of the most visited tourist attraction famous for its gold and silver creations. Here you can also shop for items like necklaces, hairpins, earrings and more.
Your next interesting tourist destination will be of Mas Carving centre, which is a village focused on creating wooden wonders like sculptures and other decorative and intricately created items.
Your next destination will be the 9th-century sanctuary of Goa Gajah or popularly known as elephant cave. It is a pristine Buddhist and Hindu spiritual centre with intricate stone works and was also added as one of the UNESCO world heritage site.
Your sightseeing trip will end at a vibrant note by visiting the famous traditional Ubud Art Market, where you can shop for some of the most one of a kind local creations like silk scarves, lightweight skirts, hand woven baskets and so much more.
After a day of exploration, later in the evening you will be taken for a relaxing cruise on the calm blue sea waters of Tanjung Benoa. You will be served a delicious dinner meal of locally made cuisine after you enjoy the picturesque sunset on the horizon.
Pro Tip:
Be careful of the monkeys that inhabit the temple, who are known for snatching away the visitor's belongings. Make sure you carry your essentials in a bag and keep it close to you.
Do not feed these monkeys.
Day 04: Bali (Fun in Water Day)
Your sightseeing destinations for today will start off with a visit to Turtle Island where you will also experience the aquatic life with a glass-bottomed boat. Here you will witness an incredible collection of large and small turtles.
Your next quirky destination will be the famous Ubud monkey forest, which is a sanctuary and a natural habitat for Balinese long tailed monkeys. There are 3 Hindu temples present within the premise of this forest where you can offer your prayer.
Tanah lot a unique rock formation and also a prime Hindu pilgrimage centre will be your final stop for the day. This place is located on an off shore rock which is not only spiritually important but also gives you a panoramic view of the unending ocean, as far as the eye can see.
You also have the option of enjoying some of the water sports that is a common occurrence around the area, like sea walking, snorkeling, parasailing and much more.
Pro Tip:
Do not litter Turtle Island since it is the only home for these precious turtles.
Do not keep the turtles in your hands for a long time since it may be very harmful for them.
You will be checked out in the morning post breakfast, and head on to the airport to catch your flight for the destination of your choice onwards.