Bali with Malaysia tour package offers you an opportunity to witness some rich biodiversity, different blue-green hues of unending oceanic horizons and the ultimate time to relax and beat the stress. For 7 days and 6 nights forget about the busy city life and say hello to the white sandy beaches, delicious local seafood and friendly people. Avail the package right away and travel to your next favourite holiday destination.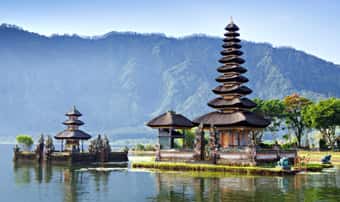 | | |
| --- | --- |
| Tour Duration: | 06 Nights / 07 Days |
| Destination: | Bali - Kuala Lumpur |
| Tour Price: | On Request/- |
Upon arriving at Bali you will be guided to your hotel, where you will relax and freshen up. The evening time is free for you to explore the nearby market and shop for souvenirs like; traditionally made wooden crafts, beaded crafts items, products made from Ikat fabric, aroma oils, natural soaps, other locally produced snacks among an array of others.
You can also satisfy the foodie in you by gorging on some delicious local cuisines like: Lawar, Nasi Bali, Sayur Urab, Terang Bulan, sate lilit and a whole menu of other food items.
Today first half will be free for you to explore some of the nearby sights of interest on foot or go for a motorcycle ride which is the most common mode of transportation here.
During the second half of the day you will be made to proceed towards one of the calmest beaches in Bali, Tanjung Benoa. Here, you can go for some fun water sports activities like, snorkeling, water walking, parasailing, kayaking and much more, you can also opt to sun bathe by the deep blue shore line.
For dinner, before heading back to your hotel, you will be taken for a cruise on the soothing waters where you will be served locally made cuisines amongst some musical background.
Your morning time will be relaxing and free for you to enjoy some time on your own. You have the option of spending your time by the beach and leaving all your stress behind.
Later in the evening, you will be driven to the picturesque destination of Uluwatu, for experiencing an unforgettable sunset. Upon reaching Uluwatu, you will be taken to the holy temple of Pura Uluwatu for a visit, which is dedicated to a manifestation of Rudra, Sang Hyang Widhi Wasa.
You will also be made to witness the traditional dance form of Kecak performance, at the temple premises, before heading back to your hotel.
Pro Tip:
The entire temple is infested with monkeys, who are known to snatch belongings away from the visitor's hands.
Make sure to carry a bag where you can place your belongings. Do not feed the monkeys since it is known to encourage their behavior of stealing.
Day 04: Bali – Kuala Lumpur
Right after breakfast in the morning, you will be transferred to the airport where you will be made to catch the flight to Kuala Lumpur.
On reaching you will immediately be transferred to your hotel here leaving the evening free for you to freshen up and relax.
Day 05: Kuala Lumpur Sightseeing
Your sightseeing tour of Kuala Lumpur city will commence with a visit to Aquaria KLCC, which is an oceanarium located beneath the Kuala Lumpur convention centre. Here you will witness 5,000 different types of both land and water animals from around the world in a tunnel journey.
You next whimsical destination will be at Butterfly Park, which is known for being a secret paradise and home to almost 5000 different types of butterflies from all over the world.
You will also be taken too little India, which will definitely remind you of your motherland. The entire length of this location is dotted with Indian restaurants, shops and other Indian items.
After spending some quality time in these quirky places, you will be taken back to your hotel where the evening time is free for you to take a stroll along the local market places and shop for souvenirs like: items made from Batik fabric, Malaysian Songket, and hand woven arts and crafts items among a whole plethora of others.
You will also be free to give your taste buds a treat by trying some delicious Malaysian cuisines like, Hokkien Char Mee (fried noodles), Nasi Dagang (fish curry), banana leaf rice, Nasi Lemak and so much more.
Day 06: Kuala Lumpur – Genting Highland Theme Park
Today, your day will be filled with fun and frolic since, after breakfast, you will be made to head to one of the most exciting family recreational theme park in Malaysia, Genting highland theme park.
En route you will be stopping at the spiritual centre of Batu Caves, which is located inside a massive limestone hill and is an extremely significant site of worship for Hindus for being dedicated to Lord Murugan. It is also home to the tallest Lord Murugan statue which stands at a height of a whopping 140 feet.
Genting highland has 50 different types of rides like roller coasters, swings, ferris wheels and the like along with offering several options for recreational activities for kids as well as adults.
Pro Tip:
Malaysia is extremely strict about their city's cleanliness, so be extra careful and do not litter carelessly since it may lead to some consequences.
Day 07: Kuala Lumpur Departure
After breakfast, you will be escorted to the airport from where your journey onwards will commence hence ending your exciting and relaxing trip.