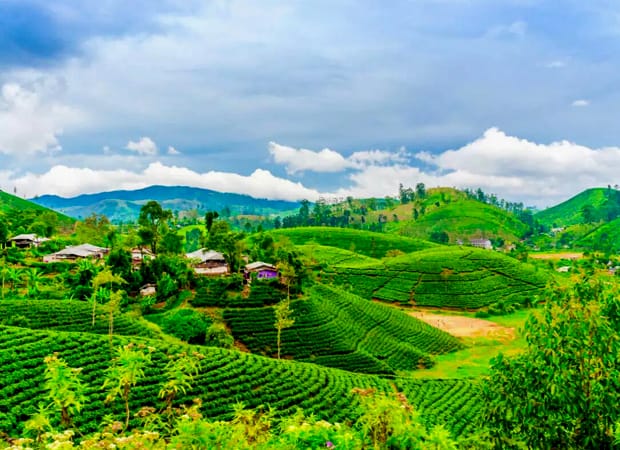 Darjeeling Travel Guide
| | |
| --- | --- |
| Location: | West Bengal, India |
| Population: | 132,016 |
| Religion: | Hinduism 74.00 % | Buddhism 11.33 % | Islam 5.69 % | Christianity 7.68 % | Sikhism 0.11 % | Jainism 0.10 % |
| Area: | 10.57 Km2 |
| Language: | Bengali, Nepali and Hindi |
---
Weather:

16° C - 1° C
Ideal Duration: 3-5 Days
Best Time: Apr-Jun
Nearest Airport: Bagdogra
Darjeeling or the 'mecca of tea' needs no formal introduction. Crowned by the overlooking snowy peaks of Kanchenjunga, covered in fantastic rolling green tea gardens and complete with the iconic heritage Himalayan toy train, Darjeeling is every traveler's dream destination and a must-visit for anyone who loves enjoying holidaying on the hills. This 'Queen of the Himalayas' is all about untouched beauty, old-world charm, and delicious local food which is combined with a common thread of very warm and welcoming locals. Located at an elevation of over 2,000 Metres above sea level Darjeeling has managed to earn its spot of being one of the most remarkable and charming hill stations in eastern India.
Its proximity to Kolkata which is just about 700 kms away has driven a lot of travelers, tourists, and explorers to this tea bushes laden hill station. The steep mountain ridge which is home to Darjeeling town is settled amidst acres of lush green cover, forests, and babbling riverside. When it comes to the best time to visit Darjeeling the weather is on its side. It is one of those rare places in the world which can be visited throughout the year offering pleasant climatic conditions. It is the perfect getaway for anyone looking to ditch the regular touristy destinations in north India or people who are on their honeymoon looking for some peace and quiet.
Did you know that during the British Raj, Darjeeling was their summer capital destination for a very long time before they started to explore and settle down in different parts of the Himalayan hill Stations? It was around the 1880s when the British established the toy train which is not a UNESCO world heritage site and continues to be a source of marvel for people from far and wide. No matter where you go, one sight is prominent, the 3rd highest peak in the world – Kanchenjunga, from every corner of the small hill town. It seems like this majestic mountain continues to offer its blessings to the people residing in this quaint Himalayan hamlet.
Darjeeling is home to people from different ethnicities and communities including Tibetans, Nepali folks, and other lesser-known races and backgrounds. All these ethnicities have managed to create a colorful and vibrant environment of brotherhood and harmony. They celebrate their fairs and festivals together and have a deep-rooted understanding of togetherness. It is a wonderful mosaic of age-old traditions, beliefs, culture, impeccable sightseeing destinations, and adventure activities making it one of the most incredible holiday destinations in India. Watch the sunrise and light up the white snowy mountains into golden rays in tiger hill, check out the world from above on a ropeway ride, check out the unique garden which was initially a courtyard at Nightingale Park, experience the best of creativity and lush greenery at the rock garden and so much more. Darjeeling is all about fun times and good vibes with your loved ones no matter what time of the year.
About Darjeeling
Darjeeling has maintained its position as one of the best and must-visit Himalayan destinations in India. Gracing the lap of the highest mountain range in India, Kanchenjunga, this place is everything that will make your holiday a memorable one. This gorgeous hill station is located in the northern end of the state of West Bengal. It is covered in lush tea gardens, impeccable greenery, views of snowcapped peaks from all sides, and welcoming locals. Did you know that this place is home to over 5,000 different species of flowers and plants that further enhance its natural beauty?
Who doesn't love being surrounded by incredible natural beauty? Breathing the clean air and interacting with lovely people and trying out delicious local cuisines? All under the scenic crowning glory of the snow-clad peaks. Darjeeling is just the place for you. Over the years it has turned into an iconic holiday destination for people deciding to go on their honeymoon or families going on vacation. This place is a wonderful amalgamation of fun, adventure, and natural beauty. Shop for souvenirs, check out quirky cafes and learn about the unique culture of the hill people. Every moment spent in Darjeeling will surely seem like a blessing.
If you are curious to learn more about the ecology, like animals and plants, of a place then Darjeeling will be a blessing for you. Due to the presence of deep thick forests, you can expect to have some interesting animal, insect, and bird sightings.
Who doesn't love taking awesome pictures and sharing them with your friends and loved ones? Darjeeling offers exactly that.
If you have ever wondered why Darjeeling is called that, then there are several stories surrounding this as well. The most famous one is that the highest point in Darjeeling, which is the Observatory hilltop, situated on the mall road, used to attract lots of lightning and thunderbolts, especially during the monsoon season. The word Dorji means thunderbolt and ling means place. When put together it creates the name Darjeeling or the place of the thunderbolt. Another story of how Darjeeling was named says that the Tibetan monks built a monastery on top of the observatory hill in 1763. The chief monk's name was Rinzing Dorji Legend La. As a result of this, the people and his followers dedicated the town to him and called it Darjeeling, or the place of Dorji.
Although the main Towson of Darjeeling is very quaint and small, the whole district is quite large and pans out in all directions to over 3,000 sq. km including Kalimpong. The average altitude of Darjeeling is over 6,000 feet above sea level. This is the reason why you can see the snow-clad peaks on an almost eye level in every direction possible. If you are a trekking enthusiast then you will be happy to learn that the highest point of Darjeeling is Sandakphu which is almost 12,000 feet above sea level.
Holiday Packages
Booking a complete holiday package for Darjeeling will open up a whole new avenue of travel and exploration. You can choose from a wide range of packages for people on honeymoon, family vacationers and even for groups of friends. These holiday packages are available in your budget and offer comfy stay with mountain views and of course flawless service. Darjeeling holiday packages are special mainly because they can take you from a peaceful getaway to adventure packed excitement. Pick the right choice or customize the packages as per your liking and a holiday of a lifetime is guaranteed.
Things to Do
If you are wondering if you will get bored in Darjeeling then you have nothing to worry about. You will get tired but you will never run out of things to do in Darjeeling. This place offers a wide range of activities and sightseeing for everyone and every type of traveler. If you are a peace lover then Darjeeling has awesome gardens and getaway spots. If it is adventure that you seek then you can go on trekking and hiking adventures because there is no dearth of trekking trails here. Doesn't matter if travelling alone or with family and kids, this place is perfect for everyone.