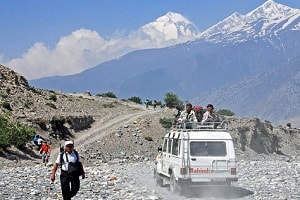 There are different ways to reach Muktinath Temple in Nepal
By Helicopter: From the Kathmandu Airport, you can visit Muktinath Temple in just one and a half hour by helicopter. After worshipping at Muktinath, you can come either fly back to Kathmandu or to Pokhara.
By Road and Flight: The another comfortable way to visit Muktinath Temple is to go by road and then by scheduled flight. The route goes like first drive from Kathmandu to Pokhara (206 km) which takes you around 6 hours and then stay overnight there. Next morning fly from Pokhara to Jomsom (it takes you around 15-20 minutes) and then move towards the jeep stand. From there you need to drive again for one and a half hour and then drive from Jomsom to Muktinath by Jeep. After covering the jeep distance you need to walk for more one and a half hour to reach the shrine. However, if you are not willing to go bare foot then you can also opt for Horse ride. Sat overnight at Jomsom after the Darshan. Next morning, fly back to Kathmandu or reach at Pokhara.
By Road: The road route to Muktinath goes like this, the jeep goes from Kathmandu to Pokhara which is around 206 km away from it takes around 6 hours to cover the distance. Stay overnight at Pokhara. Next day in the morning drive from Pokhara to Jomsom via Beni, Tatopani, Ghasa, and Marpha i.e. a total of 170 km distance which needs takes around 9 hours to cover the entire distance and then you must be tired so stay for overnight at Jomsom. Next morning drive from Jomsom to Muktinath, pay homage and then drive back to Pokhara. It takes a total of 4-8 days to pay ho, age at Muktinath and then come back if you are going by road only.
By Flight: From the Kathmandu Airport, we will fly to Pokhara which takes a lump sum of 25 minutes. It is to be noted that the flights from Pohara to Jomsom fly only in the early morning therefore it requires one overnight stay at Pokhara. Next morning fly to Jomsom and then cover the rest of the distance by driving towards Muktinath. Post Darshan, fly back to Jomsom and then stay for the night. Next day fly from Jomsom to Pokhara in the morning and then to Kathmandu. Although traveling Muktinath from Kathmandu is also an easy way to visit the shrine.
Muktinath Travel Permits
Before commencing your journey from Pokhara to Muktinath, a devotee requires to collect two permit cards if they are traveling via trek, road, or by flight also. The required permits of the Yatra are enlisted below:
ACAP (Annapurna Conservation Area Project Permit): this permit can be obtained from the Nepal Tourism which is located at Pokhara or at Bhrikuti Mandap, Kathmandu.
TIMS (Trekker's Information Management System Permit) – It can be obtained from TAAN which is located at two different locations. One is at Satghumti Thamel and the other one is at Mali Gaun, Kathmandu.