Muktinath also popular among tourists as "God of Salvation" is one of the most acclaimed pilgrimage sites established in Nepal. Nestled at a huge elevation of almost 3900 meters above the sea level, Muktinath Temple is also renowned as the world's highest elevated temple which is dedicated to Lord Vishnu. Despite being settled at an extreme location, the pilgrimage is opened throughout the year for the public visit where tourists from all across the globe flock. However, it is mainly considered as a Hindu pilgrimage but it holds the same importance among Buddhists and this is why the tourism rate of this sacred site is not only limited to senior citizens but also thronged by youths as they believe in Buddhism and are highly inspired by the teachings of Lord Buddha.
Likewise other pilgrimages, Muktinath also proves the statement that where there is a religion there is a history and so the mythological tales and one of the most famous mythology states that due to Brinda's curse, Lord Vishnu turned into Shilagrams. The shrine is believed to be one of the self-existed shrines amongst eight other shrines and is one of the 108 Vaishnava Shrines. The temple has been designed in Pagoda Style which makes it more stunning and gorgeous. Muktinath Yatra from Bangalore tour package is designed so well and is equipped with all the basic amenities needed on the trip. So, if you are also looking to attain salvation and want to free yourself from the cycle of birth and death then check-out this itinerary and plan your trip.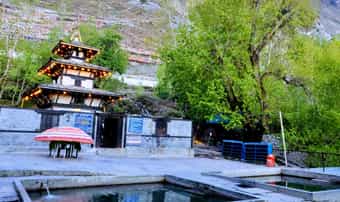 | | |
| --- | --- |
| Tour Duration: | 06 Nights / 07 Days |
| Destination: | Bangalore - Kathmandu - Muktinath |
| Tour Price: | On Request /- |
Day 01: Arrival in Bengaluru
Arrive Bangalore one day before if you are not from the city so that you can relax well before starting your journey in Nepal. On reaching Bangalore, check-into the hotel room and then relax for a few hours and then later in the evening set out to enjoy the nightlife of this industrial city.
Day 02: Fly towards Kathmandu
Early morning after finishing your breakfast, check-out from the hotel in Bangalore and then drive towards the airport to board the flight for Kathmandu. On landing at the Tribhuvan Airport in Kathmandu, you will receive a warm welcome from our representative who will then pick you from there and take you to the pre-booked hotel via an air-conditioned vehicle. After completing the required check-in formalities of the hotel, you can unwind yourself in the cozy hotel room and then after a few hours move out from the hotel and drive towards Pashupatinath Temple and post completing Darshan here head back towards the accommodation for dinner and overnight stay.
Day 03: Departure from Kathmandu and move towards Pokhara
To give a perfect start to your first morning in Nepal we have arranged a relishing breakfast at the hotel. Post completing this breakfast check-out from the hotel as you are moving towards Pokhara which is an incredible tourist destination adorned with serene and glimmering lakes, lofty mountain peaks, lush green valleys which make the surroundings complete green. Capture the impeccable beauties of such places in your camera to decorate your wall with more travel pictures. Conclude the day trip with your transfer towards the hotel for overnight stay.
Day 04: Fly or drive towards Jomsom
There are two ways to reach Jomsom from Pokhara and you select either one as per your preference i.e. you can either fly towards Jomsom or can drive towards Jomsom. On reaching the desired destination, take the sharing jeep or taxi to reach the holy shrine of Muktinath, one of the most eminent destinations of Vishnu worshippers. Take bath in the holy Kund established near the temple and then complete the puja rituals at Muktinath followed by your visit to Jwala Mai Temple. Post completing these schedules, drive back to the hotel in Jomsom where you will be staying overnight.
Day 05: Fly or drive back to Pokhara
Likewise the previous day, you can select the mode of transport as per your wish to cover the distance between Pokhara and Jomsom. On reaching Pokhara, check-into the hotel room and if you want then relax for some time or just keep your luggage in the room and then go for a half-day sightseeing trip in Pokhara. This sightseeing trip includes visiting the places like Gupteshwar Cave Temple, Fewa Lake, Bindhyabasini Temple, etc. and then retire yourself in the hotel room for an overnight halt.
Day 06: Drive back to Kathmandu
The sixth day of your trip is scheduled to drive back to Kathmandu, the capital city of Nepal. Once you are done with your breakfast and check-out from the hotel, our driver will take you towards Kathmandu where on arrival you can keep your baggage in the hotel room and then complete the Kathmandu excursion. Kathmandu boasts of several tourist destinations and some of the most popular and must-visit sites in the city are Durbar Square, the temples, and the shopping places. We understand that bringing souvenirs is an important part of any travel so we have managed the itinerary in such a way that you get a proper time to shop out the things for your family and friends.
Day 07: Departure from Kathmandu
As you are done with your visit to Muktinath Temple and other places falling en-route so this is the time to end your journey. Our driver will drop you at the airport 2 hours before your flight so that you don't miss out on your flight for home or any other planned destination.
Trip Highlights
Exploring the popular places in Kathmandu including the temples and the Durbar Square along with buying out souvenirs for your family and friends.
Completing the puja rituals at Muktinath and Pashupatinath Temple.
Witnessing the charm of gorgeous Fewa Lake and other Lakes in the city.
Collecting some wonderful and memorable pictures in Pokhara and other places to decorate your travel frames with more beautiful pictures.