India is well-known for its age-old culture and tradition as well as the practice of spa and ayurvedic health treatments and therapies. The Ayurvedic system of treatment has originated in India several thousand years back. With the Ayurvedic, spa and yoga tours you can explore the finest centres for spa and ayurvedic therapies in India that will help rejuvenate the mind and body. These exclusive tours can also serve as gifts for your family members or friends for pampering themselves. Enjoy the various techniques used for spas and Ayurveda from the specialized centres available all over the country. The trips will also work to improve your spiritual, physical as well as emotional wellbeing through processes like detoxification, anti-ageing, cleansing, and weight loss and de-stress along with guidance on nutrition and exercise. Yoga practices that remain timeless and productive can also be learnt through these tours.
About The Package:
Namaste India Trip offers specialized spa, ayurvedic and yoga tours for its customers that take you to the professionally experienced centres for experiencing the best in these treatment methods. From Rishikesh in the north to Kerala in the south, all the finest Ayurvedic treatment centres will be available at affordable rates for you to enjoy and rejuvenate your health. And with the assistance of this highly reputed online travel agency your trip will be a unique and memorable one. You will get the best returns by booking with Namaste India Trip in the form of full body and soul improvement and health gain through various techniques implemented in any of the centres you opt for. Namaste India Trip ensures that your journey for spiritual and physical revival is worth the time you spend in these tours.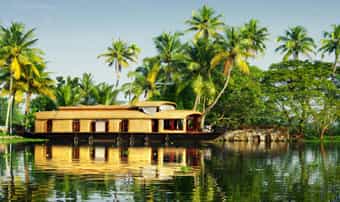 | | |
| --- | --- |
| Tour Duration: | 07 Nights / 08 Days |
| Destination: | Kottayam - Vagamon - Thekkady - Ernakulum |
| Tour Price: | On Request /- |
Day 01: Arrival at Kottayam
The Namaste India Trip representative will receive you at the Ernakulam railway station and drive you to Kottayam which is a 2-hour journey (70km) to offer you exclusive ayurvedic treatment. As you reach the ayurvedic centre you will be taken the physician for discussion and then treated for rejuvenation. Spend the night at the Ayurvedic centre.
Day 02: to Day 04: Treatment for Rejuvenation
The rejuvenation package offers programs that will restore your body's vitality and vigour through the elimination of the body's toxins and through enhancement of the immunity of the body using their prophylactic and anti-oxidant properties. The various therapies for rejuvenation include Sirdhora, Kayaseka, Synchronised Massage, Abhyanga, Njavarakizhi and Medicated Steam bath among others. Depending on your body's constitution and individual requirements, you may be advised by the physician to undertake the Panchakarma combination and other therapies for rejuvenation.
Day 05: Kottayam to Vagamon (85 km)
On day 5 after a hearty breakfast, you will be driven further to Vagamon to check into the Himaharsham. The rest of the day is at your leisure. You can go out for a stroll or relax in your room. The night will be spent at Himaharsham.
Day 06: Vagamon to Thekkady (50km)
Day 6 starts with breakfast and Himaharsham after which you will move on to Thekkady through an hour's drive for sightseeing and boating at the Periyar Lake, followed by visiting the Spice Garden and elephant ride. Once you are done with the sightseeing, you will get back to Vagamon via Kuttikanam and Parunthumpara. Spend the night at Himaharsham.
On day 7 post breakfast you will be taken for sightseeing in Vagamon which will include pine forests, meadows, Kavukulam Waterfalls, Thangalpara and Kurisumala. Dinner and night stay at Himaharsham.
Day 08: Vagamon to Ernakulum
On the final day of the tour have a filling breakfast post which you will be driven to the Ernakulam railway station to head homewards with a rejuvenated body, mind and soul.