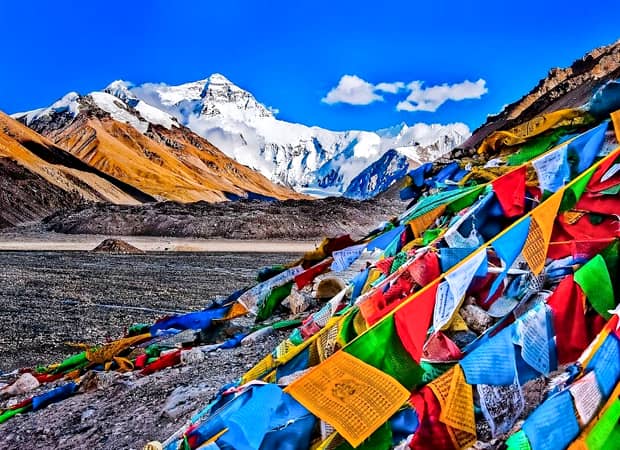 Sikkim Travel Guide
| | |
| --- | --- |
| Capital: | Gangtok |
| Population: | 610,577 |
| Religion: | Hinduism 57.76 % | Buddhism 27.39 % | Christianity 9.91 % | Islam 1.62 % | Sikhism 0.31 % | Jainism 0.05 % |
| Area: | 7,096 Km2 |
| Language: | Nepali, Sikkimese, Hindi, Lepcha and Limbu |
---
Weather:

23° C - 5° C
Ideal Duration: 2-3 Days
Best Time: Mar-Jun
Nearest Airport: Pakyong
Valleys, lakes and scenic beauty are a few adjectives which perfectly describes this home of the 3rd highest mountain in the world, Kanchenjunga. Gracing and beautifying the northeastern region of the Indian sub-continent this smallest state of India is replete with numerous incredible places of attractions especially if you are someone who loves being close to nature, understand the culture and rich heritage and spend some time in peace and drenched in the natural serenity. Every step of the way here is dotted with wonder, amazement and serendipity which make for the perfect getaway with your friends, family and loved ones.
Tourism in Sikkim involves going through several small charming hill villages, scenic viewpoints of the snow-clad mountain ranges, lush valleys, holy monasteries, lakes, and the lesser-known refreshing hot water springs. The saying of 'big things come in small packages' holds true to this state. The dramatic contour and topography of the region consisting of thick forests of woodlands, warm welcoming locals, delicious delicacies, vibrant meadows, and everything are set against the backdrop of the snowbound peaks. Not just that it is quickly becoming a much-loved destination among trekking and outdoor sports enthusiasts for its numerous hiking and trekking trails.
The best part about traveling to Sikkim is the fact that it can be visited both as summer as well as a winter getaway. Beat the scorching summer season of the plains or have some incredible fun in the snow by doing various activities, Sikkim is a mosaic depicting the best of both worlds.
This is a multi-ethnic and multi-lingual state where people are coexisting in peaceful harmony with nature. This is a wonderful place for every type of travel ranging from honeymoon, adventure, peaceful getaway or just a fun road trip with your closest friends and loved ones!
What makes it better is the fact that the Kanchenjunga ranges form the background of this state and can be seen from literally anywhere. Located on the lap of the magical and majestic Himalayas the pristine beauty and whimsical charm here cannot be found elsewhere in India. The place also serves as the corridor from India for the northeastern part. Some must-visit places that should be included in the travel guide for Sikkim are Gangtok, Yuksom, Tsomgo Lake, Pelling, Nathu La Pass, Lachung, Ravangla, Rumtek Monastery, Namchi, Do Drul Chorten and so many more.
Sikkim is all about creating memories and taking a journey within yourself. The lustrous green covering, clean unpolluted environment, and unique experiences is what makes this state unlike anywhere else in the world. Apart from the popular tourist attractions, there are numerous offbeat locations which is quickly gathering a lot of attention. The ethereal beauty, colorful settlements and the hospitality of the Sikkimese people will definitely win over your heart and leave a lasting impression. The hills are replete with folk tales, ethic folklore, and mystical stories. Sikkim is one Cherishable destination that will make you keep coming back for more.
About Sikkim
This northeastern state which is bound by the regions of Tibet, Bhutan, Nepal and West Bengal Sikkim is famous as the smallest state of India along with being the home of the 3rd highest mountain in India i.e. Kanchenjunga. The state was founded during the 17th century by the rulers of the Namgyal dynasty. The traditions and beliefs of the Sikkimese population are very well preserved with the official languages being English, Nepali, Sikkimese, and Lepcha along with a host of other sub-languages that are focussed on the tribes. Framing the entire valley are the snowbound mountain ranges that can be seen from anywhere else and makes for the perfect getaway destination.
The Lepcha tribe people are deemed as the earliest residents and inhabitants of Sikkim. The region is mainly dominated by Buddhists which is one of the most ancient religions in the world and even serves as the place where one can learn more about Buddhism and go on Buddhist pilgrimage circuits. The entire state was once under the rule of a king but was later on included as a part of the Indian subcontinent which now has turned into a magnificent holiday destination for travelers from not only India but also from all over the world.
Nestled among the peaceful foothills on the lap of the Himalayas Sikkim displays primarily a mountain terrain, topography, and geology. The name of Sikkim in Tibetan translates into 'the valley of rice' which is clear through the terraced fields that rice production is very high in these parts. People of Sikkim thrive on agriculture and local produce which they also export.
Apart from this the state is also home to around 28 tall mountain peaks, around 80 glaciers a whopping 227 high altitude lakes more than 100 different small rivers and streams and 8 different mountain passes connecting the state to Bhutan, Nepal, and Tibet this place is a dream come true.
Due to its climatic conditions one can witness a huge plethora of flora and fauna making it an ecological hotspot for various ecosystems to thrive and survive gleefully. Nearly 81% of the whole region comes under the forest department and it serves as a home to 5,000 different species of flowering plants that can best be seen during the peak spring-summer season. One can see everything from orchids, Rhododendrons, Ferns, Primulas, bamboos and so much more. The wildlife culture here consists of snow leopards, musk deer, red panda, Himalayan goral, Tibetan wolf and even snow partridge, Tibetan Snowcock and many more.
From expansive tea gardens to rice and cardamom pastures, deep spiritual vibe and with a promise of adventure in every corner Sikkim is a wholesome package for travelers of any age and from anywhere. Every aspect of this state is riddled with mystery, charm and an incredibly overwhelming sense of awe and wonder. From the people to the magnificent sightseeing spots and many more waiting for your attention Sikkim is truly an amazing experience.
Holiday Packages
The holiday packages for Sikkim attempts at displaying to you the varied colours and different shades this wonderful state has to present. Everything is available at the most reasonable rates and with an aim of offering the best, most flexible and customisable tour packages for Sikkim. From the enthralling walking tour of Sikkim, Gangtok with Darjeeling Honeymoon Tour, Buddhist pilgrimage trip of Sikkim with visit to Nathu La Pass and many more each package is made the view of offering the premium quality of packages for everyone seeking to spend their holiday in a more fun manner with their family, friends and loved ones.
Things to Do
Sikkim is like a Pandora box of activities where visitors and travellers will never get bored even for a single day. There are activities available for kids and adults alike. Sikkim is for everyone looking to get more in touch with their spiritual side, go on the scenic and absolutely panoramic trekking trails, get to know about our incredible culture of India by going on village walks and take part in exploring the bountiful natural attractions that dots the entire valley. Check out the range of packages and explore this wonderland of fun and adventure.