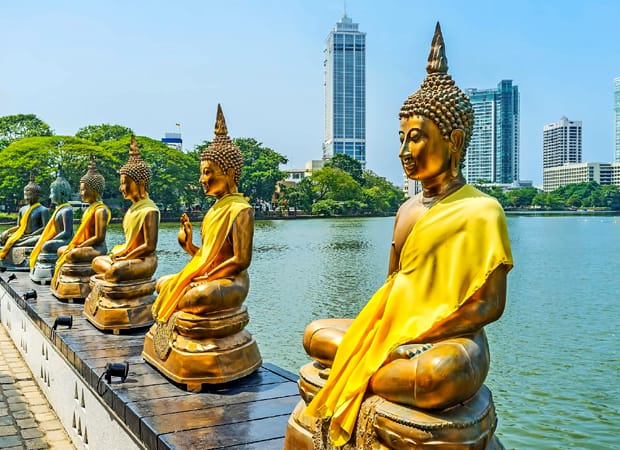 Sri Lanka Travel Guide
| | |
| --- | --- |
| Capital: | Colombo, Sri Jayawardenepura Kotte |
| Population: | 21,019,653 |
| Religion: | Buddhism 70.2 % | Hinduism 12.6 % | Islam 9.7 % | Christianity 7.4 % |
| Area: | 65,610 Km2 |
| Language: | Sinhala, Tamil and English |
---
Weather:

29° C
Ideal Duration: 6-7 Days
Best Time: May-Sep
Nearest Airport: Katunayake
Previously known as Ceylon, the golden paradise of Sri Lanka is a one-of-a-kind island nation. Every day spent in Sri Lanka will open up new avenues and add new chapters to your travel book. Sri Lanka tourism is all about bringing together historical richness to modern-day sensibilities. An ideal destination for couples, families, getaways with friends or just a solo expedition, Sri Lanka will leave a lasting impression in your heart.
Sri Lanka is blessed with all the natural features to make its stand out from the rest of the world. With an expansive coastline of 1,600 kms, Sri Lanka is home to some of the most stunning beaches in the world. The lagoons, marshes, sandbars, coral reefs and dunes also host some incredible collections of flora and fauna that is every nature enthusiast's dream come true. You can spend your days lazing out in the sun on one of the many stunning beaches here. Some of the world's best beaches are in Sri Lanka like Negombo, Unawatuna, Koggala, Bentota and many more. Explore the wild side of Sri Lanka by going on exhilarating hikes and treks. Walk through stunning jungles, explore tea estates and take your adventure holiday to a whole different level. Hi, rainforest trekking at Kitulgala, adventure trekking in Knuckles Mountain, Horton Plains National Park, Adam's Peak and more.
Looking for a more relaxed vacation? Sick of the commercially famous holiday destinations? Sri Lanka can be the answer to all your doubts. Sri Lanka is blessed with romantic landscapes, exotic natural beauty and soulful destinations.
Every place seems to be one with nature and has a deep relaxing impact on every traveller's mind, body and soul. Go on a deep therapeutic spa or a massage experience. Witness the countryside charm at Ella or explore the lush greenery at Nuwara Eliya. Escape the mundane life routine and have a travel experience like never before.
Sri Lanka's ancient history deserves a special mention. With a written history traceable back to the ancient ages, Sri Lanka is a playground for the curious soul. Home to major Ramayan pilgrimage destinations like Seetha Amman Temple, Divurumpola, Dolukanda Sanjeevani Mountain, Sita Lotus's and more will help you relive the footsteps of Ramayan. Spirituality is one of the major aspects that drives a huge chunk of tourists to Sri Lanka. Sri Lanka travel guide will provide all the major information regarding every type of holiday. With 8,000 Buddhist monasteries, Buddhism spirituality is another is another important part of spiritual travel in Sri Lanka. Anuradhapura, Kurunegala, Polonnaruwa, Kandy, and Dambulla are some of the major Buddhist pilgrimage destinations.
When it comes to vacationing in Sri Lanka it can never be a bad idea since there is something for everyone to enjoy. From the adrenaline-pumping adventure experiences, becoming close to nature and retracing the footsteps of Ramayan to spending a deep soulful time and just feeling your stress melt away, this island nation will definitely occupy a small space in your heart for a lifetime.
About Sri Lanka
Formerly known as Ceylon, Sri Lanka is a stunning island country in South Asia. Separated from mainland India by the Gulf of Mannar and the Palk Strait, Sri Lanka occupies a peaceful space in the Indian Ocean. Being an island it boasts of a massive coastline of over 1,600 km that also results in the creation of some of the most incredible, exotic and serene beaches. This island nation is known for being a melting pot of various cultures, traditions and beliefs that thrives till date. With a written history that can be traced back to over 3,000 years ago, the prehistoric settlement evidence can be astonishingly traced back to over 125,000 years ago.
The teardrop shaped island is on every traveller's bucket list. From being a haven for adventure seekers to an oasis for peace seekers and history lovers, the popularity of Sri Lanka is understandable. It is blessed with some of the most incredible geographical features that houses a rich collection of flora and fauna. The lush forest cover serves as a home to a variety of wildlife including elephants, leopards, peafowl and more. It's a playground for someone who adores the great outdoors. Very few countries in the world have the capacity to compete with the rich wilderness cover of Sri Lanka.
Sri Lankan culture is primarily influenced by Buddhism and Hinduism, much like it's neighbor India. The two main traditional cultures here are Sinhalese and Tamil. Other than the other local cultural development the British influence can also be observed in certain places.
The blessing of being a melting pot for such extravagant cultures is the delicious, colourful and tasty delicacies which makes your trip to Sri Lanka all the more wholesome. The inescapable culture of Sri Lanka is like none other in the world, pairing it with the warm and welcoming locals, a visit here truly remains one of a kind in every way.
When it comes to tourism, Sri Lanka has occupied the place for being an exotic holiday destination in the world. The country is proudly characterised by its well preserved colonial architecture, exhilarating beaches, deeply soul satisfying greenery, Buddhist temples and of course its incredible national parks. The points of interest in Sri Lanka include numerous UNESCO world heritage sites, temples that are over 3,000 years old and many such wondrous attractions that will leave anyone spell bound. Some of the must visit places here include Sigiriya, Dambulla cave temple, Galle, Kandy, Anuradhapura, Polonnaruwa, Trincomalee, Sinharaja etc. For a curious soul, Sri Lanka is like a massive playground where everyday is memorable. It is one of those rare holiday destinations that welcomes every type of traveller from all over the world. Other than the architecture, beaches and culture Sri Lankan hills and valleys have a natural beauty of its own. You can plan your honeymoon, family vacation, getaway with friends or even a solo trip to Sri Lanka. Even a day here is a day well spent.
Holiday Packages
Holiday packages for Sri Lanka is a wholesome combination of spiritual and leisure getaway with religious and adventure experiences. Experience the best of the island nation with well curated and wonderfully designed packages. Go Sri Lanka exploration like never before at the best available rates in the market. From spending time on the stunning beaches and checking out the ancient temples to trying out delicious local cuisines and getting closer to nature. Sri Lanka honeymoon packages, stunning Lanka packages, footprints of Ramayan packages and many more. Visit the ancient island nation like never before with our incredible package collection.
Things to Do
Sri Lanka is a place where not even a single day spent will be wasted. With an extensively unique demography, Sri Lanka is every traveller's playground. From the high mountains and thick lush jungles to the rich flora and fauna collection and serene beaches, this island nation has it all. You can go hiking, trekking, camping, spiritual tour of places of Ramayan relevance, beach hopping, learn more about the Sri Lankan culture through its architecture and more. There is so much to do here that you will never get bored. Check out this awesome list of things to do in Sri Lanka and have a memorable vacation.