Tamil Nadu Tourism – Travel Guide to Tamil Nadu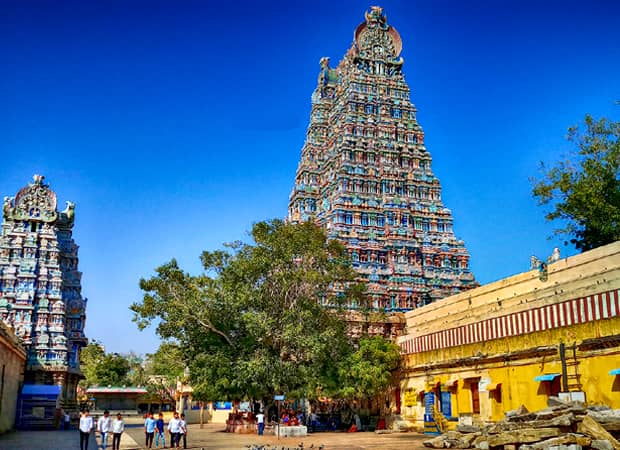 Tamil Nadu Travel Guide
| | |
| --- | --- |
| Capital: | Chennai |
| Population: | 72,147,030 |
| Religion: | Hinduism 87.58 % | Islam 5.86 % | Christianity 6.12 % | Sikhism 0.02 % | Jainism 0.12 % | Buddhism 0.01 % |
| Area: | 130,060 Km2 |
| Language: | Tamil, English and Hindi |
---
Weather:

34° C - 15° C
Ideal Duration: 2-3 Days
Best Time: Nov-Mar
Nearest Airport: Chennai
Tamil Nadu is one of the most magnificent places in India which adds on to its pride in immeasurable ways. Lying peacefully on the southernmost end of the sub-continent, Tamil Nadu is bordered by equally incredible destinations of Puducherry, Kerala, Karnataka and Andhra Pradesh making it perfect for backpacking in south India getaway. The beauty of the state is further amplified with the presence of the Eastern Ghats in the north along with the holy and spiritual ranges of Nilgiri Hills and Meghamalai Hills. Every aspect of Tamil Nadu works in peaceful synchrony to create an ambiance of peace.
Tamil Nadu's historical account is very dynamic and brave. The entire region was once ruled by some of the most prominent rulers of south India like the Cholas, Cheras and the Pandayas who had very soon recognized the value of this place not just as a spiritual or religious center but also as a trading hub due to the presence of a coastline. The past influence can still be experienced here since the people continue to live, eat and display architecture. All this interesting background has painted the perfect picture of Tamil Nadu through its numerous historical buildings, pilgrimage and UNESCO world heritage sites as well as various well-kept hill stations.
As per the area, Tamil Nadu boasts of being the 10th largest state in India along with proudly becoming the state with 2nd largest economy. The official language that is followed by the locals here is Tamil which is famed for being the longest surviving classical languages in the world.
If you happen to plan a visit here you will be checking out some incredible history which can only be felt and seen in real-time. From the Dravidian architecture to the way of life of the locals this state truly represents the true colors of India.
Did you know that Tamil Nadu is the hometown of the double Oscar winner and prominent name in the music industry, the legendary, AR Rahman who is also lovingly been given the name of 'Mozart of Madras'. When it comes to art this state offers so many options that even your single day here will not be wasted. South India is especially famous for offering food options that are very different from North, East, Western, North East or even central India. The food here is lip-smacking and very delicious mostly comprising of Idlis, Dosas, seafood, etc with coffee and tea being the undisputed winners.
It is a wholesome place that is created out of the best of everything from art and architecture to the food and spirituality. People come here from all over the world to see and live the great south Indian experience. The perfect getaway destination for couples, solo backpackers, adventure lovers and family vacationers since there is a lot to see. It has everything for everybody and not even a single moment spent here will seem like a waste in this land of beaches, temples and hill stations.
About Tamil Nadu
Gracing the majestic banks of the bay of Bengal Tamil Nadu is a pristine holiday destination in India for everyone seeking solitude, peace and looking to spend some quality time with nature and loved ones. The historical account of this incredible place dates back to a staggering millennium year which is very well preserved and showcases the colorful background and foundation that has made Tamil Nadu a much loved unique vacation destination not just for domestic travelers but for international explorers as well. A must visit place for pilgrims, holiday goers, family holidays and solo expeditions. Every aspect of this state is incredibly thought-provoking and filled with awe and wonder.
Tamil Nadu is a cultural and heritage center of the world which gives tourists the option to go through its enchanting history and unparalleled natural beauty. The presence of a vast plethora of modern as well as ancient tourist holiday options enables travelers from anywhere in the world and any age to have a soulful, relaxing, spiritual as well as a thrilling time here. Deemed for being one of the most promising states in India for spending your vacation with friends and families Tamil Nadu truly showcases the rich historical and ethnic background it has and is proud of.
Tourism in Tamil Nadu can be dated back to ages ago when people used to come here to pay homage to one of the various temples here which are dedicated to various gods and goddesses. Apart from this, later on, a number of Ayurveda and spa centers also developed in an attempt to keep the olden spirit alive and now is a must-have experience in Tamil Nadu.
Some of the most interesting places to explore here include the tip of India i.e. Kanyakumari, the famous temple of Meenakshi and of course the beautiful hill station of Ooty. A great way of spending holidays for everyone and especially honeymoon goers.
The perfect place for every history lover one can explore the great ruins of various kings like forts and palaces which works perfectly in turning the clock back. One can even get to know a little more about the great Indian civilization by going through the intricate and finely carved out structures of Mahabalipuram. A typical travel guide for Tamil Nadu will include exploration of various big small, popular and unpopular places of tourist interests like monuments of historical relevance, massive holy places of worship, forts, palaces, scenic hill stations and of course the beaches.
No matter what your travel agendas for a visit Tamil Nadu visit is, the simplicity and elegance of the local people and the sightseeing destinations will definitely leave you spellbound in every aspect. Explore the wilderness, stay with a local family and discover the true meaning of real awe-inspiring holiday experience. Go there for the spiritual value, cultural magnificence and incredible historical account that cannot be found anywhere else in the entire Indian subcontinent. Visit Tamil Nadu now and take away a lifetime worth of memories, with your friends, families and loved ones.
Holiday Packages
The packages for Tamil Nadu consists of different combinations of options ranging from temple visits and pilgrimages in south India to hill station explorations and beach visits. All the packages are flexible and easily customizable allowing you to explore the best of Tamil Nadu. Travel the traditional way through the Nilgiri mountain railway, Vivekananda rock memorial, Kodai Lake, Kumara Amman Temple, Mahabalipuram beach etc. all the packages are available at the most fair rates and comes with a very dedicated team of professionals. Be enthralled and create lifetime memories with your family and loved ones in this southern most end of the Indian subcontinent.
Things to Do
When it comes to activities in Tamil Nadu, you will not be bored even a single day. There are a plethora of things to do here which suits the requirement of every type of traveler. Form taking village walks to know more about the culture of Tamil Nadu to offering prayer and going for Darshan at one of the magnificent temples and places of worship and exploring the scenic beauty of the hill stations. It represents a mosaic of interesting and one of a kind color of India that can only be explored by taking a trip there.
Top Travel Destinations
What makes Tamil Nadu a top travel destination in the world? There are numerous reasons as to why it tops the ranking for a must-visit travel destination. The entire region is dotted with magnificent temples and holy religious places along with relaxing sandy beaches as well as scenic and naturally beautiful hill stations. This city of temples is also a hub of thriving wildlife culture which is marked with the presence of several wildlife sanctuaries and national parks. Go on tours and explore the hidden jewel that has been so well preserved here over centuries.