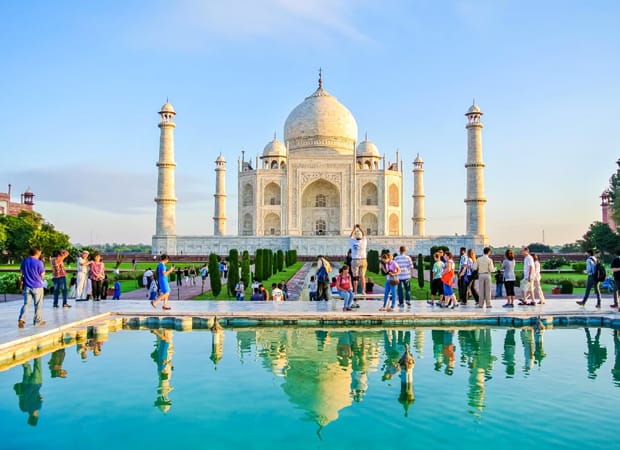 Agra Travel Guide
| | |
| --- | --- |
| Location: | Uttar Pradesh, India |
| Population: | 1,585,704 |
| Religion: | Hinduism 88.77 % | Islam 9.31 % | Jainism 0.49 % | Christianity 0.23 % | Sikhism 0.27 % | Buddhism 0.09 % |
| Area: | 87 Km2 |
| Language: | Hindi, Urdu and Braj Bhasha |
---
Weather:

33° C - 10° C
Ideal Duration: 2-3 Days
Best Time: Nov-Feb
Nearest Airport: Agra
Established on the banks of River Yamuna in Uttar Pradesh, Agra is believed to be one of the most happening holiday destinations in India. Seeking to plan a dream vacation? Pack your bags and move towards Agra, the land of Taj Mahal. The city is believed to be the seat of the great Mughal rulers who ruled over the city for ages. It's not only Agra that is synonymous with Taj even though India is also synonymous with this wonderful architecture.
This magnificent structure in Agra is the epitome of love, one of the Seven Wonders of the World taking pride of India and Agra tourism notch higher. The irresistible glory of this spiritual city is as loved by the Indians as by the foreigners who throng here in great numbers to witness its mesmerizing beauty. Along with Delhi and Jaipur, the city forms the golden triangle tourism in the country.
Different religions that were born and flourished here shaped Agra's culture with so many great leaders having ruled the city. Agra is home to numerous significant monuments including three UNESCO World Heritage Sites: Fatehpur Sikri, Taj Mahal, and Agra Fort. During the Mughal reign, the city was popular as Akbarabad and was controlled by many rulers including Shah Jahan, Jehangir, Akbar, etc.
They all were quite fond of art and culture, architecture, and gardens where all added a new dimension to Agra's personality.  Taj Mahal, Fatehpur Sikri, Agra Fort, etc. have contributed a lot to Agra tourism and our meticulously crafted Agra tour packages designed by our company ensures you to make your Agra tour to the utmost level.
The "City of Pethas", Agra is undoubtedly one of the most eminent travel destinations in India that takes tourists back to the bustling streets, rich mughal history and the vibrant shopping sites to buy some really amazing stuff. Also, the lip-smacking eateries treating your taste buds with delectable flavors and the fairs and festivals of the place offers years long memorable and wonderful vacation in all senses.
Apart from heritage tourism, this beautiful city in Uttar Pradesh is also very popular for its vibrant market areas, art and craft, mouth-watering snacks, traditional foods, and tradition. This historical city is also nationwide famous for Petha (a sweet dish prepared with ash gourd) and is served in almost every small as well as big ceremonies.
One can savor a wide variety of Pethas including Kesar Petha, Pan Petha, Cherry Mango Petha, Shahi Angoor Petha, Orange Petha, and Angoori Petha are few of the most loved varieties. The city also plays a significant role in business trade centre in North India and a number of small-scale industries of leather, paper, etc. are established all around the city.
You can check out the well-narrated Agra travel guide helps you explore the city to its fullest and besides presenting the travel guide, we also offer you some meticulous Agra holiday packages inclusive of several perks and benefits and that too at very affordable rates with amazing discounts.
Namaste India Trip Pvt. Ltd. being one of the most reputed and trustworthy travel companies in the country emphasizes on delivering an impeccable holiday experience through our 24*7 services and warm hospitality.
About Agra
Agra, a gorgeous city offering discovery of the beautiful era and has a rich culture, and history evidenced in its several monuments established in and around the city. Geographer is believed to have been the first person who introduced the modern name to this city. Sikandar Lodhi, one of the great rulers of Lodi dynasty founded modern Agra in the 16th century.
Later the Mughal throne was descended by Shah Jahan who led the foundation of several astonishing architectures and some of them are still preserved nicely. Located on the banks of River Yamuna and lies in the Western Part of the state, Agra is bestowed with a trail of captivating tombs and mausoleums. However, Taj Mahal garners the most attraction yet there are several other exemplary architectures that one must not miss out visiting on their holiday in Agra.
Once you are done with the exploration of Taj Mahal, head straight towards the other important sites of the city. There is nothing to deny the statement that Agra boasts of some very significant monuments that tells you the story of India's history. Apart from the magnificent monuments, the city offers some great exciting stuff for foodies and is pretty much famous for Petha.
This sweet dish cooked of pumpkin and flavored with saffron and rosewater and served on many occasions. No matter you have a sweet tooth or you are fond of spicy chaats, the city never ceases to fascinate. Chaat is the other popular delicacy prepared in the city and there is a huge variety of Chaat available here including Papri Chaat, Aloo Tikki Chaat, Samosa, Pani Puri, Kachori Chaat, etc.
The city offers countless Punjabi and North Indian relishes with a distinct influence of mouth-watering Mughlai cuisine. Dalmoth, a flavored spicy lentil mix happens to be a very popular snack of the town that the local folks love to enjoy with hot cup of tea.
The city is very well known for its rugs, marble artefacts, gemstones, and leather items and majority of the shopping sites are located closer to Taj Mahal where the most popular ones being Munro Road, Kinari Bazar, and Sadar Bazar. One of the most significant seats of kingdoms and empires and the timeless city of Mughal emperor is bestowed with plain, dusty geography combined with insane climatic conditions having sharp contrasts.
Those who are traveling to the city for the very first time shall definitely hire one of the most experienced travel guides who are available all around the city especially at the bus stand or the railway station. Also, the nightlife in Varanasi is quite admiring and people love spending their weekends at the pubs and nightclubs established there.
There is no need to worry about your safety during night out but if you are a solo female traveler then you must be very alert while coming out of your hotel after it gets dark. The famed market areas teem with huge crowds during the evening hours and a huge array of street food stalls are installed at every nooks and corners of Agra.
Holiday Packages
Agra, the magical land of Taj Mahal is a city rich in history and architectural heritage that is explored by huge number of travelers every year. Established in Uttar Pradesh, Agra takes you back to the Mughal period when several timeless masterpieces were constructed where many of them are enlisted as UNESCO World Heritage Sites.
Agra inarguably has a lot of stories to tell including the stories associated with love and pride, conquest, and many other genres. If you are also excited to plan your next vacation in the city then do not forget to check out the beautifully designed Agra holiday packages on our official website and then plan your trip accordingly.
We offer you some great deals and discounts on Agra tour packages and ensure you to have a wonderful vacation with your family, friends, and other travel companions.
Things to Do
Nestled on the banks of River Yamuna, Agra is well reckoned for its iconic Taj Mahal and the fascination of this historic city is not only restricted to the gorgeous monuments alone. There is a lot to discover and experience in the city ranging from the magnificent monuments to mausoleums to the crowded bazaars and parks.
Witnessing the beauty of the magnificent Taj Mahal, watching the light and sound show at Agra Fort, soak in the beauty of Mehtab Bagh, Jahangir Mahal, Jama Masjid, etc. are some of the must not miss activities to do in Agra. Watching the Kalakriti Dance Drama show, binging on the delectable flavors of Mughlai cuisine, and chilling out at The Water World are some other exciting things to do in Agra.