Ahmedabad Tourism – Travel Guide to Ahmedabad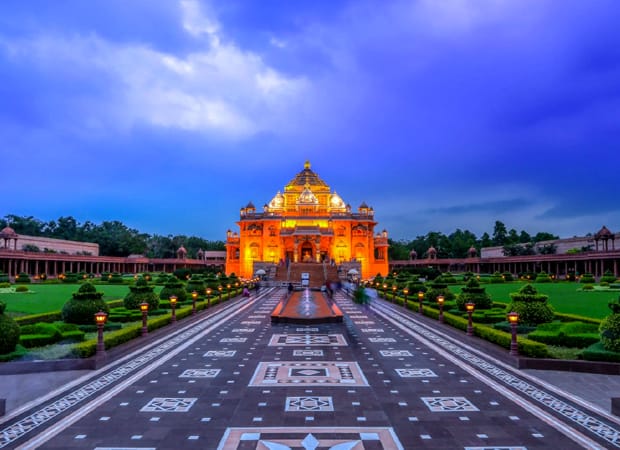 Ahmedabad Travel Guide
| | |
| --- | --- |
| Location: | Gujarat, India |
| Population: | 8.6444 Million |
| Religion: | Hinduism 83% | Christianity 0.72 % | Jainism 2.5% | Islam 13.8 % |
| Area: | 464 Km2 |
| Language: | Gujarati, Hindi and English |
---
Weather:

10°C - 36°C
Ideal Duration: 2-3 Days
Best Time: Nov-Feb
Nearest Airport: Ahmedabad
A city as old as time itself. A city that has stayed in place and watched as the world has turned and the tides have changed. A city that has stood the test of time for thousands of years. In the words of Mark Twain, "Older than history, older than tradition, older even than legend, And looks twice as old as all of them put together." Varanasi, the city that is more than just the spiritual capital of India. The city which can be aptly described as a melting pot where both life and death come together. The city that you only need to visit once for it to stay with you forever.
Varanasi is a very popular pilgrimage point for Hindus, and the older part of Varanasi, which has thrived on the banks of the river Ganga, is an integral part of the very infrastructure of the city, with thousands of people flocking there for salvation and purification. All chaos and noise on the ghats of Varanasi take a pause when the Ganga Aarti takes place in the evening, a ceremony of immense grandeur and opulence, with pandits lining up to perform rituals that are no less than a performance for the senses.
The city in and around the ghats has a certain rhythm to it. Narrow maze-like lanes and by-lanes arouse instant intrigue and fascination, while the street art dotting the stretch alongside the ghats makes for a great outpouring of artistic expression. Varanasi also boasts of a marvelous architectural heritage, as can be seen in the scores of temples dotting the city.
Varanasi has something to offer to everyone who visits the city – be it the clamor of the station, to navigating the mysterious alleyways, to finding serenity on the banks of the Ganges. Varanasi is India in all her glory, as it has been for thousands of years, and as it will be for a thousand more.
About Ahmedabad
Also called as Manchester of the East, Ahmedabad is rapidly emerging out as an educational hub, metropolis, an industrial hotspot, and most importantly a city with a glorious past. It is enlisted among one of the most frequented tourist destinations in Gujarat and also an important city in the state. One can find a cluster of ancient and majestic temples, serene lakes, restaurants serving delectable delicacies, intriguing museums, classy market, and a city with colonial history. If you want to explore a city which has retained its magnificent historical charm and is still rapidly showing progress in the path of urbanization and globalization then Ahmedabad is the perfect place where you can see this charm. This industrial city is located on the river bank of Sabarmati River and is renowned as the former capital of Gujarat. Plan a tour to Ahmedabad and savor yourself with the mouth-watering Gujarati cuisines, vibrant culture, and incomparable hospitality. Gujarat Tourism states that it is one of the most happening destinations in Gujarat where millions of Indian, as well as International tourists, flock every year.
Sabarmati Ashram which is the iconic attraction or the major landmark of the city showcases a down- to earth lifestyle of the residents of Ahmedabad. If you are a history buff then this is one of those places which you should not miss on your Ahmedabad tour as you get to see various items related to the lifestyle of Mahatma Gandhi. Indian history states that when Mahatma Gandhi returned to India then he laid the foundation of this Ashram.
Till this date, the remnants of Gandhiji's life are preserved here very nicely and are now used as a museum where you can learn about the life of Gandhi Ji.
There are plenty of temples standing tall in this city and are scattered in almost all the directions of the city. ISKON Temple and Swaminarayan Temple are the most happening and heavily frequented pilgrim places in Ahmedabad. ISKON Temple which is also called as Hare Krishna Mandir represents a beautiful blend of Gujarati as well as Rajasthani architecture. This huge ancient temple is spread over a large span of almost 4 acres and is adorned beautifully with colorful fountains, scented gardens, etc. The temple is flooded with thousands of devotees on every single day.
If there is a talk about Ahmedabad and there is no discussion of its textile industries, its bandhani handlooms, and tie-dye techniques. This old city is also popular for its mirror works, embellished garments, embroidered dress materials which are designed traditionally, and some other popular local handicrafts. On your tour to Ahmedabad, you also get the chance to explore some really beautiful museums amongst which Sardar Vallabh Bhai Patel Museum is the most important one. The Calico Museum of textiles, the Auto World Vintage Car Museum, and the Vechaar Utensils Museum are the other museums adorning the city and are increasing the tourism rate in Ahmedabad. Bhadra Fort is also one of the must-visit places here.
Holiday Packages
Situated beautifully on the banks of River Sabarmati, Ahmedabad is rapidly growing as a magnificent tourism destination in India. Witness an incomparable blend of nature and culture in this beautiful textile city, explore the heritage places, beautiful monuments, pay homage at various temples scattered all around in the city, attain wildlife experience, and gorge upon the delectable Gujarati cuisines. So, what are we waiting for now? Browse our meticulously designed Ahmedabad holiday packages as per your travel preference and add some more unforgettable memories to your travel experience. Enjoy Jeep Safari Ride by grabbing our well-tailored Ahmedabad Sasan Gir tour package.
Things to Do
Ahmedabad offers a plethora of delicious Gujarati cuisines served at both local food stalls and restaurants. Try all these pallets with varied flavors and fragrances on your Ahmedabad tour. Also, do not forget to savor yourself with Gujarati thali. Walk along the long narrow streets of the old city and visit the popular monuments and other sightseeing destinations. Shopping is the single word that describes the complete city so if in Ahmedabad how can we skip talking about shopping? Shop out the Bandhani Sarees, Dupattas, suits, and mirror work materials and most importantly witness the famous festivals and learn about the cultures.