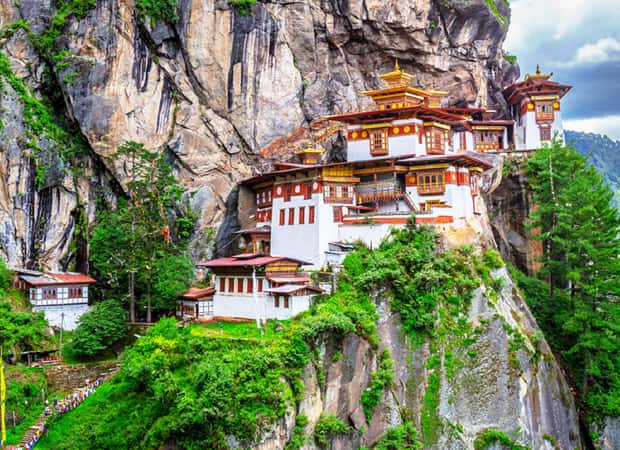 Bhutan Travel Guide
| | |
| --- | --- |
| Capital: | Thimphu |
| Population: | 826,486 |
| Religion: | Buddhism 74.9 % | Hinduism 22.6 % | Christianity 0.5 % | Islam 0.1 % | Other 2 % |
| Area: | 38,394 Km2 |
| Language: | Dzongkha, Nepali, English and Hindi |
---
Weather:

19° C - 5° C
Ideal Duration: 2-3 Days
Best Time: Mar-May
Nearest Airport: Thimphu
Green hills, majestic views, and a serene environment, every word seems to fall short while describing this heaven on earth. Tourism in Bhutan commenced in the year 1974 while keeping their primary focus on promoting the unique and traditional Bhutanese culture. Did you know that initially this glorious country was isolated and kept away from foreign visitors with an aim to preserve their vibrant culture and belief? Later on ever since it's opening the place has been receiving numerous visitors every year and has become one of the top-notch destinations for honeymoon goers, family vacationers, and peace seekers among others.
High value and low impact is the motto by which the Bhutanese government caters to the tourists here. The low impact here refers to the low number of visitors which has worked towards keeping the beauty here rich and untouched. They know the value of maintaining their unspoiled natural beauty by regulating tourism in unique ways. Although tourist activities are pretty much limited here you can still keep an open mind and enjoy the glories of Bhutan by indulging in eco-friendly options that the government also supports via any Bhutan travel guide. All tourists are charged per-day fees which indicates that the government values their tourists and visitors but is extremely serious towards keeping the environment clean and living sustainably.
The major centers of tourism in Bhutan are located in their capital city of Thimpu and Paro. One of the landmarks and iconic face of Bhutan is the tiger's nest monastery whose pictures you may have seen.
This place holds numerous folklores and legends about how it was here that Buddhism had entered Bhutan with the help of a Buddhist deity who had spent 90 days in deep meditation while fighting off the demons that used to reside in these valleys. The authenticity of Bhutan is so well preserved that you can easily have a cultural Pandora box of experiences with your family, friends and loved ones.
Some of the marvelous places one can explore here while also creating a lifetime's worth of memories include ancient ruins of Drukgyel Dzong, sacred shrines and places of worship dedicated to Phajo Drugom Zhigpo, Royal Manas National Park, Bumdeling Wildlife Sanctuary and more! Although it is one of the most expensive places to be this 'happiest country in the world' is worth every penny along with a guarantee of lifelong memories of this luxury exotic getaway. What's interesting here is the presence of numerous options for all types of travelers to explore and have a memorable time. From going on scenic strolls to hiking across unexplored lands and pastures and just soaking in the pure untouched and refreshing natural beauty.
Tourism in Bhutan has reached great heights ever since its careful and calculated approach towards letting foreign tourist in. no matter where you are coming from, the time of your life here is guaranteed. Explore the rich culture, colorful heritage, and vibrant beliefs that make this country truly one of a kind in every way.
About Bhutan
Tucked away in the scenic hills of Himalayas Bhutan is located in between the regions of India and China. Famous for its unspoiled natural beauty and strict tourist regulations the kingdom of Bhutan gives you several reasons to explore it at least once in a lifetime. Do you know that Bhutan offers free education and healthcare to all its citizens? Apart from this, the government of Bhutan takes active measures in keeping the country clean, green and maintaining their sense of cultural and spiritual beliefs that have been passed on from generations. Being situated on the border of 2 conflicting countries it has made sure that they remain calm, happy, and positive destinations for everyone.
The mountains of Bhutan are the perfect place to get more in touch with nature and experience the wilderness like never before. The primary focus of places for tourism includes Thimpu - the capital and the largest city of Bhutan and Paro apart from the monasteries and holy shrines of course. Its history is enigmatic and extremely unique when compared to its neighboring geopolitical regions. It has never been colonized and the national identity of the Bhutanese people remains Buddhism to this day. It just goes on to show the amount of love and respect the people here have towards their heritage, culture, and traditions.
Speaking about the landscape of Bhutan, it consists of lush sub-tropical plains covered in a carpet of green foliage and sub-Himalayan alpine mountain ranges.
The peaks here are a major attraction for trekking enthusiasts and mountaineers who visit Bhutan from all over the globe to fulfill their wish of climbing some of these incredible ranges. The highest peak here is the Gangkhar Puensum which is also the highest unclimbed mountain in the world. The ecology of Bhutan is as diverse and colorful as its people. You will be appalled at the incredible selection of biodiversity that has found its home in this wonderful country. It is home to some of the rarest animals like takin and golden langur. Some commonly occurring animals here include the Bengal tiger, clouded leopard, red panda, Tibetan wolf, etc. over 770 different species of birds have been recorded in Bhutan that is famous for being exotic and endangered.
When it comes to the functioning of the government Bhutan is a constitutional monarch along with a parliamentary form of government. The head of the state here is referred to as 'Druk Gyalpo' or the dragon king. It has managed to maintain a peaceful environment where the people are happy, prosperous, and content. Speaking of culture and heritage if you happen to visit Bhutan then you will notice the locals wearing unique cultural clothing. Not surprisingly enough this kingdom of the Himalayas has a national dress code that involves men wearing Gho (a knee-length garment) and women dawn a Kira (resembles a saree). No matter how much we speak or write about this incredible kingdom every word will fall short to describe it opulence until you decide to visit for yourself once.