Bhutan is all about being connected with roots, heritage, legacy, and having a very deep connection with their age-old culture. The Bhutanese folks represent their well-preserved culture through the way they dress up, the food they eat, and also the language they speak. One of the most visible signs is their dress code and mild behaviour which stands out from the rest of the world.
The unifier of Bhutan, Ngawang Namgyal is responsible for setting a traditional dress code for the men and women of Bhutan during the 17th century to establish and represent their unique identity. It is important for every local Bhutanese people to wear this traditional attire which promotes and preserves their unique culture.
Here is everything you need to know about the traditional dress of this Himalayan kingdom:
Dress Code for Women and Men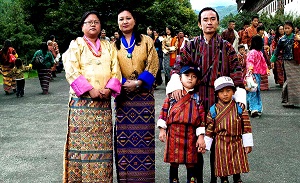 The official dress code behaviour of Bhutan is properly written down in Driglam Namzha, which dictates the norms regarding how one should dress up and behave in public and informal events as well. These norms are welcomed and widely accepted throughout the country which the Bhutanese people also tend to follow to the T. Traditionally called a Gho and Kera, these are the cultural clothing items worn by both men and women. The dress code is a way of igniting and preserving a feeling of belongingness and connection to their homeland.
Here are the 8 items of traditional clothing worn by the local Bhutanese men and women:
Gho
Gho is a traditional piece of clothing that is seen mostly on Bhutanese men. It is a robe-like cloth that goes up to the knee and can be wrapped around like a robe. If you have seen any picture of the local men in Bhutan then Gho can be unidentified as the national traditional dress. This robe clothing is secured and tied up with a belt on the waist. Not only is it a mark of tradition but Gho is also functional since there are pockets available to store some stuff. The Bhutanese folks can be seen wearing Gho informal events and large gatherings as well.
Khera
In short, Khera is a traditional, handmade cloth belt that the locals can be seen wearing on top of their clothes to secure them properly in one place. Khera is also used to tighten any dress in order to make it look more flattering and prettier. Being a small yet very important piece of traditional clothing among the men and women of Bhutan, Khera is available in numerous different designs, patterns, colors, and styles. People can mix and match their choice of Khera with whatever they are wearing to enhance their overall look.
Kira
Kira is a common piece of clothing worn by the women of Bhutan and it kind of reminds you of an apron that goes from your torso to the ankle. This ankle-length traditional dress is super comfortable, breezy, and easy to wear making it an ideal choice of clothing to wear on a day to day or even on a regular basis. Kira is mostly handmade, woven with love, care and are available in a variety of colors, designs, and patterns. Many of the Krias are also available in bright colors and worn in formal, official, and celebratory events.
Toego
Who said traditional clothing has to be drab and boring? Toego is a stylish half jacket that is mostly adorned by Bhutanese women. This half jacket fully pulls the whole traditional look of the women's attire together. This jacket-like garment is worn in order to compliment the Kira and is available in a variety of patterns, bold colors, and distinguished styles. The jackets are available in bold and bright colors with a detailed border that further enhances the overall look of the traditional style.
Wonju
Another piece of clothing that complements the traditional old Kira is the Wonju. It is a long-sleeved blouse that is normally worn on top of the knee-length Kira and comes in a variety of flattering colors, patterns, designs, and styles. They can be bought in cotton or silk material, depending on your preference. It serves kind of the same purpose as a Toego but comes with longer sleeves and looks impeccable during any formal occasion.
Rachu
Rachi is a very important piece of clothing when it comes to wearing formal clothes during an important occasion or an event. In simple terms, Rachu is a long scarf and can be worn in different styles as a mark of respect to the elders. People also wear Rachu while addressing some elders or attending the temple. Women prefer wearing Rachu over the Toego which is usually red in color but is also available in a variety of colors and design patterns.
Khata
Khata is another important ceremonial piece of cloth which is only reserved for a very specific kind of person. It is worn by people practicing a higher level of Tibetan Buddhism and represents their strong influence on religious practice. It is not worn by just everyone and is a mark of respect. It can be seen in almost every ceremony ranging from birthdays to the day of mourning at the funeral. It is not available in several different colors and can only be seen in white or gold color.
Kabney
Kabney is a common piece of clothing that is worn solely by Bhutanese men. It is a kind of scarf that is available in different colors which represent the rank of the position they hold in the nation. On some occasions where important men are allotted to meet the higher executives and other important people or personalities from different nations. The king of Bhutan adorns a yellow-colored Kabney which is quite distinct from the rest of the nation.
In case you happen to visit Bhutan, keep an eye out for the local and traditional clothing styles of the people there as it may help you gain some more insight into the lifestyle of this otherwise secretive and lesser-known culture of Bhutan.