One of the better ways to travel in India is by train. Trains are comfortable and you can sleep nicely at night while traveling from one destination to another. If you undertake an extended pilgrimage to the four main Buddhist pilgrimage sites or to the eight places Buddhists like to visit, then a train is much better than a coach or a car. There is plenty of room inside for you to move about and you can sleep comfortably at night in a journey that goes off smoothly as you travel from one pilgrimage site to another. If you are thinking of undertaking a pilgrimage to Buddhist sites of interest such as Bodh Gaya, Sarnath, Sanchi, Varanasi, Kushinagar, Patna, Rajgir and Vaishali, go on an 11 days Buddhist pilgrimage tour in India by train.
A typical itinerary for the 11 days Buddhist pilgrimage tour in India by train could go like this: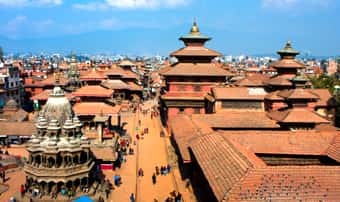 | | |
| --- | --- |
| Tour Duration: | 10 Nights / 11 Days |
| Destination: | Delhi - Agra - Sarnath - Varanasi |
| Tour Price: | On Request/- |
Arrive in Delhi and join the group with a welcome from our Namaste India Trip representative and transfer to your hotel where you can freshen up and explore Delhi on your own.
Day 02: Delhi Sightseeing
Join the group in the morning and set off on a trip to the older and newer parts of Delhi, shop, dine and drink in the flavors after which it is time to relax.
Day 03: Delhi – Agra – Varanasi
A delicious breakfast fires you up for the day ahead which you start by boarding a train that will take you to Agra. Once here you visit the Fort and the world's most beautiful monument to love, the Taj Mahal. Time permitting you take in the tomb of Itmad-ud-daulah and then go on to the railway station to board the train that will take you onwards to Varanasi. The rocking motion of the train lulls you to blissful sleep.
Day 04: Varanasi – Sarnath – Varanasi
The train chugs into Varanasi at around 9.30 AM and you move to your hotel to refresh yourself and get ready for the pilgrimage to Sarnath. The great Buddha preached his first sermon here after attaining enlightenment and started a trend that grew into a religion, a way of life for millions. You visit the Ashoka Pillar, the Chaukhandi stupa, the Mulagandha Kuti Vihar, the Museum and the Dhamek Stupa, all relics of the past glories of Buddhism that once prevailed in this region. Your tour also includes a visit to the Ghats along the Ganges, to the Durga temple, to Ramnagar, to the Benaras Hindu University and the Gyanvapi Mosque after which it is time to return to your hotel for a well-earned rest.
Day 05: Varanasi – Bodhgaya
A visit to Varanasi would be incomplete without an early morning boat ride on the Ganges and this is what you take, admiring the hundreds of devotees praying and bathing. After that you proceed to the Railway station to board a train that takes you to Bodhgaya in Bihar. Check into your room and stay the night. Bodhgaya is one of the most important pilgrimage destinations for Buddhists from all over the world because it is here that he attained enlightenment under the Bodhi Tree.
Your day starts early with a visit to the Mahabodhi temple and other sites in this location. There are other Buddhist temples in the vicinity set up by Bhutanese, Vietnamese and Japanese, each with their own distinctive architectural styles. There is also a bazaar from where you can buy replicas of Buddha statues and other things like prayer wheels and books. The cave temples in the vicinity are also interesting and you must take time to visit them before returning to your hotel for the night.
Day 07: Bodhgaya – Rajgir – Nalanda – Patna
Next day morning your group sets out for Rajgir where Buddha preached for years and helped bring people towards a better way of life. The next stop is Nalanda, site of one of the world's oldest universities with many interesting excavations to keep you enthralled at what was the greatest center of learning. Then you proceed to Patna for an overnight stay.
Day 08: Patna – Vaishali – Kushinagar
Early in the morning, the group sets out for Vaishali where Buddha gave his last sermon. The next stop is Kushinagar. This is where the Buddha attained lasting peace or the phase of Mahaparinirvana. The place is full of Buddhist memorabilia like the Matha Kuar Shrine, the Ramabhar Stupa, the Mahaparinirvana temple and the Kushinagar Museum. You spend the night in your hotel.
Day 09: Kushinagar – Lumbini – Sravasti
Today you will travel by road to Lumbini in Nepal, the Birthplace of the Lord. Pilgrims are taken to the sanctorum where he was born and this is followed by a visit to the Maya Devi temple, the Japan Peace stupa and Chinese temple. After that it is time to board the coach for your onward trip to Sravasti where you check into your room for an overnight stay.
Sravasti is the place where the Buddha spent 24 years in the Netvanta Vihar and the place is full of Buddhist relics, monasteries and temples. The Buddha is credited with performing miracles in Sravasti. You also visit Mahet and Sahet. After that it is time to leave for Lucknow by boarding your coach and then board the Train that will take you to Delhi as you slumber blissfully, knowing you have undertaken one of the most important pilgrimages in your life.
You arrive in Delhi where your pilgrimage tour ends and you can then return to your home.
Traveling by train in India is an experience and when you undertake an extended pilgrimage it allows plenty of time to rest and relax even when you are on the move. A thoughtful Buddhist pilgrimage operator will include everything in a schedule that is not too hurried and gives you opportunities to explore each place in full and take back happy memories.