The great Buddha himself undertook a pilgrimage and penances leading to his enlightenment. It is only natural that his followers must consider it their sacred duty to visit the holy sites associated with the Buddha. If you are hard-pressed for time you may consider a pilgrimage to the four main holy destinations of Bodhgaya, Lumbini, Sarnath and Kushinagar.
However, it is a far better idea to spare time and go on an extended 15 nights, 16 days Buddhist temple tour in India and Nepal that will take you to the important pilgrimage sites of Nalanda, Shravasti, Sankashya, Rajgir and Nalanda. There is another reason to visit the eight sites: it is believed that after his cremation the relics were distributed at these eight places and a stupa was erected at each spot.
A typical 15 Nights 16 days Buddhist temple tour in India and Nepal would go this way.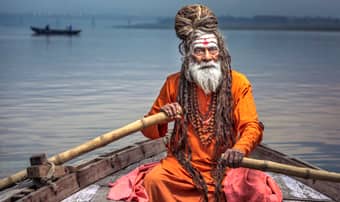 | | |
| --- | --- |
| Tour Duration: | 15 Nights / 16 Days |
| Destination: | Patna - Bodhgaya - Varanasi - Lumbini |
| Tour Price: | On Request/- |
You are met at the airport by our Namaste India Trip representative and escorted to your hotel for a pleasant overnight stay and you also receive a briefing about the next day's program and tour ahead.
After a hearty breakfast, you join other tour members for your flight to Patna, the starting point of your Buddhist temple tour. Your tour guide escorts you to your hotel and you settle in for the night.
Day 03: Patna – Vaishali – Patna
Vaishali is conveniently close to Patna and is the first destination you visit. This is where Buddha is said to have preached his last sermon. Incidentally, Vaishali is also the birthplace of Mahavira.
Early morning breakfast over you board a coach along with other members of the group for a visit to Rajgir. On the way you stop at Nalanda, the site of one of the oldest and biggest universities of the world. Rajgir is famously known for being the place where Buddha preached from the Vulture's Peak and it is also the place where the Buddha placated a furious elephant through his calm approach. Rajgir, like Vaishali, is full of remnants of a glorious past. A full day ends with a well-earned rest in your hotel.
Day 05: Rajgir – Bodhgaya
You start this morning on an important visit and that is to Bodhgaya, the place where Buddha attained enlightenment. Here you visit the Mahabodhi temple complex where the Bodhi tree under which the Buddha attained enlightenment still exists. Bodhgaya will occupy all your time since there are other interesting temples, a bazaar and Museums with interesting artefacts. There are interesting caves in the neighbourhood and lots to see so you stay here for the night.
Early next day you set off on the excursion to the Mahabodhi temple followed by a visit to the other Buddhist temples set up by Japanese, Vietnamese and Bhutanese people. Pilgrims usually make an offering at the temples and buy mementoes from the bazaar. The evening is free for you to explore and you retire for the night. Early next morning you start on an excursion to nearby cave temples.
Day 08: Bodhgaya – Varanasi
A delightful breakfast first thing in the morning makes you ready for the drive to Varanasi, the holiest and oldest surviving city in the world, where you check into your room and rest for the night.
It is time to wake up before the crack of dawn because you are going on a boat ride on the Ganges where you see hundreds of people praying and bathing. From the boat you get a look at the temples lining the bank and then return for lunch. A brief rest and you are off to visit Sarnath where Buddha preached his first sermon after enlightenment. You take in the Dhamek Stupa, the Chaukhandi Stupa, the Ashoka Pillar, the Museum and the Mulagandha Kuti Vihar. A dreamy day ends with your return to the hotel.
Day 10: Varanasi – Kushinagar
A bit of sightseeing in the alleys of Varanasi and some shopping is followed by your getting on the coach to Kushinagar where you book into your room for a comfortable rest for the night.
Kushinagar is where the Lord Buddha passed away and you will take in the Mahaparinirvana temple, the meditation park, Matha Kuar Shrine, Ramabhar stupa, the Kushinagar museum, the Japanese temple and other temples and the reclining statue of the Lord. Return to your hotel for the night.
Day 12: Kushinagar – Lumbini
Lumbini in Nepal is where the Lord Buddha was born as Prince Siddhartha in a royal family of the Sakya dynasty. He grew up here, married and had a child but, as per the astrologer's forecast at the time of his birth, he left it all. Pilgrims visit the sanctorum where he was born then go on to the Maya Devi Temple, have a view of the Ashokan Pillar and visit the Buddhist temple, Japan Peace stupa and the China temple before returning to the hotel.
Day 13: Lumbini – Kathmandu
Pilgrims board a flight to Kathmandu and check into their room.
Pilgrims go on an excursion to the city where they find the ancient and awe-inspiring Swayambhunath and Boudhanath stupas. After that it is time to go shop, explore the local attractions and then finally return to the hotel.
Today you go on a visit to the nearby village of Nagarkot for a stupendous view of the mighty Himalayas on one side and the lovely Kathmandu Valley on the other. You have the choice of exploring the place or going on to the World Heritage site of the Changu Narayan temple.
Day 16: Kathmandu – Delhi
You can go on an early morning flight over the Everest or relax or go shopping before catching the afternoon flight to Delhi where the tour ends.
Inclusion
Lucknow to Nepalgunj and back transfer by air conditioned bus.
01 night stay in a 3 star equivalent hotel in Nepalgunj on sharing basis.
01 lunch, 01 dinner and 01 breakfast in Nepalgunj.
Nepalgunj to Simikot return air tickets in scheduled flights.
01 night stay at Simikot or Hilsa in a guesthouse/ best available hotel with all meals.
01 Breakfast, 01 Lunch, 01 Dinner at Simikot/Hilsa.
Simikot to Hilsa return helicopter flights on group sharing basis.
02 + 01 nights stay in a hotel/guesthouse at Taklakot with all meals.
01 night stay in guesthouse near Lake Manasarovar on sharing basis with all meals.
01 night stay at Dirapukh during the first day of parikrama with all meals (Light food and snacks).
01 night stay at Zuthulpukh during the second day of parikrama with all meals (Light food and snacks).
Transportation in Tibet side Luxury bus.
Basic first aid kit with tour guide.
Oxygen cylinders and Oxygen pillow in Tibet side for emergency requirement.
English speaking Tibetan tour guide in Tibet side.
English / Hindi speaking Nepalese tour leader.
Nepalese chef with helper and a Sherpa crew.
Support van/truck to carry kitchen equipments and other material.
Necessary group permit for visiting Mt. Kailash.
Normal Tibet single entry group visa fee to visit Kailash Manasarovar.
Humla restricted area permit fee.
Yak for carrying kitchen and trekking equipments.
01 duffle back, 01 backpack bag and 01 wind cheater on complimentary basis.
Nepal-China border tax.
All Nepalese and Tibetan Govt taxes.
Total accommodation is for 08 nights in hotels or guesthouses or lodge including 08 breakfast, 08 lunches and 08 dinners.
Food will be very basic and pure vegetarian.
There is no refund for any unutilized services.
First meal is dinner, last meal will be breakfast on the trip.
Exclusion
Expenses of personal nature such as tipping, porters,laundry, telephones, Cameras fees. Etc
Any kind of insurance.
Any claim or delay charges due to natural calamities,land slide, road blockage etc. Or any other things which are notmentioned in cost included column.
Meals at Kedarnath (our catering team cannot reachthere)
Any charges of train, helicopter, auto, ropeway ticket of Manasa/Chandi Devi, Doli & pony etc.