As the fourth largest world religion, Buddhism has made a strong base in the continent of Asia. Overall, it is preceded by Hinduism, Islam and Christianity in the entire globe. Founded in the northern part of India by Siddhartha Gautama Buddha, this religion is practised by those that are seekers of non-violence, peace and love in the world. Gautama Buddha was born in 563 B.C. in the Lumbini region of present-day Nepal. When he reached 29 years of age, he quit his family (wife and children) along with all the political affairs of his kingdom to find out about 'truth'. In those days this practice of leaving one's family to become an ascetic was well-accepted in the society. After studying Brahmanism for some time he rejected it and in 535 B.C. he took the 'Buddha' title which means 'the awakened one'. In the present day, Lord Buddha's birthplace and the place where he received enlightenment (Bodh Gaya, Bihar) are visited by many devotees, mostly from places like China, Vietnam, Japan, Korea, Mongolia, Nepal and Sri Lanka.
Namaste India Trip gives you the opportunity to make a pilgrimage to the place where Buddhism was born. The 'Buddhist Pilgrimage Tours' includes important Buddhism hubs like Bodhgaya, Lumbini, Kushinagar, Vaishali, Sarnath and Sravasti. You will be given a detailed tour of these places without any hassle and your safety will be guaranteed till the tour ends. This well-established online travel agency works with the aim to provide the best possible trip to all its customers with an incentive like customization of tour packages befitting the customers' needs. All in all the 'Buddhist Pilgrim Tours' will give you a chance to visit all the significant sites associated with Buddhism, making you learn more about the religion and its roots. Professional assistance of the highest quality is assured during the tour.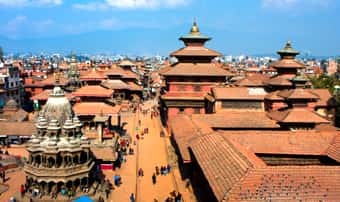 | | |
| --- | --- |
| Tour Duration: | 07 Nights / 08 Days |
| Destination: | Bodhgaya - Rajgir - Vaishali - Kushinagar |
| Tour Price: | On Request/- |
The Namaste India Trip representative will receive you at Gaya International Airport and transfer you safely to the hotel booked for lodging in Bodhgaya. Since Bodhgaya is where Buddha received 'Enlightenment' it acts as the spiritual dwelling place for Buddhists, attracting several believers from the entire world. This place is located close to river Niranjana and is counted among the Holiest pilgrimage site for Buddhists, ranking second among all four Buddhist pilgrimage locations.
In the afternoon you will be taken for Bodhgaya sightseeing tour that will include visiting the Mahabodhi Temple. This temple is named after Lord Buddha and is considered sacred by Buddhists. The Maha-Bodhi tree is also thought to be very holy as Lord Buddha is claimed to have attained 'Enlightenment' here under this tree. Spend the night at the hotel in Bodhgaya.
Day 02: Bodhgaya – Rajgir – Nalanda and Arriving at Patna
Early the next morning after breakfast you will leave for Patna from Bodhgaya, a 6-hour journey and stop at Nalanda and Rajgir on the way. Rajgir happens to hold great significance among the Buddhist followers and is a prime religious site as Buddha had spent 12 years of his life in this place. After lunch, you can visit the Bimbisara jail and the Gridhakuta Hill. Next, you will drive another 14km to reach Nalanda University which is the International Centre for Buddhist Studies and among the oldest universities that the world has seen. You will reach Patna after covering another 90km and rest out here for the night.
Day 03: Patna – Vaishali – Kushinagar
Day 3 will start with a drive to Kushinagar and stop at Vaishali on the way. it was here in Vaishali that Lord Buddha made an announcement for the 'Mahaparinirvana'. The next stop is in Kushinagar, the place where Lord Buddha gave 'Buddhism' to the world. Upon arriving in Kushinagar, you will be transferred to a hotel where you can take rest and post lunch visit the 'Mahaparinirvana Temple' (the site where Buddha breathed his last) along with the 'Ramabhar Stupa' (the place where Lord Buddha was cremated). Spend the night in Kushinagar hotel.
Day 04: Kushinagar – Lumbini (180km / 5hours)
Early morning of day 4 post breakfast you will drive to the place where Buddha was born- Lumbini. After reaching Lumbini you will check into the hotel previously booked. In the afternoon you will visit 'Mayadevi Temple', the place of Buddha's birth. This place is not only religiously significant but holds geographically significant with a combination of natural beauty and peace. Stay overnight at the hotel in Lumbini.
Day 05: Lumbini – Kapilavastu – Sravasti (225km / 5hrs 30mines)
Start day 5 with a filling breakfast and head for Sravasti, stopping at Kapilavastu on way. Kapilavastu is where Gautama Buddha spent his childhood. Next, you have to make a move for Sravasti, the place known for Buddha's sermons. He has supposedly performed several miracles out here and even 'levitated' here. Also, visit the Angulimal and Sahet Mahet caves and return to Sravasti for spending overnight.
Day 06: Sravasti – Varanasi (300km / 8hours)
On the morning of day 6, you are to move on to Varanasi, one among the few oldest living cities in the world. From Varanasi continue traveling to reach Sarnath, which is 12km away from Varanasi. Lord Buddha had his first sermon preached at Sarnath to five of his disciples having attained enlightenment. Dhamek Stupa is frequently visited here in Sarnath and so is the Sarnath Museum. Return to Varanasi for spending the night.
Day 07: Varanasi – Bodhgaya (242km / 7hours)
On the morning of day 7, view the sunrise in Varanasi on a boat in the Ganges. Return and finish your breakfast to get back to Bodhgaya. Upon arrival in Bodhgaya rest in the hotel you had checked in earlier. Take rest for some time and then go to visit the Niranjana River and the Dungeshwari Caves. Spend overnight in the Bodhgaya hotel.
On the final day, have a hearty breakfast and you will be safely taken to the Gaya International Airport for a connecting flight to your destination.