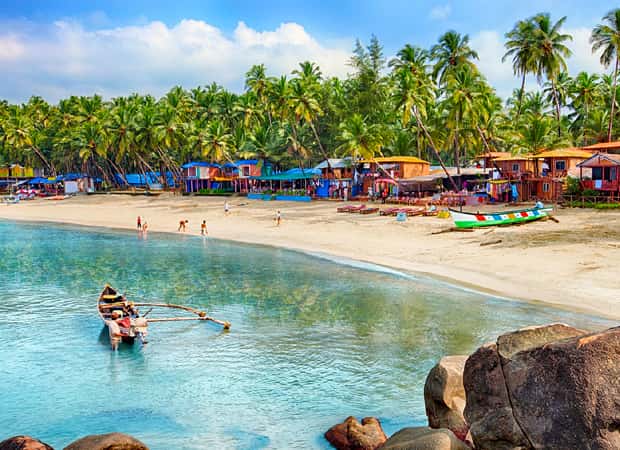 Goa Travel Guide
| | |
| --- | --- |
| Capital: | Panaji |
| Population: | 1,458,545 |
| Religion: | Hinduism 66.08 % | Christianity 25.10 % | Islam 8.33 % | Sikhism 0.10 % | Jainism 0.08 % | Buddhism 0.08 % |
| Area: | 3,702 Km2 |
| Language: | Konkani, Hindi and English |
---
Weather:

28° C - 20° C
Ideal Duration: 2-3 Days
Best Time: Nov-Mar
Nearest Airport: Dabolim
Goa is all about pine tree-lined roads, scenic beaches, and creating thrilling and memorable experiences that remain close to your heart for a long time. Traveling to Goa is all about opening up your heart and mind to the welcoming smiles of the locals, trying out delicious local Goan cuisines, and of course, indulging in sightseeing activities and adrenaline-pumping adventure activities. Unlike popular opinion, Goa is open for everyone to visit and fall in love with it.
From going on a family vacation with your family and kids to finally executing that Goa trip you have been planning for all these years with your group of friends and even couples on their honeymoon Goa is for everyone. But what is traveling in Goa like?
Tourism in Goa offers a plethora of options to keep you indulged in thrilling and fun activities catering to people of all age groups and for whatever duration of time, you feel like. No matter which time of the year you plan your holiday in this smallest state of India, you will have the time of your life no matter what. The entire Goan state is divided into two distinct parts called north and south Goa according to which you can plan your holiday there depending on the type of vacation you are aiming for. If you want a quiet, low-key holiday with laid-back vibes in luxury resorts, then south Goa is for you.
If it is a thumping nightlife that you are aiming for along with shopping at flea markets and spending your evenings going shack hopping while also exploring the hugely popular beach spots, then North Goa is just the place for you.
A typical Goa travel guide will introduce you to a variety of options that will keep you engaged for the entire duration of your holiday. Being under Portuguese rule for a long time, its after-effects can still be spotted through their architecture which makes you feel like you have taken a leap back in time. Some must-visit places that you have to visit in Goa regardless of where you decide on choosing your accommodation are – Fort Aguada, Calangute Beach, Dudhsagar Waterfalls, Anjuna Beach, Thalassa, Chapora Fort, Basilica of Bom Jesus, and Baga Beach among others. When it comes to activities in Goa you are spoiled for choices. Some of these activities include – Parasailing, Jet Ski Rides, Scuba Diving, Food Trails, Bungee Jumping, Jungle Walking Trails, spice plantation tours, and hiking expeditions.
That's where the beauty of Goalies is, there is always something to do for everyone visiting this wonderful state of Fun, Water, Sun, beaches, and good vibes.
About Goa
Goa is located in the extreme southwestern end of the Indian landscape forming the smallest state in India. Geographically separated from the Deccan highlands by the thick and lush ancient western Ghats, Goa makes up for the region which is also known as Konkan. This former Portuguese colony is surrounded by the other Indian states of Maharashtra and Karnataka on land and by the Arabian Sea forming its western coast. Did you know that among all Indian states, Goa is not only one of the most loved beachy destinations of India but economically it is also the state that generates the highest GDP? The saying small things come in big packages holds for Goa, although one of the smallest states by population, Goa still contributes a massive amount of GDP to the entire country's population.
Panaji is Goa's state capital and Vasco Da Gama is the largest city of Goa, both of them are recognized as two of the best holidays, as long as over 400 years until it was finally annexed by India during the 1960s. The historic city of Margao in Goa still showcases the Portuguese cultural influences through their color schemes, architectural brilliance, and food selections. Ever since its discovery as a great offshore location for traders and merchants of different nations across the world, Goa has attracted international as well as domestic tourism. Being the only place in India that offers a fun-filled beachy getaway, it goes without saying that it quickly grew in popularity with tourists just pouring in.
Other than some of the obvious places to chill like beaches and forts but the biodiversity here is also immaculate which is clear through its collection of incredible flora and fauna. The white beaches, thumping nightlife, interesting shopping marketplaces, and world heritage-listed architectural brilliance, and other places of worship make Goa truly one of a kind. Along with a rich historical backdrop and an equally rich biodiversity hotspot, this place also displays ancient rock art, cave paintings, engravings, and other prehistoric remnants. Other than the much popular history of foreign powers in Goa, this state also has remnants of Mauryan Empire and Buddhism influences which makes it a Pandora Box awe-inspiring wonderment.
Did you know that Goa is a part of the coastal country of India which is also known as the Konkan region? It lies in the Shimoga Goa greenstone belt in the Western Ghats which represents the earliest signs of human life on earth and is an extremely crucial part of the history and origin of humans. Needless to say, Goa is truly and in every way a one-of-a-kind holiday destination in the world which is not only a place to chill by the beach but a place that is replete with historical events and prehistoric complexities.
From the gushing waterfalls and sweet water lakes to white beaches and lush forests and the ever-present vibe of spirituality and positivity makes Goa a must-visit at least once in a lifetime for everyone.
Holiday Packages
Looking to spend your holiday laying on the beach, dancing your nights away, and having adrenaline-pumping adventures? Goa is just the place for you. Book your Goa holiday package right away. No matter how many travel days you have you can easily book from a range of packages available now at the most reasonable rates. Some of the best Goa Packages are 4 days and 3 nights Goa package, 2 nights of a cruise holiday, Goa beach tour package, Goa weekend getaway and so much more. Book a package and devise your customized package for a more fun experience.
Things to Do
Goa is one place where you can indulge in a range of activities and not get bored even for a single day of your holiday here. Here are some things to do in Goa – parasailing on the open seas, lazing away in one of the numerous white beaches, hike into the wilderness and explore mud caves, go on delectable food trails for traditional Goan cuisines, road trip across the state, and sightseeing in North and South Goa. From families traveling with kids to couples on their honeymoon, Goa is a gem of a place when it comes to indulging in fun-filled interesting activities that will help create a lifetime's worth of memories.