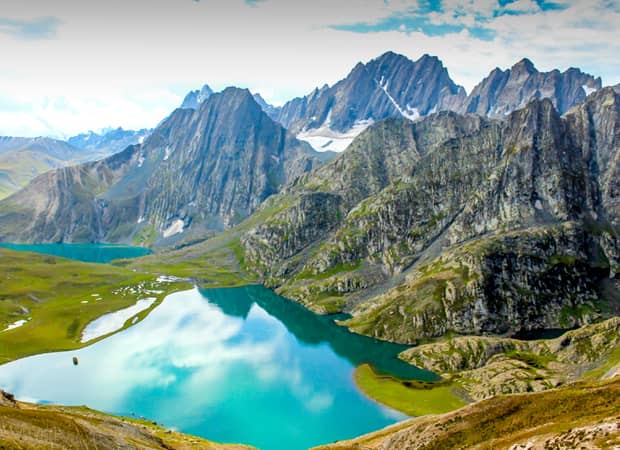 Kashmir Tourism
| | |
| --- | --- |
| Location: | Jammu and Kashmir, India |
| Population: | 6,888,475 |
| Religion: | Islam 68.3 % | Hinduism 28.4 % | Sikhism 1.9 % | Jainism 0.12 % | Buddhism 0.9 % | Christianity 0.3 % |
| Area: | 15,948 Km2 |
| Language: | Urdu, Kashmiri, Hindi, Dogri and Punjabi |
---
Weather:

29° C - 0° C
Ideal Duration: 2-3 Days
Best Time: Mar-Oct
Nearest Airport: Srinagar
Ever since the ancient ages, Kashmir has always attracted not only lovers of nature but also sages and philosophers. Made out of green high Himalayan fields, gushing clear river water, and unmatched serenity, it has rightly been described as a 'heaven on earth' time and again. Glorified by the beauty of the greater Himalayan and Pir Panjal Mountain Ranges, this picturesque state will put Switzerland to shame.
Blessed with scenic views that are beautiful beyond imagination, it is one of those rare places where you can go throughout the year. It springs to life with color and vibrant local life during the summer time and emulates a fairytale vibe during the peak snowy winter season. Looking for an ideal honeymoon getaway? How about spending some memorable time with your family? Or maybe just some time alone in deep nature. Tourism in Kashmir is a bliss!
A wholesome Kashmir travel guide consists of visits to some of the most iconic landmarks of Kashmir that draws the most attention and cannot be missed. Kashmir is also a place that caters to people of all ages and types. It has something for everyone be it a spiritual exploration, adventure experience or just letting yourself be in nature.
If it is an offbeat adventure experience you are seeking then skiing your way in Gulmarg will be something you should not miss out on. Every adventurer's paradise, and famously known as the meadow of flowers, your Kashmir Trip remains incomplete without a visit here.
You can even look down on the rolling green valleys on the exciting gondola cable car ride or check out one of the many national parks and wildlife sanctuaries here like Dachigam National Park, Kishtwar National Park, and Kazinag National Park.
When it comes to religious significance, Kashmir has no match. Home to the iconic Amarnath Yatra, Sharika Devi Temple, and Vaishno Devi, if you are a spiritually inclined person then you will not be disappointed. Apart from these famous temples, some other must-visit, deeply spiritual holy shrines are – Kheer Bhawani Temple, Shankaracharya Temple, which is located on a Cliff Top, Martand Sun Temple, and the biggest mosque in Kashmir, Jamia Masjid.
If it is picturesque scenery and incredible mountain views that you are looking for, then check out places like Pahalgam, Kupwara, Kishtwar and of course the amazing Shalimar Garden. In fact, every nook and corner here is impeccably gorgeous.
Travelling in Kashmir is nothing short of a dream come true for many. The expansive green Himalayan fields coupled with the snowcapped mountains, clear green rivers, tea gardens and a colorful collection of animals, flowers and birds, the Kashmir experience will definitely remain very close to your heart. Over the years Kashmir has become more connected and more equipped to welcome tourists from all over the world. Stay in houseboats, try out the delicious Kashmiri Cuisines, make your way through the peaceful dal lake on a Shikara ride or simply observe the local life going on, every moment spent here is memorable.
About Kashmir
Kashmir is known for its untouched, impeccable natural beauty. Geographically it is located in the northernmost part of the Indian landmass. Also known as the Kashmir Valley, this lush green hill destination is placed gracefully in between the Greater Himalayan and Pir Panjal Ranges. But this was until the mid-19th century; currently, it comprises 3 Indian administered territories that goes by the name of Jammu, Kashmir, and Ladakh.
It also contains Pakistan administered Azad Kashmir along with the Gilgit-Baltistan regions and the Chinese administered Aksai Chin and Trans - Karakoram tract. Over the years its spiritual value has increased as an important centre for Buddhism and Hinduism. The main river here is formed by the Indus river system that enters this region through the Tibetan plateau.
Bounded by the Hindu Kush Mountains in the Northwestern part, the upper Indus region separates the Karakoram valley from the Himalayas, creating a staggering biodiversity. It has also led to great differences in geographical features from one place to another in Kashmir. Did you know that it is home to the iconic Siachen and Biafo Glacier which are ranked as the world's 2nd and 3rd longest glaciers outside the Polar Regions?
Dominated with deep valleys, thick forests, mountainous landscape, and barren plateaus, Kashmir is a treat for the mind, body, and soul. Some of the most popular sightseeing destinations in Kashmir are Srinagar, Gulmarg, Pahalgam, Sonmarg, and Pari Mahal. One of the must-have experiences here is staying in a houseboat and going on peaceful Shikara rides. There is no dearth of diverse natural beauty to keep you engaged everyday.
It is understandable as to why Kashmir has developed into one of the most iconic spiritual getaway destinations over time. It has found its mention in various mythological accounts, legendary tales, and in the writings of some of the greatest travellers. From peaceful sleepy hill hamlets to bustling cultural centers, Kashmir has it all.
Initially a centre for the development of Hindu and Buddhism syncretism, it has become a travel magnet for holiday goers from all over the world. It has witnessed the rule of a variety of rulers and survived through multiple empirical rules and invasions coming out as a fine place to witness history and experience the colorful culture.
Other than the natural beauty and culture, the things and souvenirs you will find here cannot be found anywhere and comes with a promise of being completely unique. Shopping in Kashmir is every shopping lover's dream come true. With rows of shops selling the world-famous pashmina shawls and cashmere wool to organic munchies like apples, apricots, pears, and cherries, it will surely be a delightful experience for everyone.
Visiting Kashmir will be an experience of a lifetime that will leave a memorable mark in your heart. It doesn't matter if you are travelling with your family, friends, loved ones or alone, this place guarantees a wonderful time regardless. Go ahead and make plans to explore this paradise on earth.
Holiday Packages
Kashmir holiday packages are the best way of experiencing the Kashmiri culture and natural beauty. You can choose from a massive variety of Kashmir tour packages, ranging from Kashmir honeymoon package and explore the beauty of Kashmir Package to Kashmir paradise package of 7 days and 6 nights and Kashmir with Vaishno Devi, there is no dearth of tour packages that will fulfill all your travel needs.
They come in a variety of combinations that caters to people with a range of budgets. A good holiday package to Kashmir will consist of visits to all the top travel sightseeing destinations here.
Things to Do
There will not be a single moment during your holiday in Kashmir that you will feel bored or fall short of things to do. There is something for everyone here. It doesn't matter where you are coming from or what your age is, an exciting and memorable time is awaiting for you in this lap of the Himalayas.
You can go on a spiritual tour to Vaishno Devi, get skiing in Gulmarg, check out the exciting cable car ride or go on hiking adventures as well. The best part? You can have awesome cultural experiences from its traditional foods to shopping for locally made souvenirs.